Logitech Harmony Series Overview and Review 2016
Logitech's Harmony products lineup is a series of universal remote control systems (as well as their peripherals). It is a means to an end, and it is here to make life much more convenient. It is basically a way for people to have a lot more control over their living room, making use of a single, powerful device to operate many different appliances. Not only does this system replace most – if not all – of your existing remote controls, it also brings a lot more order into your living room, game room, or TV room. A less-cluttered living space is a functioning living space, and that is precisely what Logitech Harmony is all about. Harmony remotes can also be used via a dedicated smartphone app, which lets the users wield a phone instead of a Harmony remote, and be able to perform any necessary tasks through the app. More on that later in our Logitech Harmony Series Overview and Review.
The different remote control models are all revolve around one piece of equipment – a device named the Harmony Hub. The Hub essentially acts as a collector and distributor of the home's various signals. That way, everything operates in – wait for it – harmony. So, what can Logitech's Harmony system actually control?
Televisions
Game consols
Smart lights
Smart thermostats
Smart locks
Other Wi-Fi-connected devices
Logitech Harmony Series Background
A bit of history: the first Harmony remote control system was designed in the late 90's/early 2000's. It was created and made available in 2001, by Easy Zapper – a Canadian outfit which was later acquired by Logitech for nearly $30 million. The acquisition of Easy Zapper (which, at the time, was re-named Intrigue Technologies) by Logitech took place in the spring of 2004. Since then, it is Logitech that has been producing and distributing the Harmony series products. I don't know too much about Intrigue Technologies, but Logitech have probably made the Harmony system better than anyone else could have done. Logitech is known for its groundbreaking computer peripherals, and it is a company which stops at nothing to achieve perfection.
Many advancements were made over the years in the field of smart home technology, and Logitech have been improving their universal remotes right alongside it. The Harmony series has seen some changes over time, and every step of the way, Logitech has been making it easier for people to get the most out of their homes and, more specifically, their home entertainment systems. The ability for several devices to perform multiple tasks in a single click of a button, is nothing short of amazing. It is a time saver, to say the least, which is why there are those who don't even bother with the designated Harmony app for their smartphone, and simply rely on use of the remote on a regular basis. Okay, so let's go a little bit deeper into some of the different models which Logitech currently offers. We will also take a glance at one or two models which have been offered in the past, and have since been discontinued.

The 350 is the least expensive version of the Harmony remote control system, priced at $50. It lacks the display screen, which most other Harmony remotes possess, and this could be an advantage or disadvantage. It all depends on you and your needs.
Technical/System specifications:
Windows PC and Intel-based Mac compatible

Works on Windows Vista, 7, and 8
Works on Mac OS X 10.6 or later

Requires USB port
Requires internet access
Comes with:
Infra-red based Remote control
USB cable
2 AA batteries
Related user documentation
This is the remote for those of us who are not necessarily interested in a smart home, but who still want to watch television in style. This baby is designed primarily for television viewing purposes. The Harmony 350 controls your television monitor, cable/satellite box, DVR, Blu-Ray, and other TV-related devices. Anything that is hooked up to your television, basically. A "Watch TV" button allows the user to press a single button, and have the appropriate screen and box turn on at the exact settings which the user programs. And speaking of programming, the user has the ability to personalize the 350 even further, by adding 5 channel favorites, and storing them in one-touch buttons. The Harmony 350 is compatible with hundreds of thousands of devices and thousands of brands. Setting up the remote is easy, and there is a quick online guide, which can also download commands for all of the user's devices.

The 650 is one of Harmony's greatest success stories. Unlike the more expensive Harmony products, this one is only $80, and is well worth the money.
Technical/System specifications:
Windows and Mac compatible

Works on Windows XP, Vista, 7, and 8
Works on Mac OS X 10.6 or later

Requires USB port
Requires internet access
Comes with:
Remote control
USB cable
2 AA batteries
Related user documentation
The Harmony 650 has the ability to control up to 8 devices and replace up to 8 remote controls. A brightly-lit color monitor displays favorites and commands for easy access. One-touch Activity buttons allow the user to automatically switch several devices on, and then to switch those devices to preset settings – depending on the task at hand – with a single press of a button. The Harmony 650 is compatible with hundreds of thousands of devices and thousands of brands. This is a remote which you purchase today, and use way beyond tomorrow. Setting up the remote is easy, and can be done online using a PC or Mac.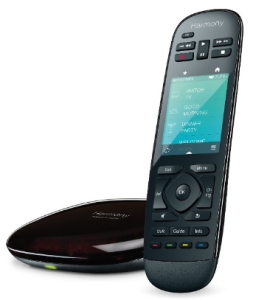 This is one of Logitech's flagship products, and with good cause. It is the best Harmony product currently on the market. The Harmony Ultimate Home is a very powerful combo package of remote and Home Hub. Priced at $300, it is a single remote which controls your audio-visual entertainment devices, as well as your connected lights, locks, thermostats, blinds, sensors, and other compatible devices. It is a smarter remote for an even smarter home.
Technical/System specifications:
Windows and Mac compatible

Works on Windows XP, Vista, 7, and 8
Works on Mac OS X 10.6 or later

Requires USB port
Requires internet access
Comes with:
Infra-red Ultimate One remote control (includes rechargeable 3.7 V battery)
Charging station
AC adapter
USB cable
Harmony Home Hub
2 configurable Infra-red blasters
Related user documentation
There is a reason why this model is called 'Ultimate'. It certainly lives up to that name, with its large and intuitive touch screen, its sleek and convenient design, and its ability to control 15 home entertainment devices plus unlimited automation devices. If you have a smart home, or are planning on getting your home upgraded, this is the remote for you. The Home Hub which is included can also be used to control devices located in closed cabinets. This thing is arguably one of the most comfortable things that Logitech have ever come out with. Fully programmable and customizable, the Harmony Ultimate is not a cheap duo, but it sets the bar extremely high for any other universal remote control systems that are being manufactured and distributed today.
The Smart Control is a bundle, which was released in 2013. It includes a relatively simple Harmony remote (with 3 single-touch activity buttons), and a Harmony Hub. The idea behind it is this: users are offered the option of controlling their home by using their phone or tablet. The dedicated Harmony app, combined with the Harmony Hub, turn the users smartphone into a fully-functioning remote. Users are also given a backup/secondary option, in the form of the simple remote. The activity buttons on the remote are: Watch TV, Watch a Movie, and Listen to Music. If you feel that most of your home device-switching and screen-viewing will be done from your phone, the Smart Control option seems like a great one. The manufacturer suggested retail price for this duo is $130, but it can be found for under $100, making this a good bargain for those who will mostly be using their phones, and who do not necessarily need an impressive (yet expensive) universal remote with a built-in screen or touch capabilities.
The Harmony One was around for several years before it was discontinued. It featured a color touch screen,  back-lit buttons rechargeable battery, and infra-red technology. It was not compatible with RF devices, but was very popular nonetheless. Its design was highly ergonomic, and remotes which followed it certainly took a leaf from Harmony One's book. This unit was discontinued by Logitech, but it is still available online.
"Alexa, turn on the TV." @amazonecho + Harmony = your new smart 🏠. https://t.co/T5aLccHJsX pic.twitter.com/pwJDOLoIRi

— Logitech (@Logitech) October 25, 2016
The Harmony 700 supported up to 6 devices, had a color display, one-touch activity buttons, and included 2 rechargeable AA batteries. The 700 was also one of fastest-charging, longest-lasting Harmony remotes. A single charge could last a week or more. This unit was discontinued by Logitech, but it is still available online.
Logitech Harmony App
The Harmony app is available for iPhone and Android devices, and is absolutely free. The Harmony universal remote series is an amazing accomplishment, for sure. They help out, and are very intuitive and user-friendly. But guess what? – you don't even need a physical remote anymore, because you can easily turn your phone into a universal remote. All one needs is the Harmony Hub (Ultimate or Home) in order to get started with making your home a smarter and more manageable one. You can now combine home entertainment devices with automation processes, and make life that much easier. Configurable and customizable, this app allows you to control everything from lights and blinds to televisions, gaming consoles, and music devices. It even has the option of one-touch activities.
Like the Harmony remote series, this app is also compatible with hundreds of thousands of devices, which are available from thousands of different brands. Recently, Logitech took this app one step further, and released a beta version of the app for the Android TV. It seems that's just the kind of company they are. Their teams are looking ahead, and are constantly thinking up ways to improve the life of their customers, by using cutting-edge technology and innovative designs.
Logitech Harmony Series Warranty and Customer Support
Logitech Harmony products are warrantied (limited warranty) for a period of 1 year, providing the user can submit a proof of purchase of some kind (e.g. sales receipt, Logitech.com order number). Obviously, any modifications and upgrades which are done privately could make the warranty null and void. Use caution. As for support – in the U.S., telephone customer service is available in English, Spanish, and French during working hours. There is also the option of emailing the support team, although Logitech states that because some issues require multiple interactions, using the telephone support is best in most cases. The Logitech website also has the user manual for all of the Harmony product series, including most or all of the discontinued models.
Conclusion
Like it or not, technology is advancing. It keeps on marching forward, and few of wish to remain behind. Smart homes are where it's at. These are the homes of the present and of the future. They give the dweller such a hitherto unknown degree of control and comfort, and all of it right in the palm of their hand. Logitech is a company which has been around since the early 80's. They have proven themselves in many fields, and most notably in the field of computer and gaming peripherals. What was once the stuff of sci-fi movies and educated guess, is now becoming more and more common. A reality which more and more people are making possible for themselves. The ability to control our environment, our home, is something which we are all paying very close attention to. The Logitech Harmony series is a step in that direction, and a big one at that. The freedom to command and control your smart appliances and entertainment units is now at the tip of your fingers. Reach out and grab it.
For more on great tech, check out some of our other features like our Razer DeathAdder, Abyssus, and Cortex features here at EduMuch!