Fitbit Blaze Super Fitness Watch Review
Table of Contents
Activity trackers are, in my opinion, one of the greatest little inventions of the early 21st century. I love the idea of having a silent partner count your steps, reminding you of your goals and ambitions.
Fitness bands began to take off in the mid-2000's, and one of the first companies to get our attention – all the way back then – was Fitbit. Over the years, this outfit has introduced some great products, and has been continuously innovative in its approach to design and functionality. This is our Fitbit Blaze Super Fitness Watch Review.The Fitbit Blaze was first  announced this past January.
This product manages to look good, while staying completely functional. A small detachable unit houses all of the necessary sensors and data systems, and it transmits perfectly. With a quick-charging battery, a built-in heart rate monitor, and a lifetime of approximately 5 days, the Blaze is one of the best activity trackers in the market today.
FitBit Blaze Tech Specifications
Let's take a look at some of the Blaze's technical specifications:
Circumference –

Small: 5.5 – 6.7 inches-

Large: 6.7 – 8.1 inches-

XL: 8.1 – 9.3 inches

 Width-

1.58 inches

Weight-V

aries by strap, default being approximately 1.5 oz.

Display-

LED

Battery-

lithium-polymer, rechargeable via USB

Charging – USB cradle and cable

Charging time – between 60 – 120 minutes

Memory-

saves approximately 7 days' worth of data, d

epending on your activities. Heart rate is saved at varying intervals.

Wireless and wired data-

Blaze comes equipped with a USB

Cable, as well as Bluetooth capabilities.

Materials-

Wristband: flexible, durable elastomer-

Buckle: stainless steel- 

Frame: stainless steel

Colors – black/gunmetal, black/silver, plum/silver, and blue/silver
Fitbit Blaze Touch Screen and Sync
The Blaze is a great example of how far technology has come, and how it can (and should!) be used to benefit us as individuals and as a collective. Activity trackers were invented to help keep us more aware of ourselves and our bodies, and I generally support anything in that area, in spite of any disadvantages a specific product may have.
This device acts as an activity tracker, sleep tracker, fitness watch, heart rate monitor, and smartwatch. That is a big order to fill, and the Fitbit Blaze manages to deliver. Like all gadgets , for lack of a better term ,it does have some drawback. However, it is also a wonderful training partner, and it can help you get where you want to go.
The design is lightweight, fashionable, and overall comfortable. This stays true even during a workout. With three sizes to choose from, and quality materials to boot, the Blaze offers the best of many worlds. Wearers can choose between the classic band, leather, and metal links.
Fitbit introduced the Blaze as a "fitness watch that is non-stop". They were right on the money with that description. The ability to control music, display text, phone, and calendar notifications, make the Blaze a lot more than just a fitness watch or activity tracker. This thing goes the extra mile.
Blaze tracks a variety of workouts, and – paired up with your phone – it can provide live statistics and coverage of distance via GPS. Not all activity trackers offer a  heart rate monitor option (e.g. the Polar Loop Activity Tracker). Additionally while the Blaze it is not as effective as a chest-worn tracker, it is pretty accurate, and manages to record things perfectly for later analysis.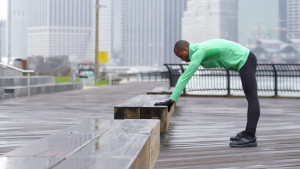 Here comes the first drawback: the Blaze is not for swimmers. It is not waterproof, though it will survive splashes, sweat, and rainy runs. Fitbit recommends taking it off before showering, and state that it is best worn when clean and dry.
The touchscreen is very responsive, and the Blaze's display is clear and colorful. Another neat little feature is the Quick View function. When you lift or flick your wrist, the display will immediately turn on to reveal the date and time. This saves battery, and makes the device that much more useful.
The Blaze works well with a smartphone (iOS, Android, and Windows). Like the Surge Fitbit super watch the Blaze also has a very useful mobile app that can be used to log, track, and analyze your progress, but the device does not connect with any external sensors. For the everyday user, it is a convenient, quick, and easy way to monitor heart rate on the go. The sync range for the Blaze is about 20 feet, and it connects via Bluetooth 4.0 and Bluetooth Classic.
The built-in heart rate monitor is excellent for running, cycling, walking, and cardio-based workouts. It is overall very reliable, but its accuracy will vary depending on the activity in question. If your wrist is busy flexing, for instance when lifting, the read may not be as good.
Your steps, calories burned, floors climbed, beats-per-minutes, active minutes, and distance traveled are all tracked 24/7. There is a silent alarm feature, and a sleep pattern logger. Another minor drawback is that the Blaze will not prompt you to move after a certain period of rest. Considering that many of us could use the ongoing motivation, it is a feature I would have liked to see.
A daily goal is set in the form of steps, but you can change it to better reflect your personal routine, choosing between calories burned, distance traveled, and floors climbed. This is a product that fits itself to you and your needs, and that is a big part of its appeal. Some of the available clock faces show goal progress, and help keep you on track without having to press a button.
The Fitbit app dashboard allows a great deal of customization. A user can change exercise profiles, and choose from a variety of activities in Fitbit's database. 8 separate vibrating alarms are available, and they can be set to recur daily or on particular days. Also – YES –  a 9-minute snooze feature is also available. The wearer can also adjust brightness and heart rate tracking, and change the clock face.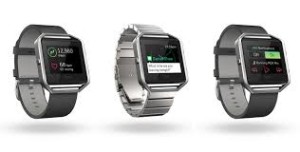 By using the Fitbit app and website, users can take full advantage of the gamification and social media aspect of the fitness process. Being able to cheer each other on and share goals and achievements, is a feature which many use, since it makes for healthy rivalry and a feeling of belonging to a community.
Another great feature of the Blaze is the Fitstar on-screen workout routines. The device comes with 3 built-in exercise programs (warmup, 7 minutes, 10 minute abs), and the watch actually shows you what to do, by displaying a little workout figure on the screen.
To clean the band, rinse with water or wipe with a small amount of rubbing alcohol. Make sure not to use any soaps, sanitizers, baby wipes, or spray cleaners, and remember to dry the band before putting it back on. For tougher stains and spots, Fitbit recommends a wet soft-bristled toothbrush. The leather and metal bands are maintained a little differently, but the principle remains the same – keep it dry, and don't wear it too tight.
Fitbit Surge Maintenance, Price, and Warranty
The price of the Blaze is around $200, which is not exactly cheap. Is it worth the price? In my opinion, yes. Ultimately, this is money which you are investing in yourself and in your well-being. You will get the pleasure of seeing a return on your investment, as you reach more goals and set new destinations. The sense of satisfaction you get from staying fit and in motion is immense, and anyone who has experienced that feeling of triumph will attest to its power. 
Fitbit products all come with a 45-day satisfaction guaranteed return policy, and a limited 1-year warranty. Fitbit will replace or repair your product in the event of a defect, but the warranty does not apply if the product has been misused, tampered with, etc. The chances of you needing service within the first year are probably slim, since it is evident that this product was well thought-out and properly executed. Is it flawless? Of course not, but it is a great training partner, and more. Furthermore, one thing Fitbit is known for is their great customer service.
It is a lot easier to stay active when you have something attached to you, reminding you of your goals and keeping you motivated. Obviously, you could wear this watch and not gain a thing, but if you choose to take advantage of the Blaze's features, you will find a whole new world within your reach. This device is meant for those who want to stay active and be more aware of themselves and their bodies. More awareness equals smarter and better choices, and that is part of what the Blaze can bring with it. Be sure to come back to our website, edumuch.com where I'll be posting more articles about Fitbits amazing line of fitness watches.