Best Toddler 12 to 24 Months Educational Toys 2016
Top 25 Toddler 12 to 24 Months Educational Toys
In the first articles in this series, I listed the top-25 educational toys for babies 0-12 months old (Part 1 and Part 2). In this second article I will focus on 12-24 month old toddlers. In the second year of life, children are adventurous explorers. Fueled by energetic curiosity, toddlers also possess the physical skills that make it easier for them to play and learn. Their vision has focused, their grip strength and understanding has gotten much better, and they have begun to crawl, cruise, and maybe even walk. To keep motivating and stimulating your toddler, they need toys for physical play such as walking, pulling and pushing; and also toys that encourage experimentation, imagination and manipulation.
At this age, children love to imitate adults and enjoy toys that help them master real-life skills. Toddlers can play with a wider variety of toys than they did when they were smaller. They might still enjoy some of the toys they played with as babies (which is fine), but they also need toys that are designed for kids their age.  The toys listed here were picked to promote a broad range of mental and physical development goals, including honing motor skills, and general learning and reasoning skills that prepare your child for their coming years. So without further ado, here are (in no particular order) my picks for the-
Top-25 Brain-Boosting and Skill-Building 12-24 Month Toddler Learning Toys:
1. Fisher-Price Little People Animal Friends Farm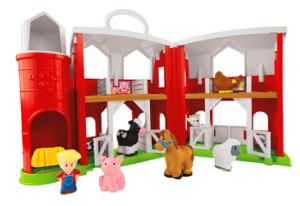 With this set, your 12-18 month old will likely be enamored exploring the farm in a tactile way—just touching everything and moving the figures around, and they will love opening the door or gate to hear a 'moo,' 'neigh' or cute farm tune. As they grow, they'll start discovering the cause and effect here, and that will make them even happier. They will be working on their dexterity and grasping skills by dropping the hay bale (or other figures) through the silo or placing the animals in different places around the set. Your little farmhands will learn all about animals when helping Farmer Eddie place the animals in their stalls, by matching them to their pictures. This playset can delight your little one for hours, and really engage their imagination.
2. Woodland Express Stacking Train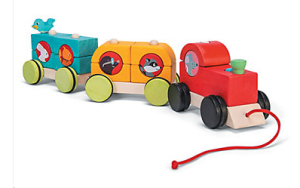 Part of the 'Petilou' Collection from Le Toy Van, this three-carriage train features 16 pieces for your toddler to sort and stack, including five happy little passengers. Your little one will have great fun mixing and matching the different shapes and colors to build the train. This pull-along train is meant to not only help with cognitive development and motor skills while building and stacking, but also encourage movement as it is pulled along. I still remember how proud my daughter was when she pulled her creation all over the house. Made of ethically-sourced, sustainable solid wood and safe, water-based paints, your toddler and the train's passengers can set off together on their very own fun adventure. 
3. Alex Jr. My Busy Town Wooden Activity Cube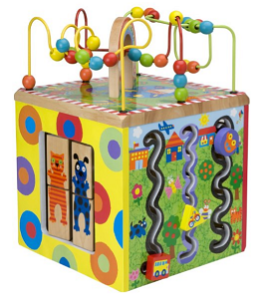 This bright, colorful, large-sized, multi-dimensional activity cube has five different sides of fun games to keep your kiddo entertained and busy. Activities include curvy bead mazes, peek-a-boo open and close doors, racing car rollers, animal matching and ABC tiles. This fantastic toy is essentially multiple toys in one, and it will encourage development in different areas such as alphabet, shape and color recognition, counting and coordination. Once you introduce each activity to your child, you can let your toddler explore on his/her own while you watch, just note that the cube swings around (because the it sits on a rotating base), so if your child is not yet stable when standing, and leans on it, your baby can fall over. So for younger toddlers, you might want to either remove the rotating base, or let them play only on a carpeted area.
4. Fisher-Price Brilliant Basics Boppin Activity Bugs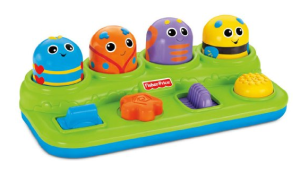 This toy brings a new twist to classic pop-up play. It features 4 adorable bugs that your toddler can sit and bat at to get fun bobbling action. The little heads pop up when the lever, switch, dial, or button in front of them is activated. Each one makes a different noise (ping, click, etc.) and has a different method to pop up, so it gives your child a variety of methods to learn. They can pop them down and do it again, and no batteries are required, so it's all baby power. My kids all loved this pop-up toy, and another perk of it is that it is lightweight and small enough to take on car trips. This has given my kids plenty of time to play and not get bored in the car, and since there are no loud electronic sounds being made, it isn't irritating to everyone else in the vehicle.
5. Munchkin Bath Toy, Little Boat Train, 6 Count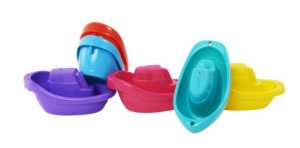 Your little toddler should be really starting to enjoy bath time, and what better way to have fun in the water than to add in some boats that link together? Whether your little one loves to play with vehicles, loves to link and build, or just loves to pull things through water, these bath toys are sure to be a hit. The boats link, stack, float, scoop and strain water, helping to develop fine motor skills, and guaranteed to make your little one smile. Each pack comes with six brightly colored boats in two sets numbered 1-2-3, making them great for teaching colors, order, number recognition and counting. They do indeed float, though they also easily fill with water and then sink, but since the water your toddler is in is never deep anyway, this isn't really an issue. The boats are easily cleaned and have no parts that are tough to dry out (and thus are susceptible to mold, like so many bath toys). This is a great example of a simple toy that has multiple uses and can be enjoyed in a variety of ways.
6. Fisher-Price Bright Beats Dance & Move BeatBo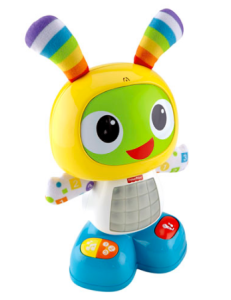 This little robot, which is intended to get your little one up and moving, is extremely fun to use, and they'll have fun dancing and singing along. Though it's a cute little doll to play with even when not on, when the power is flipped on the real fun begins- the robot's belly lights up with bright lights, and it is able to sing back any 3 second recording that you make. Pressing BeatBo's tummy or any of the buttons on its feet activates fun songs, learning content and dance moves. This cute robot takes the recorded phrases, and remixes it into the songs! BeatBo has 3 modes of play- Dance and Move, Learning and Games, and Customized Sing-Along. Your kids can lean their ABC's from the ABC song, colors, counting and more. BeatBo encourages little ones to dance and move around, and all the while, he's introducing them to letters, colors, counting, music, cause & effect and much more! My kids especially loved the short recorded phrases or noises (from them or my husband and I) that are repeated several times in the music. It's certainly not a quiet toy, but a very fun and interactive one all the same. BeatBo is light and easy to grab on the go, but this toy might drive you nuts on a long drive, so I would recommend it for shorter travel stints.
7. Vtech Sit-to-Stand Learning Walker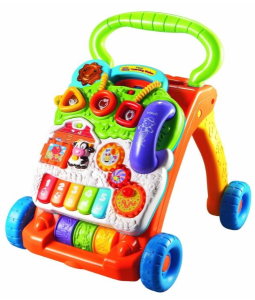 This Sit-to-Stand Learning Walker is chock full of different features, that will engage your toddler interactively, and it'll help them learn to walk and develop leg strength as well. From baby steps to bigger steps, this Learning Walker helps your baby develop from a crawler to a walker. You start them out with the easy-to-remove activity panel for floor play or on-the-go entertainment, and then step it up with the fun-to-maneuver walker. The activity panel has five piano keys, two colorful spinning rollers, three shape sorters, three light-up buttons, and a telephone headset that help stimulate your baby's learning, creativity and hone fine motor skills. It also has over 70 sing-along songs that will keep them entranced and promote their speech development.
There are two modes of play on the activity panel that will keep your kids engaged- learning and music. In learning mode, they insert the shape sorters or press the three shape buttons to learn shapes. They spin the three flowers to hear fun phrases, sound effects, and a melody or press the piano keys to learn colors, numbers and animal sounds. In music mode, they insert the shape sorters or press the three shape buttons to hear cute melodies and fun sound effects. They can also press the piano keys to play piano notes. When a melody is playing, pressing the piano keys will activate fun animal sounds on top of the melody. While using the activity panel with the walker, the panel is motion-activated to play melodies and sound effects as the toddler pushes the walker.
8. Fisher-Price Go Baby Go Poppity Pop Musical Dino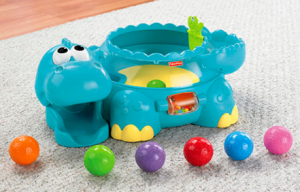 For various reasons dinosaur toys are generally popular with kids, and toymakers are always finding new ways to introduce them to children. This Musical Dino toy is painted sky blue with yellow feet and is silly-looking and non-threatening, so you don't have to worry about it being frightening at all. It comes with six brightly colored balls that roll all around, and are fed into the back of the dinosaur, after which, they'll pop out of its mouth. There is a cylinder filled with little bright beads that can be turned to activate the popping. Toddlers love to chase after the balls and repeat the process. The dino also plays eight different tunes and fun sound effects which are cute and never drove me crazy. This adorable toy encourages gross motor skills, hand-eye coordination, movement, and stimulates your toddler's senses. It is also a great "cause-and-effect" toy if your baby is in that stage where he/she enjoys that kind of thing.  My kids have put this toy through some serious wear and tear and I am happy to report that it is very durable. Your kids will be enjoying this fun toy for a long time to come!
9. Zig Zag Kid's Fun Penguin BathTub Toy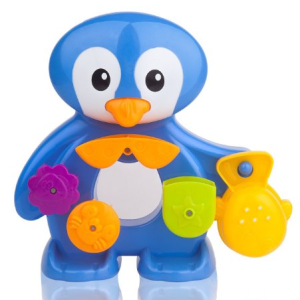 Another fun toy for the bath, this brightly colored penguin (it can also be purchased in the shape of a Frog) turns into a waterfall when water is poured in to the top of its head and out of its beak. It doesn't require any batteries, just open the box it comes in and set it up in the tub. It has strong suction cups that hold the toy securely in place on your shower wall or bathtub. It helps strengthen your toddler's grasp, hand-eye coordination, and understanding of cause-and-effect, all while having fun. The little ones use the included scooper to pour water into the penguin's head. When the water drips down it shakes the penguins bowtie back and forth and then spins and tips the wheels and bucket. This seems to never grow old and has caused my kids to laugh hysterically, always looking to repeat the process. The penguin has remained a mainstay for my kids' bath times.
10. VTech Drop and Go Dump Truck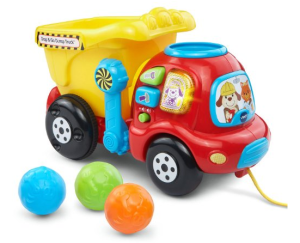 Your toddler can drop a colorful plastic ball "rock" into the top of this cute electronic toy dump truck, and watch it tumble into the back bucket, enhancing motor skills. Your little one will learn numbers as the interactive truck counts each rock. Once the rocks are in the bucket, they can push or pull the truck along to see the rocks rumble inside, this will encourage movement. Your toddler can lift the hinged bucket to unload the rocks and start again, which also hones motor skills and teach cause-and-effect. The dump truck also includes 3 colorful buttons that play out the colors and names of the pictured tools and a catchy little rhyme when the buttons are pushed. The truck requires 2 AAA batteries, but something I really liked is that my kids enjoyed playing with it even when it was turned off.  
11. Mega Bloks First Builders Big Bag, 80-piece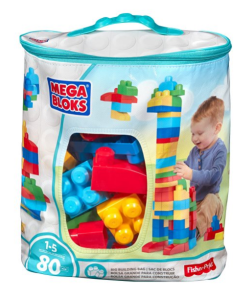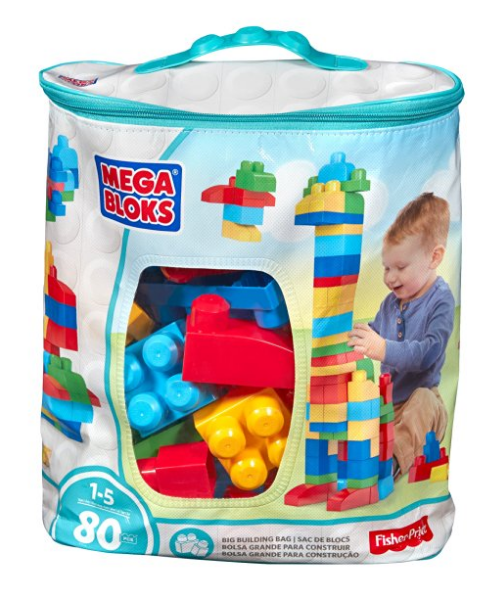 This big bag of "bloks" is the perfect starter building set for your toddler. Even if they aren't old enough to really build anything yet, they will enjoy the different shapes and colors (and possibly nibbling a bit on the pieces now and then). You can expect the blocks to be scattered all over your floor at every play time, and your little one will be having plenty of fun playing with them. They're easy for your toddler to use, and he/she will be using their creative juices while they're playing. Give them the opportunity to stimulate their imagination and learning skills while encouraging discovery, fine motor skills and open-ended play; meaning there is no limit to their possible creations. The practical storage bag keeps all of the pieces securely in one place and comes with a hand-strap to make carrying the blocks very convenient! Though you'll be having as much fun building creations as your kid will, First Builders blocks were designed especially for toddlers- they are easy for little hands to grasp, stack and take apart. The oversized prongs that hold the blocks together are integrated into the pieces – from cars and trucks to play tables and even the lids of storage tubs – ensuring full compatibility across the Mega Bloks First Builders line, so if they like this set, you can buy more to add to, and complement, this one.
12. Vtech Smart Shots Sports Center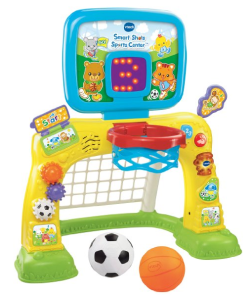 Equipped with a soccer net and a basketball hoop as well as a scoreboard, this cute little Sports Center will allow your toddlers to score soccer goals or a basketball goal. It will keep your child active and boost his/her confidence. The scoreboard has an animated light up LED counter that counts baskets up to 10, and plays encouraging animations. This toy is also adorned with numerous shape buttons that play sounds, and it comes with 50+ songs, sounds and phrases. Your toddler will build fine motor skills with the variety of manipulative features- They can turn the gears to hear playful sounds and press the shape buttons to learn shapes, numbers and hear fun sounds. My kids always got such a kick when my husband and I would play with them.
13. LeapFrog Shapes & Sharing Picnic Basket

This talking picnic set is designed to help children learn about shapes, colors, manners, sharing and more with fun learning songs and sound effects. Over 30 audio responses encourage pretend play, and the 14-piece set helps children build motor skills as they sort, match, stack, empty and fill. Pretend play offers a creative outlet that strengthens a child's understanding of the world as they acts out stories they know and situations they observe in the adult world. As their imagination grows, dramatic play will become more complex. They can lift the basket lid to hear sweet instrumental music and fun sound effects. Fun and educational learning songs will have your child singing along and learning for hours. The set includes six food items, two plates, two forks, two cups, one blanket and one basket that all help to stimulate your little learner's imagination. Parents can connect to the online LeapFrog Learning Path to find customized learning insights and ideas to expand their child's learning.
LeapFrog Shapes And Sharing Picnic Basket https://t.co/SRXAA4oY7w pic.twitter.com/dSPy6oEE40

— ultra fine items (@fine_items) August 28, 2016
14. Vtech Touch and Swipe Baby Phone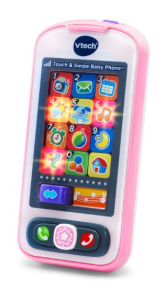 Children love to imitate the adults around them. They see us on our cellphones all the time and there is no wonder they want one to play with as well. It is understandable if you don't want to hand over your expensive smartphone, but there is an alternative that is much cheaper: the electronic Vtech Touch and Swipe Baby Phone. Unlike many simple toy cellphones, this clever little product looks like the real deal and has 12 light-up pretend apps including a calendar, clock and weather, and each one responds to touch using the slide at the bottom. This is important because kids can be really sharp, even at such a young age, and they often will grow bored of something that doesn't closely resemble the look or function of what the adults are using. This toy has 15 melodies, phrases and sing-along songs to keep kids engaged. Once you hand them this, they'll quickly lose interest in your real smartphone. This toy enhances role-play and hand eye coordination, and the songs help teach toddlers ABCs, 123s and first words. The baby phone is not moisture proof, features a handy auto shut-off and requires 2 AAA batteries.
15. Fisher-Price Brilliant Basics Corn Popper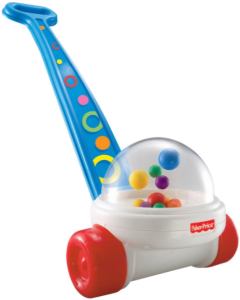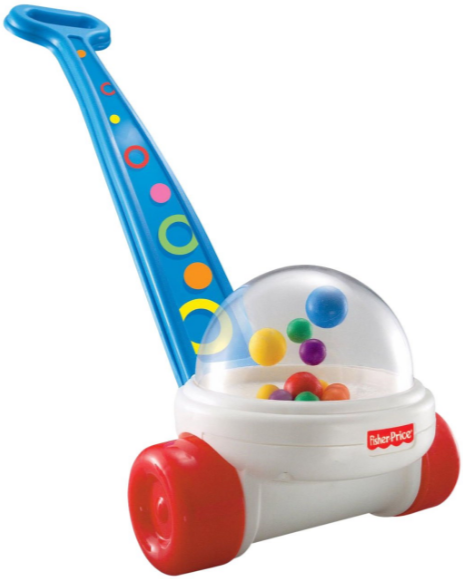 This cute little noise-maker popper is a timeless classic, and has been around for decades. I even had one as a kid, myself, and it still remains one of the most popular toddler toys on the market. Why do they like it so much? The answer is simple- the faster they move, the faster the bubbles pop, and the louder this toy gets, which can be a bit annoying for parents, but the little ones go bananas for this. This isn't recommended for toddlers who are learning to walk, because it isn't stable, but once they've mastered walking, they will really love this popper. It encourages your toddler to keep moving and strengthens their grasp of cause-and-effect. The brightly colored little balls excitedly pop around inside the clear dome as the Corn Popper is pushed along.
16. VTech Turn and Learn Driver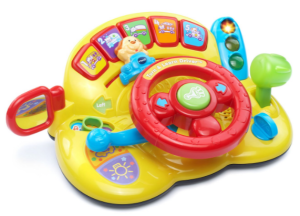 As your children develop, part of the learning process is imitating adults. So like with the cellphone mentioned above, they too will want to drive. Your little one will love pretending to drive with this toy by using the steering wheel that causes the cute dog character to move back and forth. When they press the five colorful buttons, your child will be introduced to different animal and vehicle sounds. The fun car design encourages imaginative play, hand-eye coordination and motor skills with a traffic light, a signal lever that triggers fun sounds and music, and a gear shifter that pushes and pulls to introduce opposites. It has three settings depending on whether you want the buttons to play music, make animal sounds, or make car sounds for your little driver. The toy requires 2 AA batteries. Like many toys that make noise, this too can be annoying after a while for adults, but the price is worth it when you see how engrossed your child is (also, you can just take the batteries out if it gets on your nerves too much).
17. Little Tikes Gas n' Go Mower Toy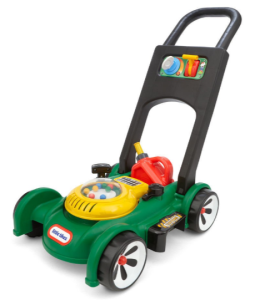 Like the Fisher-Price Corn Popper, this toy has popping beads that pop when the mower is pushed, and it doesn't require any batteries, as all of the sounds are mechanical. The pull cord can be pulled to hear engine sounds, and the key clicks for even more noise. It comes with a removable gas can that kids can use to open the gas cap and pretend to fill it up, which is great as this is another adult-imitation toy, so the more realistic features, the better. This will encourage your toddler to move and pretend play. It also teaches them about taking part in the household chores.
18. Schylling's Little Helper Broom Set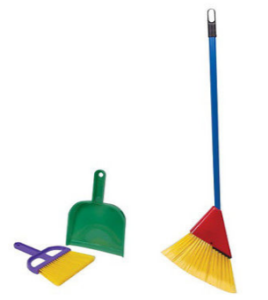 Speaking of imitation and chores, this adorable little helper set is actually popular with kids, especially if they see cleaning done at home. My children used to follow me around when I swept up and they would cry unless I allowed them to hold the broom (I had to hold on to it as well because it was too heavy for them at this age). No batteries and no flashy technology here, just good old-fashioned pretend fun. This is another way to encourage your children to move around and use their imagination. The set features a broom, hand broom and dust pan in fun kid sizes. The soft, thick bristles can handle any mess (though I wouldn't recommend they actually try to clean anything). The brush fits snuggly into the bust pan for easy storage or to be hung on pegs.
19. VTech Musical Rhymes Book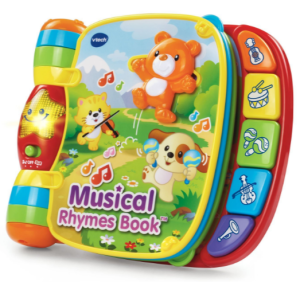 With this durable and inexpensive musical toy book, you can explore classic nursery rhymes with your toddler. Your little one will build motor skills by sliding and twisting the fun play pieces while exploring each easy-to-turn page. The songs (which aren't of the best audio quality, like most electronic toys for this age) will help encourage your child's speech development. When the book is closed, they can use the five colorful piano keys that introduce colors and instruments. This toy features two fun modes: A learning mode that introduces age-appropriate vocabulary and a music mode that plays music and instrument sounds. The interactive storybook provides visual stimulation with brightly colored pages and a light-up star that flashes along with the sounds. It kept my kids busy and entertained for many hours and it has a volume control so it can be turned down in order to disturb others less. It encourages reading readiness and brain growth though rhymes and music. The book is colorful and made to withstand the rough play of toddlers. The nursery rhyme book has six classic nursery rhymes, and.40+ songs, melodies, sounds and phrases. The toy requires 2 AAA batteries.
20. Little Tikes Shopping Cart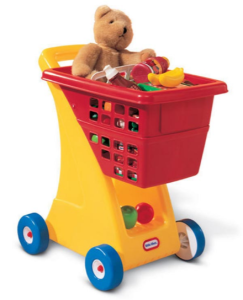 Durable and colorful, this modern cart has sturdy walls to keep smaller items inside the deep basket. Pint-sized pretend shoppers can fold down the seat to let a favorite toy or doll come along for the ride. The simple-to-push red-and-yellow cart also features storage space under the basket and easy-rolling wheels. This cart will help with your toddler's walking, and you can stabilize the cart further by filling the plug in the bottom with sand (just make sure it is plugged back up well so it won't leak).Bright blue plastic wheels add contrast and additional color to this cart, which can handle a lot of usage. The cart comes with plastic play money – dollars and coins, which I would keep away from toddlers, as they can be a choking hazard.
21. Melissa & Doug Zoo Friends Hand Puppets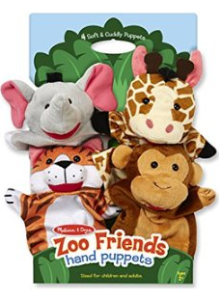 Melissa & Doug have a large selection of puppets to choose from. We have several of their sets and I chose this one just as an example. These simple glove puppets can act out a scene as a zoo ensemble, or be used separately for simpler puppet play. Either way, they are great for developing motor skills, hand-eye coordination, self-confidence, communication skills and so much more! Made with brightly patterned, washable, soft, plush fabrics, these sweet hand puppets are great anytime and can be easily packed away for on-the-go entertainment. Zoo Friends Hand Puppets includes an elephant, giraffe, tiger, and monkey. The stretchy glove puppets are meant to fit children and adults alike, but they are really best suited for your toddlers. You'll have to be more creative to not cramp up when using these. Still, they are worth it, because your kids will love Melissa & Doug's entire line of adorable puppets.
22. PlanToys Pull-Along Caterpillar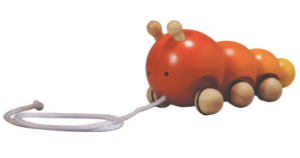 Encourage your new walker to move with this simple and adorable pull toy. This friendly caterpillar will wiggle behind your little one every step of the way and elicit silly giggles. I bought this cute caterpillar for my son when he was about 12 months old. He loved pulling this little caterpillar all over the place. It has the silliest little wobble and is really cute! It's a good, balanced weight because of its high quality wooden materials: Smooth round corners with very durable paint, and rubber on its wheels so it can grip the smoothest of surfaces. If you find that the string is too short, you can add a length of any similarly thick string yourself. Children learn the importance of keeping the toy upright and on its wheels to keep it rolling properly.
23. Wishtime Activity Gear Puzzle First Blocks Shape Sorting Cube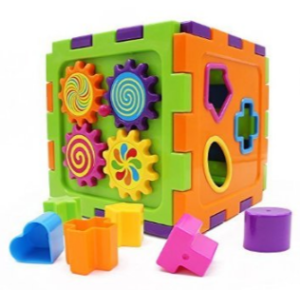 This colorful cube offers a variety of activities addressing different learning objectives and the easy-to-hold blocks encourage creative play. There is a clock with moveable hands that is useful for number recognition, fine motor and learning to tell time (though that will likely only happen at a later age). Two sides of the cube have the opening for the shape sorter component of the toy which help toddlers learn to identify and sort shapes and colors. There are colorful gears to turn on one side and a sun and bear cutout on another, helping with fine motor skills and simply providing entertainment. There are beads to turn and a couple of plastic cards to flip that include numbers and letters. The lightweight cube, which itself is a puzzle that can be easily taken apart and re-assembled, has a carry handle for take-along fun.
The colors of the shapes don't match the borders of the cut outs that each shape is mean to go in, which can frustrate some kids at first, which is annoying, but they quickly learn and adjust to fit in the right shapes, that's the only complaint of mine keeping this from really excelling. .
24. Little Tikes Activity Garden Baby Playset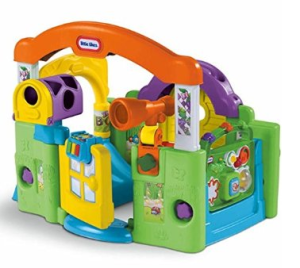 This playset is great for encouraging a toddler to get up off the floor and move around. They can commando crawl in through the front door, out the window, or over the slide, but they can't lay flat on their belly once inside, so it forces/encourages them to get up. It is best to set this on padding just in case, but there are lots of handholds, pull-up, and crawl-over points.  The main features of the "mini-fort," as I like to call it, are a shape-sorter mailbox, a working Tap-a-Tune piano (which sits atop the open-close door), and a swiveling telescope. There is also a removable activity panel which features a bead tumbler, spinner with a mirror, spinning "gears," clicking bugs and large button that, when pressed, plays songs. This is not a large set, and it is one of the most expensive on this list, but it is filled with various features that will keep your child entertained and stimulated. If you're willing to splurge a bit more, there are somewhat similar, but larger activity playsets available.
25. Sassy Pop n' Push Car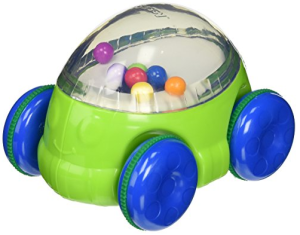 This cute little car inspires exploration and promotes cause and effect learning. It is fun to watch your little one pull the easy to grasp car back, and then watch the popping beads that hit the cars top as it zooms forward. This brightly colored toy will encourage motor skill and movement development, as well as understanding cause-and-effect. A younger child who crawls can enjoy this as well, but when they are slightly older, they understand how to work this car better, and they can run after it easier. This is a very simple inexpensive toy for a child to use. No parts, no blocks, no switches, just push it and watch the balls pop. This little car has great value, durability and action!
Final Thoughts:
Children grow, strengthen and develop on many levels through play.  When you give your child educational toys and play with them, it gives them a chance to bond with you, learn, and have fun at the same time. By making educational playtime enjoyable, it will help your child remember the things they learn, and develop a positive attitude towards learning. Please join me next time for the Best Toddler 24 to 36 Months Educational Toys 2016 here at EduMuch!