Best Toddler 24 to 36 Months Educational Toys 2016
Top 25 Toddler 24 to 36 Months Educational Toys 2016
In the previous two articles in this series, I listed the 25 top educational toys for babies 0-12 months (Part 1 and Part 2), and younger toddlers 12-24 months. In this third article I will focus on 24-36 month old toddlers. In their third year of life, children become more assertive and independent. When toddlers master walking on their own, a new phase of development begins. It is a time for active exploration of the environment in which they can now roam free. Language development takes major leaps forward which leads to learning the names of objects of interest, the ability to ask for things, and along with their growing independent nature, they also develop the ability to say "NO!" Along with the fact that they go through tremendous intellectual, social, and emotional changes, this is the reason this age has become known as "the terrible twos."
In this stage they can lack patience and be extremely stubborn. They can become domineering and demanding and are subject to intense emotions, but they can also form images in their minds, and may be able to organize their toys by size, or color, or shape. Their memory is improving and they may be able to tell you at the end of the day what color blouse grandma was wearing during her afternoon visit. This sometimes trying stage can be forded by having lots of patience and showing understating and love. Finding the right toys can help calm them and focus their emotions. Toddlers are really lively and enthusiastic, so look for toys and activities that give your child a way to channel his or her energy, and toys that challenge their developing minds and bodies. Language development is rapid at this time, and kids even becomes more interested in other children.
Children of this age enjoy books and have a growing love of music. Their fine motor coordination continues to get better, and older toddlers love testing their physical skills — jumping, climbing, and throwing — and enjoy simple sports toys for active play. This age group also possesses good hand and finger coordination and enjoys utilizing these skills with basic arts and crafts projects, puppets, blocks and simple puzzles and beginner board games. Imaginative play also begins in the third year, and pretend/imitation play will grow in importance. So without further ado, here are (in no particular order) my picks for the Top 25 Best Toddler 24 to 36 Months Educational Toys 2016:
1. VTech Doc McStuffins Talk and Trace Clipboard Toy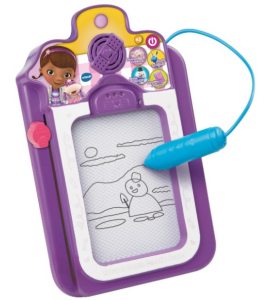 This is a great little drawing board, which makes it very well-suited for little hands and for travel. It is very durable, so you don't need to worry about your toddler accidentally (or intentionally) dropping it, and will appeal to your child whether they are a Doc McStuffins fan or not. This cute electronic writing clipboard has four different learning activities and over thirty playful melodies and sounds that enhance the drawing and learning fun. Three detachable stencils are paired with a nifty letter recognition technology that teaches letters, numbers, early writing skills and health topics. There are two alphabet stencils and one numbers stencil which are pretty easy to clip in. A 30-month old should be able to do so (though you may need to help at first).
When they start tracing the letters which are all in uppercase, the clipboard will say what letter it is and sometimes it gives a little info along with it, which is great for letter reinforcement. Doc McStuffins and her friends join in on the fun as your child plays and learns by providing encouraging messages! Using the stylus and the four drawing and writing activities encourage imaginative and creative play while promoting strong hand-eye coordination. Keep in mind that this toy is made with right-handed children in mind. If your child is left-handed, the wire of the styles will likely be too short for them to use this properly. I wish VTech had made a longer wire, but at least my kids didn't have any issue with this as they are all right-handed. The clipboard requires 2 AAA batteries. When your child is a little older, they will likely enjoy some of the bigger tracing clipboards out there. Most are not electronic, but will give them more of a surface to trace on.
2. Kidoozie My First Purse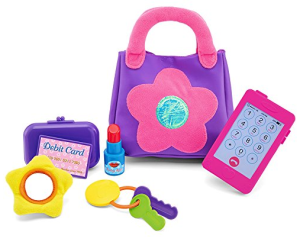 Young children love imitating the adults around them, and especially parents who spend the most time with them. Realistic roleplay, modeled after actual daily grown-up tasks, is essential for developing critical cognitive skills, and this adorable set is ideal for broadening mental faculties through creative and active pretend play in toddlers and preschoolers. The purse set includes a purple bag purse with a pink flower design, and plastic pretend imitations of: a cellphone, pair of keys, wallet with credit card, lipstick and unbreakable mirror. All the accessories featured in this best-selling set are made with toxin free materials and featured rounded edges and non-sharp finishes, encouraging fun and safe play. The simple cell phone is not electronic, nor does it do much, so if your toddler is bored by it, you might want to purchase a separate toy cellphone with more features. There are some excellent choices out there like the VTech Call and Chat Learning Phone listed below. My two and a half year old daughter absolutely loved this purse and has been imitating me with it for months now.
3. VTech Call and Chat Learning Phone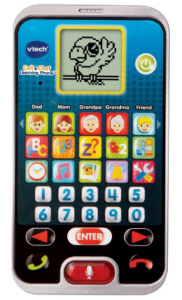 Another great toy that your child can use for imitating adults while learning, is this fun pretend cell phone. It features ten realistic App buttons including music, clock, photos and games plus a special chat button and a fun, chatty parrot character who guides your child through the activities and games. You can program real telephone numbers under the icons of the mom, dad, grandma, grandpa and friend, and when your child presses the button, it will recite the phone number and they will hear a dial tone. This is a really cool way of teaching your child to memorize phone numbers. The games are fun too, and still keep my kids entertained.
When the chat button is pressed, the real voice activation technology comes online for your toddler to engage in an interactive chat with the Parrot. It'll ask your child questions such as- their name, favorite food, what they are doing today, and more. The parrot even responds to their voice input, only carrying on the conversation if it is answered. This is a great contrast to the electronic toys that just keep talking and talking, regardless of how a child is responding. If my kids do not answer a question, it is repeated once and not over and over, which is a lot less annoying than those products. Other apps teach letters, numbers, and counting. There is also a clock app for learning time concepts, a picture gallery, a music mode, and a fun game app. This toy requires 2 AAA batteries.
4. Fisher-Price Fun 2 Imagine Cash Register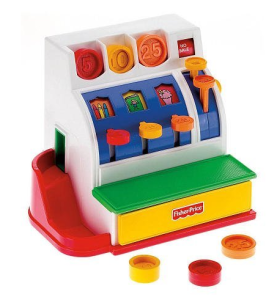 Here is a classic retro toy that both my husband and I remember having as kids. I love that this has no batteries, flashing lights or potentially annoying loud noises. We like giving our kids a mix between flashier and simpler toys that require more imagination. There's nothing complex here really, just pretend play entertainment that can hold your child's attention for longer than you might think and never seems to get old. Certain colored plastic coins only fit in certain holes and a couple other buttons make the coins roll out the side or drop into the cash drawer. This is a good purchase for a 2-3 year old, but even older siblings sometimes want to play with it as well! If your child tries to put two of the same color coins in consecutively, they jam which can be frustrating, but they will quickly learn how to do it properly. The first coin either needs to drop into the tray or be rolled out as "change." There are two coins of each kind, in three different colors and sizes, so it will help your kids work on counting and matching colors.
5. Little Tikes EasyScore Basketball Set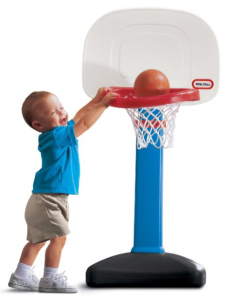 2-3 year olds are full of energy and sport activities are a great way to channel that energy in a healthy way. There are various sport sets with lots of bells and whistles, but since I've listed many electronic toys, I'll keep electronic sport sets to a minimum, as your child is old enough to really just enjoy it for the thrill of scoring! This Little Tikes basketball hoop has an oversized rim that allows for easy scoring, which will help boost self-confidence in young children and promote a feeling of accomplishment every time they make a basket. The basketball hoop has an adjustable height to provide the right challenge as your child grows. This simple fun sport set encourage healthy physical and emotional development as well as continuing to help children develop hand-eye coordination, balancing and motor skills. The base of this product can be weighted down with sand if you feel it needs more stability. It is durable and can be left outside, and if you need replacement balls, those are available, which is a great plus.
6. Lego Duplo: My First Rocket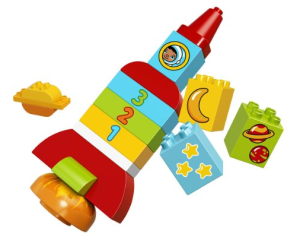 The Lego Company is known for its fun colorful brick construction sets, but even little kids can get in on the fun with the company's larger-sized Duplo line of products. My kids love all the Duplo products, and this was just one example of sets that can be suitable for your tiny tots. They can build and create a colorful rocket and planet with Lego Duplo's chunky bricks that are specifically designed for little hands. This fun set encourages kids to use their imagination and stacking skills, but children will also learn counting skills with numbered bricks and corresponding pieces showing one moon, two planets and three stars. This features a buildable rocket and planet, a double-sided girl/boy-decorated brick, bricks decorated as a moon, 2 planets and 3 stars, and 1-2-3 number-decorated bricks. There are building cards inside for inspiration, but you can let your kids build it any way they want, even combining this set with other Duplo sets. This is another toy that you can have fun using along with your kids. I've spent many hours on the floor assembling and disassembling various projects, and as with Lego, I found myself enjoying building my own creations nearly as much as I enjoyed helping my kids. Duplo is a real winner in my house!
7. Fisher-Price See 'n Say The Farmer Says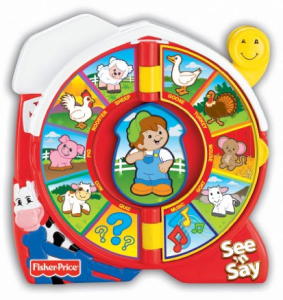 Shaped like a barn, this classic learning toy now teaches about 16 animals and features a unique flipping page. Kids can point the arrow and pull the lever to hear the animals identified, along with the sounds they make. Then they flip the page for more animals to choose from! This doesn't seem as well built as when I was a kid, the handle seems a bit tougher to pull down properly, but maybe I'm remembering it wrong. Despite some early on frustration, my kids really came to enjoy using this, and they love shouting out the animals and the noises they make. There is also a new quiz mode that asks your child to find the animal based on the name of the animal or its sound, which can take a bit of time till your toddler can grasp the concept, but when they do, it will make them feel so accomplished. The farmer is on an arrow in the middle and you point it toward whichever sticker you want and then pull the handle. This toy also plays "Old MacDonald" and "Farmer in the Dell" melodies. It requires 3 AA batteries.
8. VTech Learn and Discover Pretty Party Playset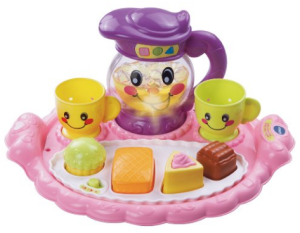 As toddlers develop, the importance of role-play grows. Though this may seem like a simple set, it teaches not only creativity and imagination, but also important social skills such as sharing. This interactive playset includes a cute pitcher of pretend lemonade, cups and sweet treats to share with friends. Put the playset pieces on the tray in the intended spots to see the pitcher and tray light-up and teach about colors, shapes, objects and more. The music that is activated can be turned off and set to low or high, which is always a nice option if you want the kids to be playing more quietly. The songs are silly, and the parts are built well enough to withstand some usage abuse by kids. The pitcher looks like it is really pouring lemonade with ice cubes. The content pivots when it is poured, which is a neat little extra that kids seem to really get a kick out of. My son enjoyed this just as much as my daughters did, though he grew bored of it quicker. Still it's very cute to see boys and girls sitting and enjoying playing together at a pretend party.
9. Nuby Octopus Hoopla Bathtime Fun Toys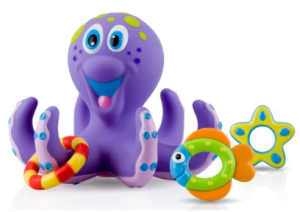 Inexpensive, adorable, and lots of fun, Nuby's BPA-Free Octopus Floating Bath Toy is an interactive toy that makes bath time more enjoyable. No batteries required in this simple yet addictive bath toy. This engaging toy comes with one floating octopus and three rings to toss on the octopus' tentacles. The rings are not as wide as I would like, so it can be difficult to toss them on the tentacles unless the octopus is right near your child, but I "fixed" this issue by just initially getting my kids excited to place the rings on until they were older and were able to toss them properly. It helps to further develop your toddler's hand-eye coordination and fine motor skills. It doesn't have any holes that can potentially grow mold, and is easy to clean and dry. This toy provides endless fun in the bath or pool and my kids love playing with it even outside of the water!
10. B. Toys B. One Two Squeeze Blocks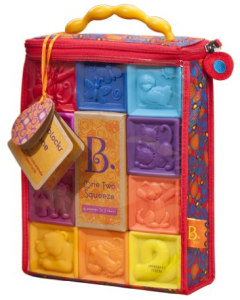 These simple squeeze blocks are designed especially for little hands and curious minds. Each colorful block is an educational and tactile experience, featuring reliefs of friendly animals and the numbers 1-10 on each side. The number of animals and shapes corresponds to the number on the block, which is great reinforcement for counting. This set includes ten soft blocks with no sharp corners that feature sixty images to delight and educate curious minds. The colors are bright and vivid, and the designs are very cute. These durable lightweight blocks are stackable, squeezable, floatable and chewable, and suitable for any activity at home or on the go. This set comes in a 100% recycled polypropylene clear plastic carrying bag. My kids loved taking the carrying case along to keep entertained in the car, doctor's office or by their grandparents. Though the blocks float, I personally do not like using them for water play because they will take in water, and they have potential for bacterial growth inside.
11. Broyani Kids PinPals Bowling Game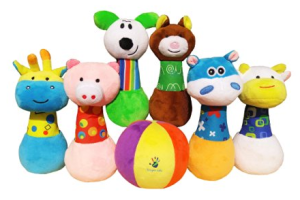 Though this can be enjoyed by even younger children, they really only fully enjoy the activity when they can properly set it up and knock the five animal shaped pins down. Younger children will love the crinkling noises the pins bodies make (plus bells in the heads) and the rattling in the ball, while older toddlers will love knocking down the silly looking pins. There are lots of different bowling sets that you can purchase, though many are hard plastic whereas this is made of a soft polyester/cotton blend. The animal pins are plush, vibrantly colored and are very cute. The set comes in a reusable bag and is lightweight enough to along on the go for a quiet travel toy. Each pin has a weighted rounded bottom so they can stand up. This is a game that not only works on their fine motor skills, but also promotes socializing and competitive skills as this game can be played by multiple children at a time. You can also work on colors and animals with your kids.
12. Melissa & Doug Mickey Mouse Clubhouse Wooden Magnets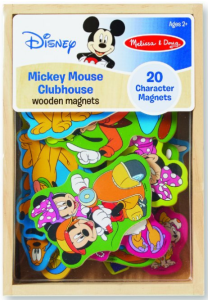 This magnet set (and others just like it) is another simple, inexpensive and engrossing toy that fires up your child's imagination and helps hone hand-eye coordination. You can get all sorts of different kinds of magnets, from beloved cartoon characters and animals to vehicles and shapes. These are all great for learning not only colors, animals, the names of characters and shapes, but also developing your toddler's imagination as they place these in various positions on any surface (but they are especially fun on a metal surface like the fridge or metal doors).
13. VTech Little Apps Tablet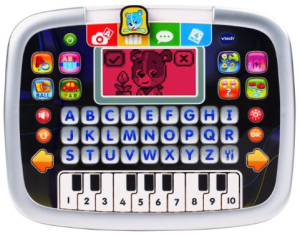 This little electronic toy is chock full of fun features. With a color-changing screen, letter buttons and piano keyboard, this role-play, electronic tablet engages your child in imaginative play. Through eight activities with progressive learning levels, this learning tablet teaches your child counting, words, letters, basic math and more. The built-in piano keyboard is meant to enhance your little one's music skills and create a love of music. Cody the Smart Cub takes your child on cute learning adventures with vivid animations, sound effects and a color-changing screen. Parent-friendly features like volume control, a durable design and automatic shut off make this role-play, electronic tablet great for portable learning anywhere. It features large A-Z letter buttons, a Bear mode slider, a piano keyboard for music play, and large arrow buttons for easy gameplay controls. The tablet also features four special interactive activities with the bear, including music play, a calendar activity, a pretend camera game, and a fun question and answer chat feature. This is light enough to sit comfortably on your toddler's lap at home on or on the go.
14. LeapFrog My Own Leaptop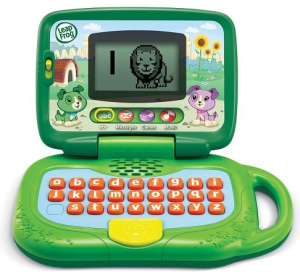 Similar to the tablet above for a fun imitation play toy, and this too is full of fun features. The device has four learning modes: In ABC mode children can hear the letter, the letter sound, and a word using that letter. In Games mode, they play fun animal trivia and letter games to reinforce their learning. In Message mode they can pretend to send and receives emails. In Music mode, they can choose from 16 fun songs and melodies. This durable device, which can handle its share of rough usage, allows parents to personalize play and connect to The LeapFrog Learning Path online to see what their child has been learning. This bestselling device is really a great learning tool.
15. Melissa & Doug Hand Puppets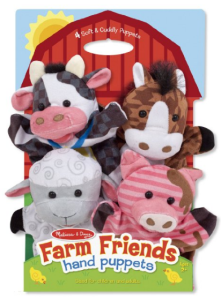 Developing your child's imagination is crucial during this period of their development. Melissa & Doug have a whole line of plush, adorable hand puppets, from farm and zoo animals to people in pirate, fairytale, city and palace settings. Encourage your toddler's confidence and interactive skills by having them not only play with other children with these puppets, but also by putting on shows for the whole family. These are stretchy, but you may have trouble getting them on your adult hands, still for the amount of delight this gives my kids, I'm willing to wriggle my hands in somehow and suffer from a little cramping if need b
16. Learning Resources Pretend & Play Doctor Set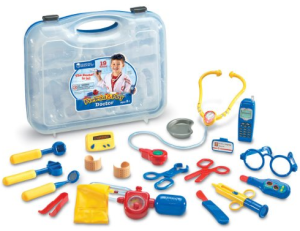 This toy doctor kit is a great way to prep your young toddler and ease their anxieties for their doctor visits. They learn through role-playing and pretend play, and these medical replicas can help them to become more comfortable when they are at the doctor's office. This durable plastic 19-piece set includes stethoscope and pager with realistic sounds, battery-operated cell phone (requires 2 AA batteries, but doesn't do much), forceps, bandages, thermometer and more. Everything fits into a small plastic, clamp-tight case that makes it easy to grab on the go.
17. LeapFrog Number Lovin' Oven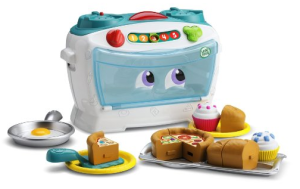 My husband and I both love to cook and bake, so we spend a lot of time in and around our oven, and our kids see that and want to take part. With this pretend toy, they safely can! Children can move the number slider to learn about time and temperature, cut food into several equal pieces to build math skills, and press the Chef's hat to count and sing along to lively songs. Opening and closing the oven door activates delicious phrases about cooking and sharing. The oven with tons of features to be discovered will keep your child busy with hours of pretend-play fun. When your child is done, cleaning up is a snap because everything fits neatly inside the oven.
18. Step2 Easel for Two with Bonus Magnetic Letters/Numbers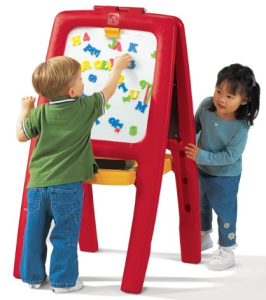 Arts and crafts interests emerge at this age level and this bestselling two-sided easel features a metal dry-erase board on one side and a chalkboard on the other giving your child a variety of creative options. This plastic easel is easy to clean and also comes with 77 foam magnetic letters, numbers and signs to use on the magnetic surface side. This multifunctional easel is perfect for solo play or play dates! Another plus here is the clip at the top of each board, which makes hanging paper for drawings really easy. The magnetic letters and numbers aren't the best quality or the strongest magnets, but buying other better ones is very easy and inexpensive, and any existing magnets that you own can be used on this easel.
19. Little Tikes TotSports T-Ball Set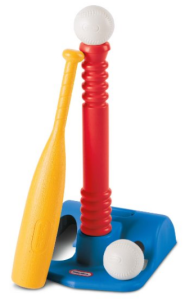 This cute and colorful T-Ball Set is perfect for your little ones first introduction to the game of baseball. The oversized bat makes it easy for toddlers to make contact with the oversized baseball (the set includes two of these) and practice their swing, especially since the ball is stationary and the stand is height adjustable. When children enjoy early success, it helps build their self-esteem and confidence, and they will be more likely to enjoy the game and continue to improve. T-Ball Sets like these improve batting skills, fine and gross motor functions, dexterity and coordination. A child can play by themselves or with others, so it can also improve interaction and cooperation with other children.
20. Playskool Sesame Street Play All Day Elmo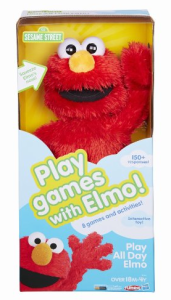 You might be cringing here at the thought of Elmo's annoying voice, but the fact is that Elmo is a huge hit with the toddler crowd. With this doll, it's not just his bright red color, silly antics, engaging personality, and soft cuddly body that children love, but the fact that if they pinch Elmo's nose, they can hear over 150 different phrases. They can also cuddle with him while listening to a lullaby. Younger kids can enjoy basic cause-and-effect play in Toddler mode react when they tickle his belly, bounce Elmo on their lap, throw him in the hair, dangle him upside down and clap Elmo's hands together. Preschool mode encourages children to play games and activities, like "Red Light Green Light," "Pat-a-Cake," "Freeze Dance," and more! The head is a bit top heavy because the mouth moves, but both girls and boys seem to enjoy this doll equally.
21. Hape Mesmerizing Magnetic Wooden Maze Puzzle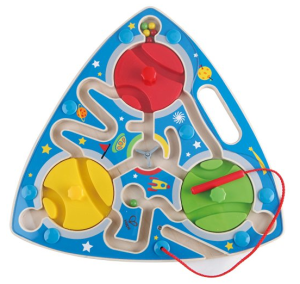 This fun retro maze puzzle is perfect for building hand-eye coordination, dexterity, and logic thinking skills in your little one. Your child will spend hours engaged with this interactive puzzle, tipping and twisting to steer the colorful marbles through the winding maze. For added difficulty, you can pick the course for your child by designating a beginning and end, and you can get them to try matching up the color of the marbles to end in the same color track to promote problem-solving skills. This product is conveniently compact and lightweight making it perfect for entertaining kids while in the car, at home, and on the go! Kids can just roll the balls through the maze, but there's also a magnetic pen attached to the maze. You can literally draw the metallic marbles through the maze one at a time, and turn the wheels to block paths and open others. The older your kids will get, the better they will be and the more fun they will have with this colorful game. There is no choking hazard because the balls are all fully enclosed within the maze.
22. TOMY Chuggington Wooden Railway Easy Track, Dockyard Delivery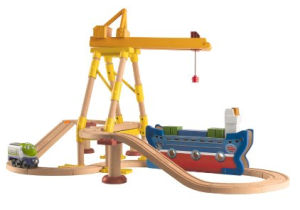 My kids all still absolutely adore this track set. The Chuggington Wooden Railway sets are brilliantly set up. Unlike other toy train sets that require assembly and can easily become unhinged; this comes with a loop of 1-2-3 connected track that kids can play with immediately out of the box without any assembly, using a few simple twists flips and rotations of the tracks (Chuggington 1-2-3 Track is a wooden train track that is connected by hinges that flip, flex and rotate 360 degrees for easy play). They can also add from the three feet of loose track that easily snaps in. The set includes a sliding crane that can pick up "cargo" magnetically, a cargo boat, and a wooden train engine. This train set promotes independent play and imagination.
23. Fat Brain Toy Co Tobbles Neo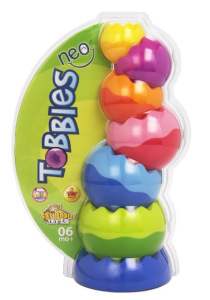 Take stacking to the next level! The six dual-color, weighted pieces all have a unique easily gripped texture and sit atop a stacking base. Physics interplays here with design perfection, and you'll be hooked along with your kids at this dynamic toy with endless possibilities. Little hands especially delight in the never-ending discovery of Tobbles, and they can stack, topple, spin, balance, wobble, tilt, wiggle, and roll the spheres. This toy encourages sensory exploration, hand-eye coordination, fine motor skills, and visual spatial awareness. One of the more unique toys I've seen in a while!
24. Melissa & Doug Make-Your-Own Monster Puppet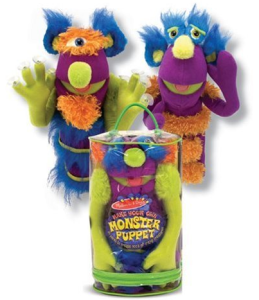 Puppet play has never been so much fun. Assemble & reassemble your silly puppet. Create hundreds of crazy creatures with this fuzzy friend and its interchangeable parts. "Jim Henson"-like puppets with goofy features and hilarious antics result. The carrying case is filled with weird and wacky eyes, ears, antennae, and more for quirky creativity. With high quality hook and loop attachments, and thirty puppet pieces, there are thousands of imaginative possibilities in this one great puppet toy! One minute the furry created puppet is happy, the next angry, the next surprised. Suction cup hands are included if you want to window display any of your child's funny creations. Puppet play inspires imagination, communication, creativity, socialization, fine motor skills, motor-planning, sensory awareness and interaction. With the plush, high quality puppet body and zany attachments, your children will enjoy manipulating their puppet creations, expressing feelings, making up stories, and sharing ideas.
25. Board Books (Various)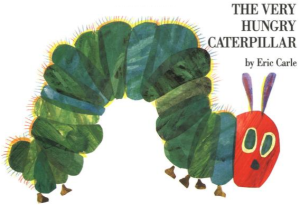 The Very Hungry Caterpillar, First 100 Words, Brown Bear, Brown Bear, What Do You See?, Guess How Much I Love You, Giraffes Can't Dance, The Going-To-Bed Book, and so much more! I cannot stress enough the importance, in this day-and-age of instant gratification and flashy gadgets, of children's books. These board books range from older classics to newer ones, but they all have the same ability to spark the spirit of imagination in children. Some are stories, some are learning books for words, shapes, colors, etc. Pick them according to the level of your child, and with board books, you don't need to worry about them tearing pages. They can even add stickers if they like without risking destroying the book. There are so many fantastic choices to pick from which will not only help enhance your child's vocabulary, but instill a deep love of reading, which so many today have lost.
Final Thoughts
Finding the right balance between complex electronic games and simpler toddler-powered toys will go a long way to challenging your child properly and helping them develop mentally and physically. There are so many skills than can be learned via pretend, interactive, independent, experimental, cooperative and creative play, so try your best to supply your child with the broad range of these types of gameplay. This list is just an example of some of the great toys that touch on these various play types, and there are many more out there to discover. I hope this shows you that "fun" and "educational" certainly do not have to be mutually exclusive.
Thanks for checking out our latest kids educational toys feature – be sure to check back for more on educational toys here at EduMuch!