Glock 30 Gen 4 Review: Get Glocked
Table of Contents
In 1980, the Austrian authorities were looking for a new service sidearm to replace their Walther P38 handguns. Gaston Glock, who ran a company which developed training supplies for the Austrian military, was invited to submit his own idea along with some well-known firearms manufacturers. The Glock 17 (9mm) became Austria's official service handgun in 1982, and soon afterwards it gained the world's attention. Many nations followed in Austria's footsteps, and even NATO accepted the gun into its ranks, providing it with its own NATO serial number.
Since the 1980's, Glock has been producing some of the best handguns the world has seen. Glock is a cultural icon and is known across the globe. It is a word which is synonymous with accuracy, simplicity, and dependability. Civilians, army, and police trust their Glock with their lives, and with good reason. This article is all about the Glock 30 Gen 4 (.45 AUTO). In the past, we have reviewed the Glock 17 and Glock 19, as well as popular modifications for those models. The 17 and 19 are two of the most popular 9mm handguns in the world, and the Glock 30 is not far behind.
Glock 30 Gen 4 Build and Specs
First of all, let's take a look at some of this gun's technical specifications:
Caliber / System
Dimensions
Length: 175 mm / 6.88 in.
Height: 122 mm / 4.80 in.
Width: 32.50 mm / 1.27 in.
Barrel Height: 32 mm / 1.26 in.
Length Between Sights: 150 mm / 5.91 in.
Barrel Length: 96 mm / 3.77 in.
Weights
Unloaded: 745 g / 26.30 oz.
Loaded: 955 g / 33.71 oz.
Trigger Pull / Travel
Trigger Pull: ~2.5 kg / ~5.5 lbs.
Trigger Travel: ~12.5 mm / ~0.49 in.
Barrel Rifling / Length of Twist
Barrel Rifling: right hand, octagonal
Length of Twist: 400 mm / 15.75 in.
Magazine Capacity
Standard: 10
Optional: 13
The Glock 30's build is consistent with traditional Glock elements – nylon-based high-strength polymer-2 compound and steel. Like all Gen 4 Glock handguns, it comes with interchangeable back straps, a reversible magazine well, and dual recoil springs. The Glock 30 is actually a compact version of its bigger brother, the full-sized Glock 21 (.45 AUTO). It is a great example of a well-planned, well-thought-out concealable handgun. It serves as a great backup gun, or as a primary gun.
There is a lot of talk about the .45 AUTO cartridge. Some people feel it does not possess enough stopping power. From my experience, it really doesn't matter what you are shooting. If you are aiming for center mass, and if you are able to hit it with accuracy, you will bring your target down. No two ways about it. There are stories of people getting up from being hit with a 9mm, a .45 AUTO, and probably even a 5.56mm or 7.62mm.
I can all but guarantee that those people were not faced with a center mass hit. It is all about where you hit. That is the most crucial part of any gunfight – perhaps other than looking for adequate cover –  so you better get your butt to the range and practice your aim. The Glock 30 is available in two alternate models – the Glock 30SF (short frame) and Glock 30S (slide). A slimmer version of the .45 AUTO – the subcompact Glock 36 – is also available.
When you need to shoot something, then write about it. #glock #45acp #glock30 #waywardgoods #michrotech #gun #nra #twitterguns pic.twitter.com/zRi8Yo06bw

— LoneStarLoaded (@LoneStarLoaded) January 27, 2017
Glock 30 Gen 4 Shooting and Performance Review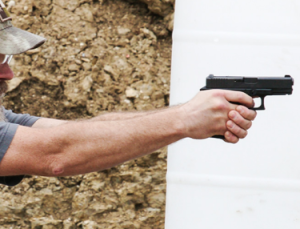 So, we spoke of the caliber, the build, and some of the technical specifications. But what about actual performance? How does it shoot Well, I am a self-proclaimed Glock fanboy. There are many great gun manufacturers out there, of course, but my every day carry handguns have always been made by Glock.
The Glock 30 shoots with a very minimal recoil. You'd think that a combination of a .45 caliber round and a smaller frame would produce a recoil which feels more powerful, more so than other guns. The Glock 30 is a pleasant surprise in that sense, and it is fun to shoot, even for long periods of time. Controlling the gun is easy, but it does depend heavily on your hands and fingers.
If your hands are too big, you may have some difficulty using it in its standard form. In that case, either attach some extensions, or else simply get a larger frame handgun. It could very well be that compact handguns of this caliber are not for you. Seek and you shall find.
Glock 30 Gen 4 Safety and Accessories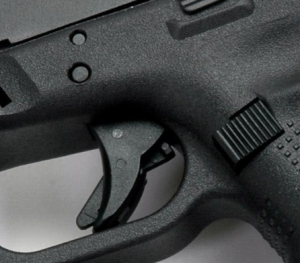 Glock's own 'Safe Action' system is known across the industry for its reliability. It is considered by many to be one of the safest mechanisms in the world. It is a three-part safety system – trigger, firing pin, drop – designed to make the gun fall-safe and fail-safe. Nothing man-made is perfect, but these guns sure come close. It is not by chance that Glock's slogan is "Perfection". The company has issued a very minimal amount of recalls ("upgrades") over the years, because the Glock team takes care of things at the factory level, and manages to iron out any kinks during the research and development phase of production, or during actual fire testing.
As for accessories – one of the greatest advantages of owning a Glock handgun, is that there is a never-ending stream of accessories, many of which are available in any random gun shop, online or offline. Glock is simply that popular. The best-selling Glock 30 accessories are grips and sleeves – meant to function as extensions; sights, lasers, and other optics – designed for a multitude of day or night scenarios; and, of course, holsters. Because the Glock 30 is a highly concealable gun, you can use it with many holsters, and conceal it on different areas of your body.
Glock 30 vs. Glock 17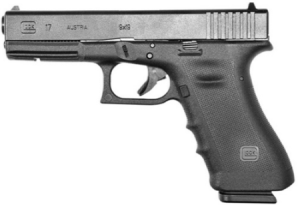 Without getting into the whole 9mm versus .45 AUTO caliber debate, I'll say that the main differences between these guns resides in the size and firepower. The 17 is a full size frame which holds 17 rounds as a standard, as opposed to the 30's 10-round standard mag. In its Gen 4 configuration, it has many of the same features which the Glock 30 Gen 4 has. So, it comes down to you. My advice to you is to try both of them out. See which one takes your fancy and tickles your firearm funny bone. If you know you need a larger frame and more rounds per mag, but are not so fixed on a certain caliber, perhaps go with the Glock 17 or with the 30's older brother, the Glock 21.
Glock 30 vs. Glock 19
Again, I choose to gloss over the caliber debate, and go for the specs. Both of these handguns are compacts, so let's do a quick comparison of dimensions, weight, and firepower:
| | | |
| --- | --- | --- |
| | Glock 30 | Glock 19 |
| Length | 6.88 inches | 7.28 inches |
| Height | 4.8 inches | 4.99 inches |
| Width | 1.27 inches | 1.18 inches |
| Barrel Length | 3.77 inches | 4.01 inches |
| Barrel Height | 1.26 inches | 1.26 inches |
| Length Between Sights | 5.91 inches | 6.02 inches |
| Weight (unloaded) | 26.30 oz | 23.65 oz |
| Weight (loaded) | 33.71 oz | 30.18 oz |
| Firepower (standard) | 10 | 15 |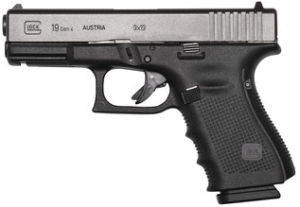 You can tell from this rough side-by-side that the Glock 19 is somewhat lighter, thinner, and offers greater firepower. Overall, these two guns have a lot in common. This is a great example of a case where the caliber really does matter. After all, there is usually a reason why someone will prefer a 9mm over a .45 AUTO, or vice versa. As I mentioned before, I believe it is all about practicing, and getting that center mass hit, and this is true to any and every caliber.
You could have the best firearm in the world held between your fingers. If your aim is off, you will miss the target – period. That is a cold, hard fact. Concurrently, with the assumption that your aim is on point, some people will still prefer one caliber over another, normally based on experience. In a case such as this, it can make a potentially big difference.
Conclusion
The Glock 30 Gen 4 is a great firearm. While it may not fit everyone's needs, it is certainly a gun to consider if you do not want to compromise on efficiency and reliability. There is no one particular gun which is better than the other. It is all a matter of circumstances and personal preferences. Some people find a gun and a caliber they are comfortable with, and then invest the time into becoming the best shot they can be with that specific handgun or caliber. Nothing wrong with that. Creating a closer bond with your self-defense weapon of choice can be crucial for your success.
Glock handguns are world famous, and with good cause. The Glock 30 is not a perfect handgun, but it will serve as the perfect handgun for many shooters out there, be they civilians, military, police, or government agents. With a MSRP of $585, it is a gun which will fit many hands and budgets.
Thank you for reading our Glock 30 Gen 4 review. Check out our Sierra Designs, Kelty, Alps Mountaineering, Thermarest, and Big Agnes reviews while you're here at EduMuch!