Spyderco Autonomy Knife Review 2016
Table of Contents
Here at Edumuch, we don't only deal with firearms – we tackle knives as well (not literally, of course). Carrying a knife can come in handy in a variety of scenarios. What I like most about Spyderco knives is not the great build quality, attention to detail, and consistency – although those are all valued features that the company is known for. No, what draws me to Spyderco is the company's refusal to be boxed in by the general working definition of the knife. As a company that improves on the traditional in non-traditional ways, Spyderco should be commended not only for producing quality products, but for moving the needle forward in an otherwise stagnant industry. Founded in 1976, Spyderco's signature knife innovation was that of the round hole featured in the blade for one-handed, ambidextrous opening as well as the pocket clip on the right side of the handle – two features which are now commonly found in knives today. However, innovations continue to be developed by Spyderco to this very day, and are especially found in the Spyderco Autonomy. Originally produced at the request of the United States Coastal Guard rescue swimmers, the United States-made Autonomy is the latest successful and innovative knife in Spyderco's long and acclaimed knife lineup, as we will detail in this, our Spyderco Autonomy Knife Review 2016.
Spyderco Autonomy Specs
| | | | | | |
| --- | --- | --- | --- | --- | --- |
| Overall Length | 8.62″ (219 mm) | Blade Length | 3.70″ (94 mm) | Steel | H-1 |
| Closed Length | 4.92″ (125 mm) | Edge Length | 3.51″ (89 mm) | Weight | 5.4 oz (153 g) |
| Blade Thickness | 0.114″ (2.9 mm) | Handle | G-10 | | |
Spyderco Autonomy and US Coastal Guard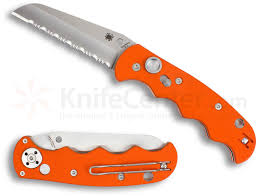 The demands of US Coastal Guard rescue swimmers are rigorous, but the Spyderco is designed to be up to the task. After recognizing the shortcomings in their regularly issued, standard, non-specialized knives, the Coastal Guard approached Spyderco about developing a knife to satisfy the needs of their swimmers. Given the mission requirements of these swimmers, a suitable knife would need to be high performance as well as capable of being easily deployed with one hand while wearing heavy gloves. The knife would also need to be impervious to the effects of salt water, easily handled and maneuvered, and capable of cutting with precision and authority. The Autonomy accomplishes all of this and more.
Classified as a restricted item, the Autonomy comes in a standard issue black color as well as specially issued orange for the coastal guard swimmers. The knife features Spyderco's patented SpyderEdge sheep-foot style blade. Ground from H-1 steel in tactical environments in which lightness and speed are critical, the blade is coated in diamond-like carbon (DLC) in order to reduce its reflective signature. I found the knife to be both impressively effective in terms of cutting as well as stealthily matted (non-reflective), which makes it ideal for concealed carrying purposes. As a self-defense carrier, I found the Autonomy to be perfect for my needs.
The finger-grooved handle fits extraordinarily well into my hand, although your mileage may vary depending on hand size (my hands are a bit on the larger side). The handle is textured with attractive and comfortable black G-10 scales, and the oversized firing button is easily accessible but also includes a sliding safety feature to ensure that there are no accidental activations – a very useful feature. Spyderco boasts that the auto-opening mechanic of the blade is powered by a corrosion-resistant coil spring nested within a removable module – this sounds overly complex, but the point is, the knife engages easily and smoothly, even after thousands of blade deployments. The removable module allows for easy maintenance, as the spring and inner workings of the blade can be easily removed for cleaning without taking apart the entire knife. The knife is made from exclusively rustproof materials – I can say that after hundreds of hours of carrying the blade under various circumstances, my Autonomy is still in the same shape that is was in on day one. The easy deployment, light weight, and lack of glare in the knife make it one of the more revolutionary blades we have seen in some time, and one of the highest quality knives I've ever had the pleasure of carrying.
Restrictions
As an automatic knife, the Spyderco Autonomy is a federally restricted item. This means that sale of the Autonomy is limited to qualified personnel only. Federal regulations in this instance are clear, and there are no exceptions made – despite the potentially varying local laws, automatic knives are almost always prohibited.
Conclusion
Here's the bottom line when it comes to the aesthetic and effective Spyderco Autonomy – if it's good enough for the United States Coastal Guard rescue swimmers – and it is, as the blade has been praised repeatedly by various carries of the knife – it's most certainly good enough for your typical knife carrying, self-defense purposes. Spyderco continues to prove that no one does knife innovation like they do – time and time again the company outdoes itself by producing quality knife after quality knife. Having spent months with the Autonomy, I have no complaints. It is without a doubt the most easily deployed and carried blade I've used, and I've used quite a few in my day.
Overall: 5/5