The Best Camping Lanterns of 2017 Review
Table of Contents
Need a light?
When you are in the middle of any kind of outdoor adventure, nothing provides heat and light quite like a campfire. It is definitely my favorite way to heat up and brighten the camp site. Nice fires are not always possible to build or sustain, for various reasons. Furthermore, you usually can't light a fire inside your tent, right? I mean, technically you could, but 9 out of 10 campers would probably agree it is not the best or safest idea, and the tenth one is just one of those characters that want to watch the world burn.
In other words – camping lanterns. They provide heat and light and comfort. These are some of the brightest, most durable, most user-friendly, lightweight, and kickass camping lanterns on the market today. A lot of camping gear – like hammocks, tents, and chairs – are pivotal, but a good lantern can make or break a trip. This review is based on usage, but I didn't spend months and months with these lanterns. I can't testify as to the quality of these after heavy-duty, long-term, rainy use, but rather this is an immediate opinion, a first impression kind of deal.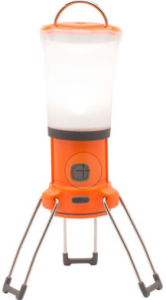 This lantern represents one of the greatest things about industrial  design and engineering. It is a lantern which is compact, functional, bright, and user-friendly package. Its stands are sturdy and durable, and its hook/hang loop can be used in a variety of scenarios.
This lantern is a LED with 200 lumens (on its max setting), enclosed in a frosted, dual reflector globe, for higher levels of brightness. Battery level indicator shows the power status, and there is a switch for adjusting brightness. Uses 4 AA batteries or NRG-compatible battery.
Average battery life: 90 hours. MSRP: $49.99.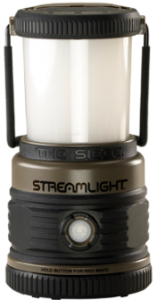 For over 40 years, Streamlight has been a trusted brand which has been lighting the way for many police and fire departments, military units, and prepared civilians. This lantern is probably less fit for backpacking, in my opinion, but that is a personal choice. It has multiple modes (white/red LED), provides even 360-degree distribution of light, and the cover is removable. You can stand it upright or hang it using the rings. Has a max setting of 340 lumens, and uses 3 D batteries.
Average battery life: 295 hours. MSRP: $36.09.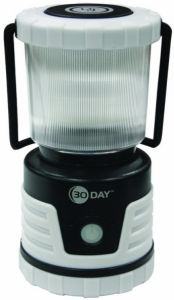 The claim to fame of this lantern is that it runs for 30 days on the low level. The fact is, this is not true. It runs past 30 days on the low setting, and it is one of the most durable and impact-resistant lanterns out there. This thing has a brightness of up to 700 lumens, and its lifetime-guaranteed LED will never have to be replaced. With a removable globe and a rubberized housing, this is one of the best on this list. It requires 3 D batteries, abd has various modes.
Average battery life: 720 hours. MSRP: $49.99.

We already spoke of the Apollo, and here comes Voyager. It is one of my favorite space missions, incidentally, and now we can review the lantern that was named after it.
This light is a dual purpose lantern/flashlight, which means it has several settings to choose from. Much like the Apollo, it is durable, reliable, and made of quality materials. It has 2 LEDs: one is 75 lumens, the other is 50. One switch controls all modes, and it is easy to operate and handle. It is a small and versatile lantern. A backpacker's best friend, guaranteed to shed some light on many a-trail.
Average battery life: 100 hours. MSRP: $39.95.
Smith Rock just before sunrise. #liveclimbrepeat pic.twitter.com/RXkBOatrVJ

— Black Diamond (@BlackDiamond) January 24, 2017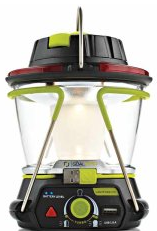 The greatest thing about this light, I feel, is that it can be recharged with USB, solar energy, or even a hand crank. That, in and of itself, is a major advantage. Dead useful. The solar panels are not included, unfortunately, but it is an option nevertheless. It runs on 2 li-ion batteries, which are included.
This lantern has 2 LEDs with 250 lumens capability, is pretty lightweight at 1.1 lbs, and can run for up to 48 hours with one of its two lamps lit. Its dual lamps give an even 360-degree light for your tent, or a single light for your trail. Handy and compact, plus you have the option of powering your smart devices or other USB-enabled gadgets by hooking up to the USB output.
Average battery life: depends on many factors, so there is no real average. MSRP: $69.99.

Etekcity have a few really great lanterns, and the reason why I chose this one is the price. The value for money here is really great, so even though there are several other lanterns which Etekcity produce, this is the one I am reviewing.
So, this lantern has 30 individual LEDs (60 lumens) which shine in all directions, and it is constructed from rugged military-grade materials. It is highly collapsible and portable, and can be hanged, carried, or set down. There is the option of a low power setting for continuous use, as well as two others. Comes with a 10-year warranty, which is something worth mentioning, in my opinion. 3 AA batteries (alkaline or rechargeable) power this lantern.
Average battery life: 12 hours. MSRP: $9.88.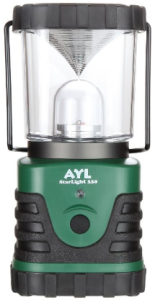 There is a 600 lumens output on this LED bulb lantern. That is a lot, and guarantees you clarity and brightness for over 100,000 of use. When battery-powered with three quality D batteries, it can be used for six straight days! With three lighting modes (high, low, strobe) this lantern is certainly versatile, and it is designed for long-term use whether standing or on a hook. Shockproof and water-resistent, it is housed in plastic, and comes with a limited lifetime warranty.
Average battery life: varies, depends on the settings and usage. MSRP: $20.99.
Conclusion
In Ecclesiastes, King Solomon wrote: "Light is sweet, and it pleases the eyes to see the sun." well, we don't always have the sun shining down on us, which is why it is recommended to have a quality lantern by your side. Emergencies, hiking, camping, fishing, or even indoor forts made of sheets and blankets – you simply never know when you're gonna need a light.
There are many different brands to choose from, and those, too, can be pleasing to the eyes. Some more than others. When you are shopping for camping gear, it is important to get the best you can afford, because when you are out there in the middle of the woods or snowy peaks, you need to rely on yourself and your gear.
A good lantern can be a real lifesaver, and illuminating the camp is a job which cannot always be done by using a fire (as I mentioned in the beginning). So, make sure the lantern you purchase fits your needs, your price range, and your reality. If you need to go bigger, go bigger. If you need a really compact one for backpacking, get the one which will provide the best bang for your bang. No point in spending good money on something of little value. This review is my own opinion, and yours may very well vary. In fact, it probably should vary, since no two scenarios are ever the same.
Either way, however you choose to go about it – have a great camping trip and a safe and fun time. Dress warm, eat out of the can, get yourself a good tent, a comfy mat and sleeping bag, and just do it. Nothing beats getting away from it all and heading outdoors. Truly, nothing.