Table of Contents
A giant was born in a Swiss village in 1981. Two Stanford graduates with the help of an engineer decided that they were going to make hardware for computers and went forward with a mouse to this day the company's mice are what makes it the best. Logitech produces all the necessary hardware you need to either game using any system or work on your PC. From steering wheels and gear shifts to wireless keyboards they provide what you need to be a pro. They are a recognized name as being top end and you don't earn a reputation like that without warrant. They make top notch accessories that allow you to work and play as hard as you have always dreamed of. They are the professionals that know what you need and make it in accordance with the excellence we have come to expect from them. The G and Prodigy series are both incredible and worth investing in. Not always the least expensive product on the market with Logitech you are always paying for quality. Not all of their products break the bank however and there is no area that they don't have affordable options in.
They have a strong support staff to guide you through any troubleshooting and a good warranty system as well. The warranties are usually not transferable from the original owner and that is something to keep in mind if you are considering buying used or from a store like eBay. They love building brand loyalty by honoring their warranties even when you might not expect them to. They have been known to replace an older product that is out of production with a newer version free of charge to keep their customers satisfied. All of the products on Logitech look cool but that's not where their main focus lays. They produce the functionality of professionals and those that know what they are really doing leaving the glamour to the novices who need the focus on looks to replace what they don't have. The skill. A major force to be reckoned with in the hardware world, Logitech paves the way for others to follow. No matter what you are looking for if it has the Logitech logo on it, you can be sure it will meet expectations and perform. The brand is best known for its mice and they truly are second to none but the rest of its products are no slouches either and all of them are worthy of the name that the company has come to represent.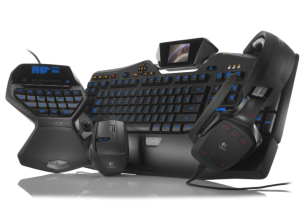 Logitech Mice
This is the pride and joy of the company; with a wide variety of options these mice are the premier standard in gaming especially. With prices ranging from $9.99 to $149.99 you can find the style that fits your budget and needs. Their make ambidextrous mice so that even those who like myself are the gifted with being lefties, no longer need to struggle with mice like we do with scissors. The top dog in the house right now is the G900 which is seriously a wicked piece, featuring everything a gamer could want in a mouse and more.
They do far more with mice than just gaming and you can find the perfect mouse for either work or home. The gaming ones definitely have the least lag time, but it would sort of be overkill for a regular day at the office and they make ones that are meant to prevent carpel tunnel and that's probably what I would recommend for a day at the desk. They do have combinations of both mice and keyboards and you can get a feel for what level you are at and what you need to get the job done.
Keyboards
There is a decent range of options to choose from in this category, with choices for business, home and of course gaming. While both mice and keyboards are considered peripherals of the computer station, keyboards tend to be missing out on the attention that other hardware like mice get. So here we take a look one and you see what you think. They have silent keyboards, Bluetooth keyboards and gaming keyboards that light up and have complete reliability as well as durability. Of course there is a spectrum of pricing options and you can be sure to find what works best for you. We love the LED feature on some of the gaming boards not just because its super cool, which it is! In addition, it makes knowing your key zones far easier and your peripheral vision has a far easier time understanding what's going on without much effort or conscious thought. Prices range from $14.99 to $189.99 the only challenge is picking from about 30 options all within those prices.
Controllers
Not every game is best handled with a keyboard you just simply can't get the precision, simplicity or speed that you need, and Logitech gets that. Which is why they offer joysticks, steering wheels for different systems, gear shifts and gamepads.
Audio
Good sound is rarely if ever appreciated by most the way it deserves. Logitech of course is not among that majority. Any gamer will tell you that trying to play online without an adequate headset makes any type of communication impossible and any victory requires that players are on the same page, plus there's no fun in yelling about another player's mom if he can't hear you. To fill this demand, Logitech makes top of the line gaming headsets that allow you to be there with the other players and contribute and well as have a sharp understanding of what is going on around you. They make both wired and wireless as well and several of the headsets are surround sound, really locking you into the game's world. They do have a line of business and personal headsets as well that aren't designed specifically for gaming and are generally much lighter and used for conference calls and the likes.
Headsets aren't the only way Logitech has you covered with sound. They make a couple different speaker systems that will be sure to satisfy any listener and produce the sound that was intended when it was created. There are Bluetooth and wired, pc and surround sound all have their strengths. While all audio devices that the brand produces are going to be a great listening experience I really do recommend anything that has surround sound by them, it's a complete submergence into the sound waves.
Smart Home
This is the 21st century and if Logitech's gaming tech or Bluetooth everything so far hasn't proved that to you, their smart home products will. They have universal remotes, remote access cameras, control switches, accessories and charging stations for your iPad. All of these things together will make your house a modern, cutting edge palace. Individually though they each hold their own weight and don't need the others to function and make your life easier and smarter. Out of all of them I would say the one that has practical benefit and doesn't just make your life more convenient is the cameras.
The circle cameras give you the ability to know what's going on at home no matter where you are at the moment. They are ideal for anyone with parents that are older, pets, kids or are just concerned with their home being unattended. Each camera rotates 135 degrees plus plays hi definition both day and night. If there is movement at your house when the alarm is set, you will be sent an update to your mobile and with smart filtering the chances of getting false alerts is far less likely. The security aspect of this is obvious and the peace of mind that comes with such a system is unparalleled.
Conclusion
Whatever your hardware needs are Logitech has you covered with the tools you want and need. There's a reason that this brand has become a household name since the 80's and that is reliability. You don't have to worry because even if you do have a problem, they are amazing when it comes to honoring your purchase and agreement. Make sure you keep your receipts and can prove your purchase, once you do that you are family.
Be sure you check out the other great content on Edumuch and aren't losing out on chances to learn something new!