Razer Abyssus Gaming Mouse Review 2016
Table of Contents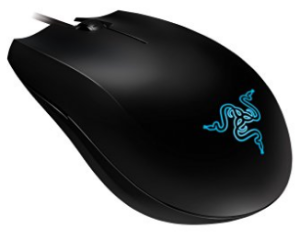 Abyssus is the given scientific name of the venomous 'Grand Canyon' rattlesnake, so named because it is found only in the northwestern and northcentral areas of Arizona. It is a relatively calm sort of snake, and it is due to its more subtle nature that it manage to slip by and avoid detection by those who are passing next to it. It manages to get the upper hand by being less obvious. Less is more, right? The same goes for this gaming mouse, by Razer. The tag line which Razer chose for this mouse was "less is more", and it is probably referring to the Abyssus' size, cost, and buttons. The original Razer Abyssus was released in 2009 to much acclaim, and in 2010 a Mirror Special Edition was announced. In  2014, a second version of the original Abyssus came out, and in 2016, a third model in the series –  the Abyssus V2 – was made available. There are some difference between the different versions, and in this review we will be focusing on the V2, since it is one the more advanced models which Razer is offering at this time. For comparison's sake, the original Abyssus had a 3500 dots per inch, Razer Precision 3.5G infrared sensor. Like I said, there are some differences, which we will detail here in our Razer Abyssus Gaming Mouse Review.
Razer Abyssus V2 Technical Specifications

Dimensions – length: 4.6 inches, width: 2.5 inches, height: 1.5 inch (approximately)
Weight – 0.17 lbs. without cable / 0.24 lbs. with cable (approximately)
Sensor – PMW 3329, true 5000 dots per inch, optical
Buttons – 4 programmable Hyperesponse buttons
Grip – ambidextrous, ergonomic (has in-mould side grips)
Cord – long, not braided
Released – 2016
List price – $49.99

Razer Abyssus V2 Price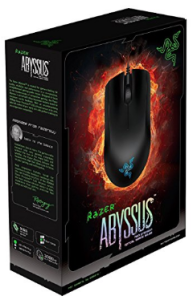 When Razer's team of engineers set out to create this relatively simple gaming mouse, they wanted to take their already-existing ambidextrous 3-button design, and load it up with the most advanced technology, without making it over the top. Sure, Razer also has mice for $150, like the Mamba or the Ouroboros, and they are well worth it. But, this is a gaming mouse designed for those who want to get the excellence and precision of a Razer, without spending too much of their hard-earned money. It is a reasonable request, since a lot of gamers are not professional eSports athletes. A good gaming mouse for $50 is something which many people can get onboard with.
Razer Abyssus Mirror Special Edition Review
In 2010, a special edition of the original Abyssus came out, which sported a slick, high gloss black chrome mirror finish. The Abyssus Mirror was basically the very same mouse as its predecessor, but it was made to complement the gamer looking for a more aesthetically-pleasing design. It is a peripheral which goes hand in hand with Razer's other Mirror Special Edition, the Lycosa keyboard.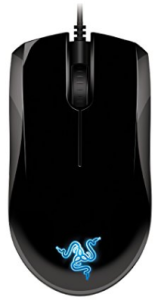 Is it necessary? No, not really. I guess this is why the price tag didn't change. It would be very foolish of Razer to charge more for a mouse whose only upgrade was in its finish. That being said, it has a very nice finish, and it certainly adds a lot to any desktop and mouse pad which it rests on. For a gamer, however – I mean your average everyday gamer, not your snobby, stiff upper lip kind of gamer – it won't make any difference. This is the same mouse as the original Abyssus, and while the finish does make it look a lot nicer, it is nothing to go gaga over. A glossy finish is cool, but that's about it. It adds nothing to the performance of this impressive gaming apparatus. Well, at least it was impressive until the 2014 and V2 versions came out. The ones which followed the 2009 Abyssus blew it out of the water, with more advanced features and a new sensor. Abyssus Mirror models are still available for sale, so if you feel that your workspace or gaming zone could use a little bit more style – go for it.
Razer Abyssus V2 Software and Drivers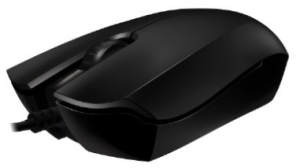 Registering to Razer Synapse is now mandatory for all Razer products. If you don't want to change any of the preset settings, you probably don't even need Synapse. Then again, you wouldn't invest $50 in a mouse, and then not customize it. And, in order to customize the buttons, the sensitivity, the acceleration, the lighting, the macros, and the overall performance of the Abyssus, you need Synapse. Some feel the Razer Synapse is an unreliable piece of software, and that it is too glitchy. Some even go so far as to say that it can do some harm, and even cause mice to lose their functionality and break down from the inside.
I don't feel that way about the Razer Synapse, and I never had any issues with it. I think that it is a relatively simple, straightforward, all-inclusive configuration hub. It is a way for a gamer to get everything he or she needs from their various Razer devices. Also, it is cloud-based, so it can be used anywhere. In other words: you can pick up your mouse, your keyboard, and your headset, head over to a friend's house, plug everything in, and manage your profiles and settings from Synapse without any confusion. No need to waste valuable time setting everything up from scratch. In that sense, Synapse really is a time saver, and it gets you ready to go, fast. The firmware and drivers are always updating, and you can get the latest version of these files, along with any other necessary documentation or support, from Razer's website. They are very good about updates, and they don't leave anyone high and dry.
Booted my Abyssus off my old desktop PC whilst main laptop is in for upgrade. Home is where my @Razer Deathadder is. pic.twitter.com/XaFlYLt4ay

— aktoman (@aktoman) September 29, 2016
Razer Abyssus VS Razer DeathAdder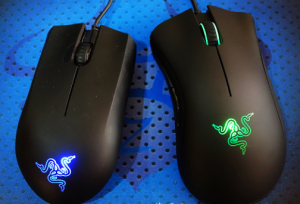 Whenever a new(er) Razer mouse comes out, people are always comparing and contrasting it with other makes and models. It's only natural, and very understandable, to want to compare the Abyssus to others, whether by Razer or not. It is in a price class which many other mice are in, and that is even more cause for comparison. It invites the question of brand VS performance, and it lets people make their own decisions about devices which they would want to own in the future. The Razer series which is most comparable to the Abyssus is the DeathAdder. So, to start this comparison off, here is a side-by-side of the basic technical specifications of the Abyssus V2 and the DeathAdder Chroma:
| | | |
| --- | --- | --- |
| | Abyssus V2 | DeathAdder Chroma |
| Size L X W X H | 4.6 X 2.5 X 1.5 inches | 5 X 2.76 X 1.73 inches |
| Weight | 0.24 lbs. | 0.23 lbs. |
| Grip | Ambidextrous | Right-handed |
| Sensor | PMW 3329 optical | Avago S3989 optical |
| DPI | true 5000 dots per inch | 10000 dots per inch |
| Programmable buttons | 3 | 5 |
| HZ polling rate | 1000 | 1000 |
| Lighting | 3-color | Full spectrum – chroma |
| On-The-Fly Adjustments | Yes | Yes |
| Price (MSRP) | $49.99 | $69.99 |
These two look a lot alike, and the most obvious difference between them is the grip. The DeathAdder is a little bigger overall, since it is designed to be used by right-handed players. This means that it has a bit of a curve to facilitate the right hand grip, and that the palm bulge sticks out higher for easier long-term usage. DeathAdder is great for palm gripping. The Abyssus, on the other hand (get it?) is meant to be more of a claw grip kind of device, although Razer maintains it can be used by both hands in claw, palm, or fingertip grip. Its ambidextrous shape means that there is no curve to speak of, and it is smaller than the DeathAdder, but not by much. The other thing which stands out is the absence of side buttons on the Abyssus. There are certain games where having a couple of extra buttons on your mouse can help you a lot, and the DeathAdder has got you covered. Genres like first-person shooter (FPS) games, massive multiplayer online (MMO) games, or massive online battle arena (MOBA) games are all games which make a lot of use of buttons.

Some mice, like the Razer Naga, even have up to 19 programmable buttons, and include 12 of them on a special thumb grid. Pretty great stuff, none of which have anything to do with the Abyssus. It is a simpler mouse, meant either for gamers on a budget, or for gamers who don't require the whistles and bells of other models. There are, of course, gamers who have several mice, and that solves the issue to begin with, and takes picking and choosing out of the equation. But, if buttons are a concern of yours, and if you don't mind the right-handedness, the DeathAdder could be the mouse you are looking for. As for price, the MSRP differs. The DeathAdder does cost significantly more, but for those who use it on a daily basis, and who have it customized and fully personalized – there is no replacing it. A DeathAdder series device is the "go to" mouse for many players all over the world.
Razer Abyssus Gaming Mouse Comfort and Feel
So, how do they feel? Well, the DeathAdder is the bigger one of these two, so it appears a little bulky when compared to the slimmer Abyssus. However, you need to keep in mind the ambidexterity factor. The Abyssus is smaller because it is symmetrical, and that changes the grip. If you like to feel your palm resting on the mouse as you play, you probably won't be satisfied with the Abyssus' feel. It really is a personal judgement call. Another difference which isn't as crucial, but which still makes some kind of difference, is the lighting. The DeathAdder Chroma has beautiful effects and mesmerizing patterns, which work tirelessly to illuminate your mouse and your game zone with 16.8 million different color options. The 3-color lighting of the Abyssus V2 literally pales in comparison, but remember that with the Abyssus, Razer was going for a smaller, more budget-friendly professional gaming mouse.
I think it is safe to say that that objective was achieved. If the Abyssus had no market, there wouldn't be a Mirror Special Edition, no 2014 version, and certainly no V2 version. The fact that gamers continue to buy the Abyssus means that there are those out there who are looking for a cheaper mouse that still has the Razer quality to it. We don't all need the 16000 dpi of the Mamba, or the tantalizing colors of the Chroma series. Those things are really great, for sure, but they come with a price which not everyone can afford to pay. The MSRP of the Abyssus is $50, which means that you can probably find it for a cheaper price on and offline.
Conclusion
To sum things up, the Abyssus V2 is a definite upgrade from its two predecessors, and is altogether a serious and affordable gaming mouse. The price fits, and the technical specifications are more than satisfactory. This mouse comes with a two-year warranty, and even though people's opinions of Razer's customer support vary greatly, it is always best to contact them should something go wrong. If you are left-handed, or are simply more keen on an ambidextrous mouse design – this could be a good mouse to own, be it as a primary or backup one. Gamers usually own more than one mouse, and the Abyssus V2 will provide you with the speed, durability, and comfort that only a Razer product can bring. Razer get a lot of criticism over their higher-priced products. Some consider them to be all about brand, not performance. Well, I for one feel that it takes a great-performing mouse to attain such widely-spread brand name recognition. Regardless, the Abyssus V2 is one mouse which fits many people's pockets and lifestyles. Like its ancient reptilian counterpart in Arizona's Grand Canyon, the Razer Abyssus kind of sneaks up on you. You may not pay it much attention at first, but after you get your hands on it, you'll be able to appreciate it a lot more. Watch out for that venom, though.