Top 8 Camping Chairs On The Market In 2017 Review
Nothing beats being outdoors. One of the best things you can do with your time is leave everything and just go out to nature. It does so much good, and it helps you clear your head. Honestly, it is very therapeutic and it puts things in perspective sometimes, you know? However, just because you are out in nature, that doesn't mean you cannot be comfortable. We're humans, after all, and the way we feel is of great importance. In other words – gear. A good tent, a comfy sleeping bag, and quality furniture for your base. This is our list of some of the best camping chairs out there. Obviously, new models are coming out every year, but these are some of the best around.
A Coleman chair with its own built-in 4-can cooler. Need I say more? This chair is made with a durable steel frame, able to hold up to 300 lbs. It has a head rest, comes with its own carry bag, and has a mesh cup holder as well as storage pockets. MSRP: $29.99.
Made of durable polyester and a steel frame, this Ozark Trail chair comes with a cup holder, and is easy to fold and store using its carrying bag. Not much to say, really. It is sturdy, and will last you a long time if you don't abuse or misuse it. Holds up to 225 lbs. MSRP: $16.99.
Kijaro is known for its high quality equipment, and this chair does not disappoint. The Dual Lock system guarantees a seating experience like no other. It supports up to 300 lbs, and is made of diamond ripstop ployester. Comes with two cup holders, mesh back and head rest, and an organizor with pockets. Carrying bag included. MSRP: $40.
This particular chair holds up to half a ton (!) of weight (aka 500 lbs). Impressive, isn't it? It's called heavy duty for a reason, folks. Two cup holders included, as well as a carry bag with strap. The tough polyester fabric ensures that this chair will last, and that no liquids – be they rain or beer – will be able to inflict damage on it. MSRP: $29.99.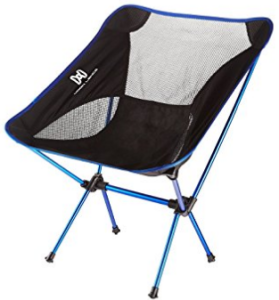 This is one of the more expensive camping chairs around, but you can usually find it on sale somewhere. The list price seems scary, otherwise, to be honest. Now that I have that out of the way, let's focus on the chair:
Aluminum alloy frame, holds up to 242 lbs. Soft, breathable mesh and Oxford cloth makes for one of the best seating experiences around. Easy to store, easy to carry (with or without the included carrying bag). MSRP: $67.99.
Retweet if you're ready for spring camping season! pic.twitter.com/AwmXjJo6vP

— ALPS Mountaineering (@alpsmountaineer) February 13, 2016
Moon chairs are really a matter of personal preference. Some dig them, others consider them to be less comfortable than other designs. This moon seat is well thought-out, and it should be enough to convert at least a few of y'all. It is a true work of camp art.
Sturdy steel frame can carry up to 260 lbs. Padding on the all-round polyester Oxford seat ensures the comfort of anyone who sits down. It is stable and durable, with a large back pocket for storing anything from magazines to personal items. Folds up easily and slips into its carrying bag (comes with a strap) with no problems. MSRP: $74.99.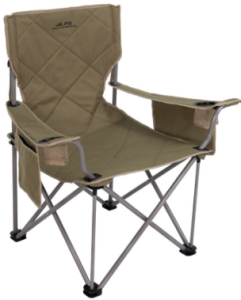 ALPS have been making great camping gear for nearly 25 years, and their King Kong chair is one of their bestsellers. This chair can carry up to 800 lbs. That's right. This thing won't break after a couple of days in the woods, let me tell you. It is a heavy-duty item, built to last. It is made of polyester fabric over a coated steel frame, has two cup holders, and is easy to folkd and store in its shoulder carrying bag. MSRP: $69.99.
One of Big Agnes' best-selling chairs, the Helinox offers a strong and comfortable seating option. Made with high grade polyester and anodized aluminum poles, it is stylish as well as comfortable. Fit for many different scenarios, it sets-up and folds down quickly and easily, making it highly portable. I feel it is a great chair, but may not be worth the suggested price. If you find it on sale, grab it, since it is a steal at certain costs. It really is a great chair for many outdoor activities, and is worth having around the house or car. It is the most expensive item on this list, with MSRPs ranging from $99.95 to $119.95, depending on the design.
Conclusion
These chairs represent some of the best on the market today, but that does not mean this list is complete. I have had the pleasure in sitting in many camping chairs. Some of them I owned, some of I borrowed, some were cheap ones which I bought with the desire to trash them in a variety of outdoor shenanigans.
A word of advice: invest in your gear. Get the best you can afford, because if you don't you'll be out there in the middle of nowhere, or at the beach, on getting comfortable at some tailgate party, and BAM – there goes your chair. The ones on this list are pretty much guaranteed to last you a long while, providing that you treat them properly. Are there cheaper options out there? Of course. Much cheaper options, to be precise. However, they won't last. They simply won't. And before long, you'll find yourself at another camping store or online gear shop, searching for something to replace your broken equipment. If you can afford it – prepare in advance, and get something which will last you a lifetime.
Keep on trucking, keep on camping, however you can. A bike, a car, your two feet. However you choose to do it, just do it. There are so many reasons to put it off, I know, but once you are out there, breathing in that fresh air. Man…. there really is nothing like it.
Thanks for reading our camping chairs feature! Be sure to check out our P90, P90X, P90X2, and P90X3 features' while you're here at EduMuch!