Corsair K70 LUX RGB Gaming Mechanical Keyboard Review
Table of Contents
When Corsair (officially titled Corsair Components, Inc.) introduced its new K70 RGB in 2014, it was very well-received. It offered a simpler layout and an easier interpretation of a classic gaming keyboard – ideal for those who were interested in high-quality Cherry MX keyswitches and top-notch ergonomics, without carrying the burden of macro-keys (which exist in the K95 RGB) or other less-needed accessories. Back in the day, as a younger company, Corsair was better known for its memory modules and USB flash drives. Over time, the company got into other types of peripherals as well, and it now manufactures and distributes PC chassis, headsets, keyboards, mice, audio products, processing units, and cooling solutions, on top of its ever-popular line of trusted data storage devices. Some of Corsair's most popular products are its mechanical gaming keyboards, and chief among these is the K70, in all its various incarnations. It was a hit ever since it was released, and it continues to sell very well. We'll explain what it is that makes the K70 so special here in our Corsair K70 LUX RGB Gaming Mechanical Keyboard Review.
Corsair K70 LUX RGB Overview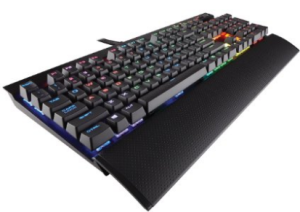 The K70 RGB is fully programmable, has beautiful backlighting, media keys, anti-ghosting capabilities, and an ultra-fast response rate of 1,000Hz. It is a keyboard any gamer would love to get his or her hands on.
In the spring of 2016, two years after the K70 RGB was released, the K70 Rapidfire and Rapidfire RGB were introduced. Several months later, in the summer of 2016, the LUX series was released. This was done under taglines such as "the best made better" and "claim your advantage". That is precisely what gaming peripherals are about. They don't turn noobs into e-Athletes overnight, but they do allow gamers of all levels to enhance their skills and capabilities. Nowadays, the following K70 models are available:

K70 – Cherry MX Red, Blue, or Brown key switches, available with blue backlighting.

K70 LUX – Cherry MX Red, Blue, or Brown key switches, available with blue backlighting.

K70 Rapidfire – Cherry MX Speed key switches.

K70 RGB – Cherry MX with Red or Brown key switches.

K70 LUX RGB – Cherry MX RGB with Red, Blue, or Brown key switches.

K70 RGB Rapidfire – Cherry MX Speed RGB key switches.
In this review, we will be taking a look at Corsair's most recent addition to its K70 line, the K70 LUX RGB (Cherry MX Red), which is listed at the Corsair website with a suggested price tag of $169.99. We will check out its specs, its features, and its performance level compared to its peers.
Corsair K70 LUX RGB Specs and Performance
Let's get things started with some of this keyboard's technical specifications:
Dimensions – 8.3 x 18.6 x 3.34 inches.

Key Switches – Cherry MX RGB Red.

Weight – 2.6 lbs.

Chassis – aircraft-grade anodized brushed aluminum.
As far as design goes, it is very similar to the standard K70 RGB. With the LUX, the font on the keys is a tad bigger and more noticeable. One of the major advantages of using aluminum for a frame is the lightness and the feel of it. It literally feels great underneath the fingers. It has just the right amount of give, and you can type for hours on end. This K70 comes with a long braided cable, and a BIOS switch next to the USB pass-through connector on the top. Underneath the keyboard are four independent stands (or feet, however you prefer) which you can use –  two on top, two on the bottom. It also comes with a detachable soft-touch wrist-rest, which has become something of a standard with other Corsair keyboards. Wrist health is important, especially when you are dealing with these kinds of keyboards, which will presumably be used for long gaming sessions.
K70 LUX RGB Backlighting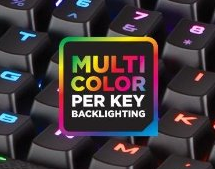 Let's talk about the lighting for a bit. It seems that everything is going full spectrum these days. It is not a bare necessity by any means, but it does add a nice look to any setup. If you have an entire gaming station thing going on, then you may definitely want to color co-ordinate, and having an RGB keyboard – while not necessary – helps to put you in the right mood and vibe, and hey, cool lighting is always a nice addition. In a word – great. The lighting looks really good, with its vibrancy, its brightness, and its clarity. This thing positively glows! It's not just so you can actually see what you are doing in a darkened room (for instance), it is also there so you can match it with whatever theme you have going on. The lighting is programmed via Corsair's proprietary software, which is my next point of discussion.
K70 LUX RGB Software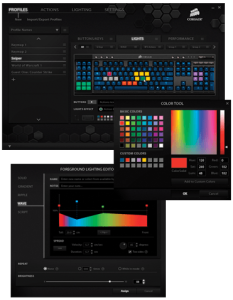 In the past, people have complained that Corsair's software was difficult to work with, but it seems that the company has taken that to heart. Programming the keys' lighting is a lot easier these days, with the introduction of the improved Corsair Utility Engine (CUE). It is an intuitive and magic-working piece of software, which allows the user to take full advantage of the RGB lighting, to assign keys, commands, macros, and to pretty much customize the hell out of the K70. It is probably one of the most customizable keyboards on the market, but I wouldn't presume to say that for sure.  I will say that the more advanced lighting patterns, and especially the per-key lighting assignments, are still a little difficult to work with. You need to invest some time into the software, learn its intricacies, and know how to work with it. If you are buying an RGB keyboards, it is probably worth the effort.
The software's shortcomings notwithstanding, this is a great way to work with the K70's keys, and I can only hope that Corsair keeps on improving the CUE, so future gamers can enjoy its many features and benefits. It would be a shame if users would have to refrain from buying this awesome keyboard (or its follow-up models), simply due to the complexities and difficulties of working with its interface. By the way, CUE will also work with your Corsair RGB mouse and headset, if you happen to have them.  
K70 LUX RGB Keys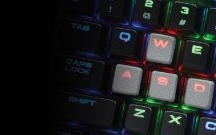 The mechanical keys are German-made Cherry MX keys. Very useful and reliable, and this is a consensus among gamers and non-gamer alike. These switches are world-famous, and for good reason. Even companies who may manufacture their keyboards' bodies (and other hardware) in Asia, will want to get on board with these European switches. They are known for being durable, accurate, and easy to work with. The K70 LUX RGB comes in red, blue, or brown Cherry keys, so you will have to go with what fits you best. I can't honestly recommend one over the other, since it is a personal judgement call. I like the brown ones, myself.
Some of the keys are textured, such as the space bar. Additional textured keycaps are provided: the all-important WASD keys for first-person shooters (FPS), and QWERDF keys for massive multiplayer online (MMO) or massive online battle arena (MOBA) gaming. These provide the user with maximum control and maneuverability. The very second you touch those keys, you know where you are and what to do. Gotta love muscle memory. Dedicated media controls (mute, play, stop, forward, backward) are at the top right of the keyboard, and it is nice that Corsair includes them. They aren't a necessity like the others – not for me, anyway – but they are a nice touch nonetheless, and I like to give credit where it is due.
K70 LUX RGB Profiles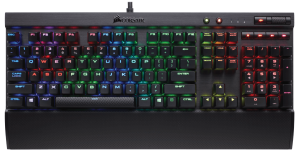 Profiles are also set-up using the powerful CUE software. They can be converted, downloading, or created from scratch. Lighting and key-assigning profiles are a great way to personalize your experience within each individual game. The K70 LUX RGB, like the ones before it, will allow you to fully customize and build your personal profiles. With some of these games, it can take long time to perfect, which is why many users download profiles from gaming forums and related websites. Corsair's website and forum also have downloadable RGB profiles and ongoing discussions on RGB profiles.
Corsaie Polaris + Corsair K70 Lux RGB @Corsair Amazing look for my Rig! pic.twitter.com/5RykivvtuD

— Cosimo Concilio (@kosimo) October 18, 2016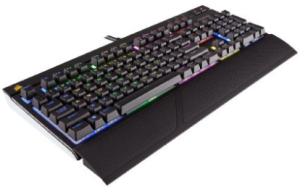 The Strafe RGB has been around since August 2015. It lacks media keys, but it fits for those who do not use them. It also comes with a wrist-rest, and textured keys for FPS / MMO / MOBA gaming. Both of these models also feature a USB pass-through port, which can ease the cable clutter of your desktop.
Dimensions – 8.9 x 18.5 x 2 inches.

Key Switches – Cherry MX RGB Red.

Weight – 4 lbs.

Chassis – PBT plastic (high strength polymer) over metal.

Strafe RGB MSRP: $159.99.
If this was a comparison between the older K70 RGB and the Strafe RGB, it would have been a close call, but with the release of the K70 LUX series, I feel Corsair have taken a major step in making sure that the LUX becomes their flagship series. In gaming, it really is a "to each, his own" kind of thing. We all have different peripherals and rituals which make us better gamers. You can't go wrong when you go with your gut.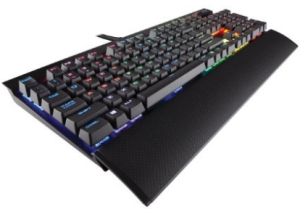 Corsair's Rapidfire keyboard comes with Cherry MX Speed switches. It is an ultra-fast switch designed for gaming. This isn't true to all games, though. Some games, like MOBAs and real time strategy (RTS), might be able to benefit from this increase in speed, but it is not a necessity.
Dimensions – 6.7 x 17.6 x 1.5 inches.

Key Switches – Cherry MX SPEED / RGB (for Rapidfire RGB).

Weight – 2.6 lbs.

Chassis – aircraft-grade anodized brushed aluminum.

Rapidfire MSRP: $129.99.
Rapidfire RGB MSRP: $179.99.
The average switch actuation is 2mm, and the Cherry MX Speed actuation is 1.2 mm. If milimeters don't mean too much to you, living in the U.S., grab a hold or a physical or virtual measuring tape, and see for yourself. The difference is not huge, to say the least. Both of these keyboards are up to any task, and the standard Rapidfire has a lower price than the LUX. The RGB version of the Rapidfire costs $10 more. You could probably do just as well, and play just as good, with ordinary Cherry MX switches (which are pretty friggin fast to begin with!). However, if you feel that you have exceptionally quick finger action, and are interested in pushing your speed to the limits (and beyond!), then maybe this is something you would want to consider. Otherwise, I don't see the major attraction, especially when compared to the K70 LUX RGB.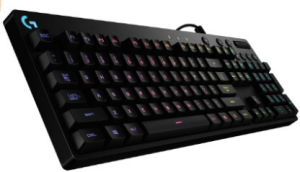 Logitech is known throughout the world for its high-quality peripherals and smart universal remotes. It is a company which has been around since the 1980's, and has gone to great lengths to gain the respect and admiration of the computer-using community. Their G-series gaming keyboards are also top notch, so let's see how the G910 Orion Spectrum does against Corsair's K70 LUX RGB.
Dimensions – 9.5 x 19.8 x 1.3 inches.

Keyswitches – exclusive Romer-G mechanical.

Weight – 4.6 lbs.

Chassis – brushed plastic for the keys, polished plastic for the frame.

Logitech G910 Orion Spectrum MSRP: $179.99.
Like the K70 LUX RGB, this features full RGB color customization, dedicated media keys, proprietary software for configuring the keys and lighting, and a (somewhat small) palm rest. The G910 has 9 customizable G keys, which can store up to 27 commands. This is also an anti-ghosting keyboard. For those not used to a Logitech G-series keyboard, some adjusting time may be needed. All depends on you and your capabilities. One glaring advantage the G910 has, it that it is fully supported on Mac systems. These keyboards share some similarities, but the G910 has no USB port, is more expensive, is made of plastic rather than metal, and sports keycaps which may take some time to adjust to. Perhaps this will change over time, but for now anyway, the advantage goes to the K70 LUX RGB. Although, make no mistake, the G910 is a great keyboard, and I am sure many will fancy it over the K70. Just my opinion.
Conclusion
Like its K70 and K70 RGB predecessors, this is a gaming keyboard which will help you maximize your potential and bring out your inner dominator. Punishing fellow gamers and slaying zombies has never been easier! Sturdy construction, attention to detail, and, lest we forget, the groovy lighting – are all part of what makes this version of the K70 into one of Corsair's most popular ones yet. If treated properly (yeah, I am looking right at you, Mr. Eating-Doritos-And-Hot-Salsa-Over-The-Keyboard-On-Saturday-Night…) – as I was saying… if treated properly, this keyboard will last a long time. The K70 LUX RGB comes with a non-transferable 2-year limited warranty, which guarantees the keyboard to be free from defects in materials and workmanship. Feel free to check out Corsair's website for the full warranty information.
I haven't had to get in touch with their customer support yet, but I hear that it is decent, and that Corsair does whatever it can to accommodate their customers. Your mileage may vary. If you are looking for a gaming keyboard with the newest and coolest features around, make sure to check out the K70 LUX RGB.
Thanks for reading our K70 LUX RGB review. Check out some of our other tech features – like our Razer Deathadder Chroma, and Taipan 2000 reviews here at EduMuch!