Top 10 Corsair Computer Cases Review 2016
Top 10 Corsair Computer Cases
Corsair has been around since the early 1990's. It began as a manufacturer of storage solutions and memory modules, then progressed to all types of computer hardware and peripherals. The company's computer cases (also known as chassis or base units) are considered by many builders to be some of the best around. Corsair has a few unique series of chassis, each designed for a slightly different purpose. Ultimately, they all share the same goal – namely, to provide builders with optimal housing, ergonomics, and durability. Some series' are more expensive than others.
Building a quality rig has got to be one of the most satisfying tasks in the computer world. I mean physically, hardware wise. If you are a hardcore gamer, for instance, there is something so immensely gratifying about dominating through the means of your very own custom-built gaming computer. When you are building a PC, rather than relying on stock elements, you get to have complete control. You choose the fans, the cooling method, internal memory modules, graphics cards, sound cards, motherboard, processors – everything. It's a great process, watching your computer be built piece by piece and playing an active hand in it. In this article, we will be looking at some of Corsair's best cases while checking out some of their features and specs. Here is our list of the Top 10 Corsair computer cases, in no particular order or ranking.
The Obsidian line features elegant designs and quality materials all the way. It is probably the most popular of all the different series of cases. Corsair's 750D case is rigid and roomy. It is compatible with XL-ATX and E-ATX motherboards, as well as the smaller ones. Mounts and cages are there for all of your card and memory needs. The 750D offers a lot of flexibility for installation and cable routing, and lots of space for any cooling solutions you want to install.
Size – Full-Tower.
Weight – 21 lbs.
Dimensions – 22 x 9.2 x 21.4 inches.
Material – Brushed Aluminum and Steel.
Expansion Slots – 9.
Fans included – 3 x 140mm.
The Carbide series is geared towards gamers, and Corsair advertises it as "features you need, and nothing you don't." The Air 540 model puts an emphasis on cooling and performance, by use of Corsair's Direct Airflow design. A dual chamber is charged with providing your system's hottest components with the coldest airflow, without other components getting in the way.
Size – Mid-Tower.
Weight – 16.3 lbs.
Dimensions – 16.3 x 13 x 18 inches.
Material – Steel.
Expansion slots – 8.
Fans included – 3 x 140mm.
The Graphite series' focus is on design and materials, with usability being the ultimate goal. It is made for fast, straightforward builds. In a way, this case deviates from Corsair's hitherto sense of aesthetics, and it shows. This chassis is very solid, which is something of a surprise considering the windowed panels, and the design is functional and very pleasing to the eye.
Size – Full-Tower.
Weight – 24.6 lbs.
Dimensions – 22.2 x 9.6 x 22.3 inches.
Material – Steel.
Expansion slots – 9.
Fans included – 3 x 140mm.
New corsair 760T case. Love it #corsair #PC #MasterRace pic.twitter.com/aeIh0bnqoT

— George Squilla (@VileMortal) October 18, 2016
The Vengeance series is all about portable gaming. It has dual radiator support, 10 fan mount locations, and tons of room for the most advanced graphics and sound cards. The C70's solid steel build means that it's less prone to wear and tear, and that it will be able to survive lengthy rides. It is robust and durable, by any standards. In terms of the internal layout, there isn't anything too unique. Corsair has always been good with layout, and their design/engineering teams are always learning and improving their chops, fine-tuning the aesthetics and attention to detail with each new model.
Size – Mid-Tower.
Weight – 18.2 lbs.
Dimensions – 20.9 x 9.1 x 19.7 inches.
Material – Steel.
Expansion slots – 8.
Fans included – 3 x 120mm.
Another entry from the Obsidian series. The 450D is one of the more inexpensive, convenient, and eye-pleasing Obsidians out there, but it does have several shortcomings. First, the good stuff. This thing has room for four radiators and eight fans, which is pretty outstanding for a Mid-Tower. It is a chassis designed for high-performance, and it's clear that the team had cooling in mind. It is a sort of classic Obsidian design, housed in a Mid-Tower case.
Now, the not-as-good stuff: cable management could have been designed better in this case. I know it's a Mid-Tower, but it seems to me that they could have left a bit more room. A second drive cage would have nice, but that probably would have caused the price to go up, which goes against the point of an inexpensive Obsidian, right? All in all, it looks good, it's fairly priced, and the design is optimized for cooling and build flexibility. Altogether, this is a great case for those who are looking to create a mid-size system with lots of airflow, and who want the option of water-cooling their computer.
Size – Mid-Tower.
Weight – 15.4 lbs.
Dimensions – 19.4 x 8.2 x 19.5 inches.
Material – Brushed Aluminum and Steel.
Expansion slots – 7.
Fans included – 2 x 140mm, 1 x 120mm.
Internally, the 350D is very similar to its older brother, the Obsidian 450D. Externally, there is a big difference. At the time of its introduction, the  goal of the 350D was clear – to change the way people build small, high-performance systems.
In other words, Corsair asked: "who says a smaller chassis cannot have everything you have in a Mid-Tower?" Cooling devices, storage expansions, tool-free access, dual USB 3.0 ports – this case has them, and it's a lot more portable and travel-ready than the larger units. There is room for up to five fans, or three radiators (two 280mm radiators on the front and top, plus one 120mm radiator in the rear)
Size – MicroATX.
Weight – 15.7 lbs.
Dimensions – 17.7 x 8.2 x 17.3 inches.
Material – Brushed Aluminum and Steel.
Expansion slots – 5.
Fans included – 1 x 140mm, 1 x 120mm.
The 230T is a Mid-Tower which looks like a gamer's base unit, but it has that unique Corsair touch. The ease of use, styling, and cooling potential have caused cable management and panel access to take a bit of a back seat here, but it's all for good reason. As far as build quality goes, Corsair keeps on doing what it does best – providing high-end materials, even in their more compact and inexpensive cases.
The 230T is designed for those looking for a value case, with the option of integrating high-end components. In this sense, it certainly delivers, and it gives other case-sellers a run for their money. Cases like the Graphite 230T prove that even though Corsair does have cases for over $200, it doesn't make their $60 cases any less popular or valuable.
Size – Mid-Tower.
Weight – 13.3 lbs.
Dimensions – 19.8 x 8.2 x 17.3 inches.
Material – Steel.
Expansion slots – 7.
Fans included – 3 x 120mm.
This is one of the smallest Obsidian cases available, but it still retains many of the standard Obsidian attributes – solid-packaging, a cleaner look, and enough room for top-shelf components necessary for a professional Mini-ITX setup. This is another case designated more for gamers, but it will do for anyone looking for a high-end setup in a small package. The 250D features a window at the top of the case, and has room for two radiators (front 120/140mm, side 240mm). There are two included fans, and there is room for larger, more powerful fans. Once the power supply is in there, it is a tight fit, but everything does indeed fit. Standard cards will be able to easily slide into the expansion slots, but the really long ones (like the AMD 7970 or AMD 7990, for instance) will not be able to fit. This could be a deal breaker for some, so do your reseach (slot-wise), and see if this case matches your wants and needs.
Size – Mini-ITX.
Weight – 9.7 lbs.
Dimensions – 13.8 x 10.9 x 11.4  inches.
Material – Brushed Aluminum and Steel.
Expansion slots – 2.
Fans included – 1 x 140mm, 1 x 120mm.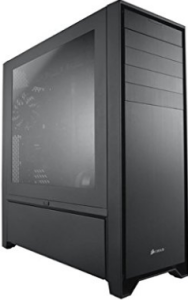 A powerhouse of performance. A veritable Goliath of a computer chassis. That much is a given. But, the 900D isn't simply large and accommodating. The Obsidian series was created by builders, for builders, and nowhere is this more apparent than with this model. Maximum expansion capabilities, maximum cooling support, engineered for clean and quick builds. You can mount up to 15 fans on this beast, and up to five radiators. There are four dust filters, nine tool-less drive bays, and a full side panel window. There is even room for dual power supplies.
Long story short – this case is certainly not for everyone. We don't all need this kind of setup. However, for those who are in the market for a serious builder's case, and who have a fierce project in mind, there is no beating this chassis. Corsair have studied the feedback they were given on their 800D, and the result of their hard work and engineering is the 900D. It's wider, deeper, and taller than the 800D, and Corsair have made excellent use of the extra space. As far as mounting, cooling, cable management, and ease of use goes – it's unparalleled. Like I said, it's not just big – it's highly efficient. Nothing goes to waste.
Size – Full-Tower (Super-Tower).
Weight – 41 lbs.
Dimensions – 27.2 x 9.9 x 25.5 inches.
Material – Brushed Aluminum and Steel.
Expansion slots – 10.
Fans included – 3 x 120mm, 1 x 140mm.
A highly compact case, the 200R is value-oriented. It may be small, but it has enough room for many configurations of memory, cooling, and drives. Everything in this rig is tool-less, and – much like it says on the box – the only time you will need a screwdriver is when you are installing the motherboard. And speaking of boards, this thing supports Mini-ITX, MicroATX, and ATX. It may be small and light, but it has enough slots to fit a lot of hardware. Cable management is also handled very nicely in this case, and the panels make system upgrading easy and effortless. The 200R is built in a smart way. You can tell that Corsair's team took their time, and considered their target market. It may be a gaming chassis by definition, but it's also a case which will fit a host of other users and builders.
Size – Mid-Tower.
Weight – 13.3 lbs.
Dimensions – 19.5 x 8.2 x 16.9  inches.
Material – Steel.
Expansion slots – 7.
Fans included – 2 x 140mm.
Conclusion
Corsair's computer cases allow any builder – novice or veteran – to find what they need, and maximize their potential. The company has a wide range of chassis to choose from: mini-tower to super-tower, portable and fixed, windowed and solid-paneled, and others. Choosing the right kind of chassis does require some amount of foresight on the part of the builder, since he and she should know what type of system is planned on being installed and mounted within the case.
I feel the best way to build a quality computer is from the ground up, and that means choosing the right kind of case to house your computer. Obviously, you could have a crappy system working within an extremely high-end chassis, but those who choose to build their own computer usually aim higher. Corsair's computer cases are state-of-the-art, and will be enough for even the most ambitious gamers and system-builders. Setting up your own system has never been easier. Corsair does charge more than the average case builder, but then again, they also make good on their promise of higher-quality, ruggedness, and durability. From the smallest and most value-oriented cases, to the behemoth cases such as the 900D – If you want to build the PC of your dreams, Corsair is a great place to start.
Want to learn more about great Corsair products? Check out our K70, K65, H100i, and Top-5 Coolers features here at EduMuch!