Top Handguns for Women's CCW and Home Defense
Top-10 Best Handguns for Women
I know many guys think that the only guns suitable for us women are some silly looking pink .22 or a snub nosed .38 revolver, and there are indeed women who like those weapons, but the fact is that gun companies have started to wake up to just how much potential is in the female market for a whole host of calibers and types. Women are one of the fastest growing demographics in the hunting and shooting markets today. Though the largest part of this is in the smaller guns for concealed carry, women are also buying for home defense regardless of if they have an armed significant other at home or not. Women are taking more self-defense courses and going to ranges on their own accord, not because they tagged along with a boyfriend/husband. We want to take a more active role in our own defense and the defense of our families and property.
Which Gun Is Right For Me?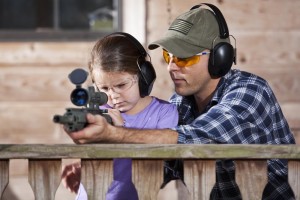 So what guns are the best for women? Different guns are better for different people, regardless of if you're male or female. It all depends on your own needs, comfort and uses. In general, though women tend to have smaller hands and not as strong of a grip, more and more women are opting for larger "non-traditional" calibers that have more stopping power in case they ever needed to use the guns in a real life situation against an attacker. 9mm, .380, .40 and even .45s are not uncommon, especially as a home defense weapon and they can allow the owner to feel safe knowing it is nearby if they need it. For conceal carry, I myself carry either a 9mm or .380, anything larger than that tends to be too bulky on my trim 5'5″ figure.
My dad is a gun instructor, and growing up around guns has made me feel more comfortable with them. My dad always taught my siblings and I good shooting techniques and to always try a wide variety of guns in order to find one which we felt most comfortable with and wanted to return to the range to practice on the most. That is the same advice I'll give you. Don't stop looking till you find that gun or guns that you're willing to put the time and effort into to become proficient with.
10 Handgun My Friends And I Use
The following list is just some of the more popular guns that my girlfriends and I like to use. Between us we own almost all of these models and are very happy with them … In no particular order: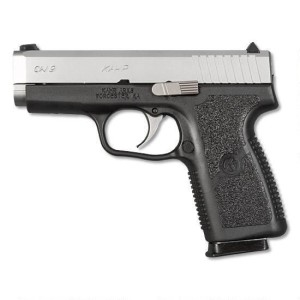 The Kahr CW9 is an affordable 7+1 round capacity single stack 9mm pistol with a polymer frame and stainless steel slide and barrel that is perfect for concealed carry or home defense.  The frame is black, while the slide has a matte stainless finish. The single stack magazine allows this gun to be narrow, which makes it more comfortable both in my hands and when concealed under clothes.
The CW9 has a typical Kahr trigger that is more like a double action revolver than the typical modern striker fired pistols, and the pull is smooth but long which I'm not a huge fan of. All in all I found the gun to be easy to manage; the recoil was not as strong as many micro-compact 9mm guns and I was able to be fairly accurate. Some might find the slide racking a bit much, but I handled it alright as well. So if you want a small gun that can easily be concealed, but still carries a punch at an affordable price, this is not a bad choice. If you have the money to spend, you might prefer some of the other guns on the list.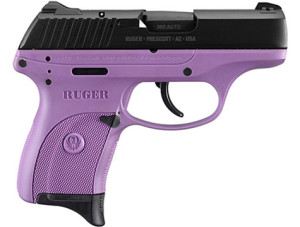 The 7+1 round capacity Ruger LC380 is another gun specifically designed for easier slide manipulation and reduced recoil, making it perfect for anyone lacking a bit in upper body strength. The Ruger LC380 is remarkable in how comfortable it is to shoot.
For a slim, light, short-barreled pistol, its recoil experience is more alike to shooting a .22 LR than to shooting a .380 ACP. The .380 is a lower recoil round, but the LC380's dual recoil spring system also aids recoil management. This system is also what makes the slide racking easier. It also features a checkered grip and a finger grip extension on the bottom of the magazine. I'm not a big fan of the long crunchy trigger pull, but the upsides of this gun do make it a good affordable choice for conceal carrying.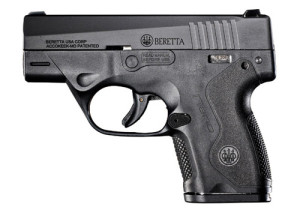 With absolutely nothing protruding that could snag in a holster or clothing, the Beretta Nano 9mm is really an excellent option for concealed carry. The Nano was a perfect fit in my hands (it also has interchangeable backstraps in case you need to adjust them to your grip size). I had no difficulty racking the slide, and though the trigger pull was long and tight, it was made to be this way because there is no external safety (like with the Glock). This gun is not going to fire unless you intend it to. The magazine release is easily removable and can be switched to the right side for left handed shooters, and this gun is easy to disassemble and clean.The 3 dot sights worked fine for me, especially when I used the crimson trace laser. You have to try really hard to miss when you have a laser! You feel like you're cheating a tiny bit, but as long as it gets the job done, right?
Another cool aspect of this nifty little gun is that it really allows for customization (beyond the backstraps, sights and laser) The serial number is etched on the chassis of the firearm instead of on the grip frame itself so that the entire frame can relatively easily be replaced with different color options, or even a larger grip to accommodate larger hands. That's a pretty unique selling point.
Smith & Wesson Model 66 .357 K-frame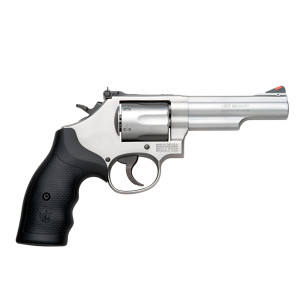 I don't own any revolvers, my dad never liked them, and by extension neither did I, but if a woman prefers a revolver because of its simplicity or design, I suggest a .357 Smith & Wesson K-frame revolver. The six-shot K-frame revolver represents the best balance of size, power, and portability, especially those with the 3 inch barrels, though 4 inch barrels are alright as well. This isn't some snub nosed tiny pea shooter that some might prefer do to their size. Here the larger frame helps control the recoil and offers a good grip, which I think is more important, all the while remaining concealable, especially for larger women who do not wear such tight clothing.
My friend Sheila loves this gun and carries it in a variety of holsters depending on what she is wearing. But I would think this is best as a home defense weapon. My main complaint with revolvers is the small round capacity and slow reload time, and I always play worse-case scenario in my mind. What if there are several intruders? What if I miss a few shots? You need more rounds, or to be able to reload them quickly. Then again, I guess most intruders would run just from you aiming a gun at them, and even more so if you fired.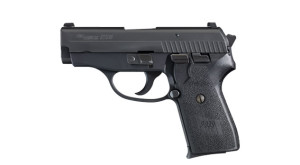 This high quality all-metal pistol is a bit heavier than the polymer pistols of similar size, but that just allows it to offset the .40 cartridge recoil better. It has a light, smooth trigger with a short and smooth reset, and though racking the slide is a bit of a challenge at first, once you get used to it, it really isn't bad. The SigLite night sights are pretty good and I consistently shot tight groupings.
The .40S&W cartridge does well in this frame with a pretty manageable recoil. The capacity of 7+1 is alright for a single stack pistol of this size and caliber as well. Because it is single stack, it is still concealable, though if you chose it specifically for home defense, you wouldn't be making a mistake. It certainly has the stopping power you want.
Smith & Wesson Bodyguard .380 ACP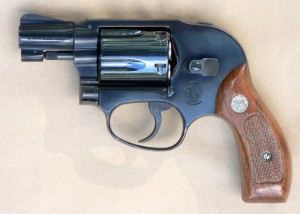 This is a real interesting little "pocket pistol." It is a hammer-fired, double action only, .380 ACP semi-automatic pistol with a polymer lower frame and a stainless steel slide.  The sights, which are smooth and meant to be snag-free, are excellent for such a little gun, and it has a red laser built-in to the trigger-guard, which can help with anyone who struggles with accuracy. I personally wasn't crazy about this gun, but my cousin Sarah really likes it. To be fair I only shot it once. I found the slide racking to be somewhat difficult, and the double action trigger-pull to be long and heavy, but she is a bit stronger than me and after practicing (like with most, this is indeed the key) she is fine with both issues. You have a 6+1 capacity here, with the magazine flaring a bit for more grip space. It also has a whole host of features: Second strike capability, real adjustable sights, a loaded chamber indicator, a safety lever, a slide stop lever and slide lock after the last round. If you're looking for a good gun that can be used both as a CCW or home defense weapon, this could be a wise choice if the relatively heavy slide and long trigger-pull aren't a factor for you.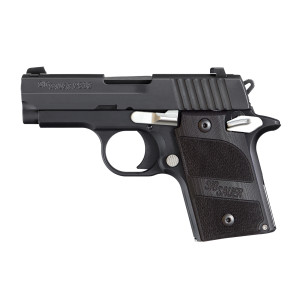 This 9mm 6+1 capacity gun comes in different configurations, all looking slightly different to suite different tastes, but all versions essentially keep the scaled down 1911 look. All configurations of the P938 feature a stainless steel slide on an aluminum alloy frame. They are single action only, hammer fired, and sport an ambidextrous thumb safety.  The SIGLITE Tritium night sights dovetailed into the slide, smooth trigger-pull, ease in "slide racking" ability, ease of concealment, and overall quality are all good points.
Sig Sauer based the P938 on their very popular P238 (.380). By adding more power, they opened up the market for those who prefer to carry the larger caliber. Several friends use the P938 as an every-day CCW and love it. If you're familiar at all with the 1911, this will really be easy to get used to, and like the other 9mm's on this list can be used in both the CCW and home defense role.
Glock 19 and 26 (27 and 30)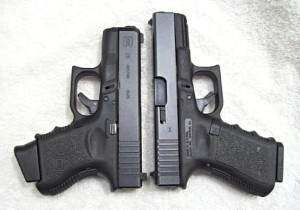 If you're familiar with the Glock family of guns, then these will be no stranger to you. They are all very much based on the same principals. In my mind you just can't beat a Glock's reliability. All you have to do is aim in the right direction and if you pull the trigger, it will fire whether it's dirty, muddy, or wet. Yes, my family and I are Glock fans, and no, I'm not saying it is best suited for everyone, but in terms of simplicity, caliber selection, frame size, and the ability to customize to one's own tastes, the Glock just really shines.
I picked the Glock 19 as a go-to "compact but not small" handgun because of frame size. My husband, oldest daughter and I can all hold and fire it comfortably, though he can only do so because of the extra grip extension magazines. Nearly half of my friends, men and women, own at least one Glock. It's not as large as some of the full frames, but not as small as the subcompacts, and therefore more comfortable in a wider range of hands.
With a 15+1 round 9mm capacity, and spare magazines readily available, the 19 is a great defense handgun with every accessory you could imagine readily at your disposal. It is easy to use, take apart, put together, clean, and upgrade for any home defense need. Ease of use in a high stress situation can provide a lifesaving difference and you'll want as few things to worry about as possible when the $hit hits the fan. By having no manual safety the Glock (and Beretta Nano) allows you to point and shoot without fussing around with manual safeties and levers, and that to me is a major plus. The size of the 19 is harder to conceal for most women, and for them it may be better to utilize this as a home defense option, but if you still want a Glock for CCW, the 26 is the one for you!
The Glock 26 is the sub-compact version of the Glock 19. The polymer grip has finger groves to help subtly guide your hand into the proper placement every time you pick it up. It still shoots 9mm bullets, but has a smaller 10+1 capacity, which is still the second highest on this list after the 19 and VP9 listed below.
Other subcompact Glocks, such as the G27 (.40 caliber) and G30 (45 ACP), have the same frame size as a G26, so you can choose another caliber if you don't want a 9mm. Again, I might be biased since I've always owned Glocks, but I really find them easy to use and a pleasure to shoot.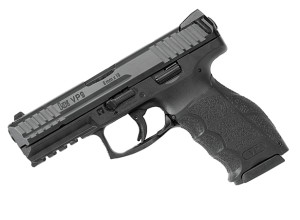 VP9 is a 15+1 capacity full-sized striker fired, polymer frame pistol chambered in 9mm. Of the many features that have served to make the VP9 popular is the fact that it's entirely ambidextrous. A somewhat unique feature is the paddle-shaped magazine release located behind the trigger guard. This type of release makes it harder for an accidental magazine release to be triggered because recoil cannot cause our hand to activate it. The VP9 performs reliably, round after round, and has really manageable recoil and an easy to rack slide. The trigger pull is crisp and smooth and the reset is short. I have three friends that swear by this gun and I certainly enjoyed shooting it.
I love the shape of the grip.  It has a more oval shape and feels like the more natural curve of fingers than a skinny rectangle shape. The backstraps and side panels can be changed between 3 sizes that come with the gun to ensure that shooters can obtain the right-size grip for almost any hand.  I'm using the smallest backstrap and it fits perfectly.  The VP9 has big luminescent sights that work well, it also has a Picatinny rail like most modern polymer pistols.
The one part I dislike about this gun is the forward grip grooves or ribs on the slide. If you grab it there to rack the slide, you'll cover the ejector port and cause stoppages. Other than that it is a really high quality gun that can be handled well by both genders. This is obviously not a CCW but will work excellently in the home defense role, especially with its large capacity magazine, ensuring that you and your family are amply protected.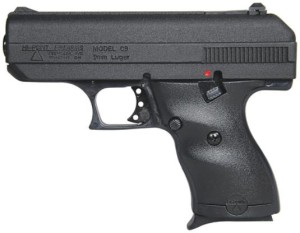 If you're strapped for cash, and just need something simple, efficient and reliable, this 8+1 round capacity 9mm gun will give you the best bang for your buck. The C9 is a small single stack polymer-frame gun. There is nothing flashy about this affordable option. The heavy slide (to absorb the recoil energies of the cartridge) makes the C9 seem bigger than it really is, which is roughly the size of a Glock 19 but heavier. The factory sights aren't great, but you can get better ones. This gun isn't as suitable for CCW because of its weight and is better left for home defense. But if you don't mind the weight, it can be used for CCW.  All in all, for such a price it's a decent quality choice, and with the money saved up on the gun, you'll have plenty of cash for practice ammo.
 In Conclusion
Please do keep in mind that it's essential to find the right pistol that works for you, and you can only do that by trial and error. Do not just rely on word of mouth, but go to the range and try out the various options before purchasing. Perhaps the proper weapon for you isn't even listed above. It is just my personal opinion based on my and other friend's experiences. What works well for one woman, might not work at all for another.
As long as you found one that you're comfortable with and that you'll spend time becoming proficient with, you've made a good choice for you. I didn't list smaller caliber weapons because I don't like their diminished stopping power, but if that is what you prefer or can afford; any gun is always better than no gun. Just remember to shoot and train regularly to become the best shooter you can be. It will also ensure that you're confident in the handling of your weapon to be able to use it if ever you need to. Best of luck and here's hoping you never need to use it in a real life situation.
Be sure to come back to edumuch for more exciting articles!