Fitbit Surge Fitness Super Watch Review
Table of Contents
Fitbit has been providing Americans with top-of-the-line fitness products for almost 10 years now, and with each new effort their devices get better, friendlier, and more functional. There are many activity trackers out there, and they all strive to provide the wearer with the best experience possible. This is our Fitbit Surge Fitness Super Watch Review. It is a great example of Fitbit's tenacity and ongoing commitment to its customers. If you are interested in a digital companion which will help keep you aware, motivated, and on the move, there is a good chance you are going to love this next product.
The Surge is a GPS fitness watch, activity tracker, sleep tracker, and part-smartwatch. It was released in early 2015, and after a bit of a rough beginning – and a couple of important updates – it found its crowd. The Surge became one of the best fitness bands out there, and it still is.
If and when you decide to get an activity tracker, it is best that you get one which you are comfortable with, and which fits your routine. If at all possible, get to a Fitbit dealer, so you can see how awesome this thing is up close and with your own eyes.
Fitbit Surge Tech Specs
Surge is one of Fitbit's best-selling products, and it is very easy to see why.  Let's take a look at some of the Surge's technical specifications:
Circumference –  

Small: 5.5 – 6.3 inches – 

Large: 6.3 – 7.8 inches – 

XL: 7.8 – 8.9 inches

Width – 1.34 inches
Display – LED
Battery – lithium-polymer, rechargeable via USB
Charging – USB cable
Charging time – between 60 – 120 minutes
Memory – saves approximately 7 days' worth of data, 

depending on your activities. Heart rate is saved at varying intervals.

Wireless and wired data – Surge comes equipped with a USB 

cable, as well as Bluetooth capabilities.

Materials – 

Wristband: flexible, durable elastomer – 

Buckle: stainless steel – 

Frame: stainless steel

Colors – black, blue, tangerine
Fitbit Surge Touchscreen And Sync
The Surge's touchscreen is very responsive, and the backlight is controlled by a sensor. There are 3 buttons you can use in order to navigate through the watch, and the software is very easy to use and get along with. The 3 main screens are A) time, date, and stats B) activities and alarms, and C) notifications, which include texts and calls. The Surge also allows you to control the music played by your smartphone.
There is a designated Fitbit mobile app (available for iOS, Android, and Windows) which syncs up to give you daily reports on your progress. Surge will also sync with your PC or Mac, by use of the Fitbit website. Whether on your phone or on the computer, you will be able to see your stats, set new goals, create multiple silent alarms, and even share your progress. Sync up range is about 20 feet, and Bluetooth 4.0 and Classic are both used for the different notifications and control of music.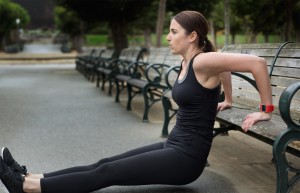 It makes no difference what goal you are working towards. Just get moving, and Surge will be there to help you out. It is a device designed for those who wish to challenge themselves and increase their performance. You don't have to be an athlete to appreciate the benefits of this fitness tool. To me, it represents a classic example of technology done right.Users can set personalized sports profiles, which then appear on the display screen as exercise shortcuts. Activities such as hiking, weight-lifting, yoga, and others, are available. One activity which is always tracked is running, whether indoor or outdoor.
The heart rate monitor is not the best for intense workouts such as weightlifting or cross-training, but it is very reliable for activities such as running, cycling, walking, and everyday use. Like other Fitbit products, there is no option of pairing to other Bluetooth devices, so wearing an external chest-monitor is out. Still, it is a great way to asses and analyze your overall rate and calories burned. Quick, convenient, and easy.
The device is splash proof and sweat resistant, but it is not waterproof. It should not be used for bathing, showering, swimming, surfing, and any water-related activities. A bit of rain won't hurt it, but Fitbit recommends that the Surge remains clean and dry, and that the wearer's wrist also remain clean and dry.
Fitness bands are one of the best things to come out of the wireless revolution we are still in the throes of. They allow users to stay on track, stay motivated, and keep up with their personal fitness goals (for a look at another great fitness band check out our polar loop review). The mobile app and website sync up with the Surge's data, and they provide a very accurate breakdown. This can help you monitor your progress and choose your next goal. For some, the Surge may be a little bulky at first, and perhaps require some getting used to. After all, it does need to support the GPS, heart sensor, and other computing devices. Because of that, Fitbit offer 3 different sizes, and the recommendation is that you size up for a better fit.
Part of what makes the Surge such a great product, is that so many things are customizable. When you make the device more personal, it becomes a much better companion and training partner. Sometimes, it is the little things – like the ability to change the clock's face or the default exercises – which make a real difference in the tracker's day-to-day use.
Fitbit Surge Maintenance, Price, And Warranty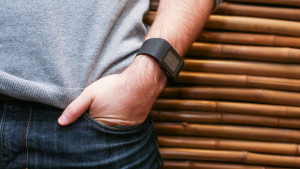 Maintaining the Surge is relatively easy, and it can be in no time. The important thing to keep in mind is that this is a sensitive piece of equipment, and that Fitbit's instructions must be followed in order for the Surge to continue doing its awesome job of motivating and guiding you on your road to personal fitness and health.
To clean the band, rinse with water. If water does not seem to clean whatever needs to be clean, try wiping the band with a small amount of alcohol. Fitbit recommends that no soaps, sanitizers, baby wipes, or tough detergents are used. Remember, this thing is meant to go back on your skin, and stay there for a while. Dry the band thoroughly before putting it back on. For tougher dirt, Fitbit instructs users to go over the watch with a wet soft-bristled toothbrush. The leather and metal link accessory bands have a few other instructions, but essentially the maintenance is the same – keep the Surge dry and clean as best you can, and don't wear it too tight. The sensors on the device are very sensitive, and with the improper care they could malfunction.
The price for the Surge is between $200-250, and it is definitely worth the money. If you treat it right and maintain it according to the instructions, you will be able to see how the Surge is helping you out, every single day. Surge tracks your steps, calories burned, floors climbed, and distance made. The GPS and digital compass are another great advantage, even if you are not planning on going crazy distances.
Fitbit products all come with a 45-day satisfaction guaranteed return policy, and a limited 1-year warranty. Fitbit will replace or repair your product (whichever they feel seems necessary) in the event of a defect, but the warranty does not apply if the product has been misused, tampered with, etc. The warranty covers materials and workmanship. However, the chances of you needing service within the first year are probably slim, since it is evident that this product was wonderfully engineered, and that it is meant to carry on for years. It isn't perfect. This whole fitness watch/smartwatch thing is still in its infancy, I guess, but the Surge makes for a great motivator and partner to those who wish to wear it and train with it. I never needed their assistance, but supposedly Fitbit are well-known for their attentive and accommodating customer service.
At the end of the day wouldn't it be great to know all that you have achieved? Fitness trackers like the Surge afford you the knowledge of what you have accomplished to motivate you to even greater heights. The Surge is only one of the many products Fitbit produces for this purpose. Be sure to come back to edumuch.com where I'll be posting more articles about Fitbits amazing line of fitness tracking devices.