Big Agnes Camping Supplies and Products Review
Table of Contents
Big Agnes was founded in 2001. The man behind the company is Bill Gamber, who established Big Agnes after his experiences in the great outdoors left something to be desired. The company's sleeping system was Gamber's response to those experiences, and sleeping bags and pads were actually the first items to be shipped to outdoor gear shops. Since 2001, Big Agnes has expanded to include not only sleeping systems, but also tents, bags, clothes, chairs and related outdoor accessories like pumps and pillows. I'll go through some of their most popular items in this Big Agnes Camping Supplies and Products Review!

Generally speaking, you can't go wrong with Big Agnes sleeping bags. Sure, their products vary in quality and price, but overall their sleeping system is one which allows campers to be as comfortable as possible outdoors, when they reach the end of a long and tiring day of fishing, hiking, biking, or climbing. Whatever it is, you deserve to rest comfortably, and Big Agnes provides different ways of getting there.
The company provides two kinds of sleeping bags – Big Agnes system bags and Mummy bags. The main difference is that the Big Agnes system has an integrated sleeve meant for a pad, whereas the Mummy bags are a more classic sleeping bag. Both of these options offer high quality. The materials and construction of Big Agnes' sleeping bags are top notch. There are bags for adults, teens, kids, and even tots. A comforter, a quilt, and a synthetic liner are also available, for those who want something extra to keep them warm.

Of course, you can't speak of Agnes' sleeping bags without bringing their sleeping pads into the equation. They go together, quite literally. The whole behind the Big Agnes sleep system bags is that they have an integrated pad sleeve. This is a 2-in-1 situation, an advantage and a disadvantage. The advantage of having the pad be an integral part of your sleeping bag is clear. It stays as close as can be, your body doesn't slip off, and you are pretty much able to guarantee yourself a proper outdoors sleep. The disadvantage of this system is that it relies on that pad for bottom insulation. In other words, should the pad go bust (and you are unable to repair it, not even with the repair kit which comes with the pad), you may be in for a rough and uncomfortable night.
20-inch, 25-inch, and 40-inch sleeping pads are available from Big Agnes, but you can use any sleeping pad which matches your bag's specifications. The pads are between 2.5 – 4.25 inches thick, and they come in a variety of styles and prices.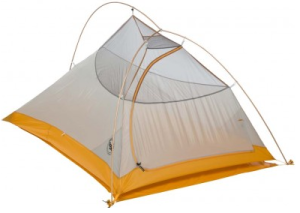 This freestanding 2-person tent combines the latest technology to bring a piece of gear which is light, rugged, and durable. The poles are made of TH72M aluminum. Now, I don't know too much about metals or alloys, but I have read that this particular kind of aluminum has ushered in a new age of outdoors, camping, and survival gear. It is one of the strongest and most reliable alloys around, and it is part of this tent. The floor and rainfly are made of silicone treated nylon with waterproof polyurethane.
The body of the tent is made of nylon and polyester mesh, for proper ventilation. The Creek UL2 has a single door and vestibule. Its seams are taped and waterproof, and its stakes are made of aluminum.
You have 28 sqaure feet as a floor area, 7 sqaure feet for the vestibule, and a maximum height of 38 inches. It's a backpacking tent, meant for warmer conditions. The tent's design is primarily geared towards sleep or quick stops, and not much else. If you are two campers without too much equipment, or one person who wants to kick it in style, this is a highly recommended purchase. [MSRP: $349.95]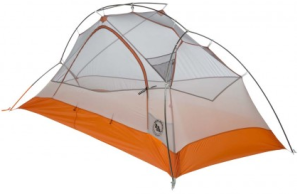 The words "ultralight" and "ultra-packable" mean a lot to anyone who has gone camping or hiking. A seemingly small amount of weight can make a big difference when you're actually out there. The Copper Spur UL1 is a freestanding, single-person tent, designed for maximal efficiency and durability. The poles are made of TH72M aluminum, the fly and floor are silicone treated nylon with a waterproof polyurethane coating, and the body is a lightweight nylon and polyester mesh.
Single door, single vestibule, 22 sqaure feet of floor area, and a 10 square foot vestibule. The height of this thing is 37 inches, and much like the Fly Creek tent we just mentioned, it is meant for warmer conditions, and is constructed for sleep and/or a quick getaway. The pole frame is attached to the body of the tent by using plastic clips, and 8 stakes are provided with the pack. There is even a media pocket located above the head area, which will enable you to plug into a phone or any other device which uses earphones, safely and securely. [MSRP: $379.95]
A warm read on a frigid day! Story and photos by @TheBigOutside. https://t.co/5Kb1cvuuul #sleeponthedirt #motherofcomfort pic.twitter.com/PEndbHphzT

— Big Agnes (@Big_Agnes) December 8, 2016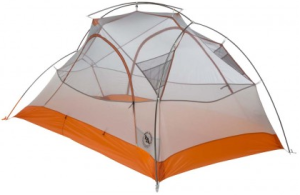 Very similar to the UL1, this Copper Spur tent is designed for two people. It features the same kind of engineering and construction. Same materials, same minimalism, and overall the same kind of thought process put into it. It is pretty much what you would expect from ant of Big Agnes' UL (Ultra Light) line of products.
So, let's go over then differences between the UL2 and the UL1. Well, first, obviously, there is the size: 29 square feet of floor room, 9 square feet in the two vestibules (as opposed to the UL1's single vestibule), and a maximum height of 42 inches. There is also a second door, four interior mesh pockets, and two media pockets. For two people looking to get out of the rain or enjoy a nice sleep, this tent will definitely suffice. Again, this is a tent designed for warmer conditions, and is not a winter tent. 8 stakes are provided with the pack. [MSRP: $429.95]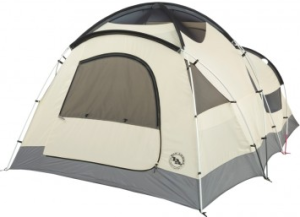 The big one. This freestanding tent is fit for a family or group of 8+. Strong, stable, and durable, it lends itself easily to car camping. It gives the elements a run for their money, that's for sure. Not that I am challenging the elements with that statements. I trust Mother Nature could tear apart any man-made shelter in a heartbeat, if she was so inclined.
The point I am trying to make is that this tent is the very definition of awesome. It is large and in charge, and could very well be considered as a two-room apartment with that divider set up. It is meant for base camping, and those who pitch it and use it will have a great camp to come back to, providing they treat it right. So, some specs and details on this tent:
2 doors (1 larger one), vestibules with storm flaps on the zipper.
123 square feet of floor area.
35 square feet of vestibule area.
Maximum height of 6 feet.
6 fly ventilation points.
Materials are waterproof sealed and high quality.
Fly and floor are made of polyester with polyurethane coating.
Body is made of polyester, polyester taffeta, and nylon mesh.
Poles are made of aluminum, and are 11 – 13mm in diameter.
Clips and sleeves are used to attach the body to the poles.
12 – 16 mesh pockets inside, depending on your model.
20 aluminum stakes.
Color-coded for easy setup.
As base tents go, this is a wonder to behold. It is amazing what we humans have come up with, isn't it? Technology lending itself to living in the outdoors – I love that concept, and nowhere is it better manifested than with tents such as Big Agnes' Flying Diamond 8. [MSRP: $799.95]
Conclusion
Big Agnes is a relatively new player in the outdoors, survival, and camping industry. Nevertheless, it has quickly become a much-celebrated source of gear and related equipment. The company's slogan is "The Mother of Comfort", and it is hard to disagree. From their original 'sleep system' sleeping bags to their more recent additions, like the 2017 Copper Spur UL2 Platinum, this company is all about keeping it comfy and real in the outdoors. Continuous advancements in technology and engineering have made it possible to create lighter, stronger, and more secure equipment, and Big Agnes is at the forefront of these innovations. The company has made it its mission to cater to any and all types of hikers, bikers, campers, and adventurers out there.
So, to sum up, give their gear a shot. It is more expensive than some other companies, yes, but you get what you pay for. And when it comes to survival and adventure, sometimes it is worth forking over some more money, in order to make certain that your adventure isn't cut short due to low-quality gear. Make the effort so you can have as much fun as possible. What are you doing staring at a screen, anyway? get out there and enjoy nature!
Thanks for reading our Big Agnes feature! To get in shape for your camping trip, check out our fitness features covering P90, P90X, P90X2, P90X3, T25, Body Beast, and Insanity – all by Beachbody. We've got it all here at EduMuch!