Joico K-Pak Shampoo and Conditioner Review
Table of Contents
Shampoos and conditioners of all kinds usually have the same type of goal. Shampoos are meant to clean the hair of grime and excess oils. Conditioners are meant to detangle, make hair more manageable, and replace the sebum – the scalp/skin's natural oils – which the shampoo has washed away.
Joico's K-Pak Shampoo and Conditioner are not your run-of-the-mill hair care products. K-Pak brand products are meant for those whose hair is damaged, seemingly beyond repair. They are a professional's tools, in a sense. They are meant to provide damaged hair with a boost of vitality and ongoing protection. They are the kind of hair care products which existed at first only in salons. Joico has made products such as these a lot more accessible.
Joico Company Overview
Joico was founded by Steve Stefano, a California hairdresser with tons of vision. The business went from being a single hair salon to a chain of 34 locations. Stefano was unhappy with the various products which were at his disposal, and decided to go back to school, study chemistry, and create his own line of high-performance hair care products. What did I tell you? Vision.
Joico itself was launched by Stefano in 1975, and it was the first company to use human hair keratin protein in its hair care products. Nowadays, Joico is headed by Sara Jones, who has over 30 years of experience in the hair business, as a hairdresser and a manager. Since 2002, the company is a subsidiary of Shiseido Company, Ltd., a Japanese beauty, cosmetics, and personal care company founded in 1872.
Joico K-Pak Brand Overview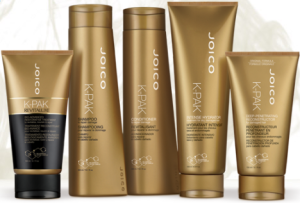 So, I mentioned that K-Pak is a collection of tools for damaged hair, and it includes more than the shampoo and conditioner. It has a decent amount of products for care, styling, and ongoing treatment of hair which has been through the proverbial shredder. So many times, hair is dyed, colored, bleached, burned, blow dried, rolled, sprayed, geled, moussed, etc.
After all of these different treatments and chemicals – not to mention damage which can be caused by the elements, as well as poor hair genes – you need a set of hair care products that will be able to provide protection and offer some measure of rejuvination. It is more than just cleaning the hair. It is about superior formulas which aid in repairs and reconstruction of your locks, from the roots to the tip of your hair.
The K-Pak line includes items like the leave-in protectant, which is meant to be added to freshly conditioned hair and keep it looking healthy. There is an intense hydrator, for moisture-starved hair which penetrates, nourishes, and leaves the hair nice and shiny. Another good example is the thermal design foam, which is meant for hair in need of volume and body. The foam also provides a good hold on the hair, allowing you to style it as you want while protecting it from dryness.
I haven't tried all of the products in the K-Pak line. I never needed to, really. I did give the shampoo and the conditioner a shot, and I am very happy with them, altogether. My hair was not in the worst condition it has ever been (that was probably high school…), but it was still looking dry and brittle. It caused some flakes to begin to form, which is when I told myself I needed something more substantial to fight the dryness and general "mood" of my hair.

Okay, the first thing I noticed about this shampoo was the design of the tube. I know, it doesn't seem important, but I care about how things look. I believe that a company which invests in its external packaging and branding, is also one which can provide real results. Is this always true? No. But when Joico's K-Pak line, I feel it is something worth mentioning.
Now, the shampoo itself leaves my hair silky and voluminous. I have somewhat wavy hair, and I enjoy having a shampoo that lets me feel those waves properly. This shampoo manages to clean and remove excess oils, without giving you the feeling that you have just stripped your head of all its essential nutrients. I have had cheaper shampoos that did just that, or at least it made me feel that way. This shampoo is gentle, but it delivers, and that is a great combination.
Another thing worth mentioning about this shampoo is the fragrance. It took some getting used to. I honestly didn't 'get it' right out of the box. After I opened it and used it, and after the scent was less intense, I could appreciate it more. I enjoy the scent, and it sticks around for a long while. If you don't enjoy the fragrance, it could be a deal-breaker for you, but I urge you to give it a shot before you dimiss it completely.
Massage into roots of damp or wet hair, give it a minute or three, and rinse out with plenty of water. If you are planning on conditioning, rinse normally. If you are only planning on shampooing, give your scalp and hair a nice blast of cold water at the end, in order to seal the cuticles.

I condition once or twice a week, not more. This conditioner's specialty is dry and damaged hair, and it achieves its goal of repairing by getting into the spaces between the cuticles. In other words, it works its magic precisely where the hair may be damaged, and where there are split ends. It has an impressive and heavy kind of consistency. A small amout is enough for a whole lot of hair, so be sure not to overuse. Take some, lather and distribute evenly throughout the hair, leave it in for a few minutes, and let the keratin-infused formula do its thing.
As I said earlier with the shampoo, consider giving your scalp and hair a nice cold blast of water after rinsing out the conditioner, to ensure maximum retention of moisture and helpful ingredients.
Note – this is not the kind of conditioner where results are apparent immediately. Be patient. At first, this product may not seem so different from any one-notch-above-the-store-brand-at-your-local-pharmacy kind of conditioner. But give it some time. After a few washes, you will probably be able to take notice of this conditioner's unique effects.
As for ingredients, both the shampoo and the conditioner are chock-full of helpful nutrients and oils, but you have to take the good with the bad. There are also some less-then-amazing ingredients in these products, so make sure you read your label and make a judgement call. Overall, the shampoo and conditioner are a great duo with lots of nourishing properties. Even if they are not 100% all natural, there is still a lot going for them. Now let's see how this couple measures up against another popular brand.
K-PAK Clarifying Shampoo named one of "The Best Clarifying Shampoos" on @InStyle! cc: @PaulNortonHair https://t.co/MuCD84EevR pic.twitter.com/Hx4ctJwlIk

— Joico (@Joico) November 4, 2016

TRESemmé was first introduced in 1947, and it has been providing the world with quality hair care for 70 years. Their 'Keratin Smooth Infusing' duo is one which gives Joico a run of its money. Both of these companies are great, and it comes down to a judgement call.
Some hair care products are marketed as a kind of "one size fits all" solution, and in some cases it may be true. However – like all beauty and cosmetics products – what may be great for one head of hair, could prove different for another.
TRESemmé's keratin combo leaves the hair feeling smooth, looking shiny, and more manageable. The conditioner is partciularly thick, and I had to rinse my hair for a good while until it finally agreed to leave. I wouldn't use it more than once a week, with my kind of hair. I have a feeling it will weigh it down if I use it too often. That said, it smells great and it did its job. Overall, I still prefer the Joico K-Pak line, though TRESemmé is a close competitor.
Conclusion
Having a great hair day, every day, is a reality which is within your reach. Even if you were sure there is no hope for your locks, have no fear. Joico's K-Pak brand is here for the rescue. Remember that repairing your hair is a process, not a one-time fix. It takes weeks – or maybe months, I don't know – but the results are undeniable. The more time you use Joico's K-Pak products, the better and more improved will your hair become.
So, if you are sitting there with, feeling down, with a pair of scissors in your hand and a look of desparation in your eyes, remember: don't despair – repair! Joico's K-Pak shampoo and conditioner are a great way to start taking better care of yourself and your hair. Thick and strong, smooth and silky. This is what K-Pak has done for my damaged hair, and there is a good chance it can do it for yours, as well.
Thanks for reading our Joico review. Be sure to learn about Beachbody's P90X, P90X2, and P90X3 while you're here at EduMuch!