Ozark Trail Brand and Products Review: Blazing a Trail!
Table of Contents
Ozark Trail is a Walmart brand named after the famous American hiking trail from St. Louis, Missouri to the border of Arkansas. The brand sells hiking and camping gear including tents, tarps, sleeping bags, hiking boots and backpacks. The products are generally high quality, and sold at much lower prices than other items from the same category – this means Ozark is packing some great value! Overall, I'd say that the products are perfect for light to medium use. Don't expect luxury gear that you could hope to make use of on your next attempted Everest climb, but do expect great products at great prices! Welcome to our Ozark Trail Brand and Products Review.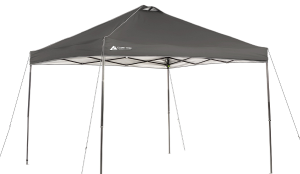 The Ozark Trail Canopy is great for sun-protection or establishing a booth at a farmers market or fair. The durable fabric of the top portion is secured to the strong steel frame with Velcro. The standout feature of this canopy is how easy and quickly you can build it and take it back down. The frame clicks into place and a simple button in one corner releases the structure. The height is also easily adjustable. There's an open flap on top and as heat rises, you'll stay cool as hot air escapes. The canopy will not stand up to heavy wind, but that's less of an issue considering how quickly you can take it down when wind starts to pick up. The frame collapses into a small case for easy storage and transportation.  I would definitely recommend this pop-up gazebo, but not for use at the beach or other potentially windy areas.
Ozark makes tents in a variety of sizes and shapes. All of them are very budget-friendly when compared to other tents of their size, and they all take very little time and effort to assemble. The material quality is not top-of-the-line, but it isn't bad either. You might get some small holes in the walls or floor of the tent after a few uses, and it comes with a patch kit to fix that up. Ozark tents are best for use in mild weather, as they don't hold up well in windy climates, and because of the possibility of little holes, they won't be the most rain resistant. However, many people are camping primarily when it's nice outside. If you're planning on using one for summer trips, these are great and have some really useful elements. Let's get into a few tents specifically.
The Instant 13' x 9' Tent, can fit up to 8 people and comes in tan and orange or tan and blue. The poles are pre-attached to the tent, so all you have to do to assemble is unfold the tent and extend the poles. It takes about a minute to get this thing sleep-ready, which is pretty amazing! There are large windows and a mesh ceiling so that the tent stays ventilated and airy inside, and an electrical port in one corner. If the climate is on the cooler side, attach the included rain fly which will provide insulation. This is a basic square, one room tent.
@ozark_trail Got good use out of the tent last night! pic.twitter.com/f1oFJqE146

— David Clark (@DeyenClark) July 31, 2016
The 3 room L-shaped Instant Cabin Tent is a great choice for a family or group that wants their tent to feel more like a home and offer some privacy. Unlike some other tents with "room" partitions which are actually only divided by flimsy curtains (I'm looking at you, Ozark 10-person 3-room Vacation Tent,) there are zip-up doors between the rooms in this tent which is nice. It includes a rainfly for extra insulation and rain protection, and a large awning in the front for a shaded outdoor "porch." It also has the attached retractable poles for instant setup which is especially helpful considering how long an L-shaped tent of this size would take to set up otherwise. There are pockets all over the place, helping you stay organized in your tent, and flaps in two of the rooms that you can open to help ventilate the tent, and can also fit a window A/C for all you campers out there.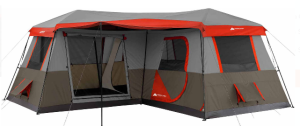 If you do plan on using an Ozark tent in the rain, consider getting their Vacation Home Tent. This tent is rectangular with a slanted roof, so it looks like a little house. That slant is very effective in keeping you dry, as rain rolls right off of it. The tent is spacious, with a main divider in the middle, and has attachable dividers to cut the rooms in half. It has a high ceiling which gives it a really big, open feel. Overall, assuming you procure the right one that is suited to your needs, you can't go wrong with an Ozark Trail tent!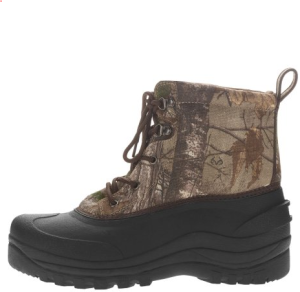 The Ozark boots range from $7.00 to $39.00, and at that price, these boots are excellent. They are extremely durable, and the ones that claim to be waterproof actually are (all too much of a surprise when it comes to boots). Most have a faux fur lining to keep your feet toasty, and they are not too heavy at all. The soles offer great traction in snow and mud and all that, and don't wear down easily. The foot bed does not offer the best cushioning or support, so you may want to add an insert. Again, for extreme or heavy use you may want to look into a more expensive boot, but for most peoples purposes these babies will serve just fine.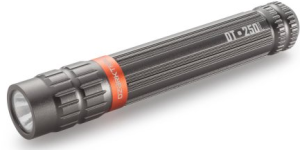 The prototypical Ozark Trail flashlight is pretty straightforward, with an on/off button and one light setting that is very bright for its size. It has a durable, aluminum casing with grooves to give you a better grip. If you do drop it, don't sweat. They are shock-proof up to one meter and water-resistant (but not water-proof). They run on inexpensive AA batteries, so the whole thing is very budget friendly and easily replaceable if it breaks or gets lost.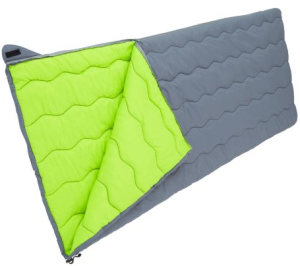 Ozark Trail sleeping bags are fairly comfortable, but they aren't necessarily warm enough for use in the low temperatures they are advertised for. The bags have attached straps which help to roll the bag up tightly, and they're very compact. I'd recommend the mummy sleeping bags, or the extra-large sleeping bag which seems to be thicker and warmer than the classic single sleeping bags which are very thin and have poor quality zippers.

This knife has a stainless steel 3" blade. It is pretty sharp at the beginning but dulls down over time, as one would expect from a $4.00 knife. You can attach it to your belt or bag with the pocket clip, which is convenient, and it flips up nicely. Some people have complained that the screws loosened up as time passed, but this just takes a simple tightening with a screwdriver to tighten. This knife is not built to last a very long time, but it makes a perfect spare knife or accessory for everyday tasks or camping excursions.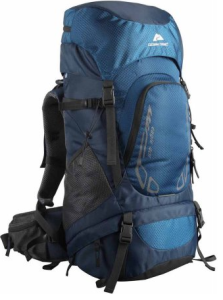 Ozark makes great backpacks. They are designed with conscious intent, and have various pockets and compartments that are extremely useful. The shoulder straps are comfortable and the backpacks distribute weight well. The backpacks are made with very good quality fabric and zippers, especially for their price.  There are different sizes available, from 23 L to 40 L, and variations for backpacking, hydration packs, laptop storage, school, etc. Ozark Trail backpacks are probably ultimately preferable to the more expensive bags you'll find from, say, The North Face and their backpack line. Ozark Trail bags hold up just as well but will run you a fraction of the price!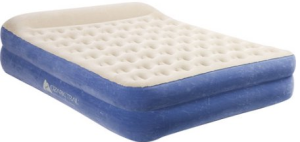 When filling up an air mattress, the most frustrating thing in the world is that as soon as you pull out the pump, air escapes while you fumble trying to close it, and the mattress is never full enough. This mattress comes with an electric air pump that fills up air quickly, and there is a lock system that keeps all of the air inside with almost no effort. Turn the cover to the unlocked position when you want to fill it up, and turn it back into the locked position before taking out the pump. The mattress has beam shapes across it, and that isn't very comfortable because it's not an even surface.
Conclusion
If you're outdoorsy and on a budget, Ozark is a really good brand to check out. Their products offer solid, quality builds at value prices that you will never see from the 'big name' outdoors brands. Some of their products are better than others, but when they're a hit, they're really a hit – Ozark Trail goods are very durable and useful, and are totally comparable to their pricier counterparts. So gear up and enjoy!
Thanks for reading our Ozark Trail feature! To get fit for your next camping adventure, read up on Beachbody, P90, P90X, P90X2, P90X3, T25, Body Beast, and Insanity here at EduMuch!