Razer Mamba and Mamba Tournament Edition Review 2016
Table of Contents
When the Razer Mamba was first introduced in 2009, it became a sensation. It was certainly one of the finest gaming mice the world had seen. With its 3.5G laser, Philips Twin Eye PLN 2032 sensor, and its wired/wireless capabilities – it was a hit. In 2012, a second version was released. This one had an improved 4G sensor, Philips Twin Eye PLN 2033, as well as 6400 dpi, as opposed to the 5600 which the original Mamba had. In 2015, two Mamba models were released, and we will be focusing on them in this review: the Razer Mamba (2015 version, simply known as Mamba), and the Razer Mamba Tournament Edition (aka Mamba TE). These are considered to be two of the best mice on the market today, and they boast impressive price tags, too. But, are they worth it? Let's find out. There is only a small amount of difference between them, but the differences which do exist are crucial ones. They have the ability to really change the way a game is played, as we'll detail here in our Razer Mamba and Mamba Tournament Edition Review.
Razer Mamba and Mamba TE Specifications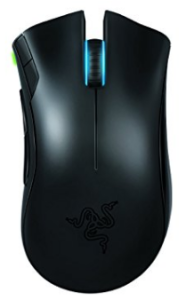 First, the similarities. Both the Mamba and Mamba TE feature:
A 16,000 DPI 5G laser sensor.
210 inches per second / 50 G acceleration.
9 programmable buttons including the tilt-click scroll wheel.
1 ms response time.
Chroma lighting with 16.8 million customizable color options.
Razer Synapse compatibility.
7 foot, lightweight, braided fiber cable.
Approximately the same size: 128 mm / 5 in. (Length) x 70 mm / 2.76 in. (Width) x 5 mm / 1.67 in. (Height).
The main differences between them?
The Mamba has a wireless options, and a nifty, LED-lit docking station to boot. The Mamba TE is wired only.
The Mamba weighs slightly more than the TE, due to its rechargeable battery. As standalone devices, the Mamba actually weighs less. According to the specs at Razer's website, the Mamba weighs approximately 0.27 lbs., while the Mamba TE weighs in at 0.29 lbs. along with its cable.
The Mamba's list price is $149.99, while the Mamba TE's price is $89.99.
The Mamba features the patent-pending Razer Adjustable Click Force technology, which allows the user to adjust the amount of pressure necessary for performing a click.
The Mamba TE has got lighting on the Razer symbol, and the Mamba does not. This is probably done to conserve the Mamba's battery power.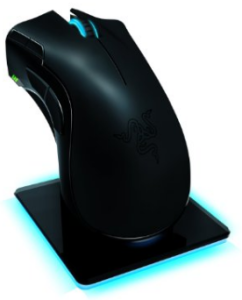 There hasn't been a mouse quite like the Mamba. Yes, there are other gaming mice, of course, but the Mamba manages to bring something very important to the table. It doesn't just have the highest dpi count. Its grip is really versatile, as are the two main left and right buttons, thanks to the  Adjustable Click Force. The great thing about this mouse is that isn't necessarily geared towards one genre of gaming or another. It is simply a straightforward mouse for those who want to get the most out of their game. You want to be better, faster, more agile? You could use a mouse like this. Remember: a mouse doesn't give you any super-powers. It is a mouse, and you are the one who operates it. If you have no skill, no experience, and no patience – no gaming mouse will be able to save you from your noob-like state. The Mamba really is an expert mouse, just as the title states. It is sure priced that way. It is not meant only for experts, but those who are proficient with gaming and mice will certainly be able to feel a difference. The other Razer product which it is perhaps most comparable to is the DeathAdder. Although – as long as we are hovering over the subject of pricing – the DeathAdder costs significantly less.
look what @VDreadwalker got me. #razer mamba and a new proper moysepad. tjat means its #overwatch time! pic.twitter.com/8fWlHRp24E

— Zille (@ZilleOfficial) October 8, 2016
Razer Mamba vs. DeathAdder Comparison

So, yes, the Mamba and DeathAdder (specifically the Chroma, because of the color options) have a lot in common. They look alike, and they even feel alike. One major difference between them, however, is their sensor. Both the Mamba and Mamba TE are equipped with laser sensors, whereas the DeathAdder uses an optical one. Laser sensing is the newer technology between the two, and it uses a different kind of approach. While optical sensors take pictures of the surface and translate them into movement, the laser sensor sends a beam. This allows the laser to be used on a much larger range of surfaces (depending on the laser), and to be more accurate overall. This sort of information doesn't really matter to most people. Not everyone needs a gaming mouse, and not everyone feels a difference between one mouse and the other. There are many people playing MOBAs, MMOs, and FPSs with more simple mice, and who have a positive experience. But yes, it matters. It matters to hardcore gamers and future hardcore-gamers, mostly. On top of that, even if you are a serious gamer, you also need to be smart. If you know, for instance, that you won't be gaming in anything over 5600 dpi or so, you shouldn't make your mouse-buying decision based on the most expensive mouse with the highest dpi count. It's not about downgrading or upgrading – it is only about you and your gaming needs. What do you want? Forget the magazines, the online/offline text and video reviews, and everything else. When you invest hard-earned money in a gaming mouse, you better know what is best for you. Do your reserach, and don't simply go for the newest technology due to the fact that it is the latest rage. Okay, I finished my rant. We can move on.
Razer Mamba Battery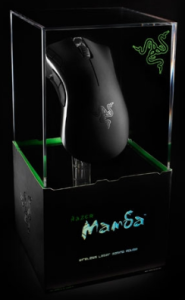 This mouse utilizes a 3.7v Lithium-Ion battery with a capacity of 1100 mAh and a lifespan of up to 20 hours, even with continuous gaming. The battery can be replaced, and Razer offers a factory battery of its own for the Mamba, which is also compatible with Razer Naga Epic and the Star Wars: The Old Republic model. The battery itself can last a long time. Unlike other kinds of batteries, it is best if you do not allow it to completely deplete before recharging. Li-Ion batteries can last up to three years, if maintained properly. Proper maintenance includes keep the mouse from exposure to extreme temperatures, moisture, and any harmful materials. Lithium-Ion batteries generally perform better in cooler temperatures. Also, dropping it is obviously not the greatest idea. The battery's connections – the whole mouse, for that matter – is built of quality materials, but they are not drop safe. If you drop it from a desk or work/play station, it may damage the inside and the outside. Be cautious and mindful, because I assume that – much like myself – you don't want to end up with a $100+ paperweight. Looking to get the most out of your Mamba battery? Follow these instructions:
Always set the mouse to the "off" position when charging. Note that Lithium-Ion batteries which have been completely depleted may not charge when in the "on" position. Don't make the mistake of leaving your Mamba to Charge overnight in the "on" position, only to find a dead mouse in the morning.
If you are planning on not using the mouse, for an extended period of time, leave the battery in an almost fully-charged state. It is not recommended to leave it at a depleted state, since it could damage your battery's overall lifespan.
This one sounds like a no-brainer, but it is worth mentioning. Always turn the mouse off when it is not in use. Make it a habit. Done playing/working/kicking asses? Hit the "off" switch. Whether you are charging it or not, the mouse needs its rest.
Razer Mamba Problems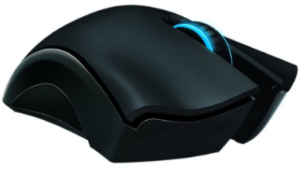 The Mamba, along with almost any other device and/or peripheral, has its share of pros and cons. As far as common issues are concerned, the one that comes up most of all is Z axis tracking. There are also some users who reported the mouse being glitchy – lagging, freezing, jumping, and sometimes downright not responding. These issues were more commonplace in the older Mamba models, and Razer has done their best to fix any and all bugs before releasing the Mamba TE and Mamba 2015. Razer has been able to eliminate pretty much all of these issues, but some may persist. Some problems originate from Razer's configuration tool, Synapse. Other problems may originate from various software or firmware updates. Also, because they are making so many units, there is always a chance of a mouse being a dud. It happens with everything and anything which on a factory assembly line. Razer tried its best to deliver quality, but they are well aware that – in spite of their best efforts – not all mice are created equally. Because of that, Razer offers a limited two-year warranty period. Make sure to take full advantage of it, if it is still applicable. If you have a mouse that is not up to par, whether after a while or right out of the box, call Razer up and get it replaced or repaired (depends on the issue).
Some people report that they had a bad customer service experience with Razer, while others claim that the company went above and beyond the call of duty in order to make sure that they were satisfied, even after their warranty period had run out! You will have to be the judge of that, since I have no experience with their customer service, or with returning any of their merchandise. Either way, if your mouse is acting up, for whatever reason, it never hurts to contact Razer and ask them about it. Their service reps may not be able to issue a return merchandise authorization (RMA) number, but they could offer a different kind of fix. My experience with the Razer Mamba was a relatively good one. It provides a reliable and tight gaming experience. Like I said, it won't turn you into a super-player, but it will take your skills and amplify them, if you want it to. You could just as well play Call of Duty, World of Warcraft, or any other game with a plain and simple mouse. The whole idea behind a gaming mouse is that it performs at a higher level than a regular optical or laser mouse. The grips, the buttons, the look – it is all optimized.
Conclusion
Razer knows gaming, and Razer knows gamers. Ever since 1999, with the release of the nostalgic and popular Razer Boomslang, this company has been making life easier for gamers all around the world. As technology advances, so does the world of gaming. From ball mice, through optics, to lasers, Razer has always been at the forefront of gaming peripherals. It has been a standard setter and an innovator. Razer also sponsors individuals, teams, tournaments, and other events. It stays in touch with the people, and that is worth a lot. The two newest Mamba models are expensive, no doubt, but if you are looking for a mouse which can help you to make the most of your abilities, to help you improve, and to really let you shine – you can't go wrong with either one of these. Wired or wireless, the Mamba is a force to reckoned with. Razer isn't the only one making top quality gaming mice, of course. There are others in its class, both of money and performance, and the Mamba is just as good as those, if not better. If you can afford it, and – more importantly – if you need it, then go for it. It is one of the best purchases you will ever make, gaming-wise. It's a great tool to own, and once you get used to working with it and playing with it, you will have a hard time saying goodbye.
Want to learn more about Razer? Check out our Razer Abyssus, Cortex, Ouroboros, and Taipan, features here at EduMuch.