Razer Ouroboros Gaming Mouse Review 2016
Table of Contents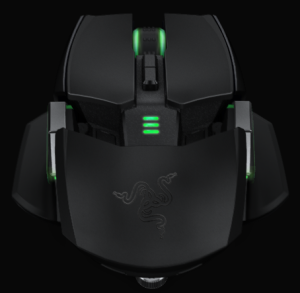 The Razer Ouroboros gaming mouse was first introduced in 2012. It is one of the more expensive mice out there, as far as mice go, but for those who want the absolute best, it certainly delivers. First off, design is instantly eye-catching and unique. Yes, I know, this could be said for just about any Razer product, since they are known for engineering and manufacturing unique and impressive devices. Nevertheless, this one stands out, even by Razer's standards, thanks to its special "Batman-esque" type of look. It is an ambidextrous mouse, which has 11 programmable Hyperesponse buttons. Using the cloud-based Razer Synapse 2.0 configuration tool, you can tweak the buttons, build macros, adjust sensitivity, pair the Ouroboros with other Razer devices, and set up different profiles for your various games. We'll cover all of this and more here in our Razer Ouroboros Gaming Mouse Review 2016. Here are some specs for the mouse:
Ouroboros by Razer, Specifications

Size – Length: 4.8 to 5.39 inches, width: 2.8 inches, height: 1.65 inch (approximately).
Weight – 0.25 lbs. without battery, 0.29 lbs. With battery (approximately).
Sensor – Avago S9818 4G dual sensor, 8200 dots per inch.
Buttons – 11 programmable Hyperesponse buttons.
Grip – Customizable and ambidextrous, with adjustable length, back arch, and interchangeable side panels.
Connectivity – Wireless (rechargeable) / wired with 7 foot braided fiber cord.
Lighting – Green LED, static.
Battery life – Runs on a single AA battery, and provides a minimum of 12 continuous hours of use.
Released – 2012.
List price – $149.99, but available for $129.99 in some stores, on and offline.

Razer Ouroboros Battery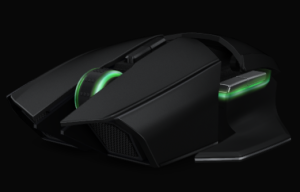 The Razer Ouroboros runs on a single rechargeable AA battery, which is included in the box. When it starts to get low, the bars will go down and the indicator light will begin to blink. There is also a light on the charger port. The battery which is included is a rechargeable NiMH battery. Eventually, the Razer-provided battery will die out. When? Totally depends on you and your gaming habits, and on your battery-maintenance habits. It could take a year, or two, or maybe three. Either way, once the battery is completely dead (i.e. won't hold a charge), the user can choose to replace it with any other rechargeable AA battery, or alternatively with any ordinary alkaline AA battery. It is a simple and easy-to-perform swap. Just make sure to avoid sticking a non-rechargeable battery in the charging port, as that is a recipe for trouble. If the battery begins to show signs of depletion mid-game, simply plug in the USB cord and let it charge while you continue your uninterrupted gaming experience. No downtime whatsoever. FYI – the warranty on the batteries is separate from the mouse's warranty. The warranty for the mouse is two years, and the warranty for the rechargeable battery is six months. Although, the battery should last way beyond that, as previously mentioned.
Razer Ouroboros Wired vs. Wireless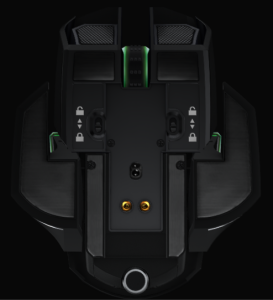 This is the kind of debate that nearly inevitably ends up going nowhere, as each gamer has his or her own preferences. Many pro gamers prefer a wired mouse, since it provides the least probability of lag, and has the best connectivity. Razer is a leader of wireless gaming technology, and they made sure that your experience will not be altered from wired to wireless. It is a seamless transition, and all you have to do is keep on playing. Whether wired or wireless, the Ouroboros boasts a 1ms response time. Razer is thought to be one of the first – if not THE first – to introduce that kind of response time, and it is a technology which the company is constantly improving and building on.
When the Ouroboros first came out, some users were complaining of wireless issues with other devices. They were unable to pair the Ouroboros through the Razer Synapse, and it caused a lot of frustration. Users were unable to use the mouse in wireless mode, even after updating firmware, reinstalling Synapse, and changing USB ports. Initially, you should probably contact Razer customer support, since they have the best idea of what's going on (more often than not). The fix for these issues could be one of several things, depends on the nature of the problem. You should make an attempt to use the problematic devices on another computer, in order to isolate the issue and see whether it is hardware- or software-related. If you attempt to fix things on your own, make sure to use a spare keyboard and mouse which are not Razer products. I am aware of the wonderful irony of trying to fix a Razer issue by using non-Razer devices, but there you have it. Possible steps to try:
Turning off mouse pad calibration in Synapse. This is a solution which works for certain problems, but not all.
The Big Fix

Uninstall all Razer drivers.
Uninstall Synapse and any other Razer software.
Reinstall Synapse as an Admin.
Plug the peripherals back in one at a time – in wired mode – letting the drivers re-install themselves, downloading any updates when prompted, and restarting the computer accordingly.
Unplug the wire from the Ouroboros, and put the mouse in the docking station.
Reinstall any other software which was on your computer, such as Cortex: Game Booster, as an Admin.
Open Synapse, disconnect the wire from the Ouroboros, and let the software recognize that the mouse has been disconnected.
Connect the wire to the mouse, and let Synapse detect it.
Disconnect the wire from the mouse, and let Synapse detect it.
Razer Ouroboros vs. Razer Mamba (2015)
These two mice get compared a lot, so let's do a quick side by side of their main points:
| | | |
| --- | --- | --- |
| | Ouroboros | Mamba |
| Grip | Ambidextrous | Right-handed |
| Sensor | Avago S9818 Dual | Philips Twin Eye 2034 |
| DPI | 8200 | 16000 |
| Buttons (programmable) | 11 | 9 |
| Lighting | Green | Chroma – full spectrum |
| Connectivity | Wireless (12 hours, continuous) | Wireless (20 hours, continuous) |
| Hz rate | 1000 | 1000 |
| Adjustable Click Force | No | Yes |
| Tilt-click Scroll Wheel | No | Yes |
| Synapse-enabled | Yes | Yes |
| Price | $149.99 | $149.99 |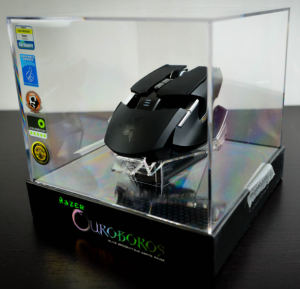 So, right off the bat we see several differences. The Mamba is ergonomic, and will fit well in the right hand, while the grip on the Ouroboros is designed to fit lefties as well. This comes at a price, so to speak, but thanks to the Ouroboros' customizability it is one price which you can afford to pay, unless you are a strict non-left-handed-apparatus user. With the side panels and adjustable body, you will most definitely be able to find a good fit, in spite of some awkwardness in the beginning. They both have laser sensors, and the Mamba has significantly larger range of dpi. In all honesty, most users will not notice the subtle differences between the dpi settings, because they are both very adequate and professional mice, which deliver a great gaming experiences. If put in the hands of, say, a graphic designer, that is another issue. But that is really my two cents, and I might be wrong. If dpi is very important to you, the Mamba is the most advanced of its kind.
If you are in it for the buttons, the Ouroboros has the Mamba beaten, with 11 programmable buttons as opposed to the Mamba's 9. As far as looks go, both are very beautiful and pleasing to the eye. As I said, the Ouroboros looks like something out of a Batman movie, but the Mamba has those strips of Chroma lighting, which can be made to glow in various patterns: cycling full spectrum, static, wave, reactive, and breathing. The Chroma feature also enables the user to pair the color patterns with other Chroma-enabled devices, and really get some colorful gaming time. Is it gimmicky? Of course, but it is very pretty nonetheless. Both mice are rechargeable, though the Mamba has a clear advantage over the Ouroboros in terms of estimated battery life.
#Razer #RazerOuroboros #Ouroboros #Razermouse #GamingMouse #PCPariferal #PCHardware #Mouse… https://t.co/PG0dCTeDWb pic.twitter.com/zczi9Dw9ca

— Beardedbob (@Beardedb0b) October 5, 2016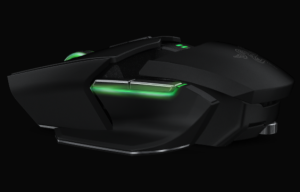 The Adjustable Click Force is a new kind of technology from Razer, which is still awaiting a patent number. Essentially, it allows the user to adjust the amount of pressure necessary for performing a click on one or both of the main left and right buttons. Using the screws at the bottom of the mouse, a user can adjust the buttons for just the right 'weight of click', for extraordinary ease of use. Your clicks change from one game to the other, and Razer rightly figured that you won't be pressing in the same way. It is exactly this kind of attention to detail which makes Razer products such a novelty, and which keeps them in constant high demand, in spite of their relatively high cost. Both mice have adjustable on-the-fly sensitivity. If you are getting into position to snipe someone, being able to change the dpi settings on the go is invaluable. They both have braided cables, which are 7 feet long. The Mamba's click-tilt wheel is a clear advantage. Even though it has less buttons, it has ones which are perhaps more strategically placed.
The Ouroboros' body is customizable, which is important due to the ambidextrous design, and its side buttons can be locked or unlocked on either side. The palm rest and side panels are a big plus, since they can fit different sized hands. The grip on the Mamba is more natural, but the Ouroboros does everything to level that field, with its physical versatility. The Mamba definitely has the better-looking docking station, FYI. Its Chroma effects are fun. Again, gimmicky – but cool!
Logitech's G series is one of the best in the world. Their gaming devices are top-notch, made for professionals and amatuer gamers alike. These two companies get compared quite often by gamers and would-be consumers, so here is a side-by-side comparison of two of the most popular professional wireless gaming devices on the market.
| | | |
| --- | --- | --- |
| | Razer Ouroboros | Logitech G900 |
| Size L X W X H | 4.8 to 5.39 X 2.8 X 1.65 inches | 5.1 X 2.6 X 1.6 inches |
| Weight | 0.29 lbs., battery included | 0.23 lbs., battery included |
| Grip | Ambidextrous | Ambidextrous |
| Sensor | Avago S9818 Dual | PMW3366 optical |
| DPI | 8200 | 12000 |
| Programmable Buttons | 11 | 11 |
| Lighting | Green | Chroma – full spectrum |
| Connectivity | Wireless (12 hours, continuous) | Wireless (continuous 32 hours with default lighting off, continuous 24 hours with default lighting on) |
| Wireless Power | Rechargeable AA battery, replaceable | 720 mAh lithium polymer (estimated 1000 charge cycles) – irreplaceable |
| Hz Rate | 1000 | 1000 |
| Tilt-click Scroll Wheel | No | Yes |
| Price | $149.99 | $149.99 |
These two are comparable for a reason. Both of them have a customizable build to them. Both of them appeal to gamers who are looking for something exceptional. A device which really brings out the best in them. Remember that no mouse can transform you from zero to hero. That's your job. But a mouse can help get you there, by obeying your commands without hesitation. It can further your already existing advantages, and hone in valuable skills. Sometimes, actions must be made with precision. Each step must be carefully calculated, and subsequently executed without any flaw. Sometimes, it is the exact opposite. There are times when pace is incredibly fast and dynamic, and it requires the player to multitask and think ahead.
Whatever the scenario, a player's mouse and keyboard are extensions of him or herself. A gamer needs a proper, precise, and comfortable tool to work with. Razer and Logitech are among the most well-known names in the industry. True, Razer is "For Gamers, By Gamers", and is the younger of the two, while Logitech is an older, and perhaps more mainstream (if such a thing exists), kind of company. Regardless, they both make excellent peripheral equipment, and gamers all over the world are always glad to sit down and grab a mouse made by either one of these companies. So, how does the Ouroboros rank up? Well, it is a very efficient, modern piece of hardware, that will serve its users very well. It has a high price tag, yeah, and that is one of its only drawbacks. It is a great mouse, whose relatively high price is going to keep many gamers from buying it, I guess. No judgement here, that's a lot of money. It's not a mouse for everyone, but I am sure Razer knew that going in. Razer is a company which designs and produces great products, overall. If the Ouroboros doesn't seem to excite you the way a gaming mouse should –  remember that there are other top-shelf options from Razer, like the DeathAdder series or Naga series.
Want to read about another great Razer mouse? Check out our feature on the Razer Abyssus Gaming Mouse, here at EduMuch!