Razer Taipan Ambidextrous Gaming Mouse Review 2016
Table of Contents
The Taipan mouse, from Razer, is another bullseye in a long line of gaming mice which Razer has come up with over the years. Razer has been a household name in the gaming community since its foundation, and even before that! By the time the company was founded, it had already made quite an impression, with its Boomslang. But I am getting ahead of myself. Let's backtrack a minute before we dive in here in our Razer Taipan Ambidextrous Gaming Mouse Review!
Razer Taipan History: The Best Ambidextrous Gaming Mouse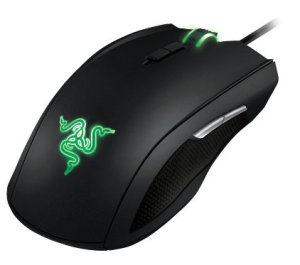 In 1999, the Razer Boomslang was introduced. It was the world's first true gaming mouse, with capabilities that had not been seen until then. It was faster, had an ergonomic shape to it, larger buttons, a 2000 dpi ball sensor, and it was received with all of the enthusiasm the gaming community could muster. Later, in 2004, the Razer Diamondback was introduced. It was an improved version of the Boomslang. With its siderails, its infrared sensor, its 7 buttons, and 16-bit data transfer, there was no doubt that Razer had been doing their homework, and that they knew exactly what the gaming community needs. Shortly after that, the Razer Copperhead made its appearance. It was the first laser-censored gaming mouse, and it was one of the first – if not the first – to include a whopping 1ms response time function, as well as onboard memory for improved performance. In 2007, the Razer Lachesis was released. It was an "expert ambidextrous mouse", as Razer put it, and for good reason. It had a 4000 dpi laser sensor, 9 programmable buttons, a modern design which reduced strain on the user's wrist, and later it was upgraded to a 5600 dpi laser sensor. Then, in 2012, during the E3 conference in Los Angeles, word had come from the Razer booth – it was the unveiling of a new kind of mouse: the Razer Taipan. It was the next generation of ambidextrous gaming mice, and it got gamers very excited, indeed. A symmetrical mouse for left-handed and right-handed professionals. A full-blooded gaming mouse built for speed and eSports of all genres and players.
Razer Taipan Specifications and Weight

Size – length: 4.88 inches, width: 2.48 inches, height: 1.42 inch (approximately)
Weight – 0.21 lbs. without cable / 0.29 lbs. with cable (approximately)
Sensor – Avago S9818 Dual, 8200 dots per inch, 4G (later upgraded to a single laser sensor)
Buttons – 9 programmable Hyperesponse buttons
Grip – ambidextrous ergonomic
Cord – 7 feet long, light, braided fiber cable
Released – 2012
List price – $79.99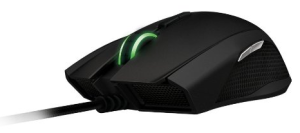 The Taipan is a weapon. A mouse built for competitive play. It is meant to help its wielder achieve victory, just like any other weapon. The ambidextrous design and the relatively reasonable price tag made it a mouse which was (and is) very popular, even since it hit the shelves in the summer of 2012. When designing the Taipan, Razer's team of scientists and engineers collaborated with professional eAthletes. They wanted to get as much feedback as they possibly could from actual professional gamers, and that data which was given translated into a device which features the finest shape, weight, and balance ever seen on an ambidextrous mouse. Many times, a symmetrical body will pose a real challenge for mouse designers. The question is asked – how do you achieve a tight and solid grip on a peripheral device such as a mouse, when you need to design it to fit both right-handed and left-handed users? Surely, something must be compromised in the process. Well, let's get that out of the way right now. The Taipan may not fit everyone, but the team at Razer did everything in their power to create a symmetrical body which doesn't necessarily feel like an ambi mouse. Its ergonomics, like the rubberized contoured thumb grips which exist on either side, lend themselves very well to the Taipan's purpose. There is non-slip coating on the mouse's surface, and it is fine, but not great. Like other kinds of coating, it has a tendency to wear rather quickly, especially in areas which are in constant use and which experience the most friction. Makes sense.

The light weight of the Taipan is distributed very nicely and evenly, but I honestly feel that a mouse's lightness can only truly be measured after a few hours of intense running, shooting, and crouching. When you are a tad sweaty, in the aftermath of a gamer's temporary adrenaline rush; when your hand is in need of some rest, and you starting thinking about what is in the fridge – there is your test. Try picking up or moving the mouse then, and you will instantly know whether it is really lightweight or not. On paper, the Taipan is very light, weighing in at only 0.21 lbs., and thankfully this is also the case during a gaming session. It isn't too light, though. Razer seemed to have found a really great balance here. People who like heavier mice may not enjoy the feel of the Taipan, but maneuvering it around is never a problem, and it responds like a pro mouse should. That's good news. I'd hate to say that it looks great, but doesn't make the cut.
Razer Taipan Gaming Mouse #Gaming pic.twitter.com/AmhJXO1VJz

— 2 Just For Gaming (@2JustForGaming) September 19, 2016
The buttons on the Taipan are all nicely clickable, and they make a satisfying noise which is not too loud. The thumb buttons are reachable, clickable, and there doesn't seem to be any double-sided-clicking issue. In my experience with dual side thumb buttons, the ones which are normally used render the opposite ones useless. That is not to say that they cannot be used, but it means that it will take getting used to. The on-the-fly sensitivity buttons under the scroll wheel are also very nice, and once you assign them you will have no problems adjusting your settings. The scroll wheel itself is clickable, but it does not tilt left or right, which is a shame. The wheel can also be a bit too sensitive at times, and on occasion it will scroll down before a click is made, even when it was not my intention to scroll down. It could just be me needing to get a handle on its finer points, but regardless, it is my feeling that the issue of scroll wheel sensitivity is one which should not belong when discussing a professional mouse. From the relatively small amount of research I have done, though, it seems that it was designed that way. Go figure. The Taipan's cable is a long and braided one. The USB plug at its tip has Razer's logo on it, and it is gold-plated. This will help to set it apart from any other USB devices you may have plugged in, and it is a standard on all Razer products.
As far as lighting goes, it is pretty minimal here. I love the Chroma devices as much as the next guy, but with the Taipan it is more about performance and less about gimmicks. Not that I am knocking the Chroma devices. Not one bit. I am just saying that here the team decided not to focus on any of the "pretty" features, and just give a pro gamer what he or she need to dominate and kick some virtual ass. If you are looking for colorful peripherals, Razer has tons of those. All you have to do is choose. So, the Taipan's lighting – in the form of a glowing green LED – is present in the Razer logo and in the scroll wheel. It is static, save for one 'breathing' lighting effect, where the glow comes in and out. There is no way to change the color, but a user may opt to turn it off completely. In addition, Razer offers a full slate of technical support and assistance in the event of any malfunction.
Razer Taipan Drivers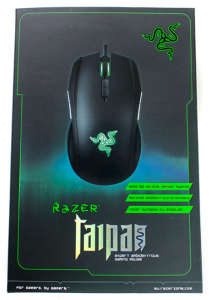 The Taipan is designed to run with the Razer Synapse, Razer's all-encompassing configuration tool. This allows drivers to be installed and uninstalled, and it consolidates everything razer-related into one hub. The various tabs in the Synapse change in accordance with the device which is being configured. When you go to the Taipan on Synapse, the tabs which are available are Customize, Performance, Lighting, and Calibrating. Use these Synapse tabs to create multiple profiles, adjust and assign buttons, set sensitivity and acceleration, build macros, and generally make the most out of your mouse. Some have some criticism towards the Razer Synapse, but I feel that it is one of the best ways to interface with your mouse. There is only so much you can achieve by clicking and fiddling with the mouse itself, and it helps to have a piece of software which is cloud-based, and which has everything already built into it. Arrive anywhere with your mouse, plug it in, run Synapse, and all of your settings and profiles are already there. It is easy, though not always convenient for some. I never had a problem with it, personally. I feel that those who criticize the Synapse may have a point, but it still doesn't make the software trash. Quite the opposite. Having a place for all of your Razer devices and their individual settings is actually very convenient, in my opinion, especially for those who aren't planning on taking their mouse anywhere.
Razer Taipan Price and Conclusion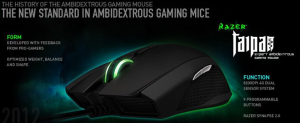 To sum up, the Razer Taipan is an excellent option for those who are interested in a professional, symmetrical, ambisextrous build, which does not skimp on ergonomics like other ambidextrous mice tend to do. Since it is a rather unique mouse in the Razer line of products, make sure that it is the one which you are looking for. The Taipan will not disappoint you. It is designed for victory, and it gets the job done. A note on gaming and gaming mice in general: Companies love to advertise their device, and marketing departments are doing their best to separate you from your money. Okay, so far so good. The question is, is it worth it? Well, look. Simply owning an expert gaming mouse, like the Razer Taipan, will not turn you into an expert. For those who are already experienced and well-versed in the protocols of gaming halls, it can provide a clear-cut advantage over other players. A mouse is an inanimate object, after all. It is only the gamer who is wielding it which gives it its strength and its power.
So, is it worth the $80 price tag? Yes. It certainly is. But, don't expect this mouse to turn you into a professional overnight. It can help you stay focused and on point. It can help you be a lot more precise and sensitive to your gaming environment. It can even help you move faster. But eventually it is you, and you alone, which affect the outcome of any game. No mouse, gaming mouse, or expert gaming mouse is going to do the work for you – this stays true no matter what company logo appears on it, where it comes from, or how many buttons it has. It is all on you and your skills. A good gamer can take the most ordinary, run-of-the-mill mouse, and turn it into a formidable weapon. Alternatively, a novice can take a $150 mouse (like the Razer Mamba), and use it to play Solitaire. If you can afford it, the Taipan is one of your best choices for a professional ambidextrous mouse. And, if dual-handedness is not a prerequisite for you, feel free to explore other options, since there is always more to choose from. Also, don't forget, there is a two-year warranty on mice. I urge you to use it, if you find it necessary to do so. Issues can (and will) be found with any device that is out there, no matter what company produces or distributes it. These gaming mice cost a lot of money, and you deserve the best service there is for your hard-earned dollars. Should something be wrong, Razer will replace or repair your mouse, depending on the case at hand. Razer, and other companies, are always making advances in the field of peripherals, and more specifically in the field of gaming peripherals. Razer is a company founded "For Gamers, By Gamers", and you never know what you are going to find.
Check out our other Razer gaming reviews – like our DeathAdder Chroma, Abyssus, Cortex, and Ouroboros features here at EduMuch!