Top Camping Hammocks Review 2017: Ham it Up!
Table of Contents
Tents will always have their hallmark place in the camping world, but hammocks are becoming more and more popular as alternatives. They are easier on the back, protect from bug bites with mosquito netting, and the suspension eliminates the issue of feeling stones and branches digging into your back – or the discomfort of lying on hard, uneven ground. They also are dual-purposed. No one wants to sit in the stuffy tent when they wake up, but hammocks make a great relaxation spot at the campsite where you can sit swinging softly, enjoying the breeze. Transitioning from tents to hammocks also clears up tons of weight and space in camping gear.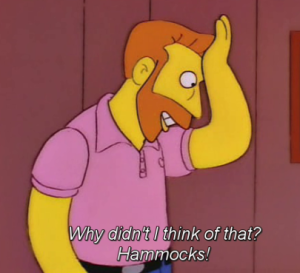 There are some great ways to customize your hammock experience for maximum comfort and to stay warm or cool depending on the conditions. Sleeping pads and under-quilts are two of the best ways to optimize your hammock. An under-quilt keeps the bottom half of your body warm if you're using a blanket. Even if you're using a sleeping bag inside of your hammock, the air on the bottom gets pushed out, so it doesn't insulate as well as it could. An under-quilt goes underneath the hammock's exterior. Sleeping pads provide similar protection, as well as a soft, cushioned surface for comfort.
The hammocks we'll be featuring are made with these things in mind, thankfully. Some even feature layered fabric on the bottom of the hammock that increases the weight-limit and gives you an opening to put your sleeping pad or under-quilt into! With more and more companies jumping onto the hammock train and engineering better, stronger, more comfortable hammocks, there is really one for everyone. Below in our camping hammocks review we will cover the best
hammock providers today, as well as some of the best hammocks you could hope to own!
ENO is one of the most popular producers of camping hammocks, and there's a reason they have the reputation that they do. Their hammocks are made of high quality, durable fabric, they are lightweight, and can be consolidated into a very small bag. These are great for beginners hammock users because they're quick and simple to hang up. They come with strong Aluminum Wiregate Carabiners, and can hold up to 400 lbs.
The Doublenest has plenty of space for two people and can also be used by one person who really likes to be cocooned by the fabric or stretch out. The Singlenest is also great, but more suited for resting than overnight sleeping. It's worth the extra 10 bucks upgrading to the Doublenest to give yourself the option to sleep inside or share with a friend. The Double Deluxe has even more space– it's the King sized bed of hammocks. This one might not be the best if you know there will be just one person using the hammock because you might get drowned by the tall sides.
The 9'4" standard length of the ENO hammocks is suitable for tall people, but I'd usually recommend something slightly longer for people over 6" tall so your legs aren't being lifted by the end of the hammock. Nags Head Hammocks is a hammock retailer that carries ENO hammocks and has promotional sales and price-cuts from time to time – it's a great place to consider buying one!
Merry Christmas from ENO!!! Ever wonder what Santa does after taking care of business?#relax #bejolly #explore
pic by Kenneth Morales pic.twitter.com/r955EFlUun

— ENO (@ENOHammocks) December 25, 2016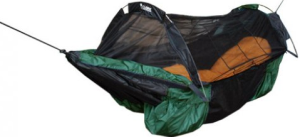 Jungle Hammocks are incredible as a sleeping solution and tent-alternative. They are tent-hammock hybrids and offer the best of both worlds. The inside can be insulated with a water-repellent cover for colder weather or rain protection, or ventilated for warmer weather with a mosquito net cover. There are better hammocks out there for use in very cold climates, but with the optional addition of the Wintershield, these can really hold their own in any weather. The covers are held up and away in a dome shape with tent poles so the interior is airy and spacious. Both can be folded back if you don't want anything standing in the way between you and the great outdoors.
The TX-270 hammock by Jungle Hammock is made for one person but it's very spacious and has a 700 lbs. weight capacity so you can definitely squeeze two people inside. The hammock has four large storage pockets for keeping gear underneath bed and two of those are accessible from both inside and outside the tent. It also has 2 small pockets on the inside next to bed for small objects and valuables.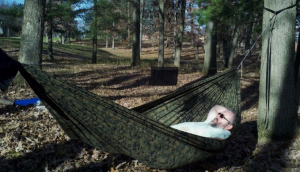 Dream Hammock hammocks are some of the most customizable hammocks out there. These are a dream if you have very specific preferences (if you're very tall, for example.) They have six different models to start with, and from there you can choose your width, length, fabric weight/strength, design, and suspension type. The Hammock Calculator on their website helps you understand how your decisions will affect the price, strength and weight of your end product to help you make more educated specification decisions. Two of the most popular pre-set models are the Darien and Dangerbird.
The Darien has a minimalist design, so it's very lightweight. It has mosquito netting, a little ridgeline organizer pouch, and a single zipper. The Dangerbird has removable net and nylon covers, and the nylon one has a large mesh panel for maximum ventilation. It also has the ridgeline organizer and a velcro zipper seal. The diagonal sleeping position ability gives a comfortable flat-bed feel. The double layer option lets you slip insulating material or a sleeping pad inside and holds them in place for added warmth and comfort. This hammock is more versatile and wider than the Darien but it's heavier. Overall, whether you're going with your own custom build or a classic Dream Hammock model, you can't go wrong – these boys make some quality hammocks!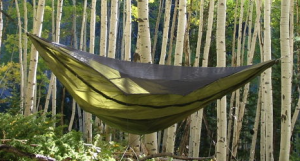 Warbonnet pays close attention to detail, and their hammocks have some features you didn't know you needed but quickly come to rely on. The Blackbird XLC is arguably their best hammock. It has received crazy good reviews and feedback. Some interesting features are the foot box, which allows you to stretch out feet seizing up the rest of the hammock, and a shelf for your glasses, book, flashlight—anything you need easily accessible has a spot. It's convertible, so you can use the netting and the solid-fabric cover for weather protection and insulation, or neither.
Elastic lines keep the net or fabric up and away, which is great if you tend to feel claustrophobic with something in your face. The strip that runs along sides of the hammock and the foot box are made of mosquito netting for maximum breath-ability and visibility from inside. The single-layer option has a 250 lbs weight capacity, but the double-layer can hold 400 lbs and can be used to keep an insulating pad in place. There are two suspension options available, and both are extremely simple and efficient to use.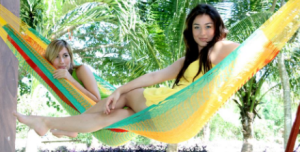 Mayan hammocks are the classic gathered cotton net hammocks. The extremely breathable, woven cotton rope expands to fit around your body, taking pressure off of the back. These hammocks are softer and cozier than the nylon ones, but less they are less durable and weather proof, and they are definitely not insulated or mosquito repellent. They come in really beautiful colors, and the delicate style will enhance the natural beauty of your campsite rather distract from it like some bold nylon ones do.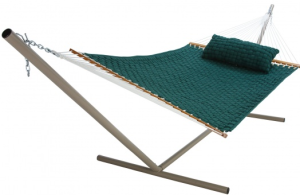 When you grow accustomed to the weightlessness and comfort of a hammock (I say that with confidence), a standing hammock is a great way to have one set up full time at home. Pawleys Island hammocks are beautiful and comfortable and come in a variety of sizes and materials. They have classic cotton rope hammocks, as well as rope hammocks made out of their DuraCord material which looks and feels like cotton but is stronger and more impervious to the elements. Pawleys also has comfortable quilt hammocks,  soft weave hammocks which are made out of a weather-resistant, padded fabric, and water-repelling poolside hammocks.
Conclusion
Waking up with a stiff neck while camping is never fun, and more importantly, is not at all conducive to exploring the nature you've trekked out to see. Hammocks, especially the ones specifically designed for sleeping, are comfortable, cozy, lightweight and don't need to be assembled. Just tie the straps to two trees and you're good to go. Plus, weighing in at about 1-2 lbs, your pack can stay so much lighter and smaller than with a tent + tent poles.
Additionally, slight rocking has been shown to help people fall asleep more quickly and sleep more deeply. Researchers have even suggested that hammocks are easier on your back than actual beds, which is admittedly a pretty far-fetched theory, but just goes to show how great and comfortable these can be.
Thanks for reading our hammocks feature! To get in shape for your camping trip, read our Beachbody, Power 90, P90X, P90X2, P90X3, Focus T25, Body Beast, and Insanity reviews! It's all here at EduMuch!