VTech Busy Learners Activity Cube Review
Table of Contents
When a baby approaches and crosses the six months mark, something amazing happens. They begin to use their hands independently, and that wonderful dance called "hand/eye coordination" begins. It is a great thing to witness. The baby develops fine motor skills, and coordinates the movements of hands and eyes to reach a certain goal.
The good people at VTech, makers of fine toys since the mid-1970s, came up with a toy that helps the development and enhancement of motoric abilities, like the VTech Sit-to-Stand Learning Walker and the VTech Touch and Swipe Baby Phone.
This Is Our VTech Busy Learners Activity Cube Review:
First off, the manufacturer states that this toy is suitable for kids 6 months to 3 years. I personally believe that a kid will outgrow this kind of toy by the time they are 1 year old or 18 months. Obviously, I could be mistaken.
The cube itself is really pretty, and very colorful. It has 5 sides of activities, which encourage the child to explore the many different aspects of the toy. On the top are light-up buttons which introduce shapes, animal names, and their respective sounds.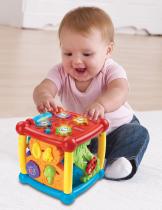 The cube's sides have a variety of games, songs, and melodies. These are activated by touching and moving the different buttons and knobs. They are guaranteed to capture your little one's attention and keep them busy, while simultaneously encouraging them to sit, developing their motor skills, and introducing them to a world of lights and sounds.
The fun never ends with this cube, at least until the child outgrows it. Entertaining and educational, the VTech Busy Learners Activity Cube is the perfect toy for babies who are just starting to discover their strength, and for younger toddlers who are interested in cause and effect, noises and lights (and hey, who isn't?).
This toy requires 2 AAA batteries to function, and a couple of AAA batteries are actually included with the cube's packaging. The batteries which are included are meant for demonstration purposes only, so you may want to replace them immediately. When replacing them, it is recommended that you invest in either alkaline or rechargeable batteries. It is better to get a good brand of batteries which you know will last a while, rather than some obscure off-brand which will last about 30 minutes.
It is up to us to teach our kids about the wonderful things which our hands can do! Grasp, push, pull, feel – these are all actions which the baby does instinctively, but when the cube comes into the picture, baby learns that hands can also bring about specific results. There are so many sides to this cube, that no matter where baby turns it (with the exception of upside down, perhaps), there will be something new and exciting to discover. And discovery is what these ages all about. This toy compliments the ages of 6 to 18 months especially. After that, it is kind of hit or miss, depending entirely on the child, their environment, and their unique temperament. A spirited tot may grow bored with rather quickly.
There is a reason this toy is called "busy learners". Watching a baby's face light up, as it causes some sort of change to occur in the cube, is really great. You can expect Mr. or Mrs. Baby to be thoroughly happy with this wonderful toy, and it can certainly help keep them occupied for long periods of time.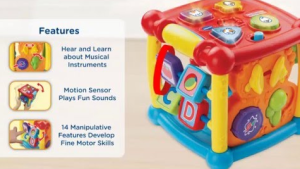 This is great for those times when you are simply too tired or exhausted to give the baby your full attention, and you just want a few minutes to yourself. Place them on a soft play mat, put down that activity cube in front of them, and watch as they explore, discover, make noise, and delight themselves.
Even if you are the most tired parent in the world, you just can't ignore your child's cried of glee. It does something to you, inside. It's this feeling of pure joy and happiness, which is unique and exclusive to babies and toddlers. This kind of unconditional jubilation, which can also get to you. I guess happiness is one feeling which you can never tire from.
But enough sentimentality – let's be practical. This toy has an adjustable volume setting, an automatic shut off feature, and is free of BPA. It is made of pretty sturdy plastic, and while it may not be the kind of toy that you can drop from a great height, it is still pretty solid. It can take a lickin', but you probably shouldn't get too used to abusing your kid's toys. If that's what you're into, I've got 4 words for you, buddy: get your own cube!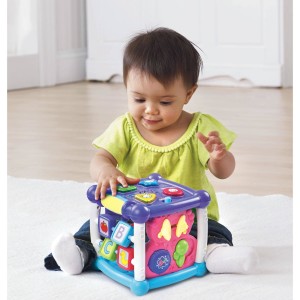 The retail price for the Busy Learners cube is about $18, and it can probably be found for less. For $18, you are getting a toy which can provide baby with hours of fun, and provide the parents with a well-deserved break. "Break" being a relative term, of course. I am not saying you should just leave the baby (and cube) unattended, while you go off for a nap in the other room. Yeah, that's be pretty sweet. I am sure you could use that nap, but darn it – parenting is a full time job. Without a doubt, this toy is worth the investment.
The VTech Busy Learners Activity Cube is one in a series. It also comes in a limited edition purple color. Furthermore, there is a second style of Activity Cube, called Sort and Discover. There is also a pink version of the Sort & Discover. The Sort and Discover cube's melodies and games are different, but the principle remains the same, as do the recommended ages.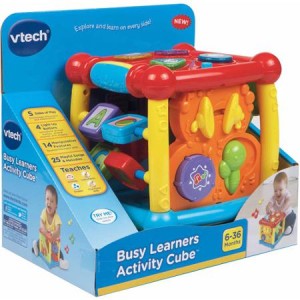 VTech Busy Learners Activity Cube Verdict
So, to sum it all up – this is a great toy. All babies are busy learners, in essence. All of them are just itching to discover new things and implement them into their daily lives. Whether it is holding their bottle, spinning a colorful roller, or pushing on a button which makes funny sounds – it all contributes to their mental, physical, and cerebral development.
It is our job as parents to expose our babies to the wonders of the world, in all its various aspects. This can be done by taking a walk in the park, or playing with the family dog, and it can also be done by letting them play with an activity cube such as this. It's all good, and it is a step in the right direction.
Have fun!
Make sure to check out our other articles at edumuch.com