Corsair Components Company Review: Soaring Through the Corsair!
Table of Contents
Corsair is a computer hardware and peripherals manufacturer. It has been part of the computer business since the early 1990's, and produces computer chassis, keyboards, mice and mouse pads, headsets and speakers, cooling devices, memory modules, flash drives, power supplies, and even living-room gaming apparatusses such as their Bulldog and Lapdog. Corsair gained a lot of success in the 90's, creating storage and memory solutions for various platforms. Later on, the company turned its attention to other facets of the industry as well, but its flash drives, memory sticks, and other storage devices are just as popular now as they were back in the day. Fun fact – a corsair is another name for a pirate. Arrrrr!! This is our Corsair Components Company Review!
Corsair Components History and Origin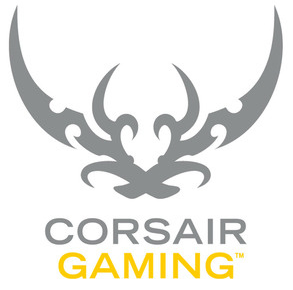 Founded in Fermont, California in 1994, under the name 'Corsair Microsystems, Inc.', it is a privately-held company with 3 founders: Andy Paul, Don Lieberman, and John Beekley. These individuals hatched the idea for Corsair while on a boat (hence the name), sometime in the early 1990's. The company reincorporated in Delaware in 2007, changed its name to 'Corsair Memory, Inc.', and continued to do business as usual. In 2010, it was incorporated once again in Delaware under the name 'Corsair Components, Inc.', and it has sailed under that banner ever since. Aside from its main headquarters in California, Corsair has sales and marketing offices, as well as distribution centers, in various locations across Asia, the United States, and Europe. A Corsair production facility is located in Taoyuan City, Taiwan. So, let's take a quick glance at the company's catalogue of hardware and peripherals.
Corsair USB Flash Drives Review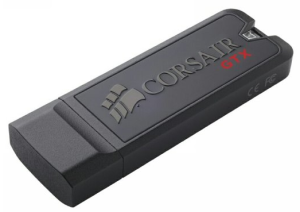 Flash memory has been around since the mid-80's, but it didn't really explode until the 90's. It provides the user with the ability to transfer files to and from PC / mobile devices with great speed and efficiency. With the advent of USB 3.0 technology, flash drives have become even more popular. With 19 models to choose from, here is a partial list of Corsair's USB drives:
Corsair's USB Flash Drives are all designed for use with a USB 3.0 port (2.0 compatible). They carry a five-year warranty, and weigh almost nothing. Most are fully compatible with Windows, Mac OS X, and Linux. Many times, we feel that the memory drives we carry are working fine – that is, until we need to transfer a large file or video. Then, much to our frustration, we see the progress bar take its sweet time getting to the end of that window. With Corsair's speedy 3.0 interface, you can rest assured that your data will be transferred in the highest speed, and that you won't be waiting around too long by that computer. Convenient, affordable, versatile, and well-protected. The perfect way for your files to travel. Carry your data wherever you go, with Corsair's USB drives.
Corsair PC Cases Review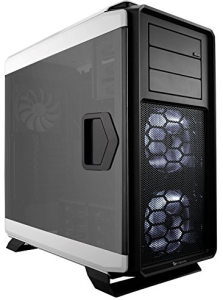 Computer cases, also known as chassis or base units, contain most of the elements which make the computer what it is. They normally house the motherboard, memory circuits, connectors and ports, graphics and sound cards, drive bays, fans, processing units, etc. Computer cases are meant to provide the hardware with structure, protection, cooling, noise-reduction, and a look which is more pleasing to the eye (rather than staring at exposed wires and electronic boards). Though, make no mistake – a computer's beauty is definitely in the eye of the beholder. Some individuals prefer the look of a naked computer. Far be it from me to judge. So, if you are in the market for a good case, Corsair has over 70 cases, split up into four series, each with its own unique approach:
Obsidian Series: A collection which brings together hard steel and brushed aluminum, to create a rugged and powerful system. These cases are designed by builders, for builders, and are fit for any configuration you would want to implement. The best-selling Obsidian models are:
350D Micro, Windowed

MicroATX and Mini-ITX compatible.
Five expansion slots.
Six drive bays of varying sizes.
5-inch SSD cage.
Five fan mounting points.
750D Airflow Edition Full-Tower, Windowed

High Airflow front panel.
MicroATX, Mini-ITX, ATX, E-ATX, XL-ATX compatible.
Nine expansion slots.
13 drive bays of varying sizes.
Four SSD cages.
Up to 10 fan mounting points.
750D Full-Tower, Windowed

MicroATX, Mini-ITX, ATX, E-ATX, XL-ATX compatible.
Nine expansion slots.
13 drive bays of varying sizes.
Four SSD cages.
Up to 10 fan mounting points.
New corsair 760T case. Love it #corsair #PC #MasterRace pic.twitter.com/aeIh0bnqoT

— George Squilla (@VileMortal) October 18, 2016
Graphite Series: Performance and style are the foundations of this series of cases. Graphite chassis are highly functional and eye-catching, and provides builders with everything they need to have a great experience. A few choice models:
780T Full-Tower – Black

MicroATX, Mini-ITX, ATX, E-ATX, XL-ATX compatible.
Nine expansion slots.
11 drive bays of varying sizes.
Four SSD cages.
Up to nine fan mounting points.
Vengeance Series: The gaming case, designed for portability. Want to take your fun on the road? These cases, along with their carrying handles, will get you where you need to go. The C70 gaming chassis is constructed of steel, designed for lots of airflow, and is built for dominating noobs and veterans alike. Exact vengeance on your enemies using one of three available colors: Gunmetal Black, Arctic White, or Military Green.
Vengeance C70 Mid-Tower Gaming Case

MicroATX, Mini-ITX, ATX, E-ATX compatible.
Eight expansion slots.
Nine drive bays of varying sizes.
Six SSD cages.
Up to 11 fan mounting points.
Carbide Series: Another series geared towards gamers, which can also serve as a basis for other system builders. Roomy, efficient, ergonomic, and technologically-advanced – the Carbide series is designed to be the foundation of high-performance systems. Favorites include:
Corsair Mechanical Gaming Keyboards Review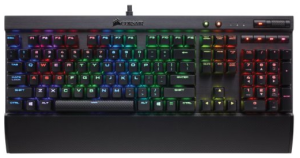 Corsair really know their stuff when it comes to creating gaming peripherals. The keyboards which they manufacture are all ultra-responsive, state-of-the-art, and they have an unapologetic, in-your-face kind of awesomeness about them. They have standard keyboards and mechanical keyboards, some are with lighting (single/RGB), and some are without. Without getting into the differences between standard and mechanical keys, I will just say that a mechanical keyboard is better suited for many gamers, and Corsair's keyboards do their best to facilitate gamers' needs. There are over 30 different keyboards to choose from in Corsair's K-series and Strafe-series of keyboards, with switches and colors galore. Here are a few of the most popular options:
Corsair K70 – a tool designed for professionals, made using aircraft-grade black anodized brushed aluminum. There are nine K70 models to choose from.

Cherry MX and MX Speed switches: blue, red, brown
LED customizable backlighting: blue, red, RGB
Textured keycaps for MOBA/FPA gameplay
Anti-ghosting
Corsair STRAFE – "real mech or nothing" is the tagline for this series. This keyboard is based on plastic materials, rather than aluminum, but retains a very well-constructed look and feel. There are eight STRAFE models to choose from.

Cherry MX and MX Silent switch: blue, red, brown
Fully programmable
Customizable LED capabilities: red, RGB
Anti-ghosting
Corsair K95 RGB – designed primarily for MOBA and MMA gaming, this keyboard provides users with the option of recording up to 108 macros, utilizing 18 programmable G keys. Also made of aircraft-grade anodized brushed aluminum.

Cherry MX switches: brown, red
RGB key-specific backlighting
Detachable soft-touch wrist rest
Anti-ghosting
Corsair Gaming Mice Review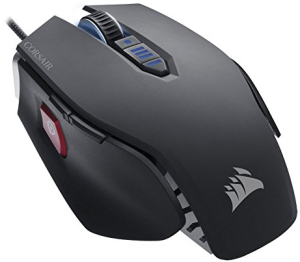 A good mouse is one of the most important tools a gamer can own, be they amateur or professional. A gaming mouse won't turn you into a pro overnight, but it can help you take more advantage of the skills you already possess, and assist you in acquiring new ones. Corsair have several  gaming mice to choose from, and these are the best of the bunch.
Vengeance M65 FPS

8200 dpi laser sensor (Avago ADNS-9800).
On-the-fly dpi switch.
Solid, lightweight aluminum frame.
8 programmable buttons, metal scroll wheel.
Adjustable weight distribution.
Thumb sniper button.
Similar to the M60, its predecessor. This mouse comes in Arctic White, Military Green, and Gunmetal Black, and it glides with ease along multiple surfaces. The sensor is highly accurate, the ergonomics are spot on, and – providing it fits your hand – it allows for many continuous hours of gameplay.
Scimitar MOBA/MMO

12,000 dpi optical sensor (Pixart ADNS s3988).
12 side buttons, 17 programmable buttons overall.
Ideal for MOBA/MMO gaming.
Fits all grip styles.
Programmable LED backlighting.
First off, even though this mouse provides the option of 12,000 dpi, there is probably no scenario in which you will absolutely need it. Still, good to know you have the option. The cable and USB connector are great quality, and even though this thing is a bit heavy, it is built to last a long time. Comfortable and easy to handle, even though Corsair did have some software issues having to do with this mouse. These issues were solved in later updates, and it still a great mouse as far as I can tell.
Vengeance M95 MMO/RTS

8200 dpi laser sensor (Avago ADNS-9800).
15 programmable buttons.
Solid, lightweight aluminum frame.
On-board memory for profile storage.
Textured, ergonomic surfaces.
Surface quality detection.
If you liked the M60 or M65, this one follows the same patterns, but with more buttons. A little wider and a tad heavier, but it is a great piece of equipment. Claw-grippers may be less comfortable with this mouse, but other grip styles should fit just fine. Depends on your hands, really. It is convenient and has great tracking capabilities. Looks nice, feels nice, and has enough buttons for anything MMO / RTS-related.
Corsair Audio Headsets For Gaming Review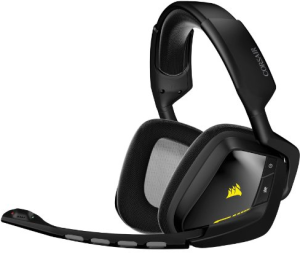 A headset can be a crucial part of a gamer's gear. You need to be able to communicate with your teammates quickly and easily. To that end, Corsair have released a number of wired and wireless headsets, which provides the gamer with the best possible quality, noise-cancellation, and drivers. Get ready to dominate in 7.1 surround.
Vengeance H1500

Dolby 7.1 surround
50mm drivers
Memory foam earpads
Noise-cancelling, adjustable, aluminum-covered microphone
Rugged plastic construction
Made of plastic, but does not feel cheap. The entire product feels very comfortable, even before putting it on. This thing is built for long sessions, and it shows. The earcups fir very snugly, and they don't overwhelm. Depending on your equalization (I like a nice deep bass), you can really feel the surround sound, and it provides a whole spectrum of enjoyment. The microphone is adjustable and easy to manage. Altogether, a great headset, though the software could use an update.
VOID RGB

Dolby 7.1 surround.
50mm drivers.
Memory foam earpads.
Solid metal and plastic construction.
Adjustable, aluminum-covered microphone.
Extremely well-built, with great head support and immersing earcups and audio. You put this set on, and you cannot hear a thing. It is like being transported into the midst of whatever game you are playing. The headset manages to be on top of your ears, and not in them, meaning that you can play longer without feeling discomfort. The full RGB color is always a nice touch, but is in no way necessary.
VOID Wireless

Dolby 7.1 surround.
50mm drivers.
4 GHz wireless.
Memory foam earpads.
Noise-cancelling, adjustable, aluminum-covered microphone.
Rugged plastic construction.
Wireless or wired? It is a matter of opinion. Wireless gives you a lot more freedom, and the VOID RGB has a long-lasting battery (15+ hours of gameplay). This headset is very light, you barely even feel it. The construction is similar in quality to that of the wired version, and much like the wired version, the earcups are not pressed against your ears. The VOID remains comfortable for long periods of time, which is why it is perfect for marathon-gaming. Once again, the RGB is a nice touch (seems to be on everything these days) but not necessary. If you are looking to complete your theme with an RGB headset, more power to you.
Conclusion
So, there you have it. A glance at the Corsair lineup. Though they are often compared to Logitech and Razer (and you can see why), they really do manage to stay fresh and different. Seemingly, they are selling the same wares and peripherals, but they are a lot more than that. Having been around for over 20 years, they know they have a responsibility to their users. They manage to step up to the plate, knock it out of the park, and usually be more affordable in the process. All things considered, Corsair is a recommended option for those who want a high-quality product. Their warranties and customer support are more than reasonable and accommodating, and I have no doubt you will enjoy your time sailing and gaming with Corsair.
Looking to learn more about some great computer peripherals? Check out some of our other features here at EduMuch: Logitech Overview, Razer Overview, Deathadder Chroma Review, G502 Review, G27/G29 Review.