Corsair H100i Extreme Performance CPU Cooler Review
Table of Contents

PC builders work hard on their setups. For those who are interested in overclocking their PC, many times the question of proper cooling methods comes into play. If you are looking for extra cooling performance, you probably already know that you can't settle for the air cooler, water cooler, or central processing unit (CPU) fan which came with your computer. More often than not, they are fine for basic use, but not for a setup which aims to push a CPU to its limits. On the other hand, constructing your own custom-made cooler can be a  technically-difficult, long, and costly process. So, what do you do? There are two main options: either purchase an aftermarket air cooler, or an aftermarket water cooler. This is why coolers like Corsair's H100i Extreme Performance were engineered. You'll need something with extra capabilities in your chassis if you're hoping to get your PC off the ground. We'll cover the ins-and-outs from top-to-bottom of this nifty piece of PC equipment here in our Corsair H100i Extreme Performance CPU Cooler Review.
Hydro Series Overview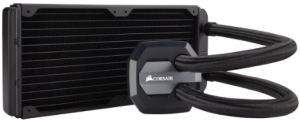 The Corsair H100i is part of Corsair's all-in-one (AiO) Hydro Series. This is a collection of liquid CPU coolers which come in either single or dual radiator/fan configuration. You should always aspire to fit as large a radiator as you can, taking into account the build and dimensions of your chassis. It is all about surface area, and your use (or misuse) of it. The Hydro Series includes:
Dual Radiators – H115i, H110i, H100i v2, H100i.
Single Radiators – H90, H80 v2, H75, H60, H55, H5 SF.
Each of these has different attributes: radiator sizes and fan sizes change, and these attributes affect the amount of chassis which the cooler can accommodate. This is a crucial point. After all, there is probably no need to invest in a powerful dual CPU water cooler, if you are only planning on basic use of a stock PC, with no overclocking and no sophisticated elements. Think about your needs, think about your budget, and then choose a cooling method and corresponding model which will best fit those needs.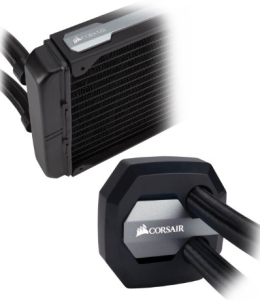 The Corsair H100i CPU cooler has a 240mm radiator, dual 120mm fans, and white LED lighting. It is also equipped with Corsair Link cable, which allows the Link Dashboard software to monitor and control the temperature, speed, lighting, and overall performance of your cooler. The H100i is designed to never require refilling or other regular maintenance. Install it, and set sail. The technical specifications are as follows (taken from Corsair.com):
Radiator Dimensions – 120mm X 275mm X 27mm.
Fan Dimensions – 120mm X 120mm X 25mm.
Fan Speed – 2700 rounds per minute (RPM).
Fan Airflow – 77 cubic feet per minute (CFM).
Fan dBa (audible noise) – 37.68.
Fan Static Pressure (liquid's pressure) – 4mm/H2O.
The H100i is compatible with many Intel and AMD CPUs. It requires a chassis with dual 120mm mounts, and space for a 240mm radiator. In most mid-tower and full-tower cases, this is not a problem, but make sure to do your research and take proper measurements before ordering your cooling device. The H100i comes with a mounting kit for modern CPU sockets, and with mounting screws for the fans and radiator. The performance of this cooler, like any other, changes along with the setup which it belongs to. Noise levels, temperatures, and general performance are all affected by the placement and surroundings of the cooler. There isn't one clear answer, but if I had to give one, it would be that this is a relatively quiet cooler, which gets the job done in a big way. Bottom line – it delivers.
Corsair H100i Price and Where To Buy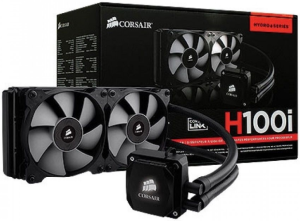 Well, there is good news and bad news. First, the good news! The manufacturer suggested retail price of the H100i is now $99.99, marked down from $129.99. Those are the prices at Corsair's website, and if this is a cooler which interests you, now would be the time to get it. Which brings us to the bad news… it has been discontinued. I could not get verification of this directly from Corsair but it seems to be out of stock, pretty much everywhere. Places where it is still in stock (Amazon.com, for instance) have much higher prices than the recommended $99.99. I am assuming that once the H100i v2 was released in 2016, the production of the previous version was brought to a halt. Again, no confirmation from Corsair on that issue, just an assumption.
Corsair H100i Software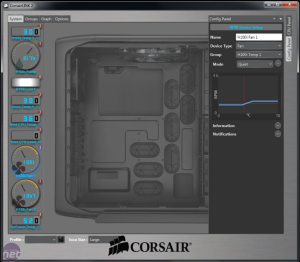 This cooler is equipped with the Corsair Link cable, which is plugged to the USB header of your motherboard. It allows the user to monitor and control the performance of the cooler via the Corsair Link Dashboard software, which is free to download from Corsair's website. The software is updated regularly, with the latest update being made available in September 2016. The Dashboard has five main panels: System, Groups, Graph, Power, and Options. Here is a brief summary of the panels' functions:
System: Provides an overview of your PC's components, their respective temperatures, and various fan speeds. There are background images which are customizable, in order to better reflect the inner workings of your particular system. It is from here that you can control your fans and LED-equipped devices.
Groups: This panel allows the user to assign fans and LEDs to various temperature readout groups. It consolidates this data to facilitate accurate tweaking and configuring of components which are dependent on temperature.
Graph: This interface is pretty straightforward. It allows the user to monitor temperatures and fan speeds in the handy form of a graph.
Power: If you happen to own a AX- or HXi-Series power supply, which is connected via a Corsair Link cable, this tab will also appear in your Dashboard. It shows power consumption, efficiency, load, temperature, and fan speed. There is the option of setting cutoff points, enabling over-current protection, and setting the fan's constant speed.
Options: Here there are many options which configure the Corsair Link, including email alerts, firmware updates, logging options, showing temperatures in Celsius or Fahrenheit, and creating different profiles.
Overall, the Dashboard's interface is user-friendly and efficient. It provides a detailed account of the system, and gives you a lot of information to work with. Looking to reach optimal cooling and performance levels? This is your ticket.
Just got my @Corsair H100i, OC'd my 5820k to 4.3Ghz and still going!(+1GHz) pic.twitter.com/nk9zqC7OJk

— Toby Southwell (@t_southwell) November 4, 2016
Corsair H100i Firmware
Sometime in 2014, Corsair removed the option for individual firmware update for the H100i. This was done due to the chance of permanently damaging the pump in the process. The latest firmware update for the H100i is 1.0.7. Previously, you could count on Corsair to address certain issues in their updates, but since the H100i has probably been discontinued, there will probably be no firmware updates in the future. Generally, the updating of the firmware was done through the Corsair Link Dashboard interface.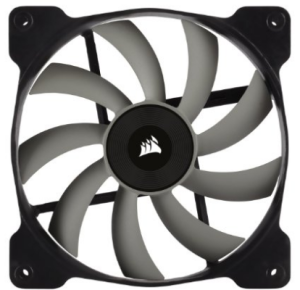 These models share a lot in terms of specifications: they both come with AMD and Intel mounting hardware, Corsair Link cable, mounting screws for fans and radiator, two fans (H115i -140mm, H100i v2 – 120mm), copper plate material, and a limited five-year warranty. These cooling systems are easy to install, and for those who have a difficult time with installation, there is always the highly informative user manual to guide you through the process.
The pump/radiator combo which these models are equipped with is pre-applied with high-quality thermal compound. Both of these systems provide lower temperatures and less audible noise than their predecessors, and feature a customizable RGB-lit Corsair logo. The LED can also alert you to higher temperatures, which is a neat little upgrade. Another small color-related upgrade is the ability to customize the color of the radiator and pump caps, by using various inserts (which are bought separately). The tubing on both of these systems is durable and just flexible enough to allow for customization within the chassis. So, that is what these two have in common. Now, let's get into their differences:
Radiator Size: H100i v2 – 240mm, H115i – 280mm.
Fans: H100i v2 – Dual SP120L PWM, 2400+ RPM, H115i – Dual SP140L PWM, 2000 RPM.
MSRP:  H100i v2 – $129.99, H115i – $149.99.
Again, remember these are MSRP prices, and do not reflect the street prices for these models, which are closer to $100 (for the H100 v2) and $120 (for the H115i). As always, you can – and should! – do your own research and see where you save the most money. Overall, these two are very much alike. The crucial differences are in the size of the radiator and fans. Not every chassis can handle the 280mm radiator, so for smaller systems it is probably better to go with the H100i v2. If you have the capacity, and more importantly the need, then go for the H115i. It is one of the best ones out there.
Conclusion
For the ordinary home user, stock components might be just fine. For those who are looking to maximize their PC's performance, and take it to the next level, it just isn't going to be enough. Building a PC isn't an easy task. It is enjoyable and highly satisfying, but it can also be a major pain in the neck. Knowing which components to use – and which ones to avoid – is an ever-changing mission, because every day there are more and more technological advances and gadgets. One of those consistently-advancing technologies is cooling mechanisms. They are constantly being perfected and reinvented, which is where Corsair comes in. Over time, this company has given us some of the best peripherals and pc-building materials around, and this includes CPU-cooling devices.
The H100i (and its many cool Hydro-Series cousins) provide the beginning or veteran builder with quality materials, durable construction, and control over every aspect of the process. Part of what makes Corsair such a sought-after name is that they know their customers. They know the mind of a PC-builder, a gamer, an enthusiast, and are able to tap into that mindset and engineer products accordingly. It is not unheard of, but still very refreshing, to see a company which invests the time and energy in considering the little things, in putting aesthetics back into the creative process as a priority, and in attention to detail. This is evident from things like the solid black cables, the magnetic mounting kit, and the pre-applied thermal compound, which guarantees you will never have to worry about proper heat-conduction. The H100i does have several disadvantages, being a liquid cooler. It takes up more space, it carries the ever-present (though very seldom occurring) danger of leaking, and it usually costs more than its air cooling counterparts.
The whole 'air cooler vs liquid cooler' debate is one for another article, but the bottom line is that with Corsair's products and software, the user is able to monitor and control pretty much everything that is going on inside their chassis. Plus, the five-year warranty is something which you should definitely take full advantage of. Should something go wrong, contact the company, and they will be able to guide you in the best possible way. I am not sure how the H100i specifically is treated these days, since it seems to have been discontinued by the manufacturer. Regardless, Corsair's support team is there for consumers who want to ask questions. There is also the Corsair users forum, which is a very lively and vibrant community, full of people (and some Corsair employees!) who are looking to help out in whatever way possible, so you can get the most of your product, and build the computer of your dreams.
In a world which is full of cooling solutions, Corsair still manages to stand out with its entire range of products. It is considered an affordable and reliable choice for first-timers and advanced builders alike, and it is very easy to see why.
Thank you for reading our Corsair H100i feature. Check out some of our other features on tech brands like Razer and Logitech here at EduMuch!