Logitech G27 & G29 Racing Wheel Review 2016
Table of Contents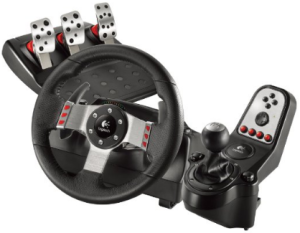 Simulated racing games are among the most difficult and exciting video games that one can play. If you are into them, that is. Some don't get it, and that is just fine. To each their own, right? Obviously, a big part of racing games is the controls. While it is true that these games could also be played with a regular controller – or even with a mouse and keyboard – it just isn't the same as playing them with a steering wheel, a shifter, and steel pedals. It's not just about looking cool (which is undoubtedly does), it is about breathing new life into the game, and making it as realistic as possible. Enter the Logitech G-series controllers and our Logitech G27 & G29 Racing Wheel Review.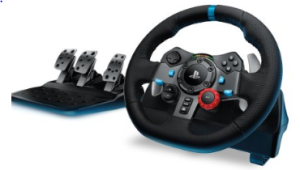 In 2006, Logitech released the G25 Steering Wheel. It was a smash hit and  a real game-changer, in the best possible way. There are those who are still using it, 10 years after it was released! Several years later, in 2009, the G27 was released, and the G25 was discontinued by Logitech. The G27 was a massive upgrade compared to the G25, and many were more than happy to switch over to the new wheel. In December 2015, the G27 was discontinued in favor of the G29, which is where this little comparison comes in. G27 steering wheels are not being produced anymore, but some are still available for purchase. Many users are wondering about the advantages and disadvantages of both units, now that the G29 has had some (limited) amount of time on the consumer's end. Some are newcomers, some are veterans who are considering switching over. In both cases, people are looking for some answers. Well, let's hope this article will be able to provide some relevant information, along with answers to some of the most frequently asked questions regarding these two models.
Logitech G27 & G29 Design, Specs, and Features
| | | |
| --- | --- | --- |
| | Logitech G27 Racing Wheel | Logitech G29 Driving Force |
| Systems compatibility | PC, PS3, PS2 (partially compatible) | PC, Mac, PS3, PS4 |
| Included devices | Wheel, pedals, shifter | Wheel, pedals (shifter sold separately) |
| Diameter (inches) | 11 | 11 |
| Rotation (degrees) | 900 | 900 |
| Corded | Yes | Yes |
| Dual paddle shifter | Yes | Yes |
| Layout | 6 programmable buttons on the wheel + D-pad and other controls on the shifter | Wheel is optimized for PS4, includes gamepad and quick configuration button |
| LED rev indicator | Yes | Yes |
| Sensor | Optical | Hall effect |
| Price | $400 – 800 (street price) | $399.99 (MSRP) |
Essntially, the G29's biggest advantage is that it is compatible with the PS4. The G27's shifter and pedals will work with the G29 steering wheel, but the buttons on the shifter won't work. If you have a PS4 system and already own the G27's shifter, you may choose to skip the accessory G29 shifter. The G29's shifter is H-shift only, and does not have the different buttons (since those are already placed on the G29 steering wheel itself). Prices for the G27 steering wheel are kind of skyrocketing these days, due to the ongoing demand and the diminishing supply. Now that Logitech are no longer manufacturing them, it seems that people are more eager to get their hands on them, even though they are approaching 7 years of age. That just goes to show how great these Logitech steering wheels are, and how popular they remain.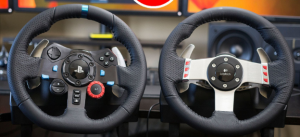 If you own a G27 but don't have a PS4, there really isn't any definite reason to switch over. The differences between the G25 and the G27 were worth switching over for at the time, but I wouldn't be too quick to jump on the G29 wagon. I certainly would not want to do so while the G27 is still highly playable and compatible with many modern titles. Furthermore, if you plan on playing with a PC, the switch would be nearly useless, in my opinion. It would take a real die-hard gamer/buff/nerd to notice the subtle differences between the two (as far as performance goes), so don't feel the need to get all "shut up and take my money!" on the G29.
On the other hand, it isn't as if the G29 is simply a glorified, overpriced version of the G27 (as some upset users have made it out to be). It does have its advantages, like the improved sensor and encoder, and, yes, its compatibility with PS4. The G29 shifter accessory is also compatible with Xbox One, by the way, which is another clear advantage. Who knows? As the prices of the G27 continue to rise, perhaps it will become cheaper to purchase a G29 and a shifter as a bundle. You can always find a bargain somewhere online or offline, so keep your eyes peeled for any good deals that may be coming your way.
Logitech G27 & G29 Issues and Fixes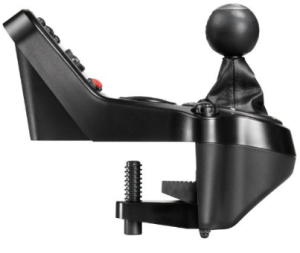 Common issues with the G-series steering wheels always had something to do with the encoder. Once the optical encoder began to malfunction, the whole steering wheel would lose its calibration and go haywire. There are several different fixes, and they all include replacing the encoder. If your steering wheel is still under warranty, get in touch with Logitech's support team. If it isn't, there are plenty of fixes out there for the G27 optical encoder, and some of them are as simple as a 10-cent washer and some super glue.
Logitech G27 & G29 Drivers
Those who are using these devices on a Windows-based PC will have access to the settings and configurations via the Logitech Gaming Software. Drivers for these steering wheels can usually be downloaded by using the software, by using the Logitech 'downloads' webpage, or by finding an independent driver provider online. Note: when Windows 10 was first released, G27 users who updated to the newer platform were faced with ongoing driver issues and wrongful device detection (e.g. Driving Force GT, instead of G27). Sometimes, other bugs or conflicts would come into effect and mess things up. These issues have since been fixed, and there are no outstanding or otherwise recurring issues with the PC drivers for the G27.
Logitech G27 & G29 For Xbox (One and 360) and PlayStation (3 and 4)
The newest generation of consoles (XB1 and PS4) have unique security chips inside of them, which do not directly support the Logitech G27 steering wheel. The G29 will work with the PS4, and as for the XB1 – Logitech have released the G920 (which, like the G29, does not come with a shifter), and which fits the XB1 console. As for modifications – there are various converters and adapters which can be purchased independently. These claim to enable the G27 to work with the newer generation of consoles. The only real problem is that the response time is significantly lessened, something which can greatly affect gameplay and bring the enjoyment factor way down. Do your research, and see if there is a converter out there for you. If you don't mind the lag, it is an affordable (albeit unofficial) alternative.
Theoretically, the G27 could be brought up to grade. However, in order to do that, Logitech would have to do the following: reach out to Sony and Microsoft, request a license, recall all of their G27 units, replace a lot of the electronics, and basically make them all into a refurbished G27 wheels. I wouldn't bank on that. There was very little chance of any of that happening – in spite of G27 fans' sincerest wishes – and now there is an even smaller chance of that happening, with the release of the G29 wheel. It would be less expensive to produce a new wheel, which is pretty much what Logitech did.
Assetto Corsa and Logitech G29 Tonight. So much fun! pic.twitter.com/8Kl63FQxdU

— Shawn Campbell (@PlasticCardGuru) September 10, 2016
As for the older generation of game consoles (XB360 and PS3) – both of these models have already been discontinued by the manufacturer in 2015, and replaced with the newer models. Therefore, the G27's days are numbered. It is only a matter of time. The G29 will work on the PS3, but not on the XB360. In order to get the G29 to work on an XB360, there is the option of obtaining a converter. Once again, this could affect your gameplay and add some measure of frustration to your life, or you may just get lucky and find an adapter or converter which fits your system like a glove, and performs astonishingly well. You never know, and because of that it is always a gamble.
Conclusion
I don't really like driving. I don't like the road rage, I don't care for the constant responsibility, and I don't appreciate the year-round vehicle-related maintenance. What I do like is playing racing games. I am no expert by any means, but I get around. Using steering wheels is part of the fun. I remember when I first laid eyes on my friend's Microsoft SideWinder Force Feedback, back in the late 90's. I was young, but I remember it well. I was pretty jealous of him, to say the least. I was too young to drive, but him and I tore up the tracks on Need For Speed and Midtown Madness anyway.
Most of us are not race car drivers, and heck – most of us would not want to be race car drivers! Maybe for a day, sure, but those guys are just a little crazy. I am all for not being normal, but all things considered, you have to admit it is a rather dangerous calling. I may be in a minority here, but I can say without a doubt that I would much rather experience the adrenaline rush, hairpin turns, and sweaty hands in the comfort of my own living room, holding on tight to my Logitech steering wheel. Is it the same as the real thing? Of course not. Does it come close? As close as it comes. Some professional race car drivers even use simulation games for off-road practice.
Obviously, simulations are for entertainment purposes only. While you could argue that there is real value to it- since some skills might transfer over to real life driving – you can't deny that driving simulators are first and foremost a game, and nothing more. It wouldn't feel the same at all in real life. I have never been on a real racing track, and I doubt I ever will. Regardless, it is always fun to fire up my Playstation and get a game on. I don't do it for practice. I do it for the pure enjoyment factor. And, there is a LOT to enjoy with these G-series steering wheels. Logitech have been making gaming and computer peripherals for decades, and they know what they are doing.
The heat and criticism the company is getting over making the G29's and G920's shifter an independent accessory is understandable. I mean, depending on where you live, the price for a new generation Logitech steering wheel is almost as much as the price of a brand new console! But, all in all, I think that the newer steering wheels are a great option for those who own those newer consoles, and who are looking to make the most out of their racing games and driving simulators. Time will tell on that one. The G29 and G920 are still relatively new, and the more time they spend in the hands of gamers and other players, the more hindsight we will have on whether or not they are able to pass the test of time. Drive safely!
Thanks for visiting our page. If you like Logitech, check out our G900, Harmony Series and G502 features here at EduMuch!