Razer Naga Gaming Mice Series Review 2016
Table of Contents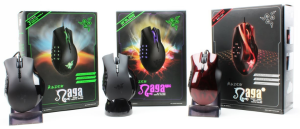 The Razer Naga is a series of gaming mice which was first introduced in 2009. The Naga series is meant primarily for massive multiplayer online (MMO) and multiplayer online battle arena (MOBA) gaming, and is designed in such a way that facilitates the precision, flexibility, and sensitivity which an MMO/MOBA gamer requires. MMO players really do have different needs than a lot of other gamers out there. First-person shooters and real-time strategy games have their place, of course, but Razer hit the nail on the head when it introduced its Naga series back in '09. The original Naga was a real breakthrough of a mouse. You can tell they put a lot of thought and effort into designing a mouse that is not just intended for gamers, but rather intended for MMO gamers. There is a difference there, in the thought process and engineering behind it, and it shows. There are different types of Razer Naga mice, and we will be taking an in-depth look at several of the most popular ones. So, let's dive right in to our Razer Naga Gaming Mice Series Review!
Dimensions – length: 4.68 inches, width: 2.95 inches, height: 1.69 inches
Weight – 0.3 lbs.
Sensor – optical 4G, Philips Twin Eye PLN 2034, 8200 dpi
Buttons – 19, optimized for MMO play
Grip – right-handed or left-handed
Released – 2014
List price – $79.99
This is a second redesign of the original Naga, with the first redesign being released in 2012. The main differences between the three of them are:
The materials which the hand touches, and also the matte finish, which I prefer over the glossier look, personally.
The re-positioning of the dual upper-side buttons to under the scroll wheel in the 2014.
The layout of the 12-button side keypad, which includes a better thumb grip in the 2014 version.
Better grips in general – the surfaces seem to have been seriously upgraded from the original to the 2012, and from the 2012 to the 2014.
The Naga 2014 is significantly lighter than the original and the 2012, and is similar to the lightness of the DeathAdder series. It is always better to be lighter than your opponent.
2012 featured interchangeable side pads, whereas the 2014 has a larger, more "one-size-fits-all" kind of design.
The scroll wheel on the 2014 version now also goes left and right, as well as up, down, and in.
Dimensions – length: 4.68 inches, width: 2.95 inches, height: 1.69 inches (approximately).
Weight – 0.3 lbs. (approximately).
Sensor – optical 5G, Philips Twin Eye PLN 2034, 16000 dpi.
Buttons – 14 buttons overall, 7-button thumb wheel for MOBA.
Grip – right-handed.
Released – 2016.
List price – $79.99.
A redesign of the original Naga Hex from 2012, the Hex V2 is one of the most accurate and high-end gaming mice out there. The two versions differ in several ways:
First off, instead of six side buttons on the wheel, V2 now has seven.
The V2's body is a bit wider than the original.
V2 features Chroma lighting, with over 16.8 million color options, as opposed to the original's green or red LEDs.
V2 offers a much better sensor, 5G with 16000 dpi, as opposed to the 3.5G 5600 dpi of the original.
The V2 has a convenient thumb rest in the thumb wheel.
The v2 is quick and very responsive, but that was also true of its predecessor. As previously mentioned, both the Hex and Hex V2 are designed specifically for a very certain type of game. If MOBA is not what you will be playing, perhaps consider investing in a different model. There is no point in spending $80 (or something close to that) on a mouse which will not be fulfilling its true calling. Save yourself the hassle, and go with a more widely-used model like the DeathAdder. As far as gameplay is concerned, it took some getting used to, but not much. I had never used the original Hex, so I had no real frame of reference. I have an average sized hand, and the fit was very good. I can't speak for the feel of it after months of use, since the V2 was only released in June 2016. Perhaps I will be back in six months to give you a more lengthy report.
These are only first impressions of the V2, and anything can change. Generally, though, Razer are known for putting together gaming peripherals and devices which are spot on. They are always a hit at every conference or show which they have a booth in, and they know what they are doing when it comes to games. The company makes a serious attempt to think like a gamer, and for that strong and noticeable effort they have gained my respect. As for my business? Well, time will tell on that one. So far, I have really liked every Razer product I have used, even if was only on loan or at one of their stores.
Dimensions – length: 4.68 inches, width: 2.95 inches, height: 1.69 inches (approximately).
Weight – 0.33 lbs. (approximately).
Sensor – optical 4G, Philips Twin Eye PLN 2034, 8200 dpi.
Buttons – 19, optimized for MMO play, includes 12-button thumb grid.
Grip – right-handed.
Released – 2014.
List price – $129.99.
The original Naga Epic was released in 2010, and it featured an optical 3.5 5600 dpi sensor, as well as both wired and wireless capabilities. In October, 2014, Razer introduced the newest in its line of Naga mice, the Epic Chroma, which became available later on. Here are some of the main differences between the two models:
The original came with three side panels, and the Chroma sports a one-size-fits-all design.
The Chroma has an added tilt-click ability to the scroll wheel.
The two are almost identical in terms of size and weight, but the Chroma is a bit heavier, and it has a slightly larger build. I suppose this is to facilitate that "one-size" fit.
Let's talk battery power: the original Epic had a replaceable Li-Ion battery, and the Chroma has a non-replaceable one. Both models feature dual wired/wireless mode, but that is a pretty big difference between them. It essentially means that at some point in time, your Chroma will no longer possess the option of being wireless. If that kind of attribute matters to you, it is a significant factor.
The famous Razer symbol is no longer illuminated on the Chroma, but the scroll wheel and thumb grid are. This is likely done to conserve battery power. Indeed, the Chroma has a longer battery life than the original Epic.
8 million color options, which is a standard for all Chroma devices.
The Naga Epic Chroma is one of the most expensive computer mice Razer manufactures, and with good reason. It is for those who take MMO seriously, and who want nothing but the best. It's not about the dpi – I mean, the sensor is good enough, sure – but what really counts here is the ergonomics and the design. The Naga Epic Chroma is really great for MMO, but for other game genres and everyday computer tasks – not as useful. It is still a fine mouse by any standards, but it is simply not meant for that. Razer are very clear on the fact that their mice can be very game-specific. They label them as MMO- or MOBA-oriented from the get go.
Dimensions – length: 4.57 inches, width: 2.76 inches, height: 1.81 inches (approximately).
Weight – 0.30 lbs. (approximately).
Sensor – optical 3.5G, Philips Twin Eye PLN 2032, 5600 dpi.
Buttons – 19, optimized for MMO play, includes 12-button thumb grid.
Grip – right-handed.
Released – 2010.
List price – $79.99 (though nowadays it will probably cost you a lot more than that, in the vicinity of $300+).
The Molten is a special edition which was released in 2010, and quickly went off the market. It is a wired, gold-plated USB, 17-button mouse, designed for long-lasting MMO sessions, and it sports a unique new look for the classic Naga mouse. It is the only mouse in the Razer line cataloged as an "expert" MMO mouse. The Naga Molten is wired, to ensure optimal response, and zero issues with connectivity. This guarantees that nothing will be interrupting your gameplay. In fact, most professional MMO players use corded mice, since they are the most reliable. Like other MMO mice, you could say it is somewhat limited in non-MMO scenarios. For other gaming genres and regular everyday use, it isn't anything special. However, for those who wish to be quicker, better, and more agile – an expert gaming mouse such as the Naga Molten is second to none. It is a mouse made for the patient raider.
Razer Naga Drivers Review
Drivers for your Naga products can be found on Razer's support page. That is the place for locating the newest drivers, firmware updates, user manuals, FAQs, and other kinds of documentation and files for support. All of the files are neatly categorized, and reaching them is a cinch.

Razer Naga Macros Review
Razer's unified configuration hub (aka gaming cloud), the Synapse, allows the Naga user to make any necessary adjustments to the various settings. The menus change depending on the Razer device which is being tweaked. From customizing the LED colors, mouse sensitivity, and acceleration, to personalizing the buttons and attaching Razer AddOns to specific games. One of the most popular uses for the Synapse is building macros, which will be synced from the cloud. A gamer can choose to add macros to the Naga mouse, as well as create different profiles for any use.
Some gaming communities prohibit such "shortcuts", and have no tolerance for macro users. Why? because there are certain games in which those macros provide one gamer with a clear cut advantage over the other. Building a macro which can execute commands at speeds which are beyond human capabilities is a problem, since it is literally impossible for a non-macro user to mimic those actions. If you are playing competitively, it is best to ask whether macros are frowned upon. The last thing you want is to be in the middle of a game, and then be kicked, suspended, or permanently banned. The Razer Synapse is a great tool, but know when and how to use it.
Get Imba with the Razer Naga Chroma MMO gaming mouse equipped with the 16k DPI 5G sensor: https://t.co/vIAvF9AtzY pic.twitter.com/zyRWUpnSDJ

— RΛZΞR (@Razer) November 6, 2015
Common Razer Naga Issues
Naga series mice, like any other piece of equipment, may run into some trouble. Whether it be the wired or wireless models, there are times when something simply stops working, or does not function as it should. Some of the most common issues with the Razer Naga have to do with tracking and movement (or lack thereof). Usually, the origin of the problem is not a physical malfunction, but rather a driver or firmware incompatibility. There are also times when a Synapse update of some kind causes temporary issues, or alternatively solves them. Sometimes it can be the mouse pad/mat which is incompatible.
Some issues are unsolvable by the average user, and they call for more professional intervention, in the form of Razer customer support. On the other hand, there are issues which can be solved right from the comfort of your own home, by re-configuring and re-calibrating the mouse via Synapse. Some users recommend getting rid of Synapse altogether, claiming it causes devices to malfunction. I haven't had that experience with Synapse. As far as I can tell, it is a great tool for consolidating all of your Razer products and profiles.
Conclusion
The Razer Naga series is serious business. Their mice are not for everyone, but if you do decide to invest the money in one, you will not be disappointed. Razer mice come with a two-year warranty, and – if necessary – Razer will replace or repair any malfunction which is covered in said warranty. For the hardcore gamer, nothing can beat a quality mouse. Is the Naga series perfect? Nope. No mouse is, really. But it is pretty darn close to perfection, and that is why gamers are willing to shell out the money. Razer also makes professional gaming keyboards, which can complete your experience, and help you dominate your opponents. Have fun!
Check out our other Razer features, like those on the Abyssus, Cortex, Ouroboros, Taipan, and Mamba here at EduMuch!