Table of Contents
The Syma X5SW FPV Explorers 2 is the Wi-Fi version of the very popular X5SC quadcopter. The X5SW was released in 2015, after the X5C was successfully introduced. There are several differences between the different X5-series copters, and I will try and get through some of them here.
Flying a copter / drone / unmanned aircraft system (call it whatever you like) is loads of fun, and these Syma crafts are perfect for fliers who are just starting out, and who are looking for ways to learn the necessary skills. This is our Syma X5SW review.
Tech Specs of the X5SW

Length – 12.4 inches

Width – 12.4 inches

Height – 4.1 inches

Weight – 2.1 lb.

Rotors – 4 (aka quadcopter)

Wingspan – 17.5 inches

Battery (quadcopter) – 3.7V 500 Mah Li-poly

Charging time – 120~ minutes (USB charge)

Battery (controller) – 4 AA batteries, not included in package

Materials – plastic

Control system – 2.4GH remote control + phone / tablet

Lights – colorful light emitting diodes (LEDs)

Price – $70 – $90

Colors – black / white
As you can see from the specs, this isn't the most sophisticated of drones. But hey, it isn't meant to be. It is simply a more advanced version of the X5C. For this precise reason, some people choose to view these X5-series Syma fliers as a toy, and nothing more. Well, these less expensive Syma copters may not be up to par with the drones used by U.S. military – not many are, after all – but they certainly have their share of advantages. Namely – fun. In that sense, they are indeed toy-grade.
Not Just A Toy
Keep in mind, Syma's are not only for beginners, but it certainly helps if you start off with one. This is true even if you just got a top shelf DJI Phantom. Actually, let's rephrase that – you should to start with a Syme X5-series copter, especially if you just got a DJI. The X5SW is a lot like its X5S and X5SC brothers, and either one of those is a good one to start with.
Too many novice fliers end up crashing their beautiful $1000 drone due to lack of patience. The problem? They didn't take the time to learn the basic guidelines: control, maintenance, and overall conduct and drone etiquette.
Like its predecessors, the X5SW is a very fun flier. It comes with a 2.0 megapixel camera, and the drone's range is respectable for its size and price. Flight time is not great (5-8 minutes, depending on your attached gear), but for the time that it is in the air, it is a wonderful experience.
The camera can link up for first person view (FPV) with the designated Syma app, but take note that the app has been known to have issues. It can have a bit of lag (or a lot, depending on your connection), so make sure you have the latest version. Having this companion app is not a necessity, and like all apps it can sometimes crash. In other words, don't spend any time banging your head against the wall, waiting for it to work. I will say that when it works, it is pretty sweet. Some things are just out of our hands.
Gone With The Wind
And, speaking of thing which are out of our hands, here is a somewhat sad truth: this drone is not a windy day flier. It is just not designed that way, in my opinion. Many complain of the "wind bug" issue, and yes – it has received its share of criticism for that very thing. True enough, it cannot fight every breeze that comes its way. If you are in a windy area, where the air is constantly picking up, there is a chance it will suck the fun out of your flying experience.
Perhaps a very skilled flier could do wonders with this copter, even in the windy outdoors. In my opinion, this particular quadcopter is best used indoors and/or on days without too much wind. The Syma X5SW is a great flying machine, but not in every situation. Do your research, and figure out which copter would be the best for you. Otherwise, you may end up wholly frustrated with your purchase or gift. As always, your mileage may vary.
Indoors is considered to be less fun, and it can seem far from optimal for some fliers, but there is no denying it is still a great way to develop this hobby. If anything, it will further enhance your skills, seeing as how flying indoors is full of pitfalls and obstacles. All the more ways to force you to better control your drone. By the time you get outdoors, you will have gained many skill points, and this will help you to control any future flying systems.
An Eye In The Sky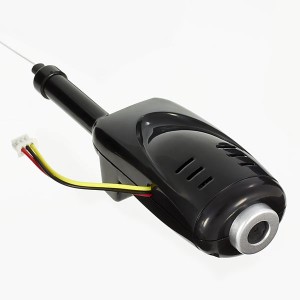 The X5SW's camera output is pretty solid, and you get a nice, clear picture transmission and reception. I was actually surprised at its quality, and at the fact that it didn't drop out. Obviously, it all depends on range. Fly high enough, or far enough, and you will lose the ability to grab the signal. Unlike its brothers, the X5SW does not have a memory card on-board, and all recording is done via the app.
After a few minutes of flying, the batteries begin to deplete. There is an audible beep which lets you know that you are nearing the end of the line, battery-wise. Charging it is as easy as sticking the wire into a USB port.
The Syma x5sw quadcopter with WIFI allows a sync with a phone or tablet, and that is probably its main advantage. The X5SW is called a "real time quadcopter". It allows you to snap amazing photographs and shoot breathtaking video, all in real time transmission. There is a real thrill in that, and I thoroughly enjoy applying this function. The X5SW comes with a phone holder for the remote control. It's pretty awesome to get that bird's eye view, right to your phone. Seeing the world like that changes your perspective – or it can, sometimes – and this is part of why I love flying drones so much. You don't need a $500 flier to have a good time.
To sum up:
The Syma X5SW does have its share of minuses. However, with so many advantages – such as low price, FPV abilities, and a sturdy build – it is easy to look past its cons. Remember that this is a toy-grade copter, and that should be something to factor into your calculation. It is a great quadcopter for beginners, and it is one which will keep you smiling.

By the way, if having Wi-Fi capabilities is less important to you and your needs, you may want to check out the Syma X5SC.