Table of Contents
In my previous review I took a look at the Syma X5SW. I wanted to continue with the theme of affordable "beginner" drones with a peek at the U818A HD+. This is probably one of the best copters in the under $100 price range. It is a very popular choice, and it works very well for beginners and advanced fliers alike. There are some differences between this item and its brothers – the U818A HD, and the U818A-1 – but overall, they are very much the same kind of machine.
This is a short UDI U818A HD+  review. First off, this item is available exclusively through Amazon and USAToyz. There are always updates and new editions coming out, so keep an eye out for those as they roll out.
U8181A HD+ Technical Specifications
Here are some of the U8181A HD+'s technical specs:
Length – 12.9 inches

Width – 13.3 inches

Height – 2.3 inches

Weight – 12.2 oz.

Rotors – 4 (aka quadcopter)

Wingspan – 18.6 inches

Battery (quadcopter) – 3.7V 500 mAh Li-poly

Charging time – 120~ minutes (USB charge)

Battery (controller) – 4 AA batteries, not included in package

Materials – carbon fiber

Control system – 2.4GH remote control

Lights – colorful light emitting diodes (LEDs)

Price – $100 – $120

Colors – black
Who The Drone Is Aimed For
I feel these tech specs don't really do it justice. I mean, they are only words and numbers. There is nothing that can fully transfer or otherwise convey that special feeling. You know the one. It's that feeling you get when you pick up one of these things – or set it down, rather – and then send it off to the sky.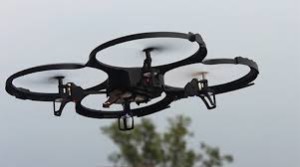 This quadcopter is a relatively inexpensive item, and for that reason it is one of your best options for training and getting started. It is the kind of drone that you could give your kids (ages 14 and up, preferably), and not have to worry too much about crashes. It features a very sturdy build, and while it won't be able to withstand a hit from a sledgehammer, it can take a fair amount of punishment, in my opinion. The blades also have protectors around them, and this helps a lot in the event of a crash.
This drone has some very cool features and accessories, including:
HD images and 720p video

4GB micro-SD card

SD card reader

2 batteries

USB charger

2200 mAh power bank

4 extra blades
The flight time varies, depending on the amount of gear you are carrying along with it. Note that it takes several full charges – that is, charging the battery to its fullest once it has been completely drained – before it is up to optimal performance.
One really cool function which this drone has, is the return to home button. The UDI U818A HD+ is able to return to its controller, with a simple press of a button. It won't work out of range, but it's one of the most useful functions which this copter has, certainly for those who are just starting out.
Headless Mode Has Got You Covered
Another great feature is headless mode. With this mode engaged, it makes orientation a lot easier. Again, this is another feature which is ideal for beginners, and for those who are interested in flying without having the hassle of finding their way. It essentially means that even if the copter is spinning, the controllers "forward" will be the drone's "forward", and not the other way around.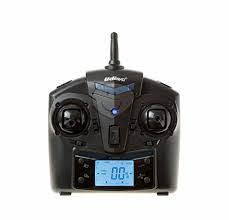 For some, non-headless drones are harder to control. After spending an amount of time flying in headless mode, you can disengage it with the push of a button on your controller. This feature is not available with the 818A-1 and 818A HD, and while having it can make your life easier, it is not a bare necessity for novices.
The display on the controller is very helpful, and it has a constant feed of information. For instance, it lets you know when you are recording, and when you are running low on battery. Plus, the controller has a light which helps you during nighttime flying.
As for speed and responsiveness, they are okay. Not amazing. Then again, I wasn't expecting something truly amazing for $100. A high-quality drone would (and does!) perform much better, but the UDI 818A HD+ can also handle some serious maneuvering.
There is a lot of great footage and many beautiful photos out there, taken with the HD+'s camera. It really is superior to many similar drones' cameras. The one major problem with the HD+'s camera is that once you lose the signal, you also stop recording. If you plan on shooting a long video, make sure you stay within range.
Don't Mean To Drone On, But…
Drones are meant to be fun, and this drone certainly falls under that category. It is easy to set-up and handle, and the extra batteries (and power bank) which come with this specific pack are a big help. Keep in mind that because of the relatively short flying time per battery, it is always a good idea to pick up extra batteries. If you want to have more fun with your drone, you are definitely going to need them.
So, to sum up:
This is a great drone for beginners – whether kids or adults – but they are not the only ones who will be able to enjoy it. Advanced fliers will also be able to have lots of fun with this quad. The camera is smartphone-ish in quality and it takes fairly good footage and stills. The price is very affordable, and while the learning curve can be steep for some, it is manageable, thanks to the various features which this copter has. All it takes it time and effort. Once you get the hang of flying this thing, you will discover just how much fun a small toy like this can pack inside it.
If you are looking for a beginner drone, this one is highly recommended. It will take a beating, and keep on flying. It comes with a memory card, extra blades, extra batteries, and a power bank for charging on the go. Like every drone, it does have its shortcomings, but as long as you exercise caution and follow the instructions, you should be able to master this little copter in no time. Treat it well, and the UDI 818A HD+ will continue providing you with hours of fun!