Coleman Tent Series Review: Tent Time!
Table of Contents
The Coleman Company was established in 1900. In the beginning, founder William Coleman sold gas lamps. At the turn of the 20th century, electricity was not yet available in many rural areas of America, and the lamps which Coleman made and continued to improve on became a staple in many home and lodges.
Coleman's gear was used by American and allied forces during WWI and WWII. When the troops came back from Europe in the 1940's, Coleman's business went into overdrive. The 50's brought with them a surge in camping, and families all over the country were out exploring the great outdoors. Coleman's tents, stoves, and lamps made it a household name, and these days the company is still continuing on providing the best gear for hiking, camping, fishing, and any kind of quality outdoor living.
Here is my Coleman Tent Series Review of the most popular Coleman tents around. This is my opinion, so take it with a grain of seasoned salt. Some of these tents I have used for longer times than others, but I feel I gave them all a serious shot, and have been with them long enough to "get" them and see what they're about.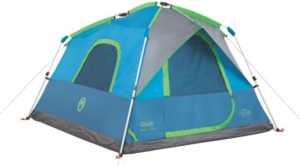 The Instant Tent series, by Coleman, is targeted at those who want a quick and easy assembly, with minimal hassle and maximum fun. This tent features pre-assembled poles, an integrated rainfly for extra security, and thick fabrics. The Coleman Company has created its trademarked WeatherTec system, made for resistance on all fronts. WeatherTec brings together the best materials in order to keep the elements out of your tent.
This four-person Instant Tent has many advantages. Coleman claim it takes one minute to pitch, but in reality it could probably take between two and five minutes, depending on your conditions. Hey, that is still a very short time, either way you look at it.
With the poles already assembled, the tent basically unfolds and builds itself as you snap things into place. It is a one-room tent, and at its peak it is 4 feet 10 inches high. The dimensions are 8 X 7 feet, which is pretty spacious, but it may not fit four adults that comfortably. Three or less is a better estimate of how many could live comfortably within this tent, in my opinion. It fits a Queen size air mattress, and comes with a 1-year warranty. This is a highly enjoyable piece of gear, and it is perfect for those who don't want to deal with too many loops, hooks, poles, stakes, etc.
The MSRP on this tent is $169.99, but you can get it for much less if you look around. This is probably true to all of the tents which I am about to talk about, so I won't repeat it for each one.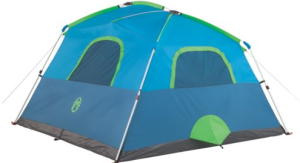 As much as I love the outdoors, sometimes – with the wrong equipment – it can be a nightmare. Seriously. Shabby tents are a recipe for disaster, and Coleman does everything in its power to keep you safe and dry.
The Signal Mountain series of tents is a great way to save time and money on the go, whether you are car camping or backpacking. Like its "4-person" younger brother, this tent has everything you need to be comfortable. The instructions are simple – unfold, extend, secure. That is it. The poles are pre-assembled, and this allows the tent to be ready in two to five minutes, just like other Signal Mountain tents.
There is an awning here, which helps to keep rain out. This tent also has an electrical port, in case you want to run a cable through it. There are storage pockets all over, for better organizing your gear. This tent, like other Coleman tents, utilizes the company's WeatherTec system to keep out the elements. It works. Not in every nasty condition you can think, of course, but it works. And it will be great for any mainstream, shall we say, kind of camping.
The dimensions are 10 X 9 feet. At its highest point, it is 5 feet and 11 inches. It can fit two Queen size airbeds, and has plenty of ventilation. The rainfly does a great job of keeping water out of the tent, and – unless there is a crazy amount of wind – your tent should remain very dry on the inside, even if the outside gets completely soaked.
If the weather is fair, you won't even need the lines in the corners for stabilization. The one on each of the two sides should be enough, but if you are looking for extra stability, then the lines are there for that purpose. It takes no time at all to get ready, and as far as value for money is concerned, it achieves it.
MSRP: $219.99.
Remembering warmer days…💭 #ColemanUSA #camping
IG: 📷 skylerwagoner pic.twitter.com/uUgh4h0fiq

— Coleman USA Team (@ColemanUSA) December 2, 2016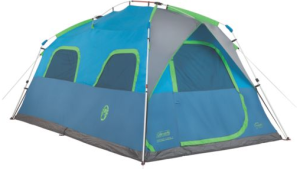 This is the largest of the Signal Mountain series, and it is built for eight. Now, you can fit eight in there, but it would be a crowded eight. Nevertheless, the fact that it really is designed for eight people means that this is, without a doubt, a large piece of gear. Which is where its genius packing comes in.
The carry bag which this tent comes in can be enlarged, because the company knows that you won't necessarily be able to fold it exactly as they did in the factory. It is a very smart move on their part, and it certainly feels that Coleman were thinking of their customers when they designed this tent.
Like the other Signal Mountain tents, this one also assembles very easily. Although, it is larger than the others, and in this case it would be a lot easier for two people to erect it. Unfold, extend, secure, and enjoy.
The dimensions for this tent are 14 X 8 feet. At its peak, the height is 6 feet and 4 inches. It has an electrical port, a room divider, an awning at the door, an integrated rainfly, and many storage pockets for your equipment.
If you have a large group – up to seven – and what to be comfortable, this is a great purchase. Also comes with a year warranty, and has everything to keep you safe and dry outdoors.
MSRP: $299.99.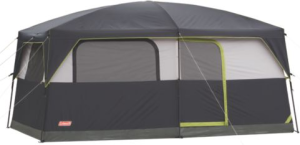 This is a cabin design tent, and it is a big one. Fit for 9 people, it is one of the best of its kind. Recommended for families or for extended camping trips, it is equipped with LED lighting and a fan. The Prairie Breeze is engineered to provide you with the kind of comforts which are so very much appreciated outdoors: spacious shelter, adequate lighting, proper ventilation, and protection from the elements with the WeatherTec system.
This cabin tent's overhead fan and lighting system operates using four D batteries or one CPX6 battery cartridge.
Lighting alone: 195 hours (75 lumens, high).

Fan alone: 26 hours (high) 34 hours (low).

Light and fan: 75 lumens and 20 hours (high) 75 lumens and 27 hours (low).
The fan has fan mode or exhaust mode, which can be switched at the push of a button.
It is a 14 x 10 feet floor, with a maximum height of 7 feet. It takes about 20 minutes to erect, maybe a bit more. The company says 15 minutes, and I have a feeling that with two or more people, it can be a shorter time than 20 minutes.
Like other Coleman tents, there is an electric port for a cable to run. There is a room divider, a carry bag with places for poles and stakes, and a one-year warranty.
There is a detachable rainfly, and when it is not needed, the mesh roof provides you with all of the sunlight and stargazing you can handle. All in all, it is a very convenient and useful cabin tent. I know that Coleman used to have a 10 person instant tent, but I think they may have discontinued it. Well, this one isn't as instant as the Signal Mountain series, but it is a lot larger and roomier. More ventilation is achieved by use of the windows, and there are six of them.
Durable, stable, and built for outdoor fun, this is one tent to definitely consider if you are travelling with a large group. It can squeeze nine people, but it may be a tight squeeze, and so it is obviously a lot more comfortable with eight people.
MSRP $299.99.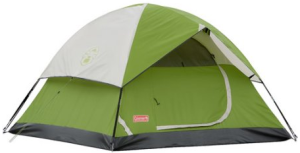 This is an interesting one. It has a waterproof polyethylene floor, and other kinds of protective seams and seals. It is a strong frame, and like previously mentioned, this one too can fit three, but somewhat squeezed in. It is a single door tent, made primarily of polyester. Fits a queen size air mattress, just remember to inflate it once you are inside!
So, this is a dome tent, meaning that the height isn't its main attraction. It is easy to set up, but not as easy as the instant tents, in my opinion. It could take a single person between 5 to 10 minutes to pitch this tent. Coleman's WeatherTec system has been implemented into this model. Comes with a rainfly, which covers the door and windows, and which is also made of polyester. Mesh ventilation on the inside. Comes with an easy to repack carrying bag, with separate storage for the various parts.
Some specs:
7 X 7 feet.

Maximum height 4 feet 3 inches.

Equipped with electric port.

Poles are fiberglass, 8.5mm diameter, which means that this will probably be a bit heavier compared to other 3-person domes.

Overall, a very comfy 2-3 person tent. 2 posts, 4 stake points. Easy to handle and maintain, easy to assemble and take apart.
MSRP: $49.05.

The Evanston series is well-known for its durability and high-quality. This 6-person model with a single door is made of polyester taffeta, and it has a fully screened entrance, to keep bugs and others creepy crawlies away from you while you are trying to relax.
This tent is designed like a dome as well, and has a simple assembly and take down procedure. Like the Sundome, a single individual will be able to erect this tent in a matter of minutes.
It has four big windows for the best kind of ventilation. The poles are made of fiberglass, which makes this tent a little heavier than several other 6-person tents. But, with a tent like this, you need some strong poles to stabilize it.
14 X 10 feet floor, with a 5.6 feet maximum height.

Weight: 20.9 lbs.
I had a concern at first about the screens, weather wise, but everything was fine. Although, early in the morning, as we were getting up, the cold was definitely felt within the tent. We were all dressed warm, and I wanted to get some ventilation going, but man… it was cold.
Like I said before – roomy for a few, cramped with six. That is the disadvantage of a dome, but on the other hand, if all you are doing there is sleeping – not a problem. Fits 2 queen size air mattresses comfortably, and overall it does its job very well. Comes with a 1-year warranty.
MSRP: $135.99 – available in an 8-person configuration as well.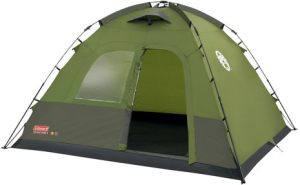 This is probably one of Coleman's most popular under 6-person tent. The 5-person instant is a great middle ground, and it affords you comfort and ease of use. Fits 5, or two queen size air mattresses. Polyester fabrics and polyethylene floor make this tent as durable as they come. Ventilation is adequate, and is achieved through the adjustable flaps. This tent comes with an electric port.
Like other instants, setting up this things takes no time at all. The poles come pre-attached, and all you have to do is unfold, extend, and secure. Comes with the WeatherTec system already in there, so you know that this tent has got your back. An integrated polyester rainfly makes sure that you remain dry, and that you don't have to start looking for the thing when the rain clouds decide to do their thing. The door's awning – it is a single door model – can also act as a protector during bad weather, and it helps keep the elements out.
Some specs:
10 X 7 feet of floor room.

Maximum height 5 feet and 4 inches.

Poles are made of steel and fiberglass.

Comes with a 1-year warranty and a carrying bag.
Once again, I will repeat this. It says 5, and it does fit 5 – if all you want to do is sleep there. Otherwise, 2-3 people will be very comfortable there, but more than that and it becomes crowded, in my opinion.
MSRP: $149.99
Conclusion
What else can you say about such an old and well-respected company? Its products speak volumes on its behalf. Coleman knows all about survival, camping, and outdoor challenges. It's tents are not those with the cheapest price tags, and rightly so. These items which I listed are thought-out and well-engineered, and they will serve you well for as long as you treat them properly.
Coleman used to be a household name in America. People knew about its stoves and lamps. Nowadays, nearly 120 years after it was established, this company can pride itself with being one of the most recognizable names around the globe.