Kelty Company and Top Products Review: Craving That Kelty!
Some people like staying at home. They enjoy the simple pleasures of a good book, a cushy couch, and a nice cup of tea. Others, well – you can say we have the bug. Kelty (camping, hiking, and backpacking) is a company which nurtures that bug and helps it grow. It's not that I don't appreciate a nice cup of tea, but if I stay home too long – say, a month or two, – I get stir-crazy.
Because frankly, I'd rather get that cup of tea from a heavy old-school kettle burning over a nice campfire. And when I pop the top of that kettle, I will be mindful of the way the sweet scent of burning wood and mint leaves is carried away into the woods. It is an intoxicating fragrance, to say the least, and it gets me every single time.
I have used, abused, and broken a lot of equipment over the years. That being said – I am not a specialist, a hunter, a survivalist, or a doomsday zombie apocalypse-prepper. I am just a guy who loves the outdoors. I enjoy camping, whether with family or friends. Even if it is just for a single weekend, it's enough of a fix for me. I love the way sleeping under the stars clears my head. Like I said, I get stir-crazy. So, when it comes to getting out and about, my motto has always been "gear up and go."
Kelty Company Background and History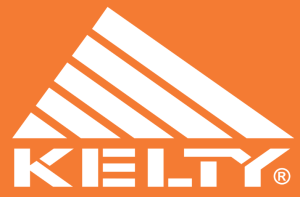 Kelty's story began in 1952, when Ahser "Dick" Kelty (1919 – 2004) created his own aluminum-framed backpack, with wool carpet material for shoulder straps. He borrowed $500, established 'Kelty Packs' right in his own home, and went to work on frame constructions while his wife, Nena, was kept busy as the resident sewing specialist. In the mid to late 1950's, Kelty Packs started to flourish, and Dick's packs found their way into many American households.
Known as the "Henry Ford of backpacking", Kelty was an active hiker and backpacker. For over 60 years, the company he founded has been providing outdoor enthusiasts and trail junkies with everything they need: backpacks, sleeping bags, tents and shelters, lighting solutions, trekking poles, and accessories of all kinds.
Here is my review of some of their best-sellers. Several of the items on this list I have used long term, and others were taken for a test spin, as it were. Either way, I believe in the power and validity of first impressions, so here we go.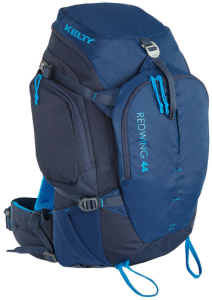 This 44 liter pack is designed for anything from everyday use to travel and day trekking. An aluminum frame, heavy-duty straps, and a belt strap keep the weight balanced and manageable.
It has no designated spot for a sleeping bag, but includes loops on the bottom. A U-zipper makes sure you will be able to get to the top and bottom compartments with ease. There is a zippered stash pocket, zippered side pockets, and nooks for smaller items. Whether as an overnight or day-trail companion, or a jet plane carry-on bag, the Redwing 44 delivers. MSRP: $124.95.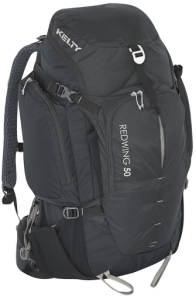 The Redwing series' best-seller. It resembles the 44 in many ways, but is larger. This one, too, has a main U-zipper, aluminum frame, protective straps, and zippered side-pockets and front pocket. Comes in S/M (49 liters) and M/L (52 liters) sizes. Some may manage to squeeze this through a checkpoint as carry-on luggage, but I wouldn't count on it. Some airlines are more lenient than others. It's a judgement call. MSRP: $135.95.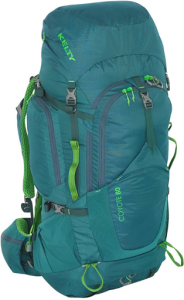 Here is one which I used for a long time. This large and solid pack has hauled my sorry ass (and my gear) all over the place. Everything is zippered, organized, and accessible. The Coyote is on the heavy side, but its shoulder straps, sternum strap, and belt are second to none. They are so very comfortable… and they remained comfortable until that fateful day, when some miserable soul stole it from me in Barcelona. I was on the way to Besalú, but after that ordeal I had to reschedule.
Sadly, I never did see my Coyote again. I was only leaving for the day, so what I had packed inside was fairly minimal. I managed to replace my clothes and stuff, and got to Besalú some time after that. It is one of the most beautiful villages I have had the privilege to visit, and I was happy to get to experience it under better circumstances. Highly recommended. MSRP: $ 199.95.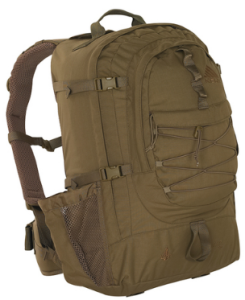 Distributed exclusively by Amron International, this item is no longer in stock. It is (was?) a very roomy 38 liter fully-adjustable backpack, with padded quick-release shoulder straps, a sternum strap, and waist belt, along with many loops, and a daisy chain. Materials are nylon Oxford mesh, double-stitched nylon Kodra, and nylon Airmesh foam in the straps and back.
The MAP is so named since it is an acronym for Military Assault Pack. It has been the go-to pack for U.S. Navy SEAL's in recent years, and it earned that honor due to its durability and sturdy construction. Let's hope they begin reproducing them, so more civilians have access to this military-grade backpack. MSRP: $119.95.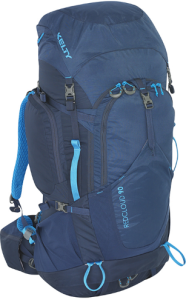 90 liters of volume. That's a lot. This pack is a veritable workhorse, and is built to carry you through the biggest challenges and most arduous paths. True, it is one of the Kelty's more expensive backpacks, but you get what you pay for. And this item is the very definition of value for money. Whether you are talking about materials, capacity, organization, or customization – this is one of those bags which is, for lack of a better word, perfect. Treat it well, and it will serve you faithfully for many, many years. MSRP: $219.95.
White peaks, blue waters, and a Kelty Redcloud. https://t.co/ccycBXen8b #KeltyBuilt #MoraineLake #KeltyTribe pic.twitter.com/mhwrJYBhIC

— Kelty (@KeltyBuilt) September 28, 2016

What promises to be a lovely day out on the trail could be potentially ruined by a less-than-lovely sleep during the previous night. This is why a good, quality sleeping bag is imperative. When you arrive at your camp all tired and spent, and are just looking to crawl into your sleeping bag and get cozy by the fire, you want to have a sleeping bag which facilitates this desire.
The Cosmic 20-degree, 3-season sleeping bag is comprised of 50D Downproof Polyester, a liner of 50D Polyester Taffeta, and 600-fill DriDown. What all of those numbers translate into is heat and comfort. Hydrophobic and quick drying, this is a bag which any backpacker would love to use – at least until the temperatures drop even lower! MSRP: $159.95.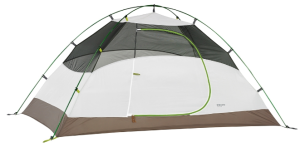 A freestanding, 3-season, 2-person, 1-door, backpacking tent. Has a 10-square-foot vestibule for storage, a lot of ventilation options, a rainfly, and mesh pockets for internal organization. Color-coded clips, and a 2-pole aluminum frame, make this tent easy to pitch and take down. Includes storage bag, stakes, and guy points for a steadier experience.
My experience with this tent was overall a positive one. I used it alone, so I managed to avoid facing this tent's arguably most glaring drawback – a single door. If you have two people in there, one of you will have to climb over the other. Furthermore, from what I saw and felt, two people, with two sleeping bags, and two packs… it will probably be a tight fit. Manageable, but tight. Your mileage may definitely vary. MSRP: $149.95.
Total area: 40.5 square feet.
Wall: 68D polyester, 40D No-See-Um Mesh.
Floor: 68D nylon, 1800mm.
Fly: 68D polyester, 1800mm.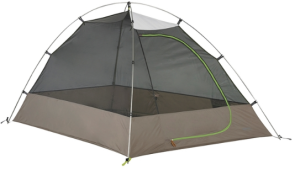 Another tent in the freestanding, 3-season, 2-person, 2-aluminum-pole, single-D-shaped-door variety. Has a 6-square-foot vestibule, inner pockets for better organization, rainfly, and is also color-coded for quick setup. The Grand Mesa has no guylines, and is just a tad heavier than the Salida 2. I have to say, that for the extra $10, the Salida seems to be the better choice. Regardless, these two tens are best-sellers. MSRP: $139.95.
Total area: 35 square feet.
Wall: 40D No-See-Um Mesh.
Floor: 68D nylon, 1800mm.
Fly: 68D polyester, 1800mm.
Conclusion
Kelty's products are distributed and sold by many outdoor shops such as REI, Dick's Sporting goods, and Cabela's. Online and offline, you will be able to find their equipment, and at more affordable prices than the MSRP, too. Kelty's are a brand which is built to last, and it shows. They have a proud tradition and a great legacy. How great? Well, dig this…
Dick Kelty died in 2004, at the ripe old age of 84. Throughout his entire life, he was an avid backpacker and outdoorsmen. In accordance with his final wishes, no memorial service was held. Instead, he told everyone to "take a hike." Classic.