REI Kingdom Series Tents Review
Table of Contents
Since 1938, Recreational Equipment, Inc. (better known as REI) has been providing the American people with outdoor gear, goods, and services. It is a company which was founded by a couple, Lloyd and Mary Anderson, who were interested in helping like-minded outdoorsfolk purchase quality equipment at fair prices. Sort of cutting out the middle-man, as it were. They were successful, and soon many people had gathered around them.
For many years, the company focused on professional outdoorsmen, climbers, and backpackers. Then, about 20 years ago, the focus shifted to become the more family camping-oriented business it is today. A lot of the products for sale in REI stores and on the website are made by other companies, but REI does have its own series of products which it sells under the brands REI, REI Co-Op, Evrgrn, and Novara.
Among the products which are for sale under the REI brand is the Kingdom series of camping tents. I have been in them all over the years, in good and bad weather, and here is my take on this successful – albeit pricy – series of camping homes. Some of the specs of these tents are very much alike, as far as materials go, so you will forgive me if our REI Kingdom Series Tents Review seems a tad repetitive – bear with us!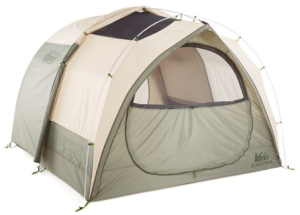 First up is the runt of the litter, the Kingdom 4. Fit for four people (hence the title), it is the Kingdom's smallest model. This is not to say that REI has no smaller models, but as far as the Kingdom series goes, this is the minimum. It is a three-season tent built for four, although it can be a bit of a
stretch to fit four comfortably. If you have four people, and you want to be comfortable, get the Kingdom 6. The extra expense is well worth it when you are out there.
Some specs on the Kingdom 4:
Freestanding with zipped sliders.
There is a small vestibule in the rear, which offers protection from weather.
Semi-sealed waterproof polyester fly.
Weight – 18 lbs and 8 oz.
Packed size – 25.5 X 8.5 X 15 inches.
Floor dimensions – 100 X 100 inches.
Height (peak) – 6 feet and 3 inches.
Doors – 2.
Poles – 2 + 1 crossover pole.
Poll material – aluminum (6061 or 7001).
Poll diameter – 11 or 14.5mm.
Fabric (canopy) – nylon and nylon mesh.
Fabric (floor) – polyester Oxford cloth.
Fabric (fly) – polyester taffeta.
First off, this – like the other tents in this series – is a well-engineered piece of camping/survival gear. REI certainly have a lot of experience with such things, and they have done very well with th Kingdom series. It has a divider in the middle of it, a couple of nice screened openings for ventilation (which can be covered up for rainy times), and it is overall nice and roomy. Like I said: for four people, maybe get the six, because you want to be comfortable. The tent is where you come back to, where you relax, where you find shelter. Get one which is convenient, and which matches your needs. Hooks, loops, and patches/strips of Velcro are used throughout the tent, for security and tightening purposes, and they are pretty durable in mainstream weather. They do a good job at keeping this tent together, even if the environment turns on you.
Of course, a good camper knows when to bug the heck out and seek warmer or more sheltered areas. More (perhaps better) stakes are needed for the tent to be seriously stable, but the poles and stakes which come with the tent do a good job as a base. If you have no plans for bad weather, or if you are pitching a temporary tent, they are enough.
MSRP: $389.
Being the medium sized one, this is a tent which is probably the most popular of the Kingdom series. Not too small, not too large – just right, for a lot of purposes. A three-season tent built for six, this REI Kingdom shelter is a lot like the "4," only with a larger frame and overall size.
Here are some of the specs for the Kingdom 6:
Freestanding, with zipped sliders.
Vestibule/awning in the rear, offers protection from rain and inclement weather.
It comes with greater storage options, being a bigger tent.
Semi-sealed waterproof polyester fly.
Weight – 19 lbs and 12 oz.
Packed size – 25.5 X 16.5 X 9.5 inches.
Floor dimensions – 120 X 100 inches.
Height (peak) – 6 feet and 3 inches.
Doors – 2.
Poles – 2 + 1 crossover pole.
Poll material – aluminum (6061/7001).
Poll diameter – 11/14.5mm.
Fabric (canopy) – nylon and nylon mesh.
Fabric (floor) – polyester Oxford cloth.
Fabric (fly) – polyester taffeta.
Like I said in the previous tent's overview, the Kingdom 6 will fit four very comfortably. It is easy to set up, is well-constructed, and has plenty of ventilation, pockets, and room. As one person remarked to me once, the Kingdom 6 is a very "user-friendly" tent. It lends itself well to any use, and it is thick and durable.
Like the 4, the Kingdom 6 is freestanding, if you exclude the stakes needed for the vestibule area. The fly can be rolled back halfway, and that allows for more ventilation when needed. It is a well thought-out piece of camping equipment, like the rest of the series. It is robust enough to stand all kinds of wind and rain, and it keeps you dry inside if it isn't too crazy out there.
MSRP: $439.
The REI Kingdom 6 tent: Fits six campers and divides into two separate rooms. https://t.co/Zc995B1R0K #LetsCamp pic.twitter.com/DH3JvCf095

— REI (@REI) June 3, 2016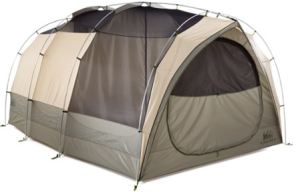 This is the big one. The Kingdom 8, by REI, is very large indeed. It has the same dimensions as the others, but varies in length. It is made of the same sturdy materials, same quality engineering, and same kinds of weather protection. It is resistent to rain, wind, and nasty weather in general. Resistent, but not weather proof. If the winds pick up, this thing begins to move around. However, for most – nearly all, would think – conditions, it is a great piece of gear.
The divider here, like in the previous versions, can be used to make two separate spaces. One of them has the nylon mesh, and the other is more enclosed for privacy. The rain fly, just like with the 4 and 6, can be put halfway. That way, you are prepared for rain when it comes. Just slip it over, and you are good to go.
MSRP: $529.
Which REI Kingdom Tent is Best?
There is no one tent which is better than the other. Obviously, it depends entirely on you and your intended use. If you are going camping with two or three people, the 4 or 6 will suffice, and be more than enough for any of your needs, unless you have enough gear for eight people!
It is worth mentioning that Kingdom tents have no electrical port, but this won't bother most of the campes out there, who are usually without a generator. These Kingdom tents are good for both tent camping and car camping, and will be able to provide your group with a secure and comfortable place to eat, sleep, and live.
Kingdom tents are indeed pricier than other options (not by a crazy amount), but they are this price for a reason. You get what you pay for, and when it comes to staying safe and dry in the woods or on the shores of a lake, it counts. A lot. It is convenient, lightweight, effective, and easy to handle. That comes out to a good deal, no matter what tent you go with.
Conclusion
There are many tent options out there, and you should go with whatever you feel will provide you with the best value for your money. Remember: it is better to get something a little more expensive sometimes, rather than be stuck out there with broken poles and torn walls. Living and storage areas are important, no matter what kind of camping you are into. Be sure to get the best you can afford, because it is always worth it at the end.
There is nothing like getting yourself together with a group, leaving your usual day-to-day life, and going out there into nature. I don't need to tell you just how special that can be. And yeah, there is also a pain-in-the-ass factor to all of this, but you know – just as I do – that there are some moments which make it all worth it.
REI's Kingdom series is there to make sure that you have one less thing to worry about, by providing you with durable materials and construction. As a rule of thumb, go +1. In other words, if you have four campers, get the Kingdom 6. If you have six campers, go with the 8. Better to be safe than sorry, right? REI's products are some of the best on the market. I hope you have fun out there. Be safe!
Thank you for reading our Kingdom Series feature! For more on great camping supplies – like Lifestraw, Camelbak, Big Agnes, and Hammocks – check back here at EduMuch!