VTech Touch and Swipe Baby Phone Review
Table of Contents
One thing is clear: your baby needs a phone. She has such a hectic schedule, after all, and she must maintain it. And, not only does your baby need a phone – it has to be a smartphone!
Kids of all ages love imitating their folks. They want what we have, be it a car, a sandwich, or a smartphone. Many times, kids will go for our phones, and well, mess things up. The last thing you want is to accidentally call your boss at 6:30 AM on a Saturday. For this reason, and others, VTech released a baby-friendly phone a few years back, The VTech Touch and Swipe Baby Phone.
This Is Our VTech Touch and Swipe Baby Phone Review:
The VTech Touch and Swipe Baby Phone has 12 touchscreen buttons, which feature 12 different play-apps. There is also a big slider switch, which toggles between learning (app) mode and music mode.
Music mode enables the baby to move between the 15 built-in melodies, by using the forward, backward, play, and pause buttons. While the tunes are playing, the baby can touch the screen, and activate the musical instruments (xylophone, triangle, cymbals, drums, and maracas) which are displayed on it. A touch on those instruments will play the appropriate sound.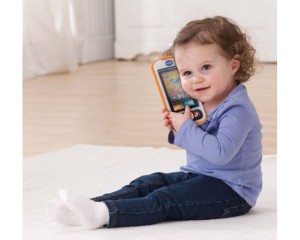 Sliding the switch to the left shifts the phone into learning – or app – mode, where the 12 pretend apps come into play. These light-up apps include weather, email, calendar, clock, and others. With this mode, it is also possible to learn the names of the different numbers, and how to count them in succession.
This mode is very educational, as well as entertaining. On top of learning the numbers, there are "apps" for learning the ABCs, basic shapes, and new words. You can even input your home number, so the toddler can pretend to be calling home when pressing the "home" button.
This baby phone is made of durable materials, but – like any toy – it does require a measure of safekeeping. There is a good chance it will not be able to survive the wrath of a fussy child who throws it against the wall. Tantrums notwithstanding, this is a great little toy for the car or around the house.
The VTech Touch and Swipe phone is operated by 2 AAA batteries, which are included. It is always recommended to use alkaline or rechargeable batteries to operate this kind of toy, unless you want to spend your time replacing batteries. With the better brands, you usually put them in and forget about them for a good while. Just something to consider. The ones which are included with the package are great ones. They should have a very long lifeline, but your mileage may vary.
This thing is a lovely little toy which your toddler will love. One thing which is a bit of a drag (or can be, potentially) is that this phone does not have a lower volume setting. It does, however, have an auto shut down feature, which is nice, since it helps to conserve battery power.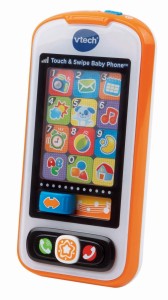 VTech recommends that this toy be used by children aged 6-36 months, and it is a toy which they can definitely grow with. This phone is colorful, fun, and lifelike (in a childish way). Babies and toddlers of appropriate ages will definitely be able to have fun playing with it, and learning, just like VTech's other toy the VTech Sit-to-Stand Learning Walker.
Using this baby smartphone, regardless of the setting it is on, will help your baby develop the vital skill of hand/eye coordination. The ability to press down on a touch button, and to consequently cause something to happen on screen or as an audio clip, is fascinating, and kids love that kind of immediate gratification.
Note: this toy is not moisture proof, so if your little one is teething / slobbering / spitting, or engaging in any activities in which the toy may become wet or otherwise touched by water, it may not be able to take it.
So, the question remains… will this toy help distract your baby from your smartphone? It's possible. Some babies love their VTech phone so much, they completely forget about their parents' phone. Others, however, will not be swayed so easily. There is a good chance they will still try and go for your phone, whenever they are able to pull it off. Don't you just love 'em?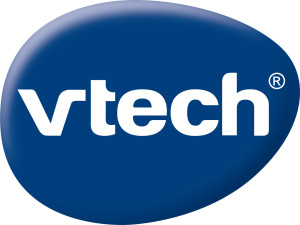 Toddlers are sure to have a lot of fun with this toy. It doesn't come with a specific carrier, and there is no calling plan which applies to it, but it does bring with it a lot of things to learn. The shapes, numbers, ABCs, melodies, songs, and first words functions are ones which are sure to provide your toddler with hours of fun.
So, while this toy does has some drawbacks, it is a nifty little quasi-smartphone, and it is one which will be able to keep your toddler occupied, once he gets into it. As for those who are subjected to listening to the phone, as the child plays the same melodies over and over? Well… that's just the price you pay for being a parent. But seriously, this toy doesn't have such a loud volume to begin with, which is good. It is at those moments that you will praise VTech, its team of engineers, and in particular this toy's relatively low volume.
Music and learning are both very important facets of toddlerhood, and that is what you get with this phone. A child's brain is collecting so much information, all the time. It is super-important to provide that young and growing mind with the means to harness the all-important skills of listening, interacting, and also straight up playing.
This toy is also great, because it gives the parents the chance to play along. Not through designated games for parents, but rather through asking your kid questions regarding the colors, ABCs, shapes, and other topics which this phone covers.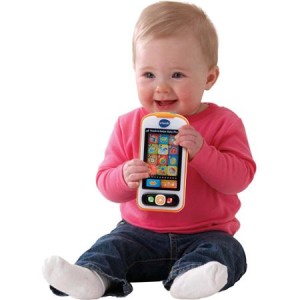 VTech Touch and Swipe Baby Phone Verdict
If you want to provide your child with the experience of having a smartphone, give this toy a shot. It is fun, easy, and relatively inexpensive. The toy runs on affordable, accessible AAA batteries. The toy is pretty durable, but it does require some measure of attention so it doesn't break.
Make sure to check out our other articles at edumuch.com