Corsair Vengeance K95 RGB Gaming Keyboard Review
Table of Contents
Corsair has been in the computer peripherals business since the early 1990's. What started as a relatively small provider of storage and memory solutions quickly grew into one of the most well-known hardware and peripherals producer in the world. Corsair's products are highly reliable, and whether you are a gamer or a run-of-the-mill enthusiast, you know that with Corsair you get quality.
The original Vengeance K95 keyboard was introduced in early 2013. Many gamers were looking forward to this particular release, and they were not disappointed. The K95 came with Cherry MX Red switches, dedicated media keys, 18 programmable G keys, 3 profile keys, a wrist rest, and individual backlighting. Pretty sweet, to say the least.
Fast forward a few months. It's the spring of 2014, and the K95 RGB is introduced at Computex, in Taiwan. The K95 RGB has all of Corsair's well-known features – sleek design, top-of-the-line components, and rugged construction. The company realized that many gamers out there are interested in owning a keyboard which will match their setup in terms of color, and the new K95 has 16.8 million color options to choose from. But more on that later in our Corsair Vengeance K95 RGB Gaming Keyboard Review feature.
Corsair Vengeance K95 RGB Performance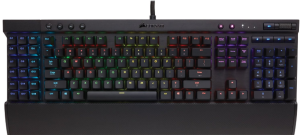 Like I said, Corsair are already known far and wide for their professional hardware and peripherals. The K95 RGB does not stray from that path. It is a tool not only for gamers, but it is certainly geared towards that crowd. Gamers like to have every option available to them, and that is what the K95 RGB delivers.
So, what does this keyboard have?
Cherry MX RGB switches (Red or Brown).
Individual backlighting and brightness control.
Aircraft-grade black anodized brushed aluminum.
Every single key is programmable.
On-board memory for settings and profiles.
Dedicated media keys + volume wheel.
Anti-ghosting capabilities.
Detachable wrist rest.
It DOES NOT have a USB passthrough, FYI.
The original K95 was a great keyboard, and the RGB version improves on it. Like the Vengeance K95, this thing performs wonderfully. The keys – as you would expect from Cherry MX – are flawless. They are nice and clicky, respond immediately, not too loud, and are easy to work with. Whether you are a gamer or a typist, you will appreciate the movement of these tried and true key switches. If you are looking for more of a typing switch, perhaps the Brown would be better for you. Corsair themselves recommend (or did in the past, anyway) the Red switches for gaming purposes. Obviously, you should go with whatever is more convenient for you.
The ability to program the entire keyboard is extremely useful and time-saving. It gives the user more complete control, and this is handy not only in gaming but in many other aspects of computer usage. If you are working with word-processors, photo-editing software, spreadsheets, and the like, you will definitely gain a lot of time and speed up your productivity by programming the keys to your liking, and just getting on with your work.
Corsair Vengeance K95 RGB Backlighting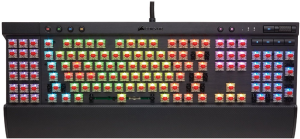 The most obvious new feature of the K95 RGB is the customizable backlighting. Everything is going RGB these days, and it is not difficult to see why. People love having the option to personalize their setup. Mice, keyboards, speakers, cooling devices, pretty much anything is now available in RGB form. I assume these companies wouldn't be investing the time and money in researching and developing customizable color options, unless it was in high demand. Being able to set your imagination free, and bring a seemingly endless amount of color into your setup is not only, but exceedingly practical. Again, this goes beyond the world of gaming, though I guess it is within that world that the color schemes have more of an impact.
There is one lighting-related complaint which I thankfully don't have, but which others do, so I feel I have to point it out. Some users report that after some time, a few of the individual LEDs have stopped working. Now, there isn't a specific time in which this happens. It isn't as if the company has programmed these lights to fail within a specific timeframe (I sure as hell hope not, anyway), but nevertheless there are reports of some lights being dead within the first year. This has a lot of people upset at the company, and Corsair's customer support team has had to deal with a lot of complaints regarding the lights.
The K95 RGB comes with a 2-year limited warranty, and you can probably get the return merchandise authorization (RMA) rep to cover the cost of shipping, since this is problem that is becoming more known over time. Then again, some have used this keyboard and have no complaints whatsoever. I don't know if this is the cause of a specific series in the manufacturing process or what, but just a heads up. Other than that, it is ranked up with the best gaming keyboards out there.
Corsair Vengeance K95 RGB Keys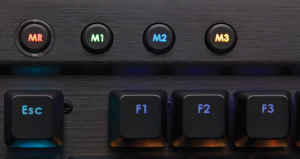 What could possibly be said of Cherry MX's mechanical switches, that hasn't been said before? These keys (never mind the color options right now) are made in Germany, and are far superior to their Asian/Eastern counterparts. You could argue as to whether the 16.8 million color options are everyone's cup of tea, and there is something to that. It will not appeal to everyone, of course. Some will definitely see that as a selling point, while others will dismiss it as a borderline-unnecessary feature. Either way, there is one thing which everyone agrees on: mechanical keys are far better than dome keys, and Cherry MX has set the standard for mechanical key switches all over the world. You can press them softly, bang on them, smash your fingers into them, and they respond beautifully. Everything is precise and on point.
The keys are fully programmable, which is a feature some earlier Corsair keyboards didn't have. Again, it was a demand many users had, and Corsair heeded what their consumers wanted. Attention to detail is also one of Corsair's trademark attributes. This can be found across the board, throughout their entire catalog. Their cooling devices, memory and storage solutions, mice and keyboards – you can usually tell it is a Corsair from the way it looks and feels.
Corsair Vengeance K95 RGB Software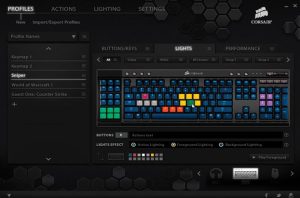 Okay, full disclosure. I am not a giant fan of Corsair's new Corsair Utility Engine (CUE) program. Some people are able to pick things up immediately, and it seems that the CUE, I am simply not one of those people. It took me some time to learn how to use it, so I will go out on a limb here and say that there is a learning curve. The thing that the CUE will mainly be used for is programming the macros and lighting.
The macro-creating aspect is just fine. I had no trouble picking that up. The LED-setting capabilities are there, but for me it was a little difficult to get the hang of it. I understood how to use the more basic setting, but if you are interested creating complex lighting profiles, it may take you some time.
Make no mistake – it is worth investing the time and effort to learn this software. You can create really amazing lighting with the CUE, and the K95's colors are some of the best on the market. They transition beautifully and smoothly, and its a great sight to behold. It is seriously amazing to see how far technology has come. If you are a gamer, and RGB is something which is important to you, definitely look into buying this keyboard.
NOTE: updates and upgrades are always being posted on Corsair's website. There is a strong possibility that the software will be a lot more intuitive and user-friendly. From what I saw, I am not the only one who has said that the program could use some work, and I hope that Corsair's team take this feedback to heart, and provide K95 users with a better version of the CUE in the near future.
My @Corsair Vengeance K95 needs servicing but I can't do without my Gkeys. So I bought this – RGB! 😀#amediting pic.twitter.com/vzAFHOrFJT

— Element Editing (@elementeds) September 5, 2016
Corsair Vengeance K95 RGB Price and Where to Buy
The MSRP for this unit is $209.99. Some retailers are completely out of stock, but there are places where you can still find it. It sells for as low as $159.95 on Central Computers' website. It costs $178.99 on Amazon and NewEgg. Fry's online shop has it for $189.99. Your local computer hardware and software shop will probably also still be able to get there hands on it.
Let's do a quick comparison of the K95 RGB and a few other keyboards:
Corsair Vengeance K95 RGB vs. K70 RGB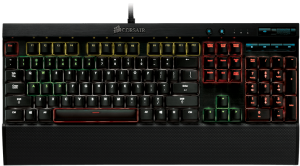 The K70 RGB has the same color options as the K95, but its layout is more traditional, and is designed for first-person shooter (FPS) gaming, more so than any other. There are no macro G keys on this keyboard, but it does retain the same on-board memory capabilities, Cherry MX switches, media keys, anti-ghosting abilities, and high response rate. The K70 is also available in Cherry MX Speed (Rapidfire version) and Blue, on top of Red and Brown. The K70 has a smaller frame, which is why it  is optimal for FPS domination. More of what you need, none of what you don't. The K65 makes for an interesting comparison as well.
K70 RGB MSRP (Cherry MX Red): $169.99.
Corsair Vengeance K95 RGB vs. Strafe RGB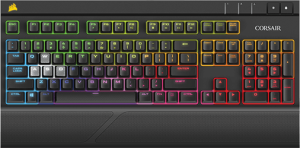 The Strafe series is one of the newer models by Corsair, introduced in the summer of 2015. It has a unique feature which is exclusive to Corsair – the Cherry MX Silent key switches, which are available with the Strafe RGB Silent model. According to Cherry MX, the Silent keys are 30% quieter than any other mechanical keyboard out there.
The Strafe takes full advantage of the new and improved CUE software, and unlike the K95, it has a USB passthrough point. The Strafe comes with FPS and massive online battle arena (MOBA) keycap kits, for maximum personalization, comfort, and control. Strafe also has a detachable wrist rest, and the media keys are F-based.
Strafe RGB MSRP (Cherry MX Blue): $149.99.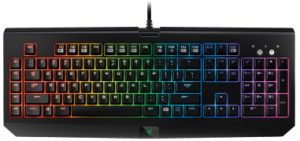 These are two models which get compared quite a lot, so I figured a few words are in order. The biggest difference between the two probably lies in their base, that is to say their switches. Corsair use Cherry, while Razer use their own brand of mech switches. Cherry switches can be replaced relatively easily, but with Razer's you can only buy new ones through them. Cherry switches are known for their superiority over many other switches on the market, and Razer's have a less-than-amazing reputation. That could change, of course, but that is currently where it stands.
Unlike the DeathAdder Chroma, both keyboards are built exceptionally well, though I will have to once again give Corsair the edge on this one, since it has a brushed aluminum build as opposed to Razer's tough plastic. The Blackwidow Chroma has several macro keys, but the K95 RGB has more. The Razer software is easier to use than CUE, so if you intend to do a lot of RGB programming, it is something to consider. The Blackwidow Chroma has audio/mic jacks, which the K95 RGB does not. The lighting on both of these keyboards is great, but the K95 does have an advantage here as far as smoothness of operation is concerned.
Razer Blackwidow Chroma MSRP (Razer Orange): $169.99
Conclusion
The K95 RGB is a gaming keyboard which will help you maximize your potential. It is not a magic keyboard. It simply lets you make the most of your skills, and helps you acquire new ones with extra ease. Other than the CUE issues, which are circumventable or at least learnable and/or solvable, the K95 RGB is the perfect gaming keyboard – especially for MMO / MOBA gaming. Everything about this keyboard is high quality, and is meant for long hours of use.
Note that if RGB is not a necessity for you, you could probably pass over this one and get a non-RGB Corsair keyboard. The 16.8 million RGB options are this keyboard's main attraction, and – if I am not mistaken – it is the chief reason for its overall higher price. If you do require an RGB keyboard, though, don't think twice. The K95 from Corsair is probably one of the best purchases you will make, and you'll be punishing noobs and veterans alike in no time at all, all in the spectacularly-lit color scheme of your choosing. Crush, kill, destroy, and have tons of fun with this mechanical gaming keyboard.
Looking for more on great gaming peripherals? How about the Logitech G502 or the Razer Abyssus? It's all here at EduMuch!