Syma X5C Explorers Quadcopter Review
Table of Contents
The X5C, by Syma Toys, is one of the most popular drones in the market today and the big brother of newer models like the Syma X5SW. The X5C was released in 2013, and it quickly became a favorite of many fliers, from novices to experts.
The newcomers loved the fact that this is a relatively cheap drone, which bears a strong resemblance to the more heavy-duty ones. Because of that, it is a great practice drone, and beginners will find that it is a very good fit. And yes, you MUST practice before handling bigger drones. You have to crawl before you can walk. This is our Syma X5C explorers quadcopter review.
What the more experienced fliers loved about the X5C, is that it is one on which they could practice difficult maneuvers. If you break a DJI Phantom, chances are you'll be crying about it for a month. If you crash a Syma, it is not as terrible. For most people, anyway.
Okay, enough chatter. Let's get down to brass tacks.
Syma X5C Explorers Tech Specs

Dimensions – 12.2 x 12.2 x 3.1 inches (including propeller guards)
Weight – 2 lb.
Rotors – 4 (quadcopter)
Wingspan – 17.2 inches
Battery (quadcopter) – 3.7V 500 mAh Li-Poly
Charging time – 100 minutes
Battery (controller) – 4 AA batteries (not included)
Materials – plastic
Control system – 2.4GHz remote control
Lights – light emitting diodes (LEDs)
Price – $40 – $60
Color – white
This drone comes equipped with an HD camera and a 2GB MicroSD card. Syncing it is very easy, and there is no doubt that the makers of this drone had beginners in mind when designing it. It is a simple flier, and is not meant to be anything but that.
The controller features a dual joystick, and several buttons. The right stick is for moving the drone's nose in the desired direction. The left stick is meant for the throttle, as well as for spinning the device in mid-air. The buttons are used for on/off, fine tuning the joysticks, capturing images and video, and rolling the drone in mid-air.
For a pretty inexpensive drone, it can do a lot. It has a 6-axis gyroscopic system, so you can literally throw it up in the air, hit the throttle, and watch as it stabilizes itself and takes off.
Wind Performance and Altitude Range
As with other popular drones like the JJRC H8D, one issue which fliers may face with this drone is that of wind. Try though you might, you cannot not factor in wind. When it comes to drones as light as this one, wind is always a consideration. Some unmanned crafts are built well enough to withstand a lot of wind, but in the case of this particular drone, my suggestion is this: if it is windy, you may be better off not flying it. Just a suggestion. The Syma company states that the drone is wind resistant. That has not my personal experience with it, but your mileage may vary.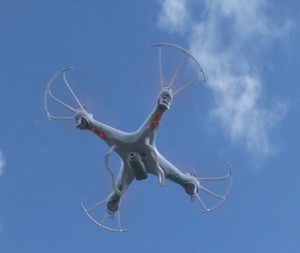 Flight time is about 7 minutes, which is not too much, but not a little. It is average for a drone of this type and class. One thing which fliers constantly complain about is battery life, and it is obvious why. It seems that just as it starts getting fun, the battery taps out. Well, one way to solve this problem is by acquiring extra batteries. Another way is by purchasing a more advanced battery with a larger capacity.
Whichever route you choose, keep in mind that you won't be getting hours of constant flight time, even with extra and advanced-capacity batteries. These toy-like drones are simply not quite there yet, power-wise, but I am sure that in the future, technology will enable even toy drones like the Syma X5C to remain in flight for prolonged periods of time. Just my own observation.
The advertised maximum altitude range of the X5C is 164 feet. Compared to similar drones, this seems a little low. It is. The average range for drones of this type is about 300 feet. Although, on the flip side, some may consider the lower altitude to be an advantage. For example, parents who are buying this drone for their teenage kids. BTW – Syma recommends that this device be used by persons aged 14 and up.
I wrote "advertised" range because, in reality, it can get higher and be controlled within longer ranges of those which are advertised. You have to be careful though, because if you lose your orientation at 400 feet, while the copter is several hundred feet away from you – well, chances are it will not end well. Either way, it is best to master this – and any other – quad at lower altitudes and close proximity first, before attempting to get farther and higher than recommended.
Photo and Video Capabilities
Photo and video quality is not the best with this drone. It is reminiscent of a webcam from the early 2000's. But, then again, people aren't buying a Syma for its photographing capabilities. It doesn't claim to be a professional tool. The HD cam employs the lowest HD setting there is, and it performs fine.
The still camera has a maximum resolution of 2 megapixels. As for video, the recording mode is 720p (1280 x 720), with varying frame rates of 24p, 25p, 30p, 48p, 50p, and 60p. If photo and video quality are not one of your top considerations when purchasing a drone, then you will thoroughly enjoy this device.
In fact, if you are an average user, the difference between 720p and 1080p HD is not as obvious as you may think. You can still get some great shots and footage from this little guy, and its stability makes for wonderful additions to your collection.
So, what more can be said? If you are interested in a beginner's drone, and if you have an extra $50 that you would like to spend on something really cool – whether it is for yourself, your kids, your mother, or your miniature pinscher – the Syma X5C Explorers drone is just the ticket. You will have lots of fun with this aircraft, and because of its relatively low price, it won't be the end of all things should it happen to crash, break, become lost, or if it is eaten by your miniature pinscher. For the money you are paying, you are getting a neat little drone. Worth every penny.
(For A peek at another great quadcopter in the under $100 range check out our UDI U818A HD+ Review)