Top 5 Corsair CPU Coolers Review: Cool Down!
When building a computer, there are choices to be made at every turn. From the processor utilized, to the graphics card, and everything in between – you will have options and directions that can confuse even an informed techie. Being a first time builder is all the more overwhelming and direction is generally needed. One of the most important elements of building your PC is choosing the right fan or cooler. There are both air cooled and liquid cooled fans that do the job of keeping your machine from overheating, both with different benefits and features.
There is no shortage of air cooled machines that have a lot to offer and operate quietly. They may also be less expensive and fit in easily with your rig. When it comes to performance, there is little doubt as to the winner. As far as things stand today, the top liquid cooler will beat out the top air cooler in performance, hands down. Corsair offers several models of liquid coolers, and we'll cover 5 of them here in our Top 5 Corsair CPU Coolers Review!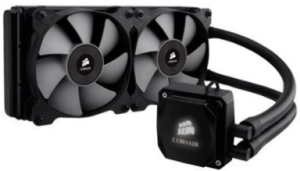 Corsair came out with the incredibly popular H110 in 2013, but wasn't satisfied stopping there. The H100i has been called the big brother of the H110, and it certainly represents a step up. This is an easy to set up, long lasting system that never needs refilling – a huge plus and concern for any liquid cooling system. There is a cable that can be attached that helps monitor the system's cooling by simply utilizing the free software. There are some issues with the cooler, and I will say that they are either prevalent with all water cooling systems or are much more subjective in nature. Take leaking for example: they have made their cables well and leaks aren't common, but if to happens to you, you wouldn't be too happy.
Corsair will generally cover any damage done by their product, which is a plus to consider when looking to buy – you can make your purchase worry-free. Another factor to consider is the placement and style options. I was only bothered by one, and that was the placement of the cooling cables. Instead of coming out of the top and being easy to move wherever on your setup is best for you, they are on the side. Granted, there is a chance that this will work out great for you and the placement will be perfect. There is just as good of a chance that it will be an inconvenience and you will need to work out a way to bend them to fit your system. Again, this issue won't affect performance, I would have simply preferred a different design. Everything still functions to the capabilities we would still like to see, and this is a premier cooling option.
The radiator is a top mounted 240mm with 120mm(x2) fans for quiet, no nonsense cooling. There are different settings that you can control from your computer and switch between different modes like performance, and quiet. If you are going to need your computer to be working hard for a couple of hours and don't mind a little extra noise, then I would suggest the performance setting. If not, there is no real reason that I've seen not to keep it on quiet and enjoy that extra bit of silence. You can also control the temperature, fan speed and even the lighting.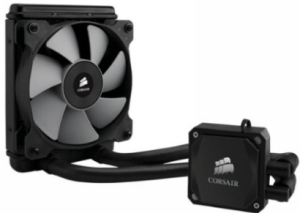 If you're looking for your first liquid cooler, the H60 is an excellent option. Both the radiator and the fans are small and easy to fit anywhere, not just top mount. Its single 120mm fan makes the installation that much easier and allows greater flexibility, making almost any computer an option for the H60. Both Intel and AMD processors are compatible making the fan even more universal and easy to apply to pretty much any system you're setting up.
It does a great job of being quiet, as there is virtually no noise coming from it. It won't keep your computer quite as cool as a higher-end, dual fan AIO cooler might. The temperatures are still nowhere near concerning levels though and can be counted on to keep your CPU from overheating. Maintenance is virtually nonexistent and the Corsair warranty is something you can count on. The warranty directs you to return the product to Corsair, even if you bought it from a third-party retailer.It comes prefilled with almost no evaporation making refilling unnecessary.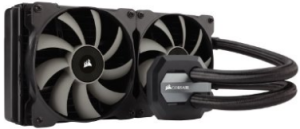 There are a lot of words I could use to describe this piece of tech, but if I was limited to just one, it would be 'upgrades'. My one complaint about the H110i is actually dealt with here. The cables come out of the top, giving you the freedom for customization and placement that previously was lacking. The fans are no longer 120mm but now are two 140mm fans for some serious cooling abilities. The cooling nor the noise is going to be the problem for you with the H115i even with a heavily overclocked CPU and the fans can move at 2000 RPM.
What will be the issue is some bugs in the software. When using the configure sensor and trying to manually play with some settings, there have been too many reports of crashing to take lightly. Stay away from the configure tab. Not going into the detailed configure settings should make sure that you don't have any problems. Another thing to remember is that because these fans are bigger than the standard 120s, you will need a bigger case in order to have room for this AIO cooler. It does work both AMD and Intel like most of the AIOs that you will find.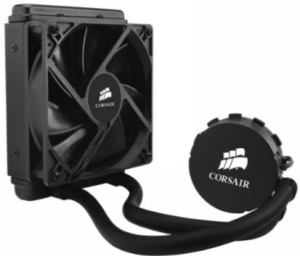 This cooler has been around for a while and has seen the newer generations continue race past it as the future tends to. It has found its place and even right now stays relevant even if not at the same level as it once did. In today's day and age, I would only recommend using it as a starter rig. The radiator and fan are both a 120mm design. While that isn't bad if you have two fans, it's short on the radiator's side. This is before the Corsair USB and LED lighting days meaning you don't have nearly the same amount of control.
While it doesn't roar with noise, it's not nearly as quiet as other coolers. The area that it truly interesting is performance. While it struggles with stock, regular performance, it is top of its class when it comes to over-clocking. To me, this is the thing that keeps it relevant today, in addition to its incredibly simple installation.
@Corsair @DrGETLOWDUDE I know that feeling…corsair case, psu, water cooler, ram, keyboard lol… pic.twitter.com/bRP75MigHQ

— Craig Nelson (@Ezro_Craig) October 28, 2016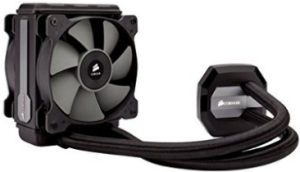 An older model for a certainty, but the H80i is what got Corsair started on the course that it remains on to this day. There were some awesome advancements made that with tinkering over time have made Corsair AIO coolers top of the line. They improved the cables, making them stronger without diminishing flexibility and allowing easy positioning of them. Another improvement was the mounting system is a league ahead of the old one and makes for much easier set up on both Intel and AMD.
These were great hardware improvements and made the usage simpler but there was more to come. On top of the cables and mounting system, Corsair would add some features that changed the game only for the better. The H80i brought with it the first Corsair link, allowing for the customization that is so near and dear to the coolers they are making now. It came standard with two 120mm fans that you could put where you wanted and that was great and decided to allow the people to decide if they wanted more. There is room to attach more fans if you felt the need for more blowers.
Conclusion
In the tech hardware industry, you don't get to become a big name without earning it. Corsair has made consistent improvements in their products and works hard to keep their customers happy. As models progress, they have consistently answered qualms about previous coolers in the strive for product perfection. This is a brand that understands they have to move with the future if they want to stay relevant – so far, so good.
In the market for a gaming keyboard? Check out the Corsair K70. Need some other PC equipment? Razer and Logitech have you covered – it's all here at EduMuch.