Top 5 Corsair Gaming Mice Review
Top 5 Corsair Gaming Mice
Is there anything more unsettling than standard computer mice? I know those things are used everywhere, and that outside of the gaming world they're known to get the job done, but I still can't believe that the majority of PC users elect to employ such limited, archaic technology in their mice.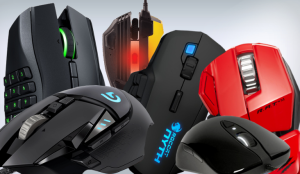 As a gamer, I pretty much swear by gaming mice and gaming computer peripherals in general. Not only for the purposes of gaming, the experience of which is enhanced hugely by a gaming mouse, but for my overall computer needs. The benefits of gaming mice in terms of gaming are obvious:
Improved Performance and Durability: Gaming requires long and intensive mouse use which is made easier by a sturdier, more intricately designed gaming mouse. Gaming mice will hold up better after long gaming sessions than a standard mouse will – guaranteed.
Comfort and Ergonomic Advantages: No one pays closer attention to comfort and hand-to-mouse compatibility than gaming mice manufacturers like Corsair. These mice are designed to fit perfectly in the hand for a more comfortable mouse experience.
More Buttons, Customizable Buttons: Standard mice generally leave users limited to left-click, right-click, and the scroll wheel in terms of buttons and function. Gaming mice feature a number of extra buttons (depending on the model) which allow users to customize them based on need. This allows for easier maneuvering and strategizing while gaming.
No Turn-Off: Most gaming mice have the added advantage of not turning off, meaning that there is no delay or wait-time before using the mouse again after it has been idle.
But like I said, I don't only employ my gaming mice for gaming purposes. There are a number of relevant, practical, real-world (read: non-gaming) applications and uses that can be massively enhanced by a gaming mouse. This includes, but is not limited to:
Higher Quality, Longer-Lasting: No one likes having to replace computer peripherals or hardware with any kind of regularity. Gaming mice are built with more care and testing backing them, so as to ensure the device is long-lasting and ready to serve you for years to come.
Better Performance: Faster movements, improved sensors, superior build quality, and more make for a mouse that just flat-out works better. Your standard office mouse may be serviceable, but it simply cannot compare to the performance you will get from a gaming mouse.
Mouse Buttons for Everyday Tasks: It's not only gaming that is made more efficient and convenient by buttons on gaming mice. Everyday computer chores and actions become more streamlined and efficient when more mouse buttons are available for use, including: Switching between tabs, emptying the recycling bin, launching and closing apps, recording macros, writing quick blocks of text, etc.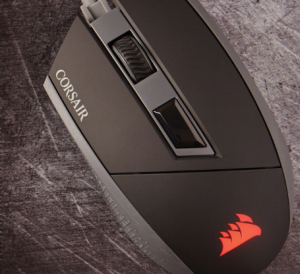 Now that we've established how and why gaming mice are superior to regular old mice, let's talk about why Corsair gaming mice are superior to regular old gaming mice. As we've covered in our previous Corsair features (such as our K70 RGB, K65 RGB, and H100i reviews), Corsair takes its computer equipment very seriously. Using only the best in terms of parts and materials, Corsair has built a wide-range of gaming mice to service every type of gamer and customer. From lightweight gaming mice to Aluminum Frame mice, Corsair has every kind of gamer covered in order to ensure that it can provide for everyone. Provide it does – and well – as we will detail here in our Top 5 Corsair Gaming Mice feature!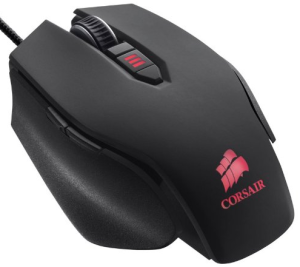 One crucial factor that must be noted before discussing the pros and cons of any gaming mouse is that different people are going to inevitably have different mouse preferences. This is based on mouse habits, hand size, propensity to sweat, stylistic preferences, and more. Still, quality is quality. We're going attempt to objectively review each mouse from a neutral perspective, accounting for benefits or hindrances to specific types of users whenever necessary.
Warranty: Two Years.
DPI: 5000.
Programmable Buttons: 7.
Report Rate: 1000 Hz.
Weight: 0.33 (Adjustable).
If the Corsair Raptor M45 had to be described in one word, it would be 'solid.' A well-rounded mouse designed to suit the needs of the average gamer, the M45 may not have a ton of options in terms of buttons and customization (the mouse utilizes 7 programmable buttons), but it does perform well and features a handy macro system. In terms of comfort, the mouse features what has been commonly referred to as a sandpaper-like texture on the sides, which does take some getting used to. Once you've gotten used to it, though, it holds up well and is a great counter to sweaty gamer palms.
The rest of the mouse is of a softer, more rubber-like texture which is comfortable and useful for long gaming sessions. The braided cable is sturdy and reliable, as is the rest of the mouse – I put the scroll wheel through some serious abuse and it performs as well after a number of months as it did on day one. Finally, in addition to the software, the one really neat feature that the M45 does have is the adjustable weights which can be played with to your hearts content. The M45 can be found for $40-$70, depending on the DPI optical sensor.
Corsair Vengeance M65 Specs

Warranty: Two Years.
DPI: 8200.
Programmable Buttons: 8.
Report Rate: 1000 Hz/500 Hz/250 Hz/125 Hz
Weight: 0.31 (Adjustable).
Kicking things up a notch just a bit is Corsair's Vengeance M65 Performance FPS Gaming Mouse. It's no surprise that this baby features the 'FPS' billing in its title – the M65 uses a "Dedicated Programmable Sniper Button" which is best suited for FPS purposes. What the button does is instantly switch sensor resolution when engaged, allowing the user to opt for more precise control whenever necessary. The 8200 DPI sensor offers superior tracking to that of most mice (including the M45), and even the software has received a bump – onboard profile storage makes switching between profiles a breeze.
Corsair utilizes a unibody aluminum design in the M65 which feels just excellent and sturdy, although still included is the adjustable weight system. For even more customization, response time can be user selected between 1000 Hz, 500 Hz, 250 Hz, and 125 Hz report rates. If you're worried about build quality or the lifespan of the mouse, don't – the M65 boasts switches rated for 20-million clicks – this mouse will easily last for as long as you need it to. The Corsair Vengeance M65 is generally available for anywhere between $50-$100.
Corsair Vengeance M95 Specs

Warranty: Two Years.
DPI: 8200.
Programmable Buttons: 15.
Report Rate: 1000 Hz/500 Hz/250 Hz/125 Hz
Weight: 0.36.
Now this is where we start to get into the real 'premium' category of Corsair gaming mice. Some people might consider paying anything more than what you would for a basic mouse to be some sort of premium, but with elite build quality and top-features in place, the M95 takes things to another level entirely. The 8200 DPI laser sensor and adjustable report rates match those seen in the M65, but a new and improved build and excellent new features enhance and perfect the M65 formula in the M95. 15 adjustable buttons offer users a plethora of different options in terms of gaming (or regular-use) customization, while re-designed button placement makes for a mouse that is easier-to-use as well.
New soft-touch materials cover the aluminum body of the mouse, offering supreme comfort. Additionally, the M95 is designed with low-friction 'TFE glide pads' for easy, effortless movement. Shortcomings in the M95? Well, gone is the handy adjustable weight feature which some will lament but others will not notice. The bottom line is, mouse weight comes down to personal preference. Personally, I wouldn't call the weight of the M95 perfect, but it certainly gets the job done for me. Others might be more particular about their mouse weight, and this could be something of a 'deal breaker.' It all depends on who you ask. The Corsair Vengeance M95 can generally be found for anywhere between $80-$140, depending on the color.
Corsair KATAR Specs

Warranty: Two Years.
DPI: 100 – 8000.
Sensor Type: Optical.
Mouse Backlighting: Red.
Programmable Buttons: 4.
Report Rate: 1000 Hz/500 Hz/250 Hz/125 Hz
Weight: 85 grams.
Let's head back to basics for a moment, shall we? The Corsair KATAR Gaming Mouse may not have the same exciting features or number of buttons as the Vengeance M95, but that isn't what Corsair made it for. Recall earlier in our feature when we referenced Corsair's aim to provide for everyone? The KATAR is an excellent representation of that, being a mouse that is for the every-gamer: inexpensive and unsexy, yet relentless and effective.
Small and notably light, the KATAR will likely serve better for small-handed gamers. Despite the plastic build (utilized in large part for the sake of offering a mouse at lower cost), the rubber side grips and responsive buttons make for a mouse that feels well-made and sturdy. Despite there being just four programmable buttons present, the KATAR is capable of achieving the same mappings, macros, and configurations as its siblings in the Corsair gaming mice family. In other words, for gamers or users who are looking for a great mouse, but not one that can 'do it all' or may break the bank, the KATAR is a great option. The Corsair KATAR can generally be found for $25-$40.
My mouse of choice 😍#corsair #pc #gaming pic.twitter.com/qLbNGhHmax

— EVAC KARMA (@EVAC_KARMA) November 13, 2016
Corsair Sabre RGB Specs

Warranty: Two Years.
DPI: 50 – 6400.
Sensor Type: Optical.
Mouse Backlighting: 4 Zone RGB.
Programmable Buttons: 8.
Report Rate: 1000 Hz/500 Hz/250 Hz/125 Hz
Weight: 100 grams.
Alright, we've covered the high-end and the more conservative options in the Corsair gaming mouse lineup. How about a mid-range mouse that falls somewhere in the middle? The Corsair Sabre RGB Gaming Mouse takes all of the functionality found in the KATAR and builds on it, but perhaps not to the extent that the M95 does.
Eight programmable buttons places the Sabre firmly in the middle of the pack, as does its 100 gram weight and selectable 1000 Hz/500 Hz/250 Hz/125 Hz report rate. One noteworthy feature that is unique to the Sabre is its four-zone, 16.8 million color backlighting. With virtually infinite customization possibilities, the Sabre is an excellent choice for the more superficial mouse users who are as concerned with the look of the mouse as they are with its functionality. The Corsair Sabre is available for $40-$60.
Conclusion
No matter your pleasure, if you're looking for a more comprehensive, efficient, and effective mouse experience, Corsair will have you covered. Featuring mice of different types, price points, features, colors, and sizes, Corsair makes inclusivity a priority when designing and fleshing out its lineup of mice. Looking for information on more Corsair mice, like the Scimitar RGB? Stay tuned! We'll be bringing you more Corsair coverage very soon!
Thanks for checking out our Corsair gaming mice feature. For more on great gaming mice, read our Razer DeathAdder Chroma or Abyssus reviews right here at EduMuch!