Table of Contents

The standard spelling and grammatical error checks employed by the ever-popular Microsoft Word can only take someone so far with their writing. As any student who has had his work pored over for grammatical errors can attest to, while Word does a decent job of identifying some basic errors (then vs than, for example), it's not a miracle worker. A poorly written document will remain poorly written even with Word's help, and harmful writing habits will continue to plague writers who are relying on Word as their only source of feedback. However, Microsoft Word is not the only computer-based option out there as far as proof-reading your writing for grammatical errors and quality assurance. There are programs and applications that will screen writing for more than the most basic of errors, such as Ginger Grammar or Grammarly (as we highlighted in our reviews as well as our Grammarly vs WhiteSmoke feature). In this review we will be highlighting a leader of the purveyors of these digital services, WhiteSmoke.
WhiteSmoke Review 2016

Founded in 2002 by Hilla and Liran Brenner, WhiteSmoke was born of idea that word applications were lacking in terms of proofreading features and help. The thought was and remains that WhiteSmoke software should be able to provide users with feedback that goes beyond identifying grammatical and typographical corrections, by also improving the style, tone and clarity of the users' writing. Therein lies the difference between WhiteSmoke and Microsoft Word, WordPerfect, or any other word application: not only will WhiteSmoke identify grammatical and spelling errors, it will help the user become a better writer in the hopes that the need for digital corrections in the first place will be diminished
Unlike other applications of this nature, WhiteSmoke is not a self-sustained program or application; it can be called upon in a single click while using any browser or word application. A series of color-coded options greet the user when WhiteSmoke is launched, pointing out errors and offering various suggestions for improvement, ranging from grammatical improvements, to sentence structuring, to style of writing. WhiteSmoke offers a variety of iterations of its product to fit the needs of any kind of writer.
Features and Benefits
–WhiteSmoke Writer: The primary offering of the company is WhiteSmoke Writer. The standard WhiteSmoke program, Writer offers grammatical, spelling, and quality improvements in a single click. Powered by an efficient and revolutionary algorithm, WhiteSmoke Writer learns from the user with a form of quasi-artificial intelligence, gaining a better sense of the improvements needed from the individual user as time progresses so that it can custom-tailor its suggestions based on the user's writing ability. WhiteSmoke Writer can be used with almost any word application or browser available today.
-WhiteSmoke Anywhere: Essentially the same product as WhiteSmoke Writer, 'Anywhere' is a version of the product that allows the user to launch WhiteSmoke on any computing platform or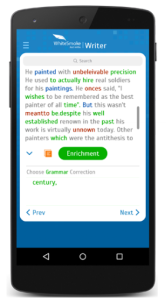 device. From PC, to tablet, to mobile, WhiteSmoke allows the user to take his writing on-the-go. 'Anywhere' is not even limited as compared to the standard desktop 'Writer' version of the program, as documents can be saved in all of the standard formats that one would expect (Word, PDF, HTML, etc.). Unsurprisingly, an internet connection is required to launch 'Anywhere'.
-WhiteSmoke Mobile App: The mobile app allows users to copy-and-paste their works to or from the app for easy and accessible corrections. By running text through the app, users can ensure that their writing is error-free and as optimal as possible 100% of the time, even when writing e-mail or text messages.
–WhiteSmoke KIBO: Although it sometimes seems like most people have disregarded proper English and grammar when phone-typing, there are those of us who value the use of proper English in every medium and writing form. WhiteSmoke KIBO is an android keyboard that integrates WhiteSmoke, allowing users to avoid typos and spelling errors that come about as a result of the auto-correct features caused by most mobile keyboards. KIBO branded keyboards allow the world's largest brands to connect with their fans, providing themed keyboards for users to choose from, ranging anywhere from FC Barcelona to Hello Kitty.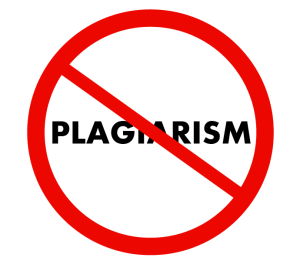 -WhiteSmoke Plagiarism Checker: Also integrated into the WhiteSmoke application is a comprehensive plagiarism checker. Timely and useful for modern students and professionals alike, the plagiarism checker identifies duplicate content that could cause a wide variety of problems ranging from ranking drops, to academic blacklisting, to reputation tarnishing.
-WhiteSmoke Translator: Another major selling point of WhiteSmoke, especially as compared to competitors like Grammarly, is its language support. WhiteSmoke can translate writing to over 45-languages, an extremely practical feature in an increasingly globalized world in terms of both business and academics.
The overall WhiteSmoke product is a good one, with ease, simplicity, and practicality all combined into one package. After a week with WhiteSmoke, I was able to identify a few different recurring errors in my writing – errors that would have never been identified by Microsoft Word's bare-bones suggested-correction process. The color-coated corrections menu is both aesthetic and effective, and allows users to instantly identify the errors in their writing as well as the degree and nature of these errors. The program also offers an overall 1-10 score based on the overall quality of writing, which takes into account factors such as sentence structure, active vs. passive voice, and choice of words. There are a number of competitors in the field of computer writing corrections, but none combine one-click ease of use with great effectiveness like WhiteSmoke does – and the translator feature could be an invaluable feature to some. The different templates offered by WhiteSmoke are also a feature that helps the company stand out as the class of an increasingly competitive field of correction programs.
Pricing and Conclusion
It should be noted, the WhiteSmoke program described in this review is the 'premium' offering of the product – premium meaning more expensive. The primary difference in the two offerings is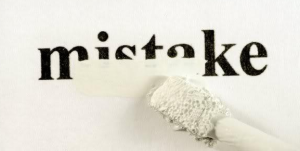 that the more basic iteration of the service does not integrate with programs such as Microsoft Word and Outlook, and is only compatible with browsers. The pricing breakdown of the two programs is as follows:
Anywhere (or 'basic'): $9.95 monthly, $24.95 quarterly, $79.95 yearly, $159.95 lifetime.
Premium: $14.95 monthly, $39.95 quarterly, $119.95 yearly, $299.95 lifetime.
Customers can experience some sticker shock when initially seeing these numbers, given that this cost is supplementary to the already not-cheap but essential Microsoft Office suite, but this service is a very valuable one.
WhiteSmoke is a product that, given its support on any kind of program, browser, or device, could be of use to anyone. We all write, and despite the younger generations' continued insistence on disregarding writing quality as unimportant, the level of our writing will inevitably impact us academically, professionally, and otherwise. Use WhiteSmoke if you want to improve your writing and ensure that it is as good as it can possibly be.
Be sure to check back for more grammar reviews and features at edumuch.com!