Logitech G502 Gaming Mouse Review 2016
Table of Contents
The Logitech G502 Proteus Core tunable gaming mouse (quite a title, eh?) was released in 2014. It is one of Logitech's most advanced mice, and it is considered to be the successor of the G9 mouse (which was released in 2007).We will give you a full run-down on this nifty device here in our Logitech G502 Gaming Mouse Review!
Size – length: 5.1 inches, width: 2.95 inches, height: 1.57 inch
Weight – 5.9 oz. (cable included), 4.3 oz. (without cable)
Sensor – PMW3366 Delta Zero optical, up to 12,000 dots per inch
Buttons – 11 programmable buttons
Grip – right-handed, ergonomic design with rubber sides
Lighting – G502 Proteus Core has a blue LED, while the Proteus Spectrum has 16.8 million customizable color options.
Cord – 6 feet long, light, braided
Released – 2014
List price – $79.99

Logitech G502 Design: Features/Performance/Price/Problems, Solutions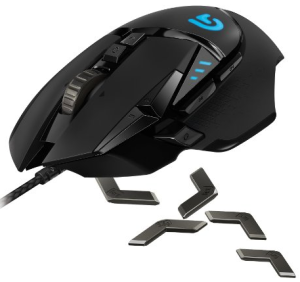 So, let's go a bit deeper into the design of the G502. First off, it is more of a palm or claw grip mouse, or at least it was for me. Those who wish to use it in a fingertip grip may need some time to adjust. Obviously, it also depends on your hand's size. I must say, before I got a chance to actually hold the mouse, it seemed a tad awkward. It looked like the kind of mouse which would be good on paper, but perhaps less good in the actual hand. I am so glad to say I was wrong. This mouse feels great, and from the relatively short time I was using it, it seems that Logitech have come up with a mouse that lets you play and play, without any fatigue or other unwanted issues. Time will tell on that one, I suppose. The mouse has a nice and textured grip, a broader thumb rest, and the sides are very easy to hold. Every button is reachable, and you can tell that a lot of thought was put into the various pressure points and click-weight ratio. A good gaming mouse should be a balanced one, and this is where the G502 really shines. Not only is its design exceedingly friendly and comfortable (like the G9), but the weight can actually be redistributed, using 3.6g weights that can placed in different locations.
A tunable mouse makes for a more personal touch, and I mean that in the very literal sense of the word. It puts the user in control of the balance, and in the long run it can really help with different kinds of games and tasks. Again, as with ALL gaming mice – this mouse will not turn you into a super-gamer overnight. It is not magic, but smart engineering. Using a mouse such as the G502 can take all of your already-existing abilities, and improve them, enhance them, and hone them. The mouse is an instrument, and you are the one who is going to be using it. For this reason, it is best to do your research and think about which mouse you will actually need. This changes from person to person. For instance – this thing has 200-12,000 dpi, but do you actually need a 12,000 dpi mouse? If your answer is an honest "no", then perhaps go with another Logitech mouse. There are many in Logitech's lineup, and they could be just as good as the G502, if you want them to be. It could end up costing you less money, and being an even better solution. Remember, just because there is a newer model out there, it does not mean it is a better one. It is all about the user's needs, and this model is no different.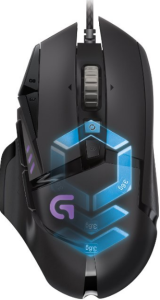 The free spinning scroll wheel is one which Logitech have used in the past, and it has been a great success. Building on that, they have implemented the free spinning option into the G502 as well. Users can choose to go with the free spinning mode or the click tilt mode, and toggling between the two is easier than ever with a handy mechanical switch. The lighting effects (G502 Proteus Spectrum model) are also very cool, and they provide the user with the ability to synchronize and match the style and environment where the mouse is placed. There are also game-specific lighting profiles, all of which are manageable via the Gaming Software. The Spectrum and Core versions of the Proteus identical, apart from the color options. If you feel that The only real complaint I have has to do with the G502's feet. Logitech claims they have this amazing distance capability of 155 miles, but from what I have seen they are not all that great. They may be able to travel a great length, but I can see they will probably start to peel or otherwise ware long before they make that distance. This changes from one mouse pad/mat to another, of course, but still – an $80 mouse should have feet which are more suitable for different kinds of surfaces.
It could also be that I got a mouse from the first batch (2014). It seems that Logitech have fixed this issue with subsequent batches of the G502. I suppose the only fix is to contact customer support and ask them to exchange the mouse. If your device is still under warranty, it is always worth giving the support team a shout. In fact, it is worth doing so even if your device is no longer covered. You never know, right? From doing some online research, I found that another popular complaint had to do with the sensor. This was also only true in the beginning, and was promptly fixed in a firmware update in 2015.
Logitech G502 Software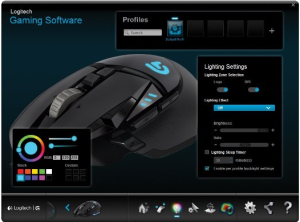 The Logitech Gaming Software is the user interface, the area through which all of the various profiles and configurations are made. It is an intuitive piece of software, which empowers your Logitech device and the one who wields it. Profiles, buttons, commands, macros, surface tuning, LCD display – all of these and more are customizable through the Logitech Gaming Software. The software runs in the background while your computer is running. It has several default settings, but they can all be adjusted. The various tabs are:
General – change application settings.
Notifications – change which notifications appear on your screen, and on your device's LCD display.
Profile – change basic profile settings.
Device Specific tabs – these change from one device to another, and they allow the user to make any number of specific changes to the device.
Profiles and configurations can be saved to your PC or to your mouse's internal memory, and they can be switched at the click of a button. The Gaming Software is compatible with just about all Logitech devices, and being able to control several peripherals from one interface is convenient and useful. One software to rule them all.
I wanted a better mouse, so I ran at lunch and grabbed a #logitech G502! Excited to give it a run tonight. pic.twitter.com/Hg6xbUEGvc

— PhobiaOS #CGN (@PhobiaOS) October 21, 2016
Logitech G502 Drivers
As mentioned, the G502's software is Logitech's own interface, and any driver/firmware updates are made through that area. The G502 uses Gaming Software version 8.53 and up. The Logitech 'downloads' webpage has the latest software updates. Bug fixes, additional supported products, new profiles, and many other options become available whenever a new version of the software is released.
Logitech G502 vs. Razer DeathAdder 2013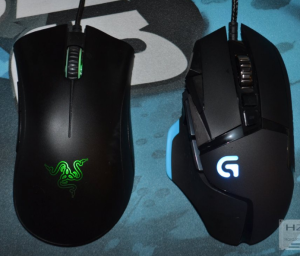 The Razer DeathAdder is one of the most popular gaming mice available today. It gets compared to various Logitech G-series mice quite often, since these models are both meant for gamers.
| | | |
| --- | --- | --- |
| | Logitech G502 (Proteus Core) | Razer DeathAdder 2013 |
| Dimenions (L x W x H, inches) |  5.1 X 2.95 X 1.57 | 5 X 2.76 X 1.73 |
| Weight (with cable) | 5.9 oz. (adjustable) | 5.28 oz. |
| Grip | Right-handed | Right-handed |
| Sensor | IR optical | 4G optical |
| DPI (max.) | 12,000 | 6,400 |
| On-the-fly DPI switching | Yes | Yes |
| Buttons (programmable) | 11 | 5 |
| Lighting | Blue LED | Green LED |
| Hz rate | 1,000 | 1,000 |
| Tilt-Click Scroll Wheel | Yes | Yes |
| Price (MSRP) | $79.99 | $69.99 |
The battle between the two is really no battle at all. The G502 and DeathAdder are both great mice, but the G502 probably has the advantage here, due to its design, its buttons, and its levels of comfort. The G502 has the better gaming sensor, and probably the better overall grip. The DeathAdder's grip can be an issue for some users, whereas the G502's grip has never had any complaints. Also, the G502's weight-distribution capabilities outdo the DeathAdder's. However, there are those who specifically prefer the DeathAdder 2013's grip, because it is a tad less wide.
Logitech G502 vs. G602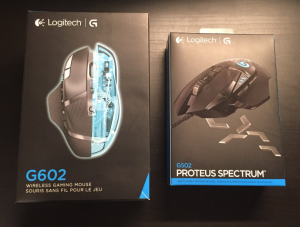 The wireless Logitech G602 is also a mouse which is compared to the G502 quite often. There is some merit to this comparison, but once you get into the details, you see it is not the same mouse at all.
| | | |
| --- | --- | --- |
| | Logitech G502 (Proteus Core) | Logitech G602 |
| Dimenions (L x W x H, inches) |  5.1 X 2.95 X 1.57 | 5.4 X 3.3 X 1.7 |
| Weight (with cable) | 5.9 oz. (adjustable) | 5.28 oz. |
| Grip | Right-handed | Right-handed |
| Sensor | IR optical | Delta Zero optical |
| DPI (max.) | 12,000 | 2,500 |
| On-the-fly DPI switching | Yes | Yes |
| Buttons (programmable) | 11 | 11 |
| Lighting | Blue LED | Blue LED |
| Hz rate | 1,000 | 1,000 |
| Tilt-Click Scroll Wheel | Yes | No |
| Price (MSRP) | $79.99 | $79.99 |
So, this battle is one which neither one can truly win, mainly because it is a wired VS. wireless thing. Those who prefer wired will most likely immediately scoff at the wireless mouse, and vice versa. But, to be honest, there is a lot more to it than merely wired VS. wireless. As far as performance goes, both are up to any task, be it gaming or regular day-to-day stuff. They are reliable, and they can endure a lot. Both are designed for 20,000,000 clicks, 152 miles of traveling, and long hours of gaming/usage. There is a big difference in the location of the thumb buttons. While the G502 has 3 thumb buttons, the G602 has 6 of them. This is a hit or miss feature, in my opinion. I didn't care too much for the 6 relatively close buttons of the G602, but I can see how after some practice, or in specific games (think World of Warcraft) it could definitely come in handy, especially once you assign specific commands and macros to those buttons. Remember: Logitech Gaming Software profiles are your best friends with gaming mice such as these.
The G602 is a bit wider, and I actually enjoyed that fact. The G502's grip is really great, but having some extra thumb space on the G602 was nice. Still, there is no beating that tight G502 grip, which I personally have come to really like, ever since the G9 came out. Another hit or miss feature would be the tilt-click/free spinning scroll wheel. The G502 has the ability to free spin and tilt, while the G602's scroll wheel is a lot more rigid and fixed in place. The G502's wheel has a looseness to it that not everyone will be into. If you are interested in a more stationary wheel, then the G502 may not be the one for you. There is a button which toggles between the wheel's different modes, but because the G502's wheel is pre-designed to have a tilt, it needs some freedom to begin with, and that could be an issue for some people.
Conclusion
I probably haven't said all there is to say about the Logitech G502 gaming mouse. Whether it is the Core or the Spectrum, this mouse has the potential to really amp up your gaming, and gaming environment. There is no such thing as a perfect mouse. They all have their shortcomings and faults (even the companies who sell them try and pretend they don't). After all, this is technology which is coming off of an assembly line, and issues are bound to come up here and there. Having said that, I will say that the Logitech G502 really is one of the best of its kind. It is a great mouse, and Logitech works hard to continuously improve it through its various updates. Gamers will definitely enjoy the look and feel of this advanced piece of work, so it is worth a shot. Logitech are known for their superior products, and this one is no different. It is priced right, it gets the job done, and it does it the way a professional gaming mouse should. Treat it well, and the G502 will be able to provide you with years of faithful service.
Thanks for reading our G502 feature – check out our other great gaming mice features, like our Razer Mamba or Taipan reviews here at EduMuch!