Logitech Webcam Series Review 2016
Table of Contents
In the mid-1990's, Logitech saw a company that was doing something very right. In 1998, they decided they were going to buy this company. The company was Connectix and their top product was the QuickCam. The QuickCam was really the first webcam, introduced even before these devices were being called webcams. Logitech would continue to build the QuickCam series after their acquisition, and they remain top selling products to this day. The QuickCam has made multiple top gadgets of all-time lists, as it truly shifted the way we communicate today – a boast not many devices can make. Without devices like the QuickCam, there would be no Skype, no Facetime, and no video-conferencing. Businesses and families function better because of this technological development. They now host an impressive list of webcams and all have different features to fit you and your needs – whether they are business or leisure. All Logitech products of course come with their excellent customer service and two-year/ three- year warranty. We'll cover some of the very best in Logitech Webcams here in our Logitech Webcam Series Review!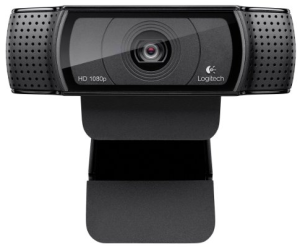 The C920 is the successor to the C910, which was  incredibly popular in its own right and a great piece of technology. The C910 gave Logitech a great jumping off point for the HD Pro series. While remaining similar in look to the C910, the C920 did feature a different mounting system. The C920 utilizes a tripod mount, allowing it to be rested on any surface of your computer. The C920 offers a 20-step autofocus that configures the most optimal level of focus for any individuals particular circumstances. Its facial recognition makes its autofocus all the more functional. It will reduce automatically-distracting background noise, and that can be very helpful. If you find this feature annoying, or for whatever reason want the background noise involved, you can play around with the settings to your hearts content. One of the more popular features of the C920 is the glass that the screen is made of. It's made by the same makers of NASA tech and it is incredible to put things lightly. Its widescreen view sets the standard in webcams, and is far better than most built-in cameras bundled with laptops. The C920 also features a dual microphone system, drastically improving the way you're heard. You can record and chat in full 1080p, making for an always-HD experience. The webcam has compression technology that reduces the size of uploads and reduces clutter, as well as time consuming activity. It works on Windows Live, Facebook, Skype, Gmail Video and several other platforms. It is made for PC and Mac, so using it on either will not require any additional effort. If you're going to be making videos from your computer, it is strongly recommended that you get yourself a camera like this and don't rely on the one your computer comes with. It comes with a standard cable and is plug-and-play so you're ready to begin using it as soon as you'd like. The C920 is a top-seller and has drawn rave reviews, and it's not difficult to understand why – this is a heck of a webcam!
New #logitech c920 webcam finally set up. Great quality and so easy to set up. #success pic.twitter.com/8usPPbAagF

— Lars Klint (@larsklint) October 3, 2016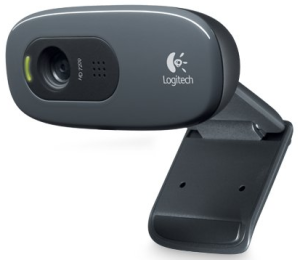 The C270 can be 720p, meaning it can be Hi-Def if you install the free software that comes with the camera onto your computer. The C270 has 3 megapixel capabilities, autofocus, and focus adjustment options that the earlier QuickCams didn't. Iit comes with a built-in microphone and light correction, enabling you to see under otherwise challenging circumstances.  The webcam comes with a standard Logitech 5-foot cable and works with XP and higher. Overall, this makes for a great, more affordable webcam option.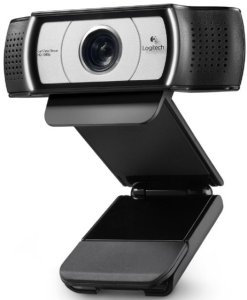 Logitech continued to build on its incredible set of webcams with the C930e. As is the case with most Logitech webcams, the C930e has received excellent all-around reviews. This is primarily due to the care that they put into details – after all, it is the parts that make the camera, and the more care and attention that go into the parts, the greater the camera will be. Logitech decided to add a ZEISS glass lens for superior optics in the C930e. Logitech also improved their patented RightLight technology for an upgrade to their already top-of-the-line autofocus and quality improvement, distance control, and lighting settings. You can mount the camera pretty much anywhere, so you aren't restricted to your computer, and the cable is long enough to let you truly enjoy this feature. The 1080p features 4x-zoom that remains clear and crisp, letting you capture all of the finer details. During the zoom, you can use the on-screen controller to move around without exiting zoom. When using the zoom, you will really appreciate the autofocus and how smoothly it transitions – it needs to be seen to be really understood! The C930e works with a host of video services, and both Mac as well as PC. The webcam even takes incredible pictures to complement its video proficiency. There is a privacy shutter which, when used, allows you to participate in video chatting while your camera is closed. The C930e has an extremely wide view of 90 degrees, which will bring more into focus and is great for business presentations. Topping things off is a three-year warranty that Logitech is likely confident you will not need to be redeeming.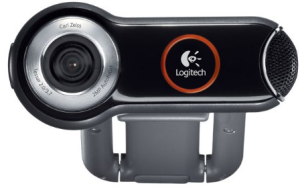 The Pro 9000 is a relatively older model, but in its time was incredible and still holds up as a solid option on the more affordable end of the webcam spectrum. It has auto-focus, and it features a red LED light that turns on when you're live and active. It doesn't feature the adjustable tripod stand that the newer models have, but it will still attach to your PC and Laptop comfortably and easily. If you play around with the video effects and settings, you will most likely need to lower the resolution because for whatever reason it will not stay strong at higher levels. Some of these features are cool, and you can have a good time with them, but in 2016 I think they are a bit more primitive then we would like. Still, as far as affordable webcams go, the Pro 9000 is a solid option.
Top-Selling Webcams: Logitech Competitors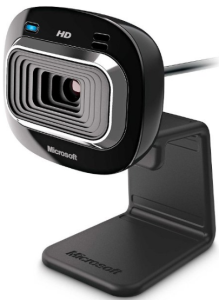 While Logitech does make a large amount of the webcams that are widely used and loved today, there are others that make quality as well as affordable webcams. Microsoft LifeCam HD-3000 is a great, affordable reliable option. It records in 720p widescreen viewing and is known for its reliability and sturdiness. Ausdom makes a great webcam which is on the extreme budget-side (most outlets offer the webcam for less than $30 as of late 2016). It offers 1080p and packs a noise-cancelling microphone inside. The webcam also offers great video and picture quality, and is 'plug-and-play' which makes installation no-hassle. However, there is no auto-focus feature, so you'll need to manage it as the camera changes distances, which can be frustrating. Razer Stargazer Depth-Sensing HD Webcam is really something to behold. Logitech's known nemesis Razer is never content letting Logitech's products go unchallenged which is great for the consumer because competition brings out higher quality production. There are those that are willing to call the Stargazer the world's most advanced consumer webcam, and while I'm not sure about all of that, I am sure that it's in the discussion. It's built for gaming and streaming, and that's really where it excels. Therefore, you might find some of the features a little strange or unnecessary in a business setting, but if you love tech you will love this webcam. It can stream 720p at 60 frames per second, which is the fastest to date and the desired rate for gaming. You can take 1080p video with the Stargazer, but you won't be able to stream it at 30 frames per second. With the dynamic background removal you won't need to create a green screen or isolate yourself to have your avatar stream appear.
Conclusion
Razer has made an incredible piece of technology with the Stargazer and that can't be overlooked, but they still haven't reached the Logitech standard. Ever since 1998 when they bought the QuickCam, Logitech has adamantly refused to give up the crown, and they don't seem ready to do so any time soon. With a large host of webcams that will fit your computers generation and your own personal budget, you're sure to find a Logitech webcam that works for you. Whether you need a camera for business, for gaming, or because your mother-in-law wants to read to the kids before bed time over Skype, turn to Logitech for your webcam needs – quality assured!
Looking for more great Logitech features? Check out our reviews of these great Logitech products: G900, G502, G27 and G29, and the Harmony Series – all here at EduMuch!