Table of Contents
As a gun owner, my tastes tend to favor the non-traditional. In other words, what's typically pictured when someone mentions any kind of gun – hand gun, shot gun, rifle, it makes no matter – is not what I go for, usually. I mean everyone I know owns a Glock 17 or SIG Sauer P226. There's something about the non-conformist nature of an unconventional gun that I find really enjoyable. Any gun manufacturer can produce a cookie-cutter pistol at this point – that's easy, unexciting, and played out. It takes guts to come up with something out of the ordinary, guts that not every company has – guts that Kel-Tec certainly does have. A reliable manufacturer of all kinds of guns, Kel-Tec has had the inventiveness and the moxie to 'go for it' with several of their newer models, producing a number of exciting and non-traditional firearms – like the Kel-Tec KSG – that have been met with critical acclaim and praise from the gun-loving public as well as yours truly. It should come as no surprise, given this, that one of my favorite guns of recent times is the Kel-Tec PLR-16 Pistol. This is our Kel-Tec PLR-16 Review!
Kel-Tec PLR-16 Origins
Based in Cocoa, Florida, Kel-Tec is a relatively recent entrant into the big business gun manufacturing game, but one that has made quite a lot of progress in a short amount of time. Staking out a reputation as a company that pushes the envelope and innovates as opposed to conforming to industry standards, Kel-Tec has found success producing everything from handguns to rifles, establishing itself as one of the most exciting gun companies in America. In 2006, Kel-Tec decided that it wanted to produce a rifle-action pistol, which in and of itself was not groundbreaking, but featured a variety of  features and design elements that made it quite a unique firearm. This idea would eventually come to life in the form of the Kel-Tec PLR-16.
Kel-Tec PLR-16 Tech Specs
Calibers – 5.56mm NATO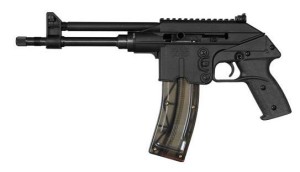 Weight Unloaded – 3.44 Pounds, 1.55 Kilograms
Length – 18.5 Inches, 467 mm
Barrel Length – 9.2 Inches, 234 mm
Twist – 1:7 Inches, 1.229 mm
Capacity – AR15 Compatible Magazine
Trigger Pull – 5.5 – 7.5 Pounds, 24.4 – 33.4 N
Sight Radius – 12.5 Inches, 318mm
Muzzle Velocity – 2600 fps
Kel-Tec 5.56 (PLR-16) Features
Also known as the Kel-Tec 5.56. the Kel-Tec PLR-16 (Pistol, Long Range) is a semi-automatic pistol which is operated by gas and chambered in 5.56 NATO. Although it is a pistol, the nature of the PLR-16 is such that it is probably too large for the majority of concealed carry candidates, and thus is primarily intended for recreational and practice shooting, as well as for specific small-game hunting expeditions. Compatible with both M16 and AR15 magazines, the PLR-16 comes equipped with a standard 10-round magazine. The gun also features factory rifle sights, as well as a Picatinny rail mounted atop the receiver, which allows for some serious accessorizing and customization options (more on that later). Unlike other rifle-action pistols, the PLR-16 does not feature a buffer tube protruding behind the grip of the pistol, which helps make for a more compact, low-to-mid sized rifle action pistol and a very unique weapon.
Handle and Recoil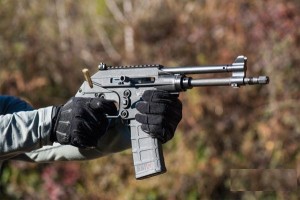 I can't decide if the kick and noise that this gun produces are detrimental, or a fun part of the PLR-16 experience, although my love for this gun has me siding with the latter. The nature of the gun is such that there is no stock to absorb the recoil, which makes this gun a bit of a handful, although the severity of the kick and its annoyance will vary depending on the shooter (experienced gun owners should have no problem handling it). The sound is a whole different story – it doesn't matter how experienced you are; this thing will be loud to anyone that fires it. There's no getting around it, the PLR-16 makes a tremendous amount of noise when fired, and although this is the case when it comes to any gun, it behooves me to mention that wearing hearing protection is a pre-requisite for this firearm.
Build and Quality
The gun is extremely well built – after extensive use and thousands of rounds fired, my PLR-16 is still in remarkable shape, and I've only seen the same from the models available at my local range and models that are owned by friends. Kel-Tec used as much polymer as possible when building this gun, which is a big part of why it's so durable, but it will come down to personal preference in terms of whether or not the amount of polymer in the build of the gun is a positive thing. After reading the instructions provided by Kel-Tec, disassembly is a breeze – the firearm is opened by engaging the take-down pin at the rear of the receiver and folding the grip of the gun down, which allows for the pistol to be opened, the bolt carrier and gas tube removed, and provides access to the breech. Re-assembling the gun is just as simple, and it's always appreciated when caring for and cleaning a heavily used firearm is quick and easy.
Ergonomics and Aesthetics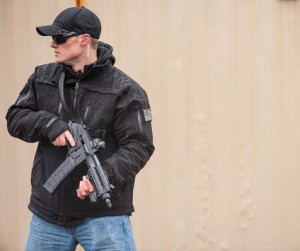 There's no getting around it – this is a badass gun. Featuring a unique, non-traditional aesthetic that makes it look like it belongs in a Stallone movie, the PLR-16 is just a cool firearm, one of the cooler ones you can add to your collection. Front-heavy by nature, the PLR-16 can become a little uncomfortable if fired from the same position for an extended period of time, although it can be fired with both one or two hands reliably. A number of accessories are available that can lessen the front-heavy strain, however, and the grip itself is nicely textured and pleasant to touch. The gun itself, while technically a pistol, is too large to carry comfortably in any sort of holster, and thus a sling or some sort of other carrying accessory are helpful for the sake of carrying comfortably.
Accessories
As is the case with any popular Kel-Tec model, there are a plethora of accessories available for the PLR-16, offered by Kel-Tec as well as third parties. The Picatinny rail is highly accommodating, and the gun can accept everything from improved sights and scopes to fore grips to increase stability. Also available are handguard covers that allow the user to hold the firearm from the barrel and gas piston and muzzle brakes which attach to the end of the barrel and re-direct gas exhaust, reducing recoil. A number of options are available to make transporting this oversized pistol a simpler process, such as the sling which was previously mentioned. Extended magazines can enhance the experience of the shooter as well.
Shooting, Range and Accuracy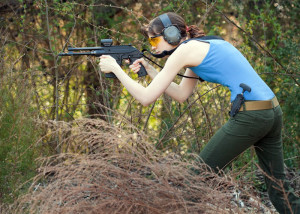 The level of accuracy of the PLR-16 kind of depends on your perspective as far as whether or not it is truly impressive or not. As compared to other pistols, the PLR-16 is highly superior in terms of accuracy, as is to be expected when dealing with a pistol of this size. For a two-handed, rifle action gun, however, the PLR-16 is on the slightly less accurate side, thanks in large part to the kick and recoil of the gun when fired. The same applies to the range of the weapon, in that it has great range for a pistol and inferior range for a rifle action weapon. However, the base model of the PLR-16 does not necessarily have to be the finished product you use – when upgraded and utilizing accessories such as the ones mentioned above, the range and accuracy of the PLR-16 have the potential to improve immensely. With a forward guard rail, two handed rapid-firing becomes an easy task, and a sling can help steady the pistol when firing as well.
PLR-16 Pro's and Con's
Pros:
-Epic feel when firing and carrying.
-Lots of accessories and customization options.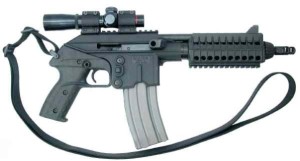 -Great range, accuracy for a pistol.
-Ambidextrous.
-Great build quality.
Cons:
-Serious recoil to factory version of gun.
-Loud noise when firing.
-Too large to concealed carry.
Conclusion
The Kel-Tec PLR-16 is one of the most enjoyable guns to carry and fire that I've ever owned. Is it a perfect gun right out of the box, ready to fulfill any and all of your needs? Absolutely not! But not every gun needs to perform well under every circumstance to warrant owning. If you're looking for a pistol to own for concealed carry or self-defense purposes, you may want to look elsewhere for example to the Glock 19. If you're looking for a fun gun to add to your collection, one that is a great change of pace from the traditional pistols and rifle-action guns, then look no further than the PLR-16.