Fitbit Alta Activity Tracker Review
Table of Contents
In February 2016, Fitbit unveiled the most recent addition to their line of fitness bands – the Fitbit Alta. These bands are seeing amazing growth, and are helping people stay on target. Those who are interested in staying in shape and monitoring their progress, but also in a good-looking activity tracker, will probably be very happy with this new watch. Hang on to your hat, because this is our Fitbit Alta Activity Tracker Review.
As for functionality, it is top notch.  Just like other Fitbit products (like the Fitbit Blaze) it tracks steps, calories burned, distance traveled, active minutes, and sleeping time. It has everything necessary for keeping track of your day-to-day activities and inactivity. It also displays the date and time, has a multiple silent alarm features, and a quick view option for waking up your Alta's display at the flick of a wrist. These are pretty much standard Fitbit features, and they are part of what makes this company so popular.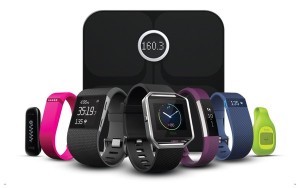 The Alta differs in several ways from the rest of the Fitbit band family:
First, it was made with a much more fashion-forward mindset. The design is clean, sleek, and attractive. Fitbit designed the Alta in a way which makes it wearable for pretty much any ocassion.
Second, there are no buttons on this device, which is an advantage and a disadvantage. On the one hand, it looks a lot better without any buttons. On the other hand, it means that the interaction with the Alta is all done by tapping the device, and that action may become a little annoying for some.
Third, there is no heart rate sensor, nor is there a way to connect with one. If you are into more intense workouts, then perhaps you would be better off with the Fitbit Surge, which has a built in heart rate sensor. Other Fitbit products provide the option of pairing the device with a chest strap, so keep that in mind.
Fitbit Alta Tech Specs
Let's take a look at some of the Alta's tech specs, and then we will break it down further.
Circumference (for standard wristband) – 

Small: 5.5-6.7 inches – 

Large: 6.7-8.1 inches – 

XL: 8.1-9.3 inches

Weight – 1.1 oz.
Display – OLED
Battery – lithium-polymer, rechargeable, non-replaceable
Battery life – approximately 5 days, but really depends on usage
Charging – USB charger
Charging time – approximately 90 minutes
Memory – this device stores minute-by-minute information for 5 days, sleep pattern data for 7 days, SmartTrack data for 2 days, and summary totals for 30 days.
Wireless and wired data – Alta comes equipped with a USB cable, and has Bluetooth pairing, for wired and wireless communication.
Materials – band made of elastomer, with leather and metal also being an option (sold separately). The clasp and housing are made of stainless steel.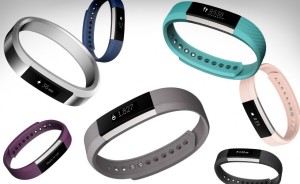 With the Alta, Fitbit were looking for a way to make the device even more seamless. They wanted things to flow, so you don't have to constantly be pushing buttons and swiping. I think that they did a great job on that. The SmartTrack helps you recognize activities after a number of minutes, and while it isn't always 100% accurate, it does help with the activity logging.
The Alta is not waterproof, but it is rain/splash/sweat resistant. Do not swim with it, bathe or shower with it, or submerge it. When it comes to being waterproof, all I say is: you can't have it all. The Alta is a great fitness watch, and if I need to take it off before a shower, so be it. You get used to it.
The device syncs via USB and Bluetooth. It can be used with iOS, Android, and Windows Phone, and it interfaces with web, mac, and PC platforms. It covers a lot of ground, which only adds to its functionality and popularity.
It took me a few days to get used to the wristband. Your mileage may vary, but it seems that for some people that is the case. The clasp is easy to manipulate, but be sure to order the right size. It should be securely fastened, but not too tight. Other wristbands are available for purchase: the genuine leather strap, the metal links band, and several colors of the classic sports band. These are part of what keeps the Alta so fashionably versatile and accessible.
Fitbit Alta App
As far as the app is concerned, Fitbit hit the proverbial nail on the head. The app has everything you need in order to customize your band, and get the most out of your workouts and daily activities.
The settings menu on the Fitbit app includes: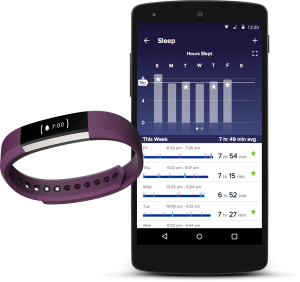 Handedness: set your dominant hand
Wrist: set the wrist on which you place your device
Clock face: personalize your clock with various designs, horizontal or vertical
Silent alarms: set multiple vibrating alarms
Notifications: set desired smart notifications (call, text, and calendar)
Reminders to move: set on or off, start and end time, and days in which you want to be reminded
Main goal: set the goal as steps, distance, etc.
Customize display: set how your display looks
Quick view: set on or off
Greeting: edit your default greeting
This won't be a device that fits everyone's needs. The Alta allows you to keep your daily activities and goals in check, and move around in style. However, like the Polar Loop, there is no heart monitor or option of one. So in my opinion the Alta is going to appeal more to those who want to monitor their progress, but not track their lifting or cross-training exercises (for instance). As a motivator and an everyday fitness partner, the Alta is great. The move reminders are such an improvement, and they work.
The Alta is also a semi-smartwatch. Call, text, and calendar notifications are displayed, but not logged. Once your phone receives a notification, the Alta will vibrate, and a corresponding message will appear on the screen. With calls, the number and name will scroll three times. With texts or calendar notifications, they will scroll once. If your phone is not set to display notifications, they will not show on the Alta.
Enhancements and product improvements are made on occasion, and the app will let you know when a new update is available for download. Also, Fitbit recommends plugging in your device before updating, so your battery doesn't run out in the middle of the process.
Fitbit Alta Price, Maintenance, and Warranty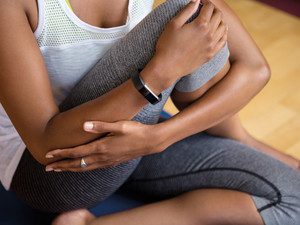 The Fitbit Alta sells for around $130 which in my opinion is a small price to pay for a device which does so much. Once again this activity tracker doubles as a smartwatch and for me that alone makes it well worth the money.
In turns of maintenance, Fitbit recommends that the Alta and the wrist it is being worn on be clean and dry. As I mentioned, the device is rain, splash, and sweat proof, but generally it is much better if it does not get wet.
To clean the band, rinse with water or wipe with a small (and I mean small) amount of rubbing alcohol. Make sure not to use any soaps or harsh chemicals, and remember to dry the band before putting it back on. This thing is meant to stay on for days at a time, so make sure to wear it properly. For tougher stains and grime, Fitbit recommends a wet soft-bristled toothbrush, or something similar. The leather and metal bands are maintained a little differently, but the principle remains the same – keep it dry, keep it clean, keep it safe, and don't wear it too tight.
All of Fitbit's line of fitness watches comes with a 45-day satisfaction guaranteed return policy, and a limited 1-year warranty. Fitbit will replace or repair your product in the event of a defect, but the warranty does not apply if the product has been misused, tampered with, etc. The chances of you needing service within the first year are slim since it is evident that this product was well thought-out and properly executed. Is it flawless? Of course not, but it is a great training partner, and more. Furthermore, one thing Fitbit are known for is their great customer service.