Polar Activity Loop 2 vs Polar Activity Loop Original Review
Table of Contents
The popularity of wearable activity trackers continues to grow, which thankfully means more choices for those interested in using convenient wearable tech to help maintain a healthy lifestyle. However, the range of options that are available right now also makes it tough to choose which one is right for you (first-world problems, right?).
Polar has been in the health-mon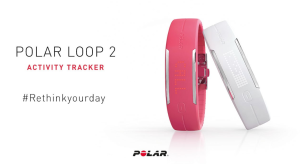 itoring wearables game since 1977, originally making waves with devices like their heart rate monitors that were worn across the chest. As such, it was only natural for them to expand their business into the health and fitness activity tracking. Polar released its original 24/7 activity tracker, the Polar Loop, in late 2013 (as detailed in our Polar Loop review).  The wrist-worn device plots your activity levels, tracks your sleep, and provides you with target goals that help boost your fitness. The Polar Loop was the very first daily activity tracker on the market that not only counted steps, but also had heart rate monitoring capabilities when connected to a Polar H7 Bluetooth Smart heart rate sensor. This provided the user with heart-rate based calorie information for activities.  It was also the first daily activity tracker to be waterproof, providing the ability to be used while swimming. However, the device lacked audio or vibration feedback.
After paying attention to customer feedback, in 2015 Polar came out with the Loop 2, which works in conjunction with Polar Flow software, available on Android, iOS, Windows, and Mac. For the most part, the Polar Loop 2 will do what the original Loop did, which is to track your activities throughout the day. However, Polar has added some upgrades, including vibrating activity reminders and Bluetooth smart phone syncing. Just like other fitness trackers on the market, like Jawbone and industry leader Fitbit (and their recently released Fitbit Alta), the Loop 2 is able to display notifications from your smartphone on your wrist device. It is also able to vibrate when it gets those notifications, and although the dot-matrix display can only show a few letters at a time, it's very easy to understand.
The Loop 2 has a neat feature that gently reminds users to get up and walk around if they have been sitting for too long. Unfortunately, like the original Loop, there is no heart rate monitor built into this upgraded version. However, it too is compatible with the H7 heart rate strap, which is sold separately. Another nice change is that the new device will now work with fitness platforms beyond Polar's own.With the Loop 2, users can plug their activity stats into applications like Apple Health, MyFitnessPal and Google Fit. There's a lot to consider when comparing the Loop 2 and Loop Original, all of which will be detailed here in our Polar Activity Loop 2 VS Polar Activity Loop Original Review:
Polar Loop 2 Design:
Like the original Loop, the Polar Loop 2 wristband is lightweight, soft, and flexible. Within the thicker portion of the band, secured in place by four hex screws, is the embedded hardware. Meant to be worn 24/7, this enables the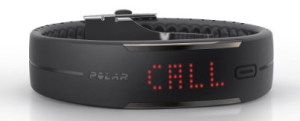 Loop to be water-resistant to 20m, so it doesn't need to be taken off even in the shower or when you go swimming. It can't tell the difference between walking and swimming, though, so your swim will simply count as very active movement. There are two versions – TPU (thermoplastic polyurethane) and silicon. The physical changes from the original version are subtle – a thinner clasp and the removal of some grooves on the inside of the strap.
When you first remove the Loop 2 from the box, you do need to put in some work and cut the band to custom-fit your wrist size.  Polar includes a small tool to pop the spring-loaded bars out of the clasp, and although the company will provide replacement bands, it's better to proceed slowly and do this right the first time. The silicone is divided into marked sections, and if you want to get a straight, clean cut as you're sizing, use a sharp, thin blade instead of scissors. With all the measuring, cutting, replacing of pins, refitting, and more cutting, one can easily spend 15 to 20 minutes carefully sizing the band. This can be a bit annoying, but needs to be done only once, and you end up with a custom-fit activity tracker that doesn't rub or irritate your wrist when on the move, or fall off during an activity.
The device retains the original Loop's signature retro sporty feel and inconspicuously blends in with most casual outfits. You can easily forget you are wearing it. The same dot-matrix display, comprised of 85 LEDs, runs along the top of the device. The display manages to deliver the right amount of easy to read stats and updates, and it shines through the band, so it looks like a plain band when the display is off.  Sunlight legibility is, however, quite poor, especially with the white band – it's a shame that this wasn't improved with the Loop 2. 
Like the original, aside from opening and closing the clasp, the only other physical interactions with the Loop 2 is via the capacitive button on top and the charge/sync port on the backside of the monitor. The included USB charge/sync cable magnetically attaches when aligned properly. Pressing the button triggers the LED display, and repeat presses cycle through the information shown, where one can review activity, calories burned, steps taken, and the current time. The LED display automatically shuts off after a couple of seconds.
Ultimately, the look and design of the Loop is more functional as opposed to the aesthetic look of Fitbit's series of watches, like the Fitbit Blaze or Fitbit Surge.
What Can The Two Polar Loop Versions Do?
Aside from being a fitness manager like the original, Polar Loop 2 can also be a personal digital assistant, reminding the user of their incoming calls, messages and scheduled events.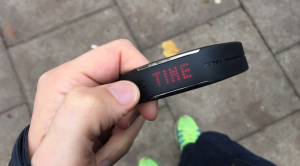 Both models lack a GPS system, so your distance measures are taken from movement sensors. The sensors do a pretty good job of determining whether you're sitting, standing, walking, or engaging in higher levels of activity. However, the results aren't immediately registered, and they offer only an approximation of your steps and distance covered, rather than an exact measurement. You can take and count 60 steps before checking, and maybe you'll see it show an increase of 26 steps, or even zero. If you sit down and take a look a few minutes later, you might see a 60+ increase in the step-count displayed on the screen. This issue isn't exclusive to the Loop; many fitness trackers today do not include a GPS system. 
Both models will automatically track your activity based on your movements. The Loop knows when you're standing, walking, running, or sleeping. It can also pick up on other calorie burning activities like cleaning or gardening. Both set an activity goal for each day – based on more than just steps. The goal is displayed on the device as a meter that gradually fills as you exercise. If you sit at a computer for most of the day, your activity goals will be set quite high. If you work outdoors or spend a lot of time rushing around, you won't be prompted to do as much extra exercise. Loop 2 categorizes your activity with five intensity levels: resting, sitting, low, medium and high. The higher the intensity, the sooner you will meet your goal. You will get little updates throughout the day that tell you how much of a certain kind of activity you need to do to hit your daily goal. Calculating your steps, the device tells you how many calories you've burned, based on the personal data you entered during setup. You can also work out Smart Calories based on your personal data and the intensity of activity.
The Loop 2 also features sleep tracking (naps included), which it divides it into restful and restless periods. It even takes into account bathroom breaks during the night, showing a little activity within the block of sleeping time. The Loop 2 somehow factors in sleeping patterns, starting its count once you're asleep and not just when your head hits the pillow, though when you check out the data, you only get to see the total amount of sleep tracked and how much was deemed as restful. You cannot see REM-related patterns, but at least the Loop 2 is smart enough to know the difference between sleeping and sitting/lounging-inactivity.
A cool Loop 2 upgrade is that the device lets you know when it's time to get up and move about. Health professionals generally recommend standing up and walking around for a few minutes for every hour of sitting. After about 55 minutes of continuous inactivity, the tracker will double-buzz and show an orb slowly bounce across the LED display. If Bluetooth is enabled on a connected device at the same time, it will receive an inactivity stamp in the notification bar. This feature is really useful for those that tend to sit a lot at home and/or work.
In addition to inactivity reminders, the Loop 2 alerts users to incoming phone calls and notifications. This is especially useful when your smartphone (when on vibrate) or tablet is not physically on your person or closeby. For calls, the LED screen scrolls the name of the caller while continuously vibrating. If you happen to miss/ignore the call, the Loop 2 repeats "missed call" and vibrates four times before stopping. Calendar notifications appear as "calendar" and all other mobile notifications are labeled as "message" on the Loop 2 screen, flashing and vibrating once each. The mobile app lets you select which sources to block so you only receive the notifications that are important to you (this will also conserve battery life).
You can choose between a visual preview with vibrate, vibrate only, or you can choose to have neither in order to preserve battery life, or not be disturbed. The ability to have the band vibrate to wake you up has been extremely useful to me as I usually get up before my wife and she hates loud alarms. A vibration on my wrist works well enough to wake me and is my preferred alarm solution.
Getting Started with the Loop 2:
As with the original, before you start using your device, you will need to use the proprietary USB cable included in the box to connect the wristband to your computer.  The Loop 2 will need about 10 minutes to update and initialize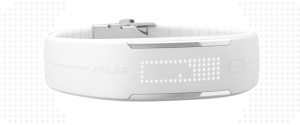 after visiting the Polar website to download the Polar Flow software, install it, and create an account. The site presents a clean layout featuring user training information and history. The next step is to enter your age, weight, height, and gender, along with a choice of activity level. As shown above, the Polar software will set your activity targets accordingly. Once set up, you can install the Polar Flow app on your smartphone and tablet, and update your progress by syncing with the USB for the original Loop and over Bluetooth for the Loop 2.
Polar Flow Mobile App and Connectivity:
Similar to Polar.com, the mobile app presents a clean layout of information, with easily accessible stats for prior days, weeks, or months. The app provides you with more details, including your training diary and a host of charts and breakdowns, and offers more suggestions on what can be done to fill up the Activity bar. Polar Flow is a well-built app that was designed to work with the company's more sport-focused wearables. Your daily report will show goal progress, time required to achieve those goals, and the current tally of metrics reflected on the Polar Loop 2 tracker. While the app may not be as comprehensive as the site, it's a quick and convenient way to check one's statistics.  This includes more analysis options and a map where you can tap into the social aspect and review other people's training sessions and leave comments if you choose to do so.
Unlike the manual sync required in the original Loop, the Loop 2 wireless syncing is a simple process. So long as Bluetooth is enabled, the tracker will periodically sync data regardless of whether the Polar Flow app is active or open. It will do this in short bursts throughout the day. This can, on occasion, interrupt Bluetooth speaker playback for the entire duration of syncing, especially each time the app requests a hard sync, but the frequent syncing will keep the data up-to-date. Opening the app on your mobile device always triggers a hard sync right then and there. You can also sync manually if you choose to do so. The Loop 2 wirelessly syncs with only one device at a time, so you can't have it connect with both a smartphone and tablet, even if they are on the same account.
Bluetooth-connected devices obviously have to be in range for syncing to work, but with the way the Loop 2 also indicates that it has found/lost Bluetooth connectivity, enabling this option can help make sure you don't leave your smartphone or tablet behind. The only real downside to all of this alerting activity is that it can severely drain the battery. Over half of the tracker's total battery life can be used up in just one day if there's a large amount of notifications.
Charging and Battery Life: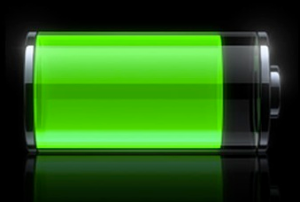 The original Loop runs about 4-5 days, while the Polar Loop 2 will run up to 8 days on a single charge with an hour a day of training tracking with a Polar H7 Bluetooth Smart heart rate monitor. The devices have a rechargeable battery inside and the proprietary charging cable charges from empty to full in just 90 minutes. The cable magnetically attaches when aligned properly, and while it is annoying that the cable is proprietary (so don't forget to carry it around when traveling), this is a feature that exists in many other trackers, so you can't begrudge Polar too much.
Both Loops don't show battery levels except for when it's charging. The LED sceen dims to indicate that the battery is at around 20 percent-capacity. Once it hits 10 percent, the LED screen will actually tell you the battery is low. The internal motor in the Loop 2, which vibrates for notifications, and LED screen tend to drain the battery quickly. If you charge the device for an hour every few days, it should stay topped up.
Polar's H7 Heart Rate Sensor and Polar Beat Mobile App: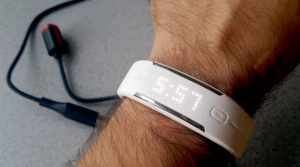 Available separately, those who also want to know about heart rate levels while training or exercising can purchase the H7 sensor to compliment the Loop. Worn across your chest, this small device is lightweight, comfortable, and doesn't get in the way of most types of exercise or activity. The device comes with a CR2025 battery and an adjustable neoprene strap, which is available in a variety of sizes.
The H7 heart rate sensor automatically activates once it's been snapped to the chest strap. If you want to save battery life, disconnect the sensor from the strap after each use. Right out of the box, you can pair the H7 to your mobile device via Bluetooth, but will need a compatible app (there are many) in order to use it. Unfortunately, Polar Flow doesn't support or recognize the H7 sensor, which is why the Polar Beat mobile app exists, but at least you can use your existing Polar account and sign in after downloading the Polar Beat app.
The H7 is waterproof so you can wear it for swimming although the Bluetooth connectivity will not work with this kind of activity. While it is on and making contact with your chest, the H7 sensor continually tracks and reports your heart rate by measuring electrical activity, similar to that of an ECG (electrocardiogram) and unlike light-based optical sensors used in some other heart rate sensors. While it's not 100% accurate, it's still regarded as more effective than reliable than optical sensors, which in contrast, detects changes in blood volume.
When opening the Polar Flow app's main screen, you can view your current rate in real-time. Simple to use, the app offers 19 different sport activities to choose from, including all the popular ones you would expect (e.g. walking, jogging, tennis, cycling, etc.). You can view workout history with the H7, a weekly summary, and your current set of target metrics. There are additional in-app purchases available to add a fitness test and gain access to a running index, but they aren't cheap. You should be able to find similar information in free fitness apps available on the App Store or Google Play.
Though it takes a little getting used to, the chest strap helps the H7 maintain constant contact against the skin without causing discomfort. This is important because some wrist-sensors can momentarily lose connection through activity, missing out periods of data. While the H7 is not completely flawless, it is quite accurate and responsive. Training sessions within the Polar Flow app start/stop like a stopwatch. You can observe the data as you go or revisit each session history later on when you're finished. When reviewing your workout summary, the app displays color-coded charts showing where your heart rate fell within several zones (and the amount of time spent in each zone), based on the percentage of maximum heart rate. For example, the lowest zone is your expected heart rate during light exercises such as walking, and the highest zone is the maximum heart rate you achieve during athletic training.
If you want a reliable heart-rate monitor and can live with strapping it onto your chest, the H7 is a great option and well worth the money if you plan to use it regularly.
Conclusion: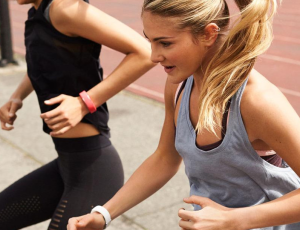 The Polar Loop 2 is essentially the original original Loop with additional helpful features. Both devices still receive software updates. When it comes to monitoring physical activity, the two Loops are both practical and effective, featuring a silicone band that is comfortable, and customizable, and a clasp design that is quick to remove with just one hand. The data shown through the activity tracker and the Polar Flow app in both models should be easy for anyone to understand, and the frequent syncing keeps the data up-to-date. While the battery life doesn't quite last for the advertised 8-day span – at least not without turning off notifications, Bluetooth, and not activating the screen – it needs only a few hours of charge time every few days.
The biggest weakness of both models is that the LED screen can't hold up against bright light. So, for example, if you happen to be jogging outside, it's difficult to check time or see what type of notification just vibrated. Although the Polar Flow app functions well for its core features, there is still room for improvement. Neither model includes a heart rate monitor, GPS or an altimeter for tracking floors climbed. While there are smart notifications, they will not show you the content of the message or calendar event, just the notification. There's no setting for sync intervals in the Loop 2, which means that music streaming to a Bluetooth audio device can be interrupted when you don't expect it. The weight tracking over time and social aspect of using Polar's platform would benefit from a little refinement.
At the end of the day, both models do a great job of measuring what matters. So long as you're up and moving, the activity tracker does its job. You can be walking, exercising, or simply doing house chores – the Loop 2 will know. Although the values are estimations, they appear to be well in-line and consistent with overall activity. The Loop 2 tends to be more accurate over the long-run of hours, and, with the app, it provides metrics and tracking that help users be more aware of personal patterns.
If you don't need the extra functions that the Loop 2 has and/or want to spend less cash, go for the original, but if you can afford it, the Loop 2 is without a doubt a nice step up. Once you get the past the slightly annoying set up, both models are solid choices, enjoyable to use, and will definitely help you hit your fitness goals. They also look good, feel comfortable, and work well. Even though Polar hasn't created industry-leading devices with the Loop series, they are well suited to those who want simplicity over more complicated functions.
Be sure to check back for more features and reviews at EduMuch.com!