Eachine H8C Quadcopter Review
Table of Contents
The H8C model, by Eachine, is another drone aimed mainly at beginners. Much like the Holy Stone F181 this drone is for those who are just getting into the wide world of unmanned aircraft flying, this is one device which can be a lot of fun to play with, once you learn how to control it properly.
Eachine ("Conquer the Air") have 14 different models of drones available, from micros to larger aircraft, though nothing gets too big in their catalog. The company seems to specialize in smaller models. This is a short Eachine H8C Quadcopter review, meant for those who are interested in learning more about this particular flier.
Eachine H8C Tech Specs

Dimensions – 7 x 7 x 2.2 inches

Weight – 8 oz.

Rotors – 4 (quadcopter)

Battery (quadcopter) – 3.7V 250mAh Li-Poly

Charging time – 40~ minutes (via supplied USB cable)

Battery (controller) – 4 AA batteries (not included)

Materials – plastic

Control system – 2.4GHz remote control

Lights – light emitting diodes (LEDs)

Price – $40~

Color – black
This copter comes with a slot from a Micro SD card, but does not include one. It can be flown indoors or outdoors, but because of its size and weight, it is probably best used during times when there is less to no wind.
The manufacturer recommends this product be used by children 12 years and up, but it can technically be used by younger children. The remote control is fairly easy to use, and the response time is good when within range.
The range of the H8C quadcopter is about 100 meters, with a maximum flight time of 8 minutes. Usually, the flight time will be closer to 5 minutes, depending on weight, weather conditions, and speed.
Camera and General Controls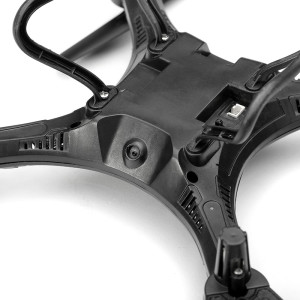 The camera which is on board the copter is 2MP. The camera is pointed down at an angle, and it cannot be moved. Just something to take into account. As for image and video quality, it isn't the best ( It's no DJI Phantom 3 ). Then again, remember that this type of drone is meant to be used by hobbyists. It is more like a toy, and is not really meant to be used for professional photographs or films. The fact that there is no live video feed should already attest to that. Also, even though there is a microphone built into the unit, the audio will primarily consist of the loud whir of the drone's blades.
The 6-axis gyro allows the drone to be hand launched. Once you sync it up with the remote controller, all you have to do is lift up – easily! – on the throttle. There are 3 different speed rates at which the copter can fly, which makes it very user-friendly for beginners and advanced fliers alike.
This drone is relatively small and lightweight, which marks it as easy prey for wind. If the winds are more than, say, 5-7 miles per hour, you will find this quad difficult to control. Although, there is nothing too special about that. Many copters in the H8C's type class like the Syma X5C are just as easily thrown off course, when the winds begin to pick up.
The H8C's one key return feature is hit and miss. The point of this mode is to allow fliers to retrieve the drone quickly and easily. At the push of a button, the drone will head back in the direction of the controller. This does not always work, mind you. Maybe it was something I was doing wrong, but it didn't work all of the time. It is a good feature to have, for sure, but it is not one which you can completely depend on. As a general rule, it is best to keep this copter within sight.
The headless mode feature is another useful addition to this quad, and it basically allows the user to maintain control of the craft, no matter the direction at which the nose is pointed. This means that no extra adjustments need to be made before takeoff, which is very good news for beginners.
What Comes In The Box
When you order the Eachine H8C, you receive:
1 Eachine H8C RC Quadcopter
1 remote controller
1 rechargeable battery
1 USB charging cable
2 replacement propellers
1 screwdriver
1 User manual
Again, you will have to provide your own Micro SD card if you wish to snap photos and shoot video for later use. Also, note that there is no live feed, so you can only view your footage and images after they have been downloaded from said memory card.
For the price that you pay, the H8C does deliver. Whether it is the standard size or the mini version, both models can be used indoors and outdoors. The copter's frame is pretty durable and it can maintain its own when brushing or crashing into trees or other obstacles. But, make sure you don't get too rough with it. It can take some punishment, but is by no means indestructible. Mistreat it, and the blades will bend and break, even if the propeller guards are installed.
All Around Great Toy Drone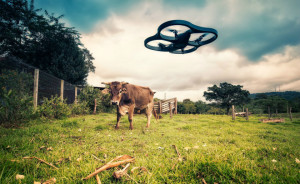 This is one fun toy, which pretty much anyone will be glad to get. Its easy-to-use controls and durable frame make it ideal for beginners of all ages, and a good "expendable" practice drone for advanced users who want to mess around and take the H8C's abilities to the max.
Image and video quality is par for the course. Not great, but not bad either. It is reminiscent of 2000's cell phone quality. If you are into taking amateur aerial photographs, this will probably prove to be adequate. It all depends on your needs, of course. Keep it steady, and your drone should yield some very positive results. If your looking for something a bit higher quality camera wise you may want to check out the JJRC H8D or UDI U818A HD+, both are also in the beginner drone price range but have slightly better cameras.
Like all toy drones, there are some downsides and shortcomings (flight time, battery power, angled camera). However, you just can't beat the price. It is affordable and well-built, with some neat features (headless, one key return, one key flips) which makes it a good toy copter by any standard. Also, because of its light weight, it does not require users to register with the FAA. Just unbox, charge (read the instructions while charging!), and launch.
Bottom line – fun for all ages!
( For a peek at another amazing beginner drone check out our Syma X5SW Review !)